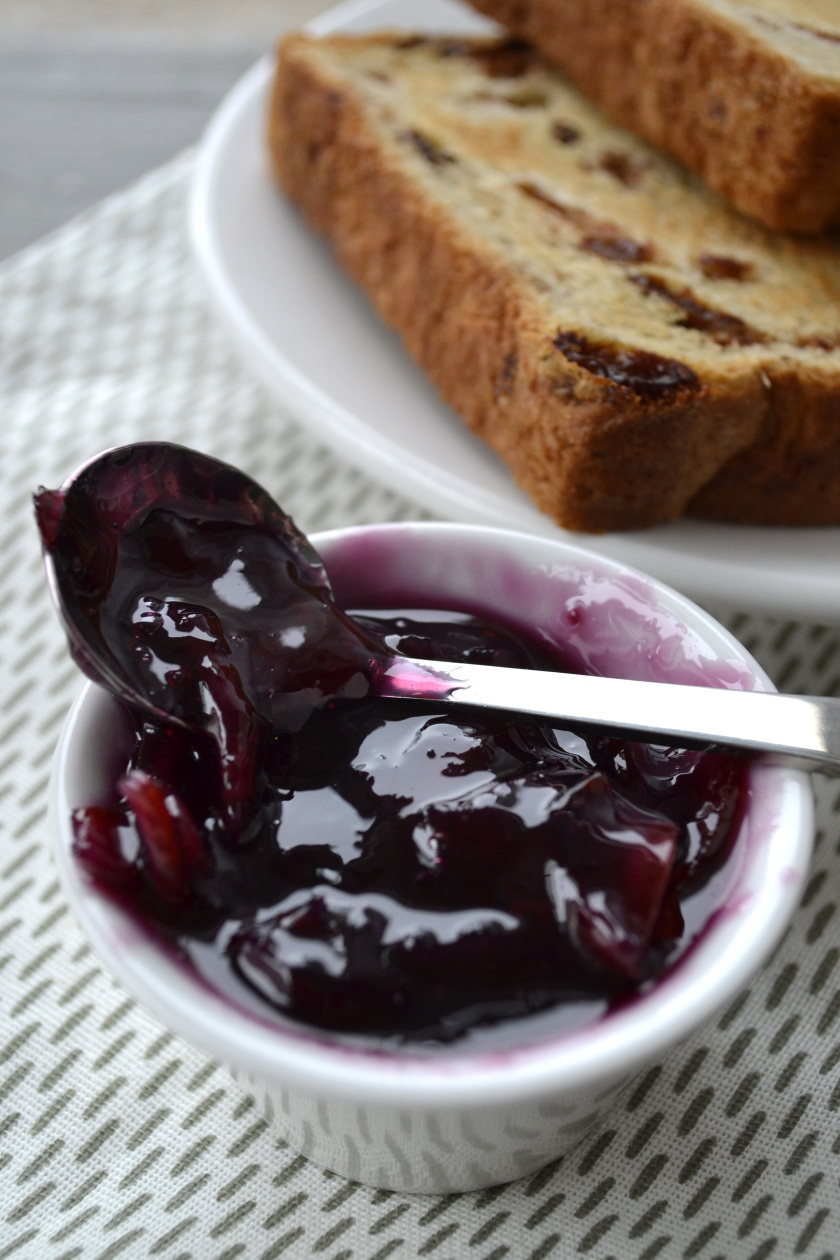 26 Aug

Setting up a Canning Kitchen & Giveaway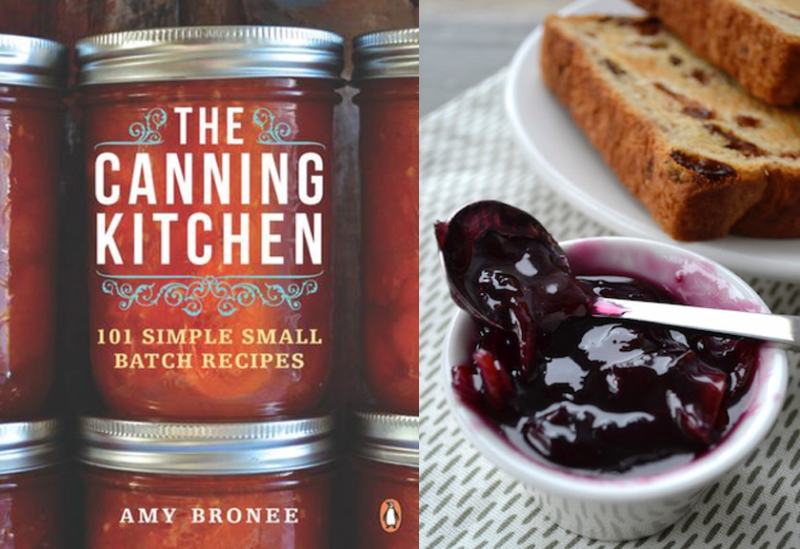 In June, Amy Bronee came to town for a book signing at The Bookshelf. If her name is familiar, she's the author of The Canning Kitchen and writes the Family Feedbag blog. While I had only to stroll a few blocks from my home, several food bloggers drove from out of town for the launch. Not only did we get to sample her homemade jam, we all had dinner and got to know Amy a bit more.
Thanks to the organizational skills of Jenny Jack, this same group of bloggers got together again, only this time the meeting was virtual and we created a giveaway (details below) instead of ordering pizza.  To get the blog hop rolling, Penguin Random House Canada generously sent us all copies of Amy's books. Because organizing us wasn't enough for the boundless Jenny, she is donating a signed copy of The Canning Kitchen. The participants (again, listed below) chipped in to donate a $100 gift certificate from Canadian Tire so the winner can buy all the canning supplies needed to create something for themselves from Amy's book.
I was luck enough to talk to Amy at length about her book and the best way for people new to preserves to get started. My first question was, "Is $100 enough to set up a canning kitchen?"
Amy's response: "You can set up two for that money!"
I checked online and a starter kit at Canadian Tire costs $50. She's right. However, not everyone wants an entire kit, or already has some supplies on hand. So, should you win — and even if you don't — here's what you need:
Setting Up a Canning Kitchen
Assuming you have a knife, cutting board, and ladle, these items will get you started canning in no time:
A canner with a rack:  You can get a speckled enamel version like your grandmother had for $20 to $25. This is essential since the boiling water bath is a critical step to ensuring you beautiful preserves don't spoil.
A canning funnel: This helps keep your jar rims to stay clean and neat. You don't want any spills to interfere with a proper seal.
Canning tongs: These specially curved lifters allow you to remove piping hot jars from the water without fear of dropping them. Regular tongs tend to lose their grip and can leave you splashed with scalding water. I learned this the hard way.
Bubble remover: This hand tool has two ends — a smooth end to remove bubbles from your preserves, and a notched end to measure headspace. While headspace varies recipe to recipe, it's critical for a safe seal.
Lids and rims: These come with the mason jars, but can also be bought separately.
Plastic lids: Once you open the preserves, toss the lid and save the ring for your next batch. Then switch to a reusable plastic lid. This way you'll know the jar has been opened and you won't be fighting with a two-piece seal. Plastic lids come in both standard and wide-mouth sizes.
Best Jars for a Canning Kitchen
While a lot depends on what you're making, Amy suggests the average canner will get the most mileage from a case of standard 250 mL jars and a case of 500 mL. If you like to give jam as a hostess gift, then add a case of 125 mL, as well. You'll still be under the $100 mark. Here's what to look for in a mason jar:
Standard-size openings: Sticking to standard, as opposed to wide-mouth,  jars means all your lids and rims are interchangeable with any sized jar. While wide-mouth jars are available in small, hostess-gift sizes, they tend to cost more and require a different set of lids and rims, which again increases the cost.
Don't fuss about brand: Golden Harvest, Ball, and Bernardin, the most common makers of preserve jars, are all owned by the same parent company. Buy what's on sale since they're of equal quality. Bonus, the lids all work regardless of brand.
Stick to clear jars: Oh, those coloured jars are pretty. And they're pretty expensive. They'll also distort the colour of your preserves. "You eat with your eyes first," Amy said. "Who wants to see grey/brown string beans in purple glass?" Originally, coloured glass was desirable because it prevented discolouration. However, simply keeping your preserves out of direct sunlight works just as well and costs nothing more. Save your money for produce and stick to clear glass that will show off your gorgeous preserves.
What You Don't Need in a Canning Kitchen
Confession: I'm a gadget freak. Amy helped me keep it real. She says you can skip the following items:
The magnetic lifter. What? Really?! Since when? "The change happened during the writing of the book," Amy says. With the new BPA-free lids, you no longer need to simmer the lids before using them. Just use them straight from the jar. However, these new BPA-free lids are so new Amy advises readers to follow manufacturer's instructions since you might have some old lids on your shelf. I know do.
Dissolvable labels: For years I made the mistake of putting a label on the jar front and then using Goo Gone to get it off. I switched to pricier dissolvable labels and they were marginally better yet sometimes came off in humid conditions. Amy's solution? Use the labels that come with the jars, stick them on the top of the lid, then return the jar to the box it came in. You can see what's in the case and keep out that pesky, discolouring sunlight. Since the lids can't be used again, there's no need to remove the label.
And now that you know how to set up a canning kitchen for less than the $100 certificate, let's steam up the hood vent and make some preserves!
Blueberry Orange Marmalade
Having been a judge at The Culinary Historians of Canada's annual Mad for Marmalade competition, I thought I'd tasted every conceivable marmalade variation. I was wrong. I've never seen a blueberry version and was intrigued. Although oranges have a lot of natural pectin, blueberries are at the lower end of the pectin scale. As a result, this recipe doesn't yield a classic, firm marmalade. Instead it produces a soft preserve bordering on a spread. Spread it over cones, smear it on toast, drip it onto blueberry pancakes… the possibilities are endless.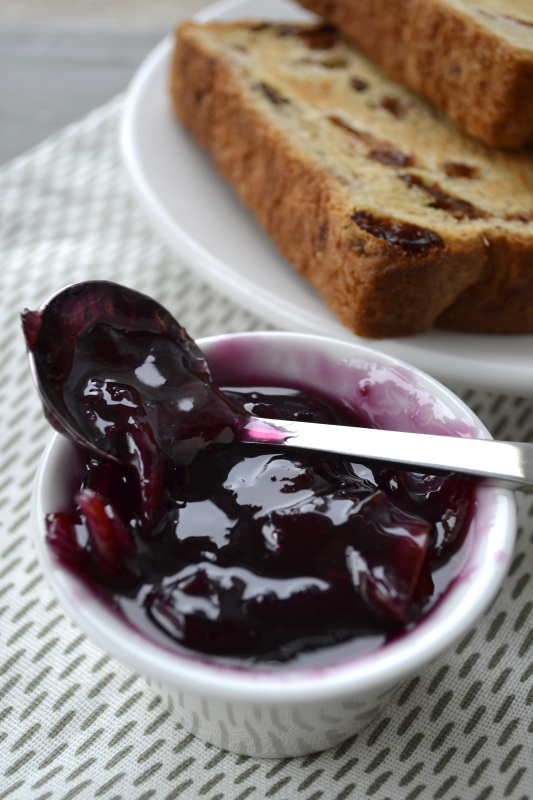 Blueberry Marmalade
Author:
Charmian Christie
Serves:
6 250-mL (1 cup) jars
Oranges and deeply coloured blueberries make for a fun and fruity marmalade that's as delicious as it is beautiful. Spread on homemade blueberry muffins or hot raisin toast for breakfast or a snack. This one makes a lovely gift, but you'll want to tuck away a few jars just for yourself.
Ingredients
3 lb (1.4 kg) navel oranges (any variety)
6 cups (1.5 L) water
2 cups (500 mL) blueberries
6 cups (1.5 L) sugar
Instructions
Scrub the oranges under cool running water. Slice in half crosswise and juice thoroughly, pouring the juice into a large, heavy-bottomed pot and saving the seeds in a medium bowl. Using a metal spoon, scrape out the membranes from the orange halves and add to the seeds. Trim off the stem and blossom ends and add to the seeds. Slice the peels into very thin strips until you have 2 ½ cups (625 mL).
Add the sliced peel and water to the pot. Place the saved seeds, membranes, stem and blossom ends and any remaining peel on a double-layer square of cheesecloth. Bring up the edges and tie with kitchen string to form a secure pouch. Nestle the pouch into the pot. Bring to a boil over high heat. Reduce the
heat to medium-low and simmer, covered, for 30 minutes.
Scoop the pouch into a fine-mesh sieve and press on it with the back of a spoon to release the pectin-rich juices back into the pot. Discard the pouch. Stir in the blueberries and sugar. Bring to a full foamy boil over highest heat, stirring frequently. Maintain a boil, still stirring frequently, until it reaches the gel stage, which should take about 20 to 25 minutes.
Remove from the heat.
Be sure to fill your canner with water and place it over high heat at least 20 minutes before you need it so it will be boiling when the jars are ready to be processed.
Ladle into 6 clean 250 mL (1 cup) jars, leaving a ¼ inch (5 mm) headspace.
Follow the manufacturer's instructions on the packaging for preparing lids for processing. Position new flat lids over the clean jar rims and secure in place by twisting on the screw bands just until fingertip tight. Not too tight—some air will need to escape during processing.
Place jars in water bath canner, covered by at least 1-inch (2.5 cm) boiling water. Cover canner and process for 15 minutes. Start timing when water in canner returns to full boil. When the processing time is up, turn off the heat and remove the lid. Leave the jars in the canner for 5 more minutes.
Remove processed jars from the canner and leave to cool for 12 to 24 hours. Do not tighten the screw bands while the jars are cooling. Once the jars are fully cooled, press the middle of each lid to check for a vacuum seal. If the centre of the lid is suctioned down, your jar has fully sealed.
TIP Look for plump, firm blueberries with a silvery sheen on the skins. Remove any stems and discard berries with broken skins. Blueberries freeze well, so it can be worth it to buy a large box when they're in season and freeze for making jams, jellies and marmalades another day.
Notes
From The Canning Kitchen by Amy Bronee. Copyright © Amy Bronee 2015. Reprinted by permission of Penguin Canada, a division of Penguin Random House Canada Limited. Photography credit: Amy Bronee.
So. How do you win a copy of The Canning Kitchen: 101 Simple Small Batch Recipes by Amy Bronee? If you're a Canadian resident and old enough to vote in the upcoming Federal election, you're eligible.  First, check out what the other participants have to say about the book. A round of applause for:
Jenny The Brunette Baker is making Blueberry Sauce and generously donated the signed copy.
Robyn at Planet Byn is serving up Bread & Butter Pickles.
Kristy at She Eats is steaming up the kitchen with Crunchy Dill Pickles.
Heather, The Tasty Gardener is raiding the garden to make Triple Red Pickles.
Meg at Sweet Twist of Blogging is leaning towards Beer-Hive Grainy Mustard. See if she sticks to her plan.
Britt at My Daily Randomness is going to invite me over to try the Raspberry Lemon Jam. She just doesn't know it yet.
Chelsea at Chelsea's Healthy Kitchen is sticking with tradition and making a classic Peach Jam.
Libby at Libby Roach is going exotic with a Peach Chutney with Garam Masala.
Gwen at Devour & Conquer is seeing red with Tomato Red Onion Relish.
Ready? Click the link to enter this Rafflecopter giveaway. Contest ends September 2nd, 2015.