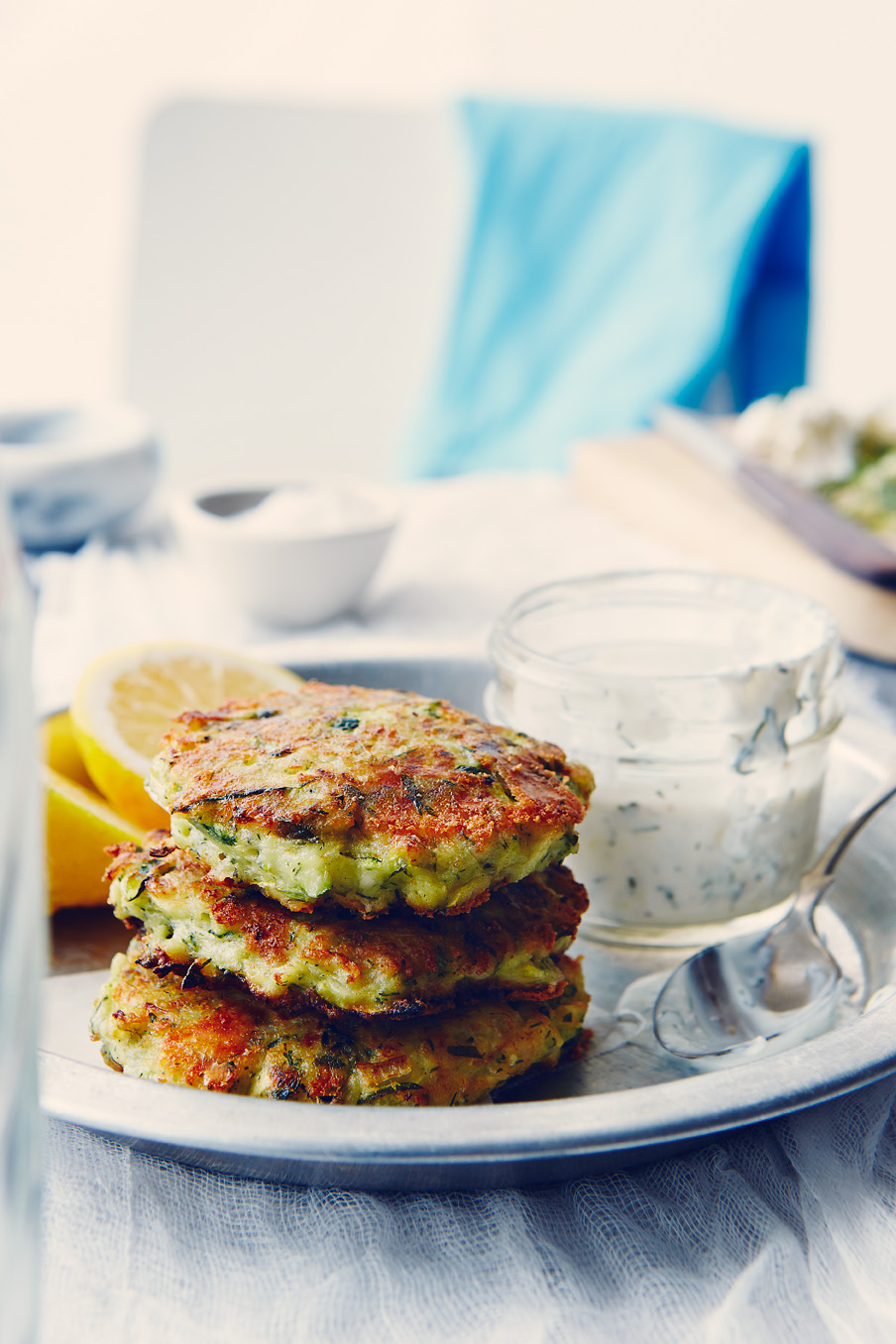 19 Aug

Dill Zucchini Fritters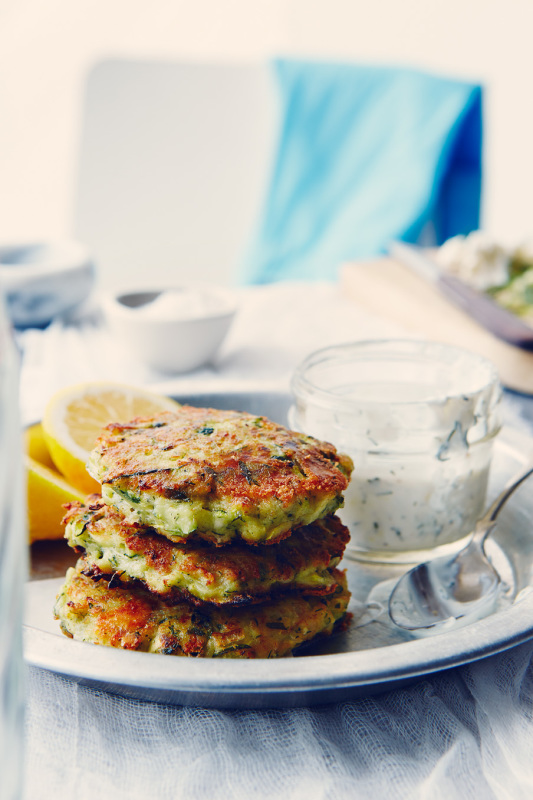 Summer is racing for the finish line. Before it gets there, it has some hurdles to clear. One of those hurdles is zucchini. Sure, an individual zucchini isn't much of a challenge, but what about the bushelful your neighbour left on the back porch ? I thought so.
In the past I've made velvety zucchini soup to start a meal and tender lime-glazed zucchini loaf to end it. I've served up a side of zucchini fries and baked up stuffed zucchini flowers. Today, I'm grabbing my box grater, heading to CTV Kitchener and making fritters. Dill Zucchini Fritters with Lemon Tzatziki if you want to be exact.
While many people complain that zucchini is bland, I argue it's one of nature's most accommodating vegetables. Its mild flavour allows herbs and spices to shine. Prep is easy since you don't need to spend time peeling. And best of all, unlike its thick-skinned winter cousins Butternut and Acorn, tender zucchini doesn't require a meat clever to dice. If you can get past the sheer volume a single plant can produce, what's not to love?
This recipe is from my book The Messy Baker: More than 75 Delicious Recipes from a Real Kitchen. It features the bright summer flavours of lemon, dill and mint. A bit of homemade tzatziki tops things off, but you can always opt for plain old sour cream if that suits you more.
Got a favourite zucchini recipe? Share a link in the comments section. Got a zucchini question? Ask away. Otherwise, get out that grater and heat the pan.

Dill Zucchini Fritters
Author:
Charmian Christie
Prep / inactive time:
Cook / active time:
Total time:
One year I planted too many zucchinis. They arrived, non-stop all summer. We puréed them into soup. Grated them into breads and muffins. We diced, we sliced, we even julienne fried. These fritters are one of the recipes I developed in self-defence and they turned out to be one of my favourite summer recipes. Zucchini might be pushy in the garden, but it's gracious when introduced to fresh herbs and feta. It also looks rather natty with a tzatziki hat. Should the Zucchini Apocalypse beat down your kitchen door, invite them in, and then pull out the grater and the frying pan. Survival never tasted so good.
Ingredients
Lemon Tzatziki
½ cup Greek yogurt
1 clove garlic
¼ teaspoon fine sea salt
Fresh black pepper
1 tablespoon minced fresh dill
3 sprigs fresh mint, minced
Zest of ½ lemon
1 tablespoon lemon juice
Fritters
2 cups grated zucchini (about 2 small)
¾ cups all-purpose flour
1 teaspoon baking powder
½ teaspoon fine sea salt
½ teaspoon fresh cracked pepper, plus more for garnish
1 tablespoon minced fresh mint leaves
2 tablespoons minced fresh dill
Zest of 1 lemon
2 tablespoons lemon juice
1 large clove garlic
1 large egg, room temperature
6 tablespoons water
1 small onion, chopped very finely
4 ounces feta, crumbled
2 tablespoons vegetable oil, for cooking
Instructions
Tzatziki
In a medium bowl, stir the yogurt until smooth. Using a microplane, mince the garlic into the yogurt. Add the salt, black pepper, dill, mint, lemon zest, and lemon juice. Stir and adjust salt to taste. Cover and refrigerate until ready to use. This can be made ahead of time; it tastes better if allowed to mellow overnight. Tzatziki will keep in the fridge for up to a week.
Fritters
Wash and cut zucchini in half lengthwise. If the zucchini is large, slice lengthwise and remove the seeds with a spoon or melon baller. Using the large holes of a box grater, grate the zucchini and set in a mesh strainer or colander to drain.
In a large bowl, combine flour, baking powder, salt, cracked pepper, mint and dill leaves with a whisk.
Using a microplane, grate the garlic into a small bowl. Add the egg, zest, lemon juice and water, and beat with a fork to combine. Pour the egg mixture over the flour mixture and stir to combine. Stir in onion, feta and drained zucchini.
In a large non-stick skillet heat 1 tablespoon of oil over medium heat. Using a cookie scoop or spoon, drop ¼ cup of batter into the pan and flatten to ¾″ thick. Cook about 3 minutes per side, or until golden brown and cooked all the way through. Use more oil as needed.
Serve hot with a dollop of Lemon Tzatziki and fresh ground black pepper.
Fritters are best eaten as they are made. Any leftovers can be stored in the refrigerator for up to 3 days, and reheated in a frying pan.