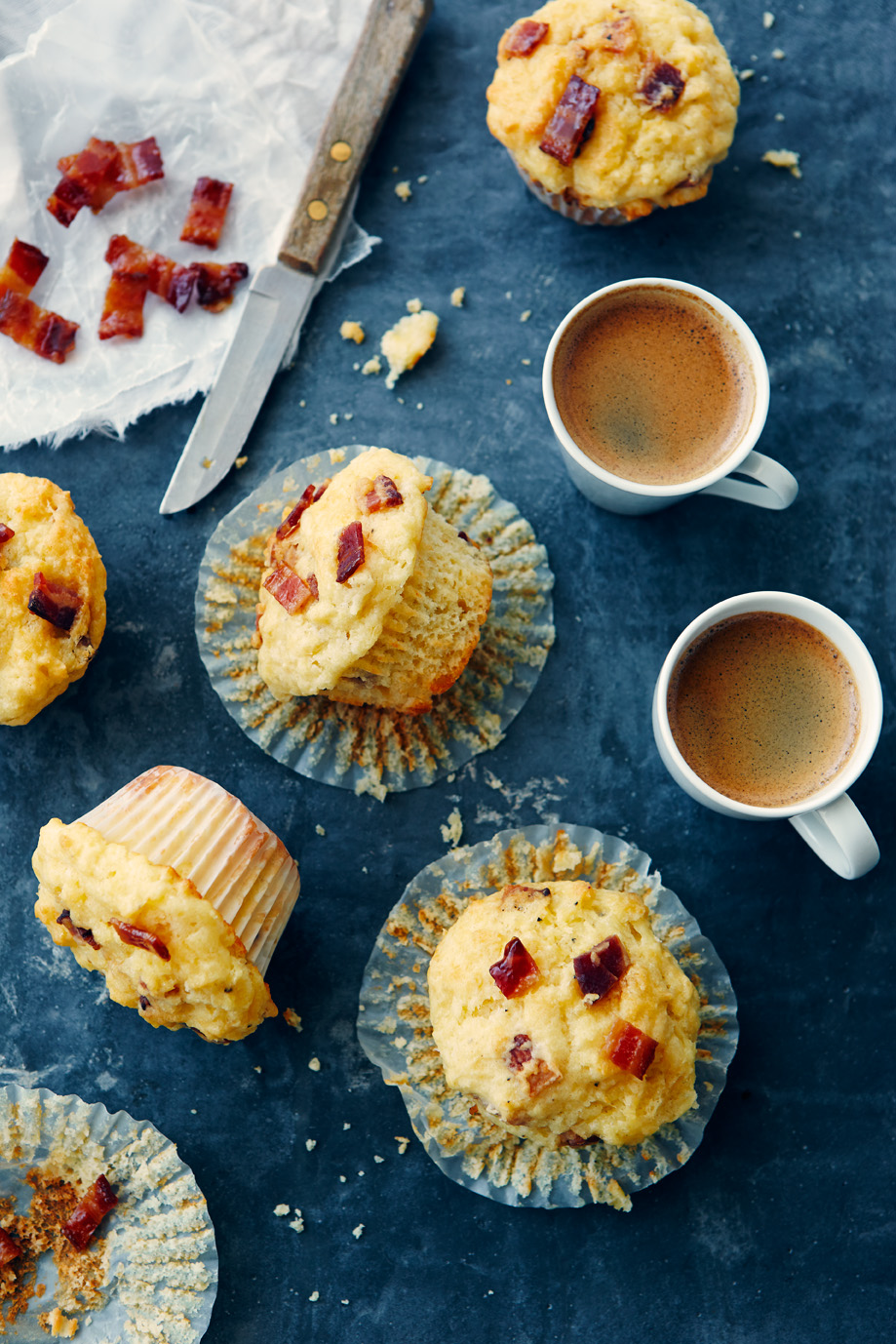 16 Feb

Piglet Muffins – Virtual Shower for Jan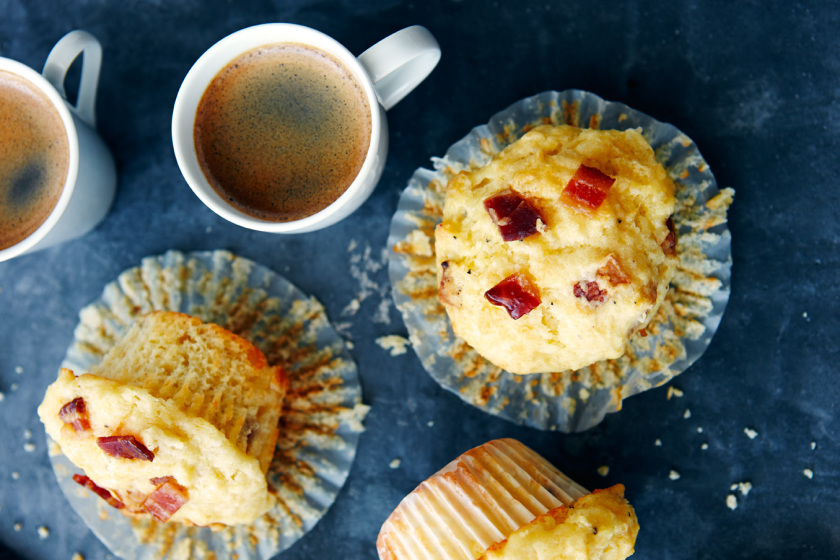 Family Day is the perfect date to throw a baby shower. Mardi of eat. live. travel. write organized a virtual shower for Jan of Family Bites to coincide with this national holiday, so everyone could attend. The internet renders the vast stretches of geography irrelevant, and ensures no snow boots or hats are required during this record-breaking cold. Good. I've had enough of wet socks and fly-away static hair. To honour Jan and her baby-to-be, the Usual Suspects (see the list of bloggers below the recipe) are gathering online today to share some recipes in celebration.
If I were going to an in-person party, I might bring the blondies from Jan's new book, Gatherings. But I've shared that recipe already. So what do you bring the mother of two teenage boys, who's weeks away from welcoming her third child?
Leave it to a man to come up with the answer. Andrew's suggestion — bacon. Don't be too quick to point out his genius. Bacon is his answer for almost everything. No bonus points awarded this time round. But maybe there's a muffin as a reward.
So, I'm bringing bacon. Caramelized no less.  Just to be fancy and celebratory. Bacon. In muffin form. Portable, caramelized, cheesy Bacon. With a capital B.
Check out below what the others are bringing. This is going to be one spoiled baby!

Piglet Muffins
Author:
Charmian Christie
When I was a kid I was crazy for all things Winnie the Pooh. When lunchtime got fussy, my ever-so wise mom served up Piglets. These were just open-faced grilled cheese sandwiches with a slice of cut-up bacon on top. Telling me "This is what Piglet eats for lunch," put and end to all the fussing. Wanting to do something Piglet-y for the book. I kept the basic flavors but gave them an adult twist via a savory muffin studded with smoked cheddar and crunchy bits of caramelized bacon. Piglets – just like Mom used to make, only smokier, crunchier and waaaay more crumbly.
Ingredients
Muffins
2 cups all-purpose flour
1 tablespoon granulated sugar
1 tablespoon baking powder
½ teaspoon baking soda
½ teaspoon fine sea salt
⅛ teaspoon fresh cracked black pepper
6 ounces grated smoked cheddar (about 1½ cups)
6 slices caramelized bacon, broken into ¼-inch pieces (recipe below, but in a pinch extra-crispy regular bacon will do)
1 cup buttermilk
2 large eggs, room temperature
¼ cup melted unsalted butter
Caramelized Bacon
1 pound sliced bacon (thick cut is best but regular will do)
1 cup packed dark brown sugar
Generous amount of freshly ground black pepper (optional)
Instructions
Muffins
Preheat oven to 350°F. Line 12 muffin cups with paper liners.
In a large bowl, combine the flour, sugar, baking powder, baking soda, salt and pepper. Add the cheddar and bacon to the flour mixture and toss to coat evenly.
In a medium bowl, whisk together the buttermilk, eggs and melted butter. Pour over the flour mixture and stir until just blended. The batter will be thick, almost scone-like.
Spoon evenly into the lined muffin cups. Bake 18 to 20 minutes or until golden brown and a toothpick inserted in the center comes out clean. Remove from oven, place on wire rack to cool for 5 minutes. When cool enough to handle, remove the muffins from the pan. Eat while still warm, with or without butter.
Store in an airtight container in the fridge for up to 5 days. To rewarm, split and pop under the broiler until golden. Microwaves will make them soggy.
Candied Bacon
Heat oven to 400°F, using the convection setting if you have that option. Line two heavy, rimmed baking pans with aluminum foil or parchment paper. Place oven racks in upper and lower third of the oven.
Separate bacon strips and place in a single layer on the pans. They can touch but shouldn't overlap. Sprinkle each pan with half the sugar. Give each pan a generous grinding of black pepper, if using. Gently pat the sugar onto the bacon so it's evenly spread.
Bake for 20-25 minutes or until the bacon is crisp. The sugar will melt and spread, so you don't have to turn the bacon over during the process. However, if you don't have a convection oven, you will want to rotate the pans half way through the cooking to ensure even baking. The bacon is done when the sugar is melted and bubbly and the bacon looks dark brown but not burned.
Remove the pans from the oven. Transfer individual slices to a wire baking rack set over paper towels to absorb any drips. When the bacon cools the sugar will harden to a thin, hard-candy coating. Eat, use immediately, or store in the refrigerator in a resealable bag between layers of parchment.
Tip
Fill the muffin cups using a ¼-cup cookie scoop. Being the same size, they will cook evenly. Plus, they'll have a lovely rounded top
Make a bunch of this ahead of time and keep on hand for when the urge to make Piglets strikes.
Mardi from eat. live. travel. write made blueberry cheesecake macarons
Julie from Dinner with Julie made Meyer Lemon Scones with Lemon Drizzle & Lemon Curd
Heather from The Tasty Gardener made Cream Puffs with Caramel Cream and Chocolate Pretzel Top
Isabelle from Crumb: A Food Blog made Blackberry Meringue Bars
Jennifer from Seasons and Suppers made Baby Blueberry Beignets
Christina from Strawberries For Supper made Chocolate Madeleines
Aimée from Simple Bites made Roasted Turnip Hummus
Jenny from The Brunette Baker made Wild Blueberry Buttermilk Muffins
Liliana from My Cookbook Addiction made mini-cupcakes
Carole from The Yum Yum Factor made Beet and Blue Cheese Canapes
Amy from Family Feedbag made Marmalade Cake
Brittany from My Daily Randomness made Caramel + Pumpkin Parfait
Meg from Sweet Twist of Blogging made Carrot Apple Loaf
Louisa from Living Lou made Maple Walnut Cookies
Libby from Libby Roach Photography made Butter Baked Good's Peanut Butter Sandwich cookie
Robyn from Planet Byn made Milk & Cookies Shooters
Congratulations, Jan! We couldn't be happier for you!