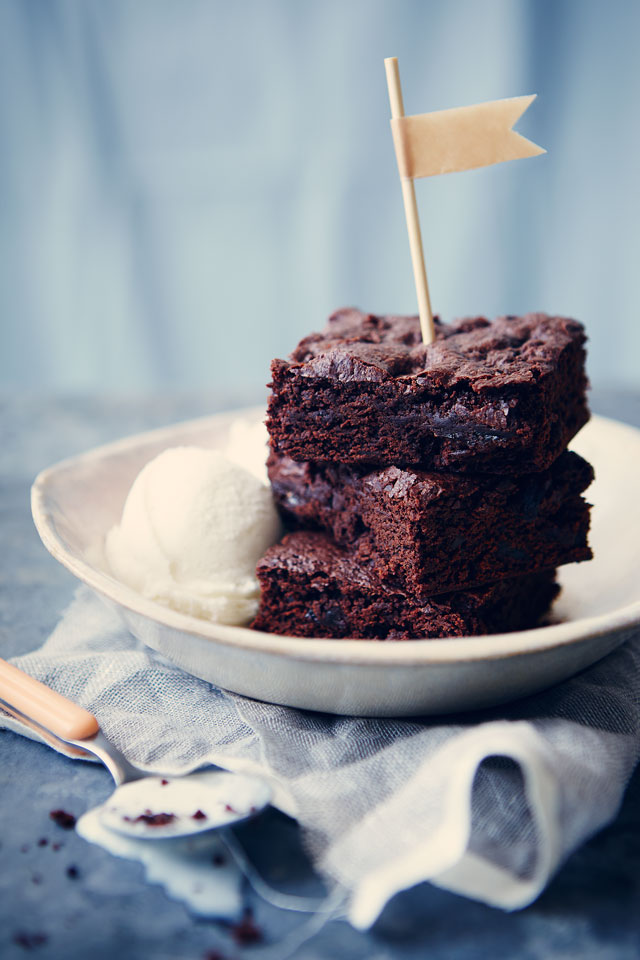 09 Feb

Buying Dark Chocolate for Baking

I'm on CTV News at Noon today, making Deep Dark Cherry & Chipotle Brownies and hopefully not too big a mess. This recipe graces the cover of my book and is a hit with people who love a bit of heat with their chocolate. That said, it also raises a lot of reader questions about which chocolate to buy. To deliver a rich, deep flavour, the recipe calls for bittersweet chocolate and cocoa powder. Because it's a brownie and not a hand-dipped chocolate truffle, there is a bit of leeway in which chocolate you use. The short answer is, "The darker the better." The long answer? Keep reading.
What to look for in good quality dark chocolate for baking
If you can find fair trade, organic, eco-friendly chocolate, that's wonderful. However, not all supermarkets stock a wide variety and when the urge to bake brownies calls, you might not want to shop around. In a nutshell, look for:
a high percentage of cocoa solids: This is now often printed on packages. 70+ is good. If it's in the 40s, it's likely too sweet. Keep in mind, this is not an indication of the chocolate's quality. However, it is an indication of sweetness. And dark chocolate shouldn't be too sweet.
the fewer ingredients the better: You need cocoa (it might be called cocoa bean, cocoa mass or cocoa liquor) and sugar. Cocoa butter is okay. Vanilla is not essential, but I like mine with a bit of the "other baking bean." Lecithin is fine too. It sounds like a chemical additive, but it's a naturally occurring emulsifier, usually from soy or eggs.
What to avoid in good quality dark chocolate for baking
Compound chocolate:  This "fool proof" chocolate is designed to temper with ease for chocolate making. To ensure this, it's stabilized with hydrogenated fats. It's considered inferior in both taste and texture. Do not use this for your brownies. Or anything else.
Chocolate chips / morsels / chunks: Designed to keep their form when heated, these are prefect for folding into cookie, brownie or cake batter. They deliver a bite of pure chocolate, but in order to do so will not melt as smoothly. Why not? To ensure they keep their shape when baked, they're made with less cocoa butter.
Any chocolate with:

sugar as the first ingredient
milk, milk solids (this is not dark chocolate)
vegetable oils (palm and soybean are common)
artificial flavours
unspecified "natural flavours." "Vanilla" is fine. "Natural flavours"? Not so much.
Vanillin. Oh, you tricky marketers! While the names are similar, vanillin (rhymes with villain) is not vanilla. It's an artificial flavour with a natural sounding name. (Where were the marketing gurus when lecithin got labelled?) Chocolate makers who respect the bean do not add this to their product.
Poly-anything. This indicates an unwanted emulsifier and is a red flag.
Where to buy good quality dark chocolate for baking
You can often get perfectly good chocolate for baking brownies, cakes, and even hand-dipped chocolate in a wide range of places. Just read the ingredient list.
Grocery Stores: You can buy good quality chocolate at the grocery store. The list of ingredients will guide you. (See above.) If necessary, look beyond the baking section and at the good quality chocolate "slabs". I've made these brownies with broken up chunks of  President's Choice Extra Dark Chocolate (72%).
Online: Yes, you can buy top quality chocolate without leaving the house. Vanilla Foods Company offers top quality products and is a good place to start if you're housebound or overwhelmed. Here's a link to their chocolate page. All these brands are good.
Health Food Stores: You can usually find good quality chocolate here that is fair-trade, organic and eco-friendly. It might be in packages or in their bulk section.
The Bulk Barn: Check the bins and shelves carefully. While they do sell the lesser quality compound chocolate, they also sell the good stuff. Just read the labels and ingredient lists. You could find a delicious bargain.
And that's how you find the dark chocolate for baking the best, fudgiest brownies.
My un-disclosure: I have named some companies and provided links here to help you. I have not in any way received compensation for these links or to mention these brands. I'm not affiliated with any of the brands or companies listed.