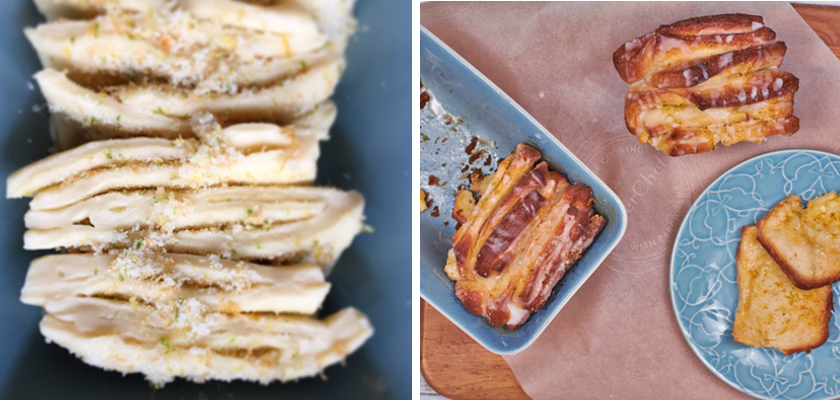 29 Jan

Citrus Pull-Apart Bread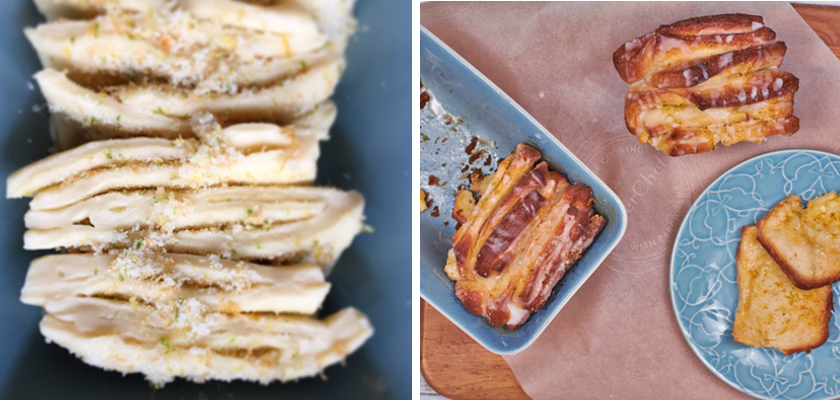 Having stomped the snow from my boots, I place them on the rack and step my stockinged foot squarely into a freshly formed puddle of melting ice. Welcome to winter in Canada.
I might get my citizenship revoked for saying this, but hockey does not make Canadian winters bearable (especially if you're a Leafs fan). What gets me through the relentless cold and interminable rounds of snow shovelling? Citrus.
I breakfast on steaming bowls of lemon-laced avgolemono soup, grate extra orange into my favourite beef stew, and have gobbled so many clementines I fear I will turn orange. At the grocery store, I'm drawn to the produce section like cat hair to dress pants. I'm so happy to see the Meyer lemons I grab two bags knowing full well my crisper is already bursting. Sorry, Celery. Your time's up.  You're fodder for soup stock now.
So when Pucker: A Cookbook for Citrus Lovers by Gwendolyn Richards arrived, I practically inhaled it. While the subtitle says citrus, it's dedicated specifically to lemons, limes and grapefruits. At first this narrow focus confused me. Where were the tangerines, clementines, blood oranges, kumquats and pomelos? After thinking about it, oranges don't really make you pucker, and the kumquats are not available in all regions of a country that sprawls across five time zones. Instead, Richards wrote a book for all us Canadians, not just the ones within trucking distance of Toronto's food terminal. As an added bonus, this trio is available year-round, which means I can sip homemade lemonade and lime soda in the merciless July heat while I romanticized the allure of a gentle snowfall.
Until then, I'm cranking up the heat, grabbing my microplane and baking another loaf of pull-apart bread.

Pucker Pull-Apart Bread
Author:
Charmian Christie
Cook / active time:
Total time:
Pucker Pull-Apart Loaf A few years ago, pull apart loaves were popping up all over the food blog world. There were savoury varieties —think Buffalo chicken or garlic and herb – and sweet ones like cinnamon and sugar. And then, suddenly, there were lemon versions everywhere. Making one was always on my to-do list, but when I gave it more thought, I realized I wanted and all-citrus loaf —one that uses lemon, lime and grapefruit —to really add a lot of flavour. Perfect for brunch, this loaf is equally good on lazy weekend afternoons with a cup of coffee or tea.
Ingredients
Dough
½ cup plus 2 tablespoons milk
¼ cup sugar
2¼ teaspoons active dry yeast
2¾ cups flour
¼ cup butter
2 eggs, lightly beaten
½ teaspoon salt
1 tablespoon vegetable oil
Filling
½ cup sugar
Zest of 1 grapefruit
Zest of 1 lemon
Zest of 1 lime
¼ cup butter, melted
Glaze
½ cup icing sugar (approximately)
1 teaspoon each grapefruit, lemon and lime juice
Pinch salt
Instructions
In a small sauce pan on the stove, heat the milk until just warm to the touch.
In the bowl of the stand mixer fitted with a paddle attachment, combined a pinch of the sugar and the yeast. Pour the milk in and let bloom until foaming and creamy looking, about 5 minutes. Add the rest of the sugar and the flour, butter, eggs, and salt. Mix on low speed until the dough comes together. Switch to the dough hook and knead the dough until it is smooth and shiny, about 5 minutes
Add the oil to a large bowl and, using your fingertips, brush it up the side of the bowl. With your oiled fingertips, scoop the dough into the bowl, turning it to coat. Cover with plastic wrap and set aside somewhere warm to rise until dough has doubled in size, about 1 hour.
While it rises, makes the filling. In a small bowl, combine the sugar and citrus zests. Mix with your fingertips until it is sandy in texture.
Butter and 9- x 5-inch loaf pan that is 3 inches deep. Roll the dough out into a rectangle about 20 inches x 12 inches in size. Spread the melted butter all over the dough and sprinkle with the sugar-zest mixture, pressing it lightly into the dough. Cut the dough vertically to 5 strips about 4 inches wide. Stack the 5 strips of dough on top of each other, with all of the sugared sides facing up. Cut them into 6, creating rectangles about 4 x 2 inches.
Place the dough pieces in the prepared pan, standing them on edge, with all the sugared sides facing the same way. The dough edges should be facing up, like the pages of a book. Cover and let rise until the dough has risen again, between 30 and 60 minutes. As it rises, preheat the oven to 350°F.
Bake the loaf until golden brown and cooked through, about 30 to 35 minutes. Check on it at the 20-minute mark to ensure it's not browning too quickly. If the edges are getting dark, cover loosely with foil and continue baking.
While it bakes, make the glaze. Whisk together the icing sugar and grapefruit, lemon and lime juices, as well as the salt. Add more juice or sugar as necessary to get a consistency like that of whipping cream.
Let the loaf cool for 10 to 15 minutes and then drizzle with the glaze.
Notes
This recipe is excerpted from Pucker: A Cookbook for Citrus Lovers by Gwendolyn Richards. Published by Whitecap Books ©2014.