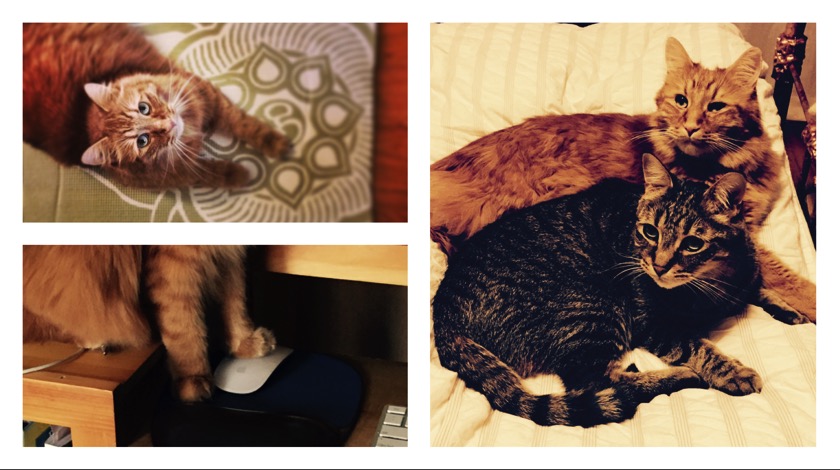 24 Jan

SPCA National Cupcake Day 2015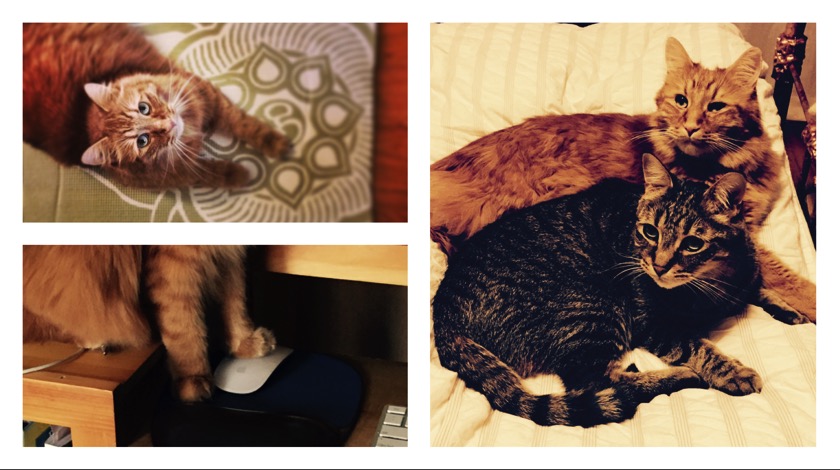 If you've seen my Instagram feed you know I'm a bit obsessed with food and felines. Although I own two tabbies, anything with fur, four legs and a tail has my attention. Feathers work well too, but for obvious reasons, I settle for feeders outside my kitchen window.
While I am strict about keeping human food out of the cats' diet, I let them have the roam of the house. They lounge on my work papers, nap on any piece of furniture they choose, and feel so at home wandering across my keyboard, one eager orange tabby has inadvertently sent emails mid-composition. Auto-signed by me. Fortunately, the editor on the receiving end owned pets and was understanding.
Despite the occasional unfinished email, we're pretty lucky to have cats that are affectionate, don't scratch the furniture and don't boycott dinner. To be fair, they have it good too. They have never known hunger or cold or anything more ferocious than the vacuum. Not all domestic animals are so lucky.
So, when I was asked to help promote Canada's National Cupcake Day 2015 to raise funds for the SPCA and local Humane Societies, I said yes. The goal is to raise funds and awareness. Shelters aren't just a place to find new pets, they provide emergency medical care to injured strays, offer a haven to abused pets, and help save wild and farm animals. Of course, there is a cost to feeding, spaying/neutering, nursing and housing these creatures. But they're worth it.
One of my cats is eager to get started. But before I pull out the stand mixer, you might want to know …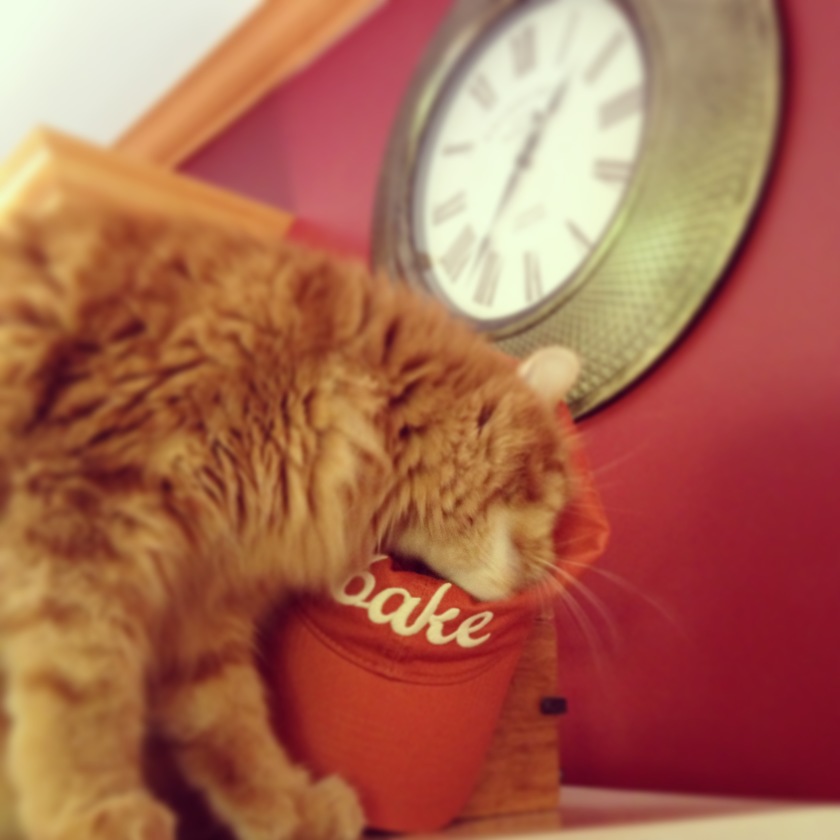 What can you do to help on National Cupcake Day 2015?
1. Become a baker: It won't get you the rank of professional, but it will raise funds. Last year the campaign brought in $500,000 (half a million!) thanks to eager bakers and generous cupcake eaters. If you want to sign up for the baking, click here. It's free, there's no minimum to raise and there is lots of online advice. Officially, National Cupcake Day is February 23, 2015, but if that doesn't work for you, hold it at a more convenient time.
2. Eat a Cupcake and Donate: If you don't bake, you can still help puppies and kittens by enjoying a cupcake. Slap on your Fitbit and pull out the wallet. This is a fundraiser, not a bake sale, so think paper money rather than loose change. Purple and green are nice colours. Red is even better. And brown? We'd be blown away.
3. Sign up for the Twitter chat: Since my kitchen is a magnet for cat hair, I'm taking part in two, dander-free Twitter parties. I'll be there to answer your baking questions, but if you want to ask me pet questions, I'm happy to give you anecdotes. I'll save the advice for the pros. Christine Pantazis is hosting.
Not only can you ask the pet experts questions, each chat has items to win. I will be donating a copy of The Messy Baker: More than 75 Delicious Recipes from a Real Kitchen to each chat. In addition you could win:
Cuisinart stand mixers (Model: SM-55BKC)
Cuisinart 12-Cup Muffin pans (Model AMB-12MPC)
There will be two 1-hour chats: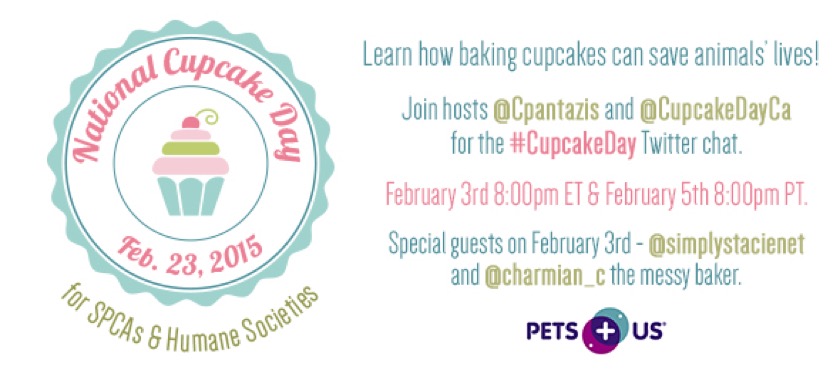 To whet your appetite, here's a recipe from The Messy Baker cookbook. It's not exactly a cupcake, but with glaze and honey-lime butter it's not your average muffin.
Don't do it for the baked goods. Do it for the kittens.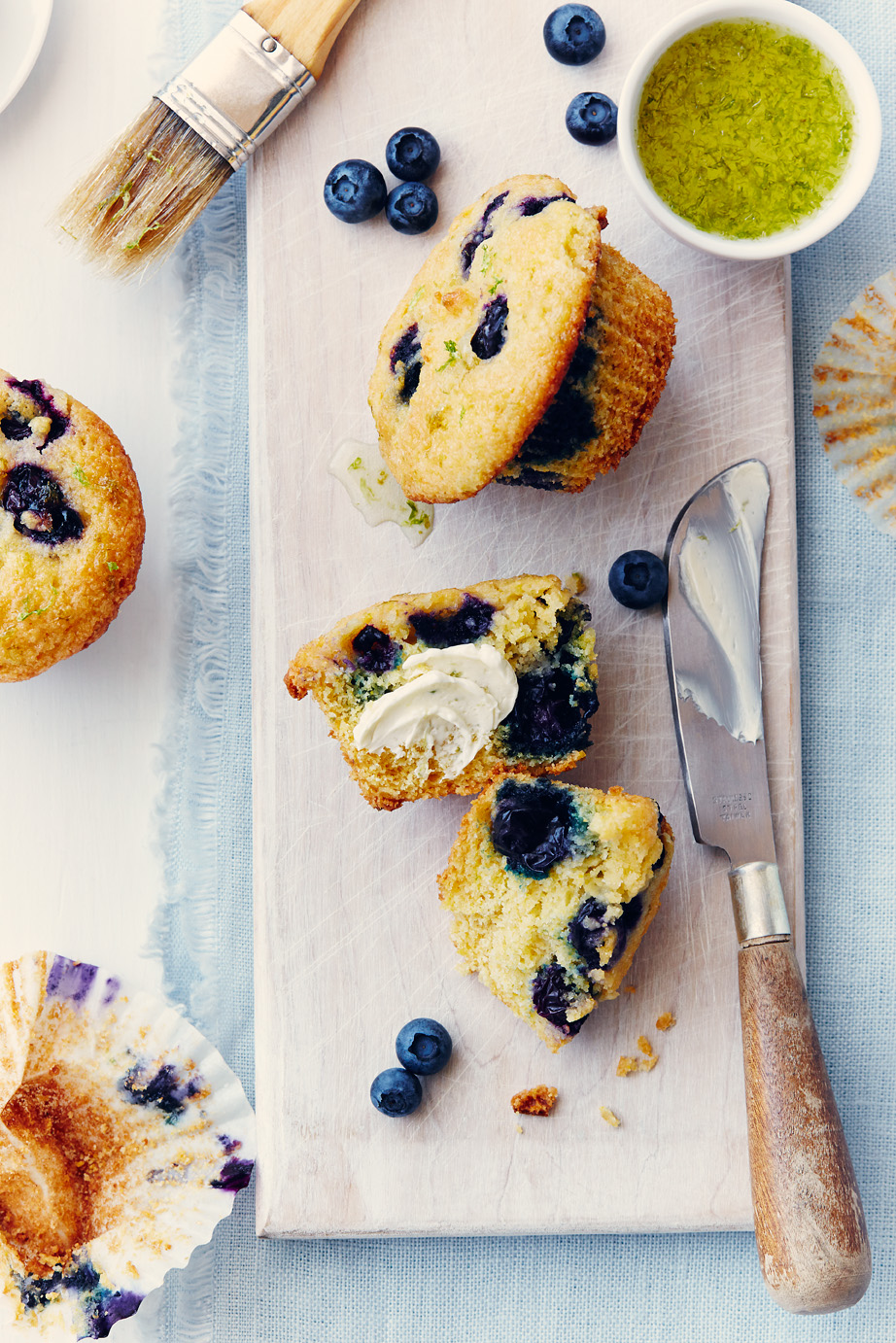 Blueberry-Lime Cornmeal Muffins
Author:
Charmian Christie
Prep / inactive time:
Cook / active time:
Total time:
Talk about messy: These are not pack-in-your-lunch-bag muffins. They're more have-a-cup-of-tea-and-a- nice-chat muffins. Although the cornmeal base is studded with blueberries, lime is the anchor. It balances the sweetness of the cornmeal, brightens the freshness of the blueberries, and smooths the edges of the honey. With its own glaze and butter, lime works its way into every layer of this deliciously messy muffin.
Ingredients
Muffins
2 cups all-purpose flour
1 cup fine ground cornmeal
2 teaspoons baking powder
1 teaspoon baking soda
1⁄2 teaspoon fine sea salt
3⁄4 cup granulated sugar
1⁄4 cup brown sugar
1 egg, at room temperature
1 cup buttermilk
3⁄4 cup melted butter
1 teaspoon pure vanilla extract
Peel of 1 lime, finely grated
11⁄2 cups fresh or frozen unthawed blueberries (wild, if you can get them)
Lime Glaze
1⁄2 cup granulated sugar
1⁄4 cup fresh lime juice
Peel of 1 lime, finely grated
Whipped Honey-Lime Butter (Optional)
1⁄2 cup butter, at room temperature
1 tablespoon honey
Peel of 1 lime, finely grated
1 tablespoon fresh lime juice
Generous pinch of fine sea salt
Instructions
To make the muffins: Preheat the oven to 400°F. Line 18 muffin cups with paper or parchment liners.
In a large bowl, sift together the flour, cornmeal, baking powder, baking soda, and salt.
In a medium bowl, mix together the granulated sugar, brown sugar, egg, buttermilk, butter, vanilla, and lime peel.
Add the blueberries to the flour mixture and toss to coat.
Pour the buttermilk mixture over the flour mixture and, using a spatula, mix until the batter is just combined. Don't overmix.
Using a 1⁄4-cup scoop, fill the muffin cups. Bake for 17 to 20 minutes, or until the muffins are golden brown and a wooden pick inserted in the center comes out clean.
While the muffins are baking, make the glaze and whipped butter (if using).
To make the glaze: In a small bowl, mix the sugar, lime juice, and lime peel until the sugar is dissolved. Set aside. Stir well just before using.
To make the whipped butter: In a small bowl, using an electric mixer on low speed, blend the butter, honey, lime peel, and lime juice. With the electric mixer on high speed, whip for 3 minutes, or until light and fluffy. Add salt to taste.
Allow the muffins to cool for a few minutes in the pans before transferring to a rack. While still warm, dip the tops of the muffins into the glaze. Turn upright, poke a few holes in the tops with a skewer, and spoon the remaining glaze evenly over the muffins. Allow to cool. Serve with regular butter or whipped honey-lime butter.
Notes
These muffins will keep in an airtight container in the refrigera- tor for a couple of days. If they last that long.

This recipe is from The Messy Baker: More than 75 Delicious Recipes from a Real Kitchen by Charmian Christie. ©2014.