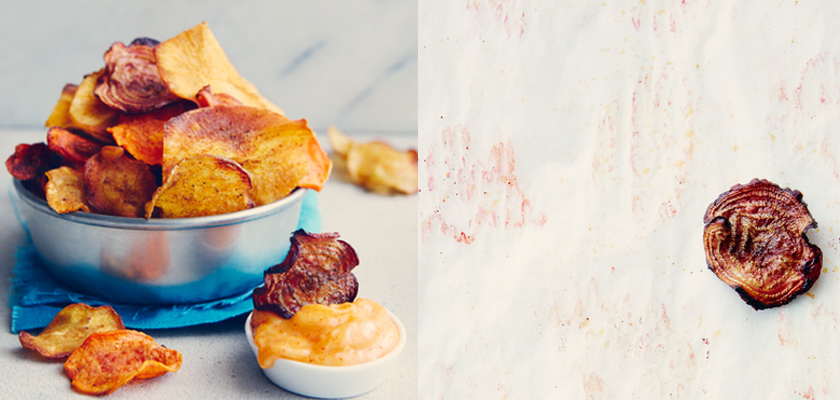 05 Jan

Root Vegetable Chips

Posted at 09:40h

in

Dairy-free

,

Egg-free

,

Gluten-free

,

Healthy Choice

,

Paleo

,

Recipes

,

Savory

,

Snack

,

Vegan

,

Vegetables

,

Vegetarian

4 Comments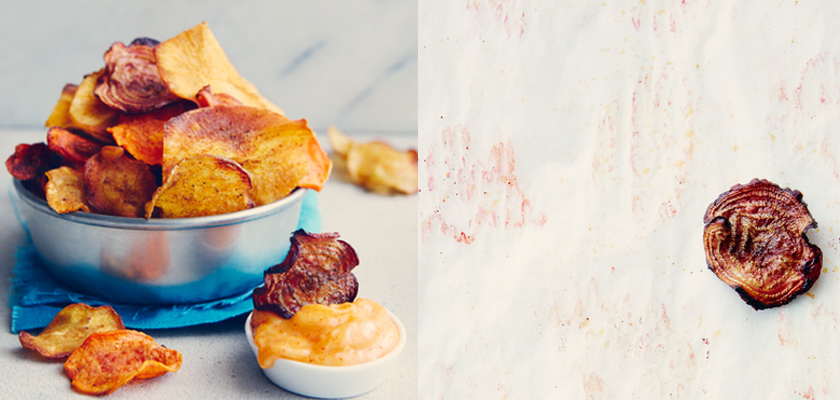 I'm on CTV News at Noon today helping Nancy Richards make homemade root vegetable chips. On the mess scale they're more work than stovetop popcorn but less bother than pie. And that's with making your own tzatziki for dipping.
Last night I was making chips for the demo and jotted down some notes that didn't make it into the book but which might be useful to first time chip makers. Since time is always tight on TV, I'm sharing them below. They might sound a bit cryptic until you read the recipe or see the segment.
Tips on Making Root Vegetable Chips
Parsnip width can vary greatly from root to tip. Try to buy one that's fairly uniform down its length. Otherwise, the slices will vary greatly in size and you'll be checking them every three minutes and won't have time to prep the next sheet of chips. Very frustrating.
Red beets are the devil. They stain everything —  fingers, cutting boards, dishtowels. Don't touch them right before you go on live TV or to any social event where you want to appear as anything other than an extra on Game of Thrones.
Golden beets are gorgeous. Peach-toned on the outside, lemon yellow on the inside. And they taste better than their red counterparts. Use these if you can find them.
Beets, both red and golden, have more water than sweet potatoes. Be sure to pat dry thoroughly. And be prepared to be shocked at how much they shrink.
Sweet potatoes are the most co-operative root vegetable. They don't sweat much, shrink little and are reasonably uniform in girth.
Don't cut corners and toss the vegetables in the seasoned oil. The slices can stick together and very thinly sliced chips will quickly become saturated in oil. Brushing on the oil takes a bit longer but works best.
Flip large chips with a spatula. They could break if you use tongs.
Flip tiny chips with silicone-tipped tongs. A spatula will drive you mad.
And that's about it. If you're a root vegetable chip fan and have tips to add, join the conversation in the comments below.
Root Vegetable Chips
Author:
Charmian Christie
Prep / inactive time:
Cook / active time:
Total time:
This is an extremely flexible recipe. You can use the spice mix suggested, which is a blend of at least fifteen Moroccan spices, or go as plain as salt and pepper. For something in between, try the spices used in the Not-Too-Spicy Roasted Cauliflower. A mandolin will reduce prep time considerably and allow for more consistent, thinner chips. If you don't have a mandolin, you can slice more thinly and consistently if you cut the vegetables in half, place the cut side down, and then slice half-moon chips. Most food processor slicing disks aren't suitable, as they slice too thinly and the chips will burn. Makes: A snack for 4 Commitment Level: Ready in an hour or less
Ingredients
1 pound root vegetables (potatoes, sweet potato, parsnip, turnip, taro and/or beet)
3 tablespoons vegetable oil
4 teaspoons ras el hanout (available at Middle Eastern specialty shops)
1 teaspoon fine sea salt
Instructions
Preheat oven to 375°F. If your oven has a convection setting, use it and adjust the temperature accordingly. Line three baking pans with parchment.
Wash the root vegetables. Leave the skin on or peel at your discretion. I leave the skin on for white potatoes but peel sweet potatoes. Slice the vegetable as thinly as you can. However, it' more important to be uniform than thin so that the chips cook evenly. Aim for 1/16-inch thick but do not cut thicker than ⅛-inch.
Place the slices on a sheet of paper towel, blot dry, then arrange in a single layer on the baking sheets. Different vegetables cook at different rates, so if you are mixing vegetables, put one vegetable per pan.
In a small bowl, whisk together the oil, spices and salt. Brush the spice oil onto the chips with a pastry brush. Flip the vegetables over and brush the spice oil on the other side.
Bake for 10 minutes for 1/16-inch slices or 15 minutes for thicker. Remove the pan from the oven, flip the chips over and return the chips to a different rack for even cooking. Continue baking the chips anywhere from 5 to 20 minutes depending on how thick the chips are what vegetable you're roasting. The chips are ready when they are golden and the edges curl or ruffle. The thinner the chip, the more pronounced the ruffle. (Keep an eye on the smaller chips as they cook faster.)
Transfer the chips to a layer of paper towel to cool. Eat as is, or dip in a tzatziki or aioli variation that suits your spice selection.
Once cooled, chips can be stored in a resealable bag, with the air squeezed out.
Tip: If you have an ovenproof rack, place it on the baking sheet, set the coated chips on then bake. This eliminates the need to flip the chips.
Notes
This recipe is from The Messy Baker: More than 75 Delicious Recipes from a Real Kitchen by Charmian Chrisite ©2014. Photos are by Ryan Szulc.