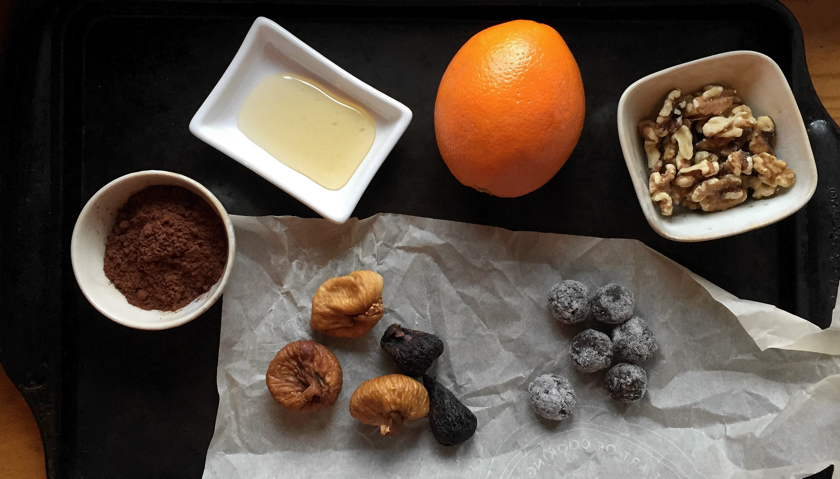 23 Dec

Last-Minute Sugarplums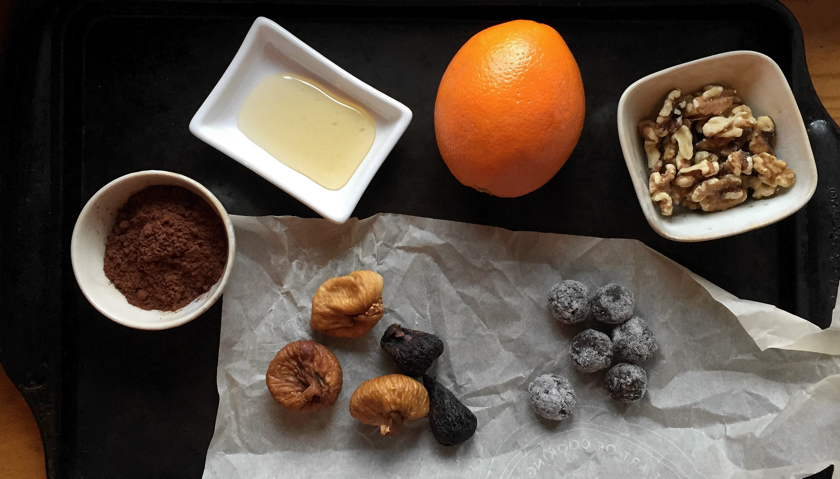 I always assumed sugarplums were plum-shaped candies made of marzipan and dusted in sugar. When I asked friends and family for their theories, guesses ranged from holiday jellies to booze-soaked prunes. We had never seen, let alone tasted one. To us, these Christmas confections existed only in Clement Clarke Moore's poem A Visit From St. Nicholas and Tchiakovsky's Nutcracker Suite. 
Then Laura brought sugarplums to the Pilates studio. I ate three.
Recipes vary. Laura's version embraced a simple mixture of dried figs, nuts, honey and cocoa, all rolled in sugar. Other variations include dried fruits such as cherries or apricots. Nuts, if any, range from almonds to walnuts, but I see no reason pistachios wouldn't do.
With sticky figs and honey, these simple balls weren't the dainty Victorian treat I'd imagined. On the plus side, you need possess no artistry, just a food processor, some standard pantry ingredients and a willingness to get your hands dirty.  Very dirty. And sticky.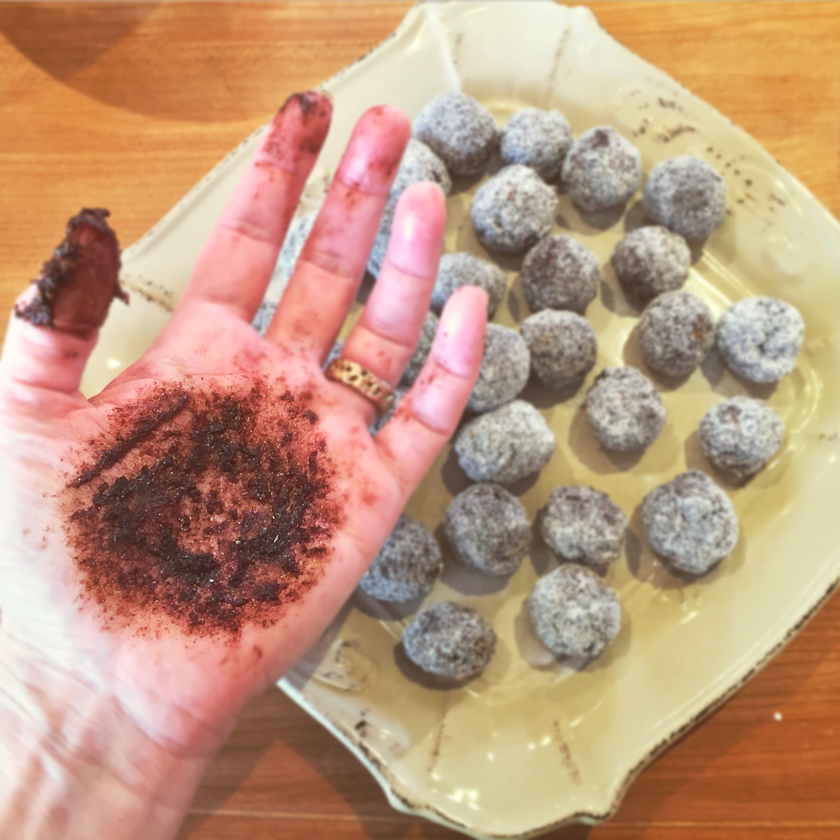 I'm awarding sugarplums two ribbons. One for the healthiest Christmas treat on the menu. The second for being the messiest. Hand-rolled chocolate truffles leave your hands just as coated, but at least the ganache washes off easily.  With these, the honey and natural sugars in the figs act like glue. You will need to scrape your palms before the soap and water have a chance to work.
Mess aside, if you're looking for a no-bake, reasonably natural, fun to make treat, these fit the bill. As a bonus, they're naturally gluten-free, egg-free and dairy-free. Substitute maple syrup or agave nectar for the honey and you'll make a vegan very happy.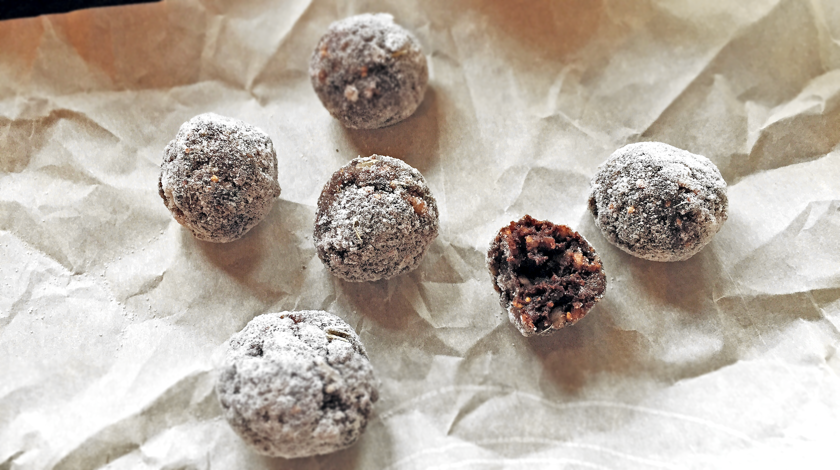 I'm not about to give up the shortbreads or buttermilk scones, but it's nice to have a recipe in the arsenal that doesn't require the oven and can keep impatient hands of all ages occupied while they await a visit from St. Nick.

Last Minute Sugarplums
Author:
Charmian Christie
Prep / inactive time:
Total time:
Ingredients
½ cup chopped walnuts
4 ounces dried figs (I used 2 Calimyrna and 5 Black Mission) about ⅔ cup once chopped
2 tablespoons unsweetened cocoa (Dutch-Processed if you have it)
½ teaspoon ground cinnamon
3 tablespoons honey (Laura likes Manuka)
grated zest from 1 orange (about 1 tablespoon)
½ teaspoon pure vanilla extract
½ cup granulated sugar
Instructions
In a small skillet over medium heat, toast the walnuts until fragrant. As soon as you can smell them, transfer the walnuts to a plate to cool.
Remove the woody stems from the figs and chop each fig into four to six pieces.
Place the nuts, figs, cocoa, and cinnamon, in the bowl of a food processor fitted with a metal blade. Pulse until the nuts and figs are about the size of peppercorns. Add the honey, orange zest, and extract. Pulse a few more times until the honey and zest are evenly incorporated.
Pour the sugar into a shallow dish or bowl. Scoop a heaping teaspoon of the fig mixture into your palm and roll it into a ball about 1-inch wide. Roll the sugarplum in the sugar. Repeat, washing hands as needed.
You're done!
This recipe is adapted from Real Simple.