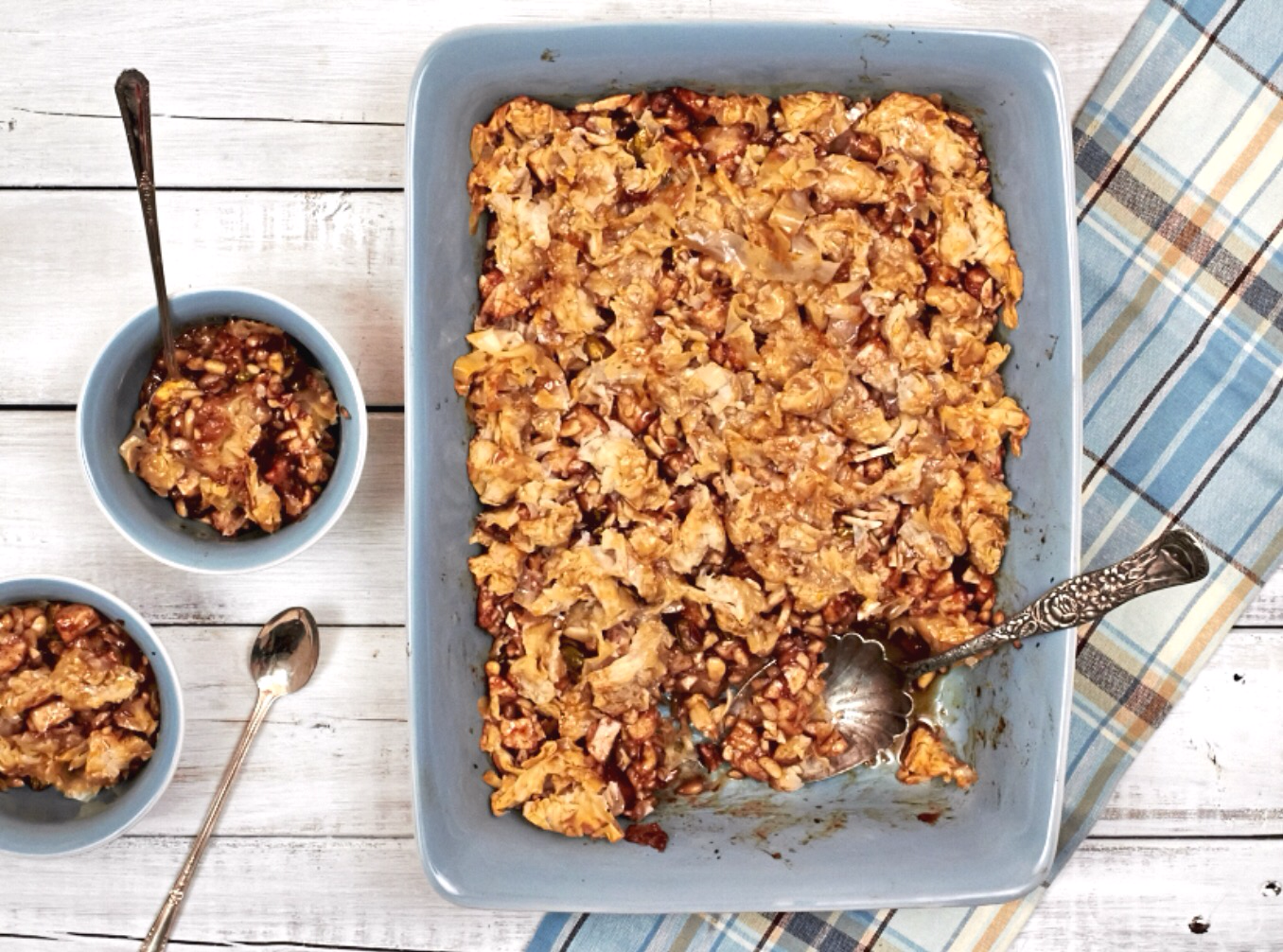 22 Dec

Deconstructed Apple Baklava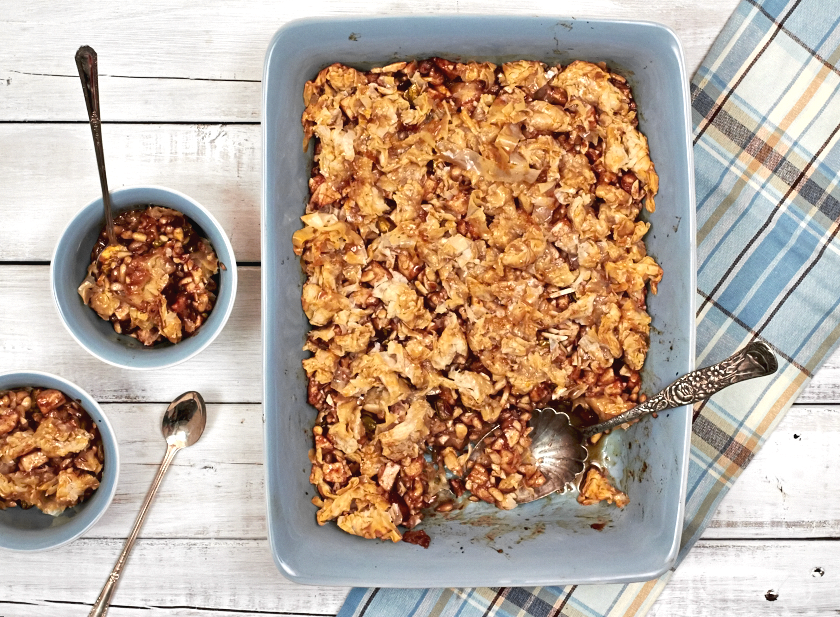 This recipe is a game changer. It turns baklava into a no-fail dessert for two types of Baklava Balkers — those who think phyllo is too hard to work with, and those who think the classic Greek dessert is too sweet.
I've blogged about working with phyllo and gone on television — twice! — to demonstrate how easy it is to handle. Many remain unconvinced. When I mention phyllo, people shake their heads. They don't come out and say it, but I just know they think I have restricted access to a secret brand that only works in the kitchens of women's magazines and food writers. Phyllo never works in theirs. Ever. Rest assured, if you have been struck by the Phyllo Curse, this will undo the spell. This recipe actually wants you to shred the pastry. Got a feisty roll that won't cooperate? Deconstructed Apple Baklava is designed for ornery phyllo. No folding, cutting, brushing, or hiding the tissue thin sheets under towels. Just slice, toss in melted butter and drop it in a pan.
And to those who find baklava too sweet, I agree. It certainly can be. In this version, tart apples and bitter citrus zest tone down the sugar and honey. Find baklava a bit one-note?  Vanilla and cinnamon team up with the citrus to round out the flavours.
So take your notions of super-sweet baklava and ultra-fussy phyllo and pack them neatly in some Tupperware. Shove it to the back of the fridge along with the pickles and chutney you forgot about. Keep them there until you've tried this recipe. If you still think phyllo's a pain, I will say no more of it. If you still think the dessert is too sweet, I will take your share. If you do — as I predict —  like it, don't thank me. Thank Shelley Adams. It's from her new book Whitewater Cooks with Passion (Alicon ©2014).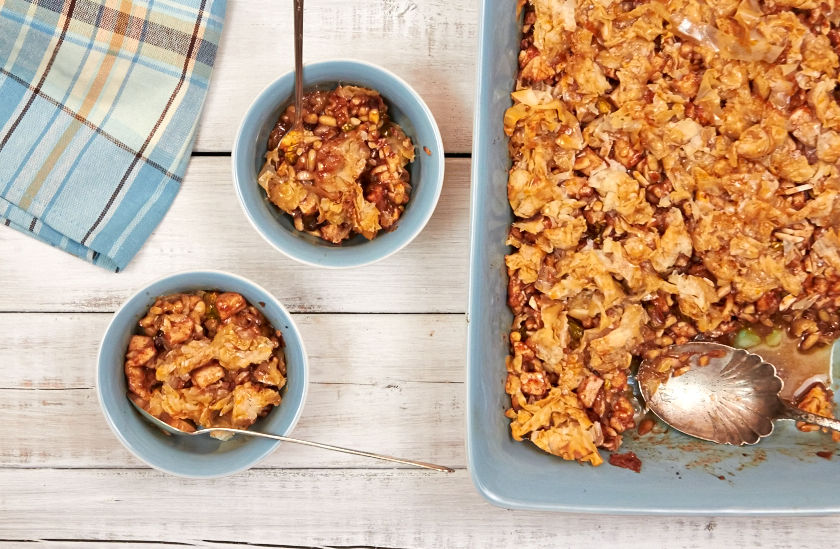 Deconstructed Apple baklava
Author:
Charmian Christie
Prep / inactive time:
Cook / active time:
Total time:
A rustic version of traditional Greek baklava. This is going to become a favourite "go to" recipe guaranteed! Thanks to the unflappable backcountry chef Marianne Abraham, for reinventing this recipe that we loved from our movie catering days. Serves 12
Ingredients
Baklava
1 package phyllo dough, frozen
¾ cup butter, melted
1 cup pistachios, chopped finely
1 cup walnuts, toasted and chopped finely
1 cup whole almonds, toasted and chopped finely
¾ cup sugar
2 teaspoon cinnamon
½ cup butter, melted
⅛ teaspoon salt
3 medium-size tart apples, peeled and chopped finely
Syrup
⅔ cup honey
4 tablespoons butter
1 tablespoon brown sugar
½ teaspoon cinnamon
1 teaspoon lemon juice
1 orange, juice and zest of
2 teaspoons vanilla
Instructions
Baklava
Preheat oven to 350°F.
Grease a 9 x 13 inch baking pan.
Remove plastic wrap from phyllo and let thaw on counter until you can unroll it.
Unroll and remove inner plastic separator sheet. Reroll phyllo.
Cut phyllo roll into ¾-inch pieces.
Transfer phyllo pieces to large bowl, tossing with the melted butter until well coated and ribbon like.
Place half of the phyllo ribbons into the baking pan. Press firmly until it is fairly compact.
Mix chopped nuts, sugar, cinnamon, melted butter, salt and chopped apples and spread over base layer.
Cover loosely with the other half of the phyllo ribbons.
Bake for 25 minutes until phyllo is golden brown. Make the syrup while the baklava is baking.
Syrup
Mixed together all syrup ingredients in a sauce pan and bring to a low boil.
Whisk constantly while on the low boil for 10 minutes.
Remove baklava from oven and immediately pour hot syrup over the hot baklava.
Serve slightly warm with your favourite vanilla ice cream.