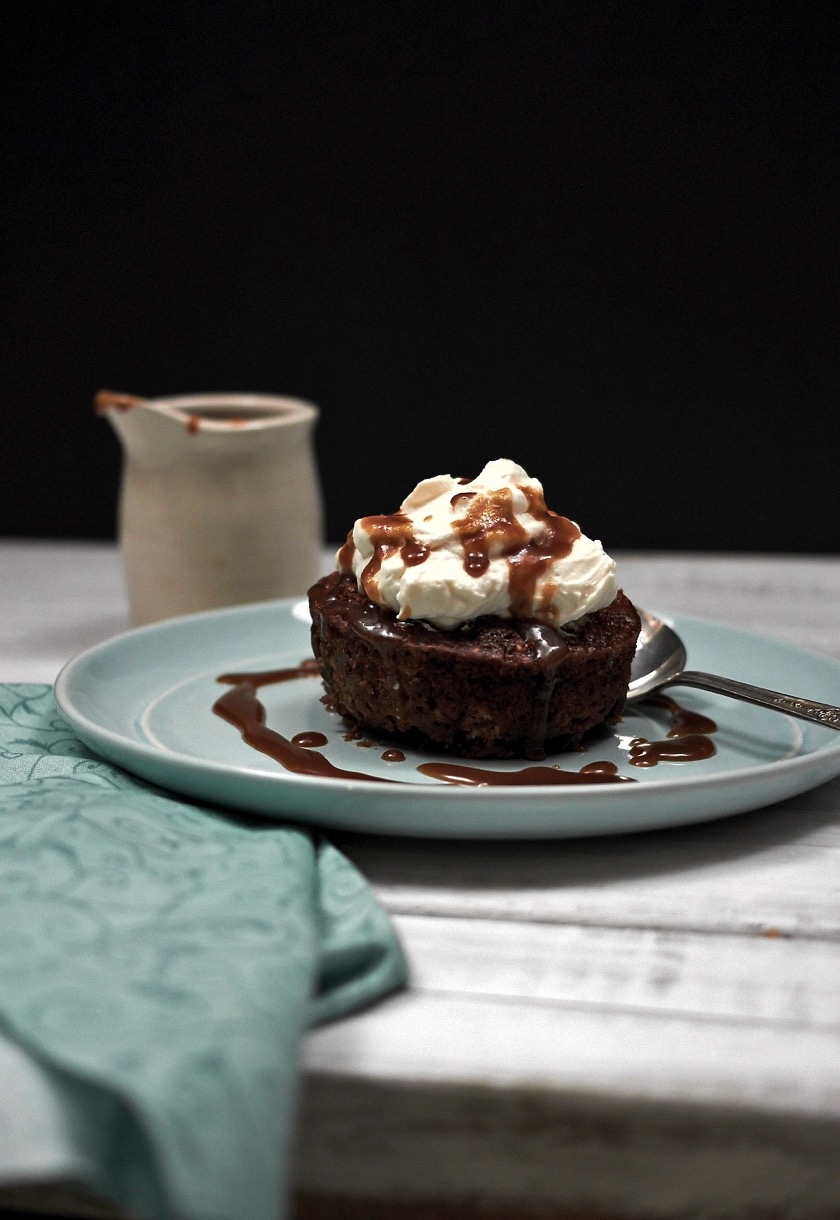 04 Dec

Sticky Toffee Pudding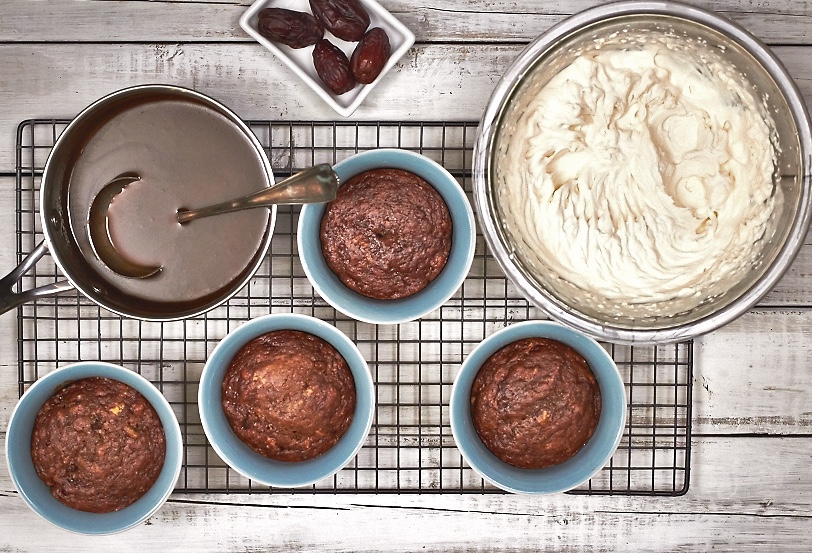 When I first saw the The Dirty Apron Cookbook by David Roberston (Figure 1 © 2014), I wanted to run home and make the ravioli pictured on the front cover. They looked rustic enough to give me hope, yet exuded artisanal confidence. I knew they wouldn't disappoint. Besides, I am always looking for ways to justify my long-neglected pasta maker.  However, once a cookbook is in my hands, I skim the pages back to front. The result? I rarely get past desserts. The Dirty Apron was no exception. A few pages in my sweet tooth suggested the bright pink Sangria Sorbet would be more photogenic. Never mind I had no San Pellegrino limonata at hand. I'd add it to the grocery list. Problem solved.
Then I saw the Dirty Twixter Bars. Surely they were more suited to the cold weather than icy sorbet. But I knew I would end up eating the whole pan by myself, sliver by decadent sliver. Weak-willed and all too aware of my gluttonous streak, I forced myself to flip past the Pistachio Cream Cheese Brownies and the Calvados Apple Ice Cream. If I made those, at home, alone, my self-control would dissolve faster than butter in a hot skillet.
I flipped. I drooled. I plotted.
In the end, I settled on Sticky Toffee Puddings. My reasons included:
I had never had sticky toffee pudding and was curious.
I had all the ingredients on hand.
It was topped with Bailey's Caramel Sauce, which I could eat straight from the pot, should the need arise.
I wanted to take my spiffy new pale blue ramekins for a test drive.
My family isn't big on dates so I wouldn't have to share more than a bite or two.
I was right on the first four points. The fifth? I couldn't have been more wrong.
Turns out my sister is a bit of a Sticky Toffee Pudding expert — when it comes to eating, not making. Having sampled every version in town, she kindly came over to pass judgement on mine. Her ramekin was scraped clean in short order. The price of this free dessert was a clear, detailed verdict. She said the texture was perfect. It was thick but not gummy. The taste was balanced, not too sweet. The Bailey's Caramel Sauce supported without distracting.  I opted for a Bailey's spiked whipped cream in lieu of ice cream, which apparently was an acceptable choice. But did she like the taste of the pudding itself?  This version uses coffee to temper the dates. I'd never heard of using coffee in sticky toffee pudding before and worried it would be too obtrusive. My sister doesn't even like coffee, so I wouldn't have been surprised if she took one bite and handed the dish back to me with phoney thanks and an excuse to leave. Not a chance.  In fact, I think I saw her eyeing a second pudding — even after I revealed the secret ingredient. The Dirty Apron recipe passed her Sticky Toffee Test with such good grades she wants it instead of birthday cake. Given her enthusiasm, I won't make her wait until September.
Andrew, who loves coffee but isn't so big on dates, agreed to sample some. Normally he takes a bite or two and returns the dish to me so I can polish it off. Not this time. He ate the whole thing and shocked me with the verdict of "delicious." Delivered with enthusiasm.
My mother enjoyed hers, which was expected given her love of Bailey's, caramel and sugar in all forms. My father, who can walk past the dessert tray without stopping to browse, dutifully agreed to join the testing.  The pudding grew on him with each bite. By the time his portion was gone, he admitted he wouldn't say no to another round of sticky toffee pudding in the future. (Translating Dad Speak to English — "Delicious! Please make it again. Soon.")
Doing the math: Four tasters. Four puddings. That left me with? Nada. After all the pitting, stirring and clean-up, I got one spoonful of pudding. One small, Canadian-polite spoonful.
I consoled myself by eating Bailey's spiked whipped cream drizzled with the Bailey's Caramel Sauce. Clearly, I'll have to make more Sticky Toffee Pudding. When my family isn't around.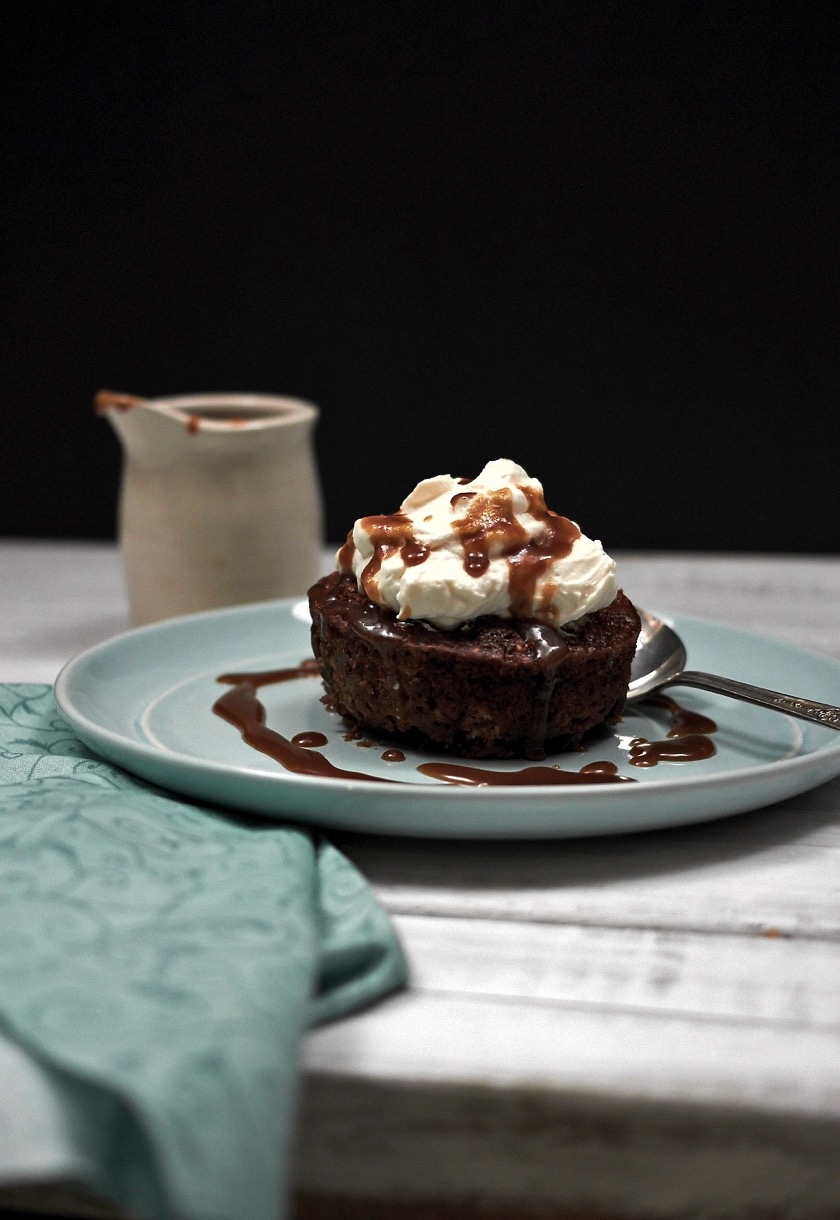 Sticky Toffee Pudding
Author:
The Dirty Apron Restaurant
Prep / inactive time:
Cook / active time:
Total time:
One afternoon we asked our followers on Twitter to tell us their favourite comfort dessert. We then chose one to make in class. The winner was a sticky toffee pudding, which we elevated by adding Bailey's to the sauce, in honour of my mother, who is Irish. Serve with your favorite ice cream, such as Calvados Apple Ice Cream.
Ingredients
Sticky toffee puddings
1 cup dates, pitted and coarsely chopped
2 teaspoons instant coffee granules
½ cup water
1 teaspoon baking soda
¾ cup all-purpose flour
1 teaspoon baking powder
2 tablespoons unsalted butter, room temperature plus more, softened for brushing the muffin tins
¼ cup granulated sugar
Two eggs, beaten
Bailey's caramel sauce
3 tablespoons unsalted butter
⅓ cup brown sugar, lightly packed
3 tablespoons whipping cream
2 tablespoons Bailey's Irish cream
Instructions
Sticky toffee pudding
Preheat the oven to 350°F. Butter 4 cups in a muffin tin. (I used ramekins because my muffin tins are horrifically abused and too small. See note for more.)
Place the dates, coffee and water in a small saucepan and bring to a boil over medium heat. Cook, stirring often for 2 minutes, then remove from the heat, stir in the baking soda and allow to sit for 5 minutes.
Stir together the flour and baking powder in a small bowl. Place the butter, sugar and eggs in a medium bowl and beat together until well combined. Beat in the flour mixture, then stir in the dates. Spoon enough batter into each muffin cup to fill it ½ full.
Bring the large kettle of water to a boil. Set the muffin tin into a large roasting pan. Fill the roasting pan half full of water, so it reaches halfway up the sides of the muffin tin. Bake on the middle rack for 15 minutes. Reduce the heat to 325°F, and continue baking until the skewer inserted into the centre of the putting comes out clean, about 15 minutes. Remove the roasting pan from the oven and transfer the muffin tin to a wire rack to cool. Run a knife along the inside edges of the muffin tins to unmold the puddings.
Bailey's caramel sauce
Melt the butter and brown sugar in a small pan over medium heat. Stir in the cream and Irish cream and allow to boil gently until slightly thickened, about 2 minutes.
To serve
Place the puddings on individual plates with generous lashings of hot caramel sauce.
Notes
This recipe is excerpted from
The Dirty Apron Cookbook
by David Robertson (Figure 1 © 2014 )
The muffin tins required here are not the standard 12-well tins. These hold closer to 1 cup of batter. If, like me, you don't have big-muffin tins and/or yours are a bit too well-used, you can use ceramic ramekins instead. The cooking time might take a bit longer.