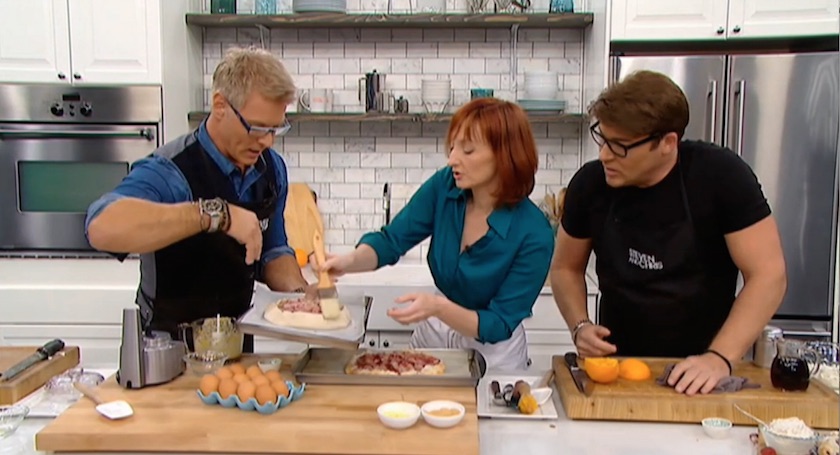 13 Nov

Making Memories and Food

Corwin Hiebert spoke at the Food Bloggers of Canada Conference in Vancouver last month. Although he's not a blogger, he observed that over time bloggers can become tied to their computers. In the process, they lose their enthusiasm, their passion, their curiosity. They slip slowly from Active Participants to Passive Observers.  "You don't create memories online," he said. "You create memories in real life."

He's right.

Here are some of the memories I've compiled since the launch of The Messy Baker.

The Decatur Book Festival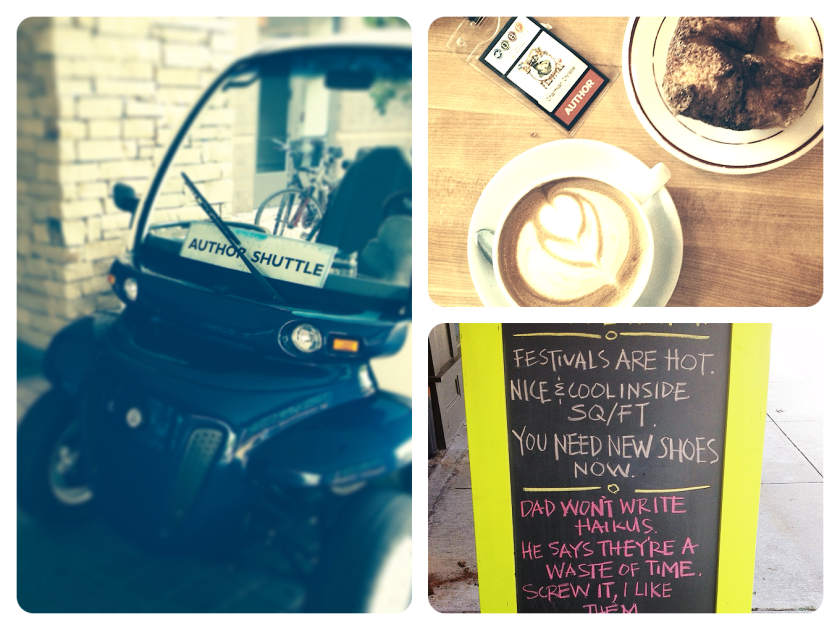 For two days I was one of 600 authors and 100,000 visitors that make at the Decatur Book Festival an East Coast gem. I had my first taste of kouign amann with cookbook author Lisa Howard and dined on Indian street food with Wendy Allen of The Cook's Warehouse. And for one glorious hour I shared the Springer Mountain Farms Kitchen Stage with Kim Severson. Never mind that the Georgia heat melted my Double-Stuffed Uber Oreo cookie dough in front of a live audience. Kim made me look good. We talked about butter tarts, Nanaimo bars and how butter in Canada doesn't always come in stick.
Fashion Weekly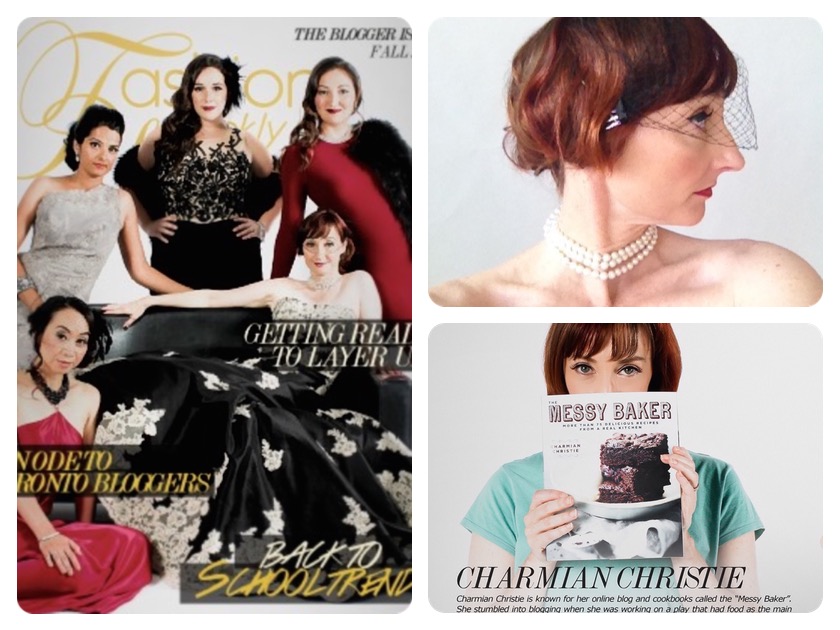 While I left Decatur with cocoa under my nails, Fashion Weekly did its best to transform me into the shiny version of perfection I can only dream about. For an issue paying tribute to bloggers, they glammed me up in pearls and lace and a spiffy black veil. And yes, those eyelashes are false. I gave the dress back but wore the lashes home.
Steven and Chris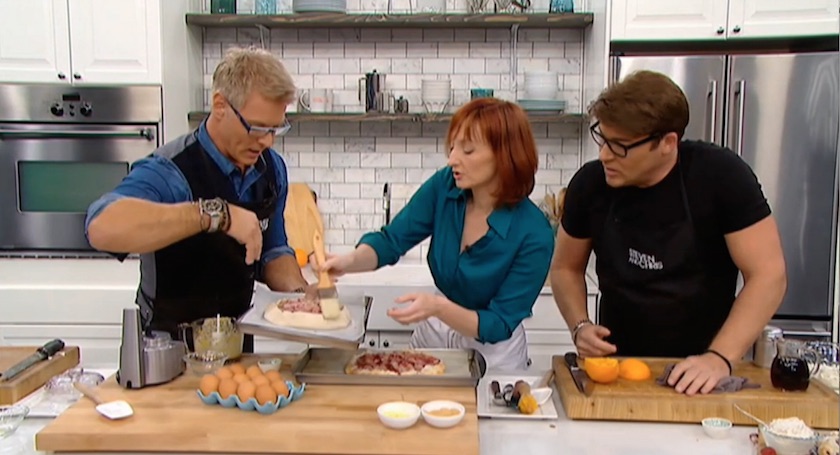 How many extroverts does it take to make a galette? If you go by this snapshot it takes three, each giving it their all. In reality a team of food stylists prepped the stage for my appearance on Steven and Chris. Their meticulous planning and helpful run-throughs kept things on track and on time — no matter what Chris threw at me, the galette, the fridge or the floor. Want to see the whole clip? Click here (I'm at the 9 minute mark).
Canada AM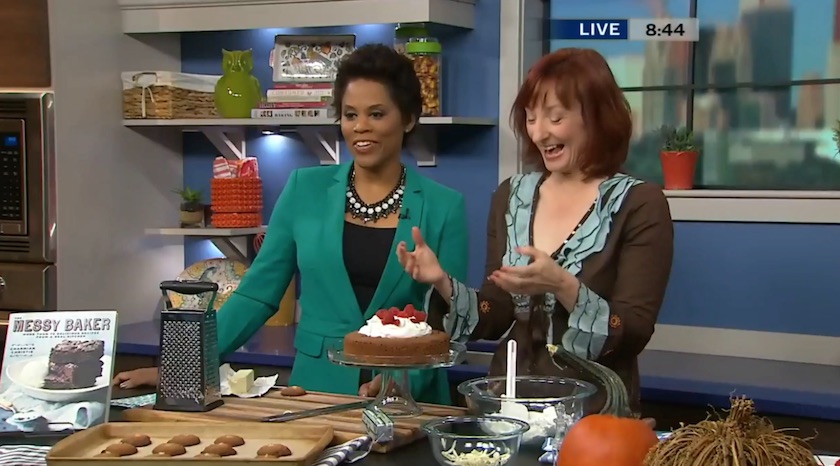 The next day, in a less messy segment, I help Marci rescue burned cookies and salvage sunken cake. We grated and dolloped and talked about the power of persuasion. Want to see the clip? Click here.
Two 60th Anniversaries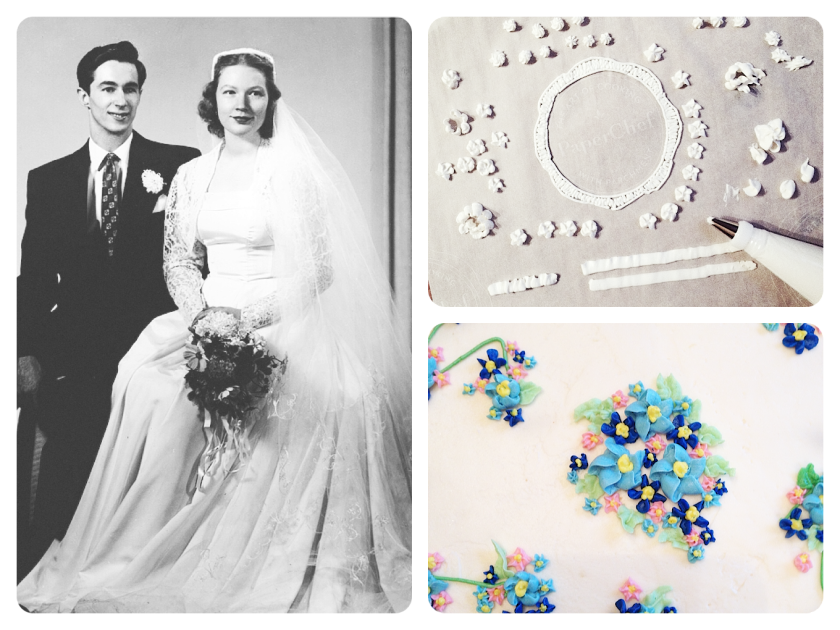 Of course, there is life outside book promotion. At the height of the media tour both my parents and my husband's parents celebrated their 60th wedding anniversaries — one week apart. Since I seem to work best under pressure, I decided this was the ideal time to teach myself piping skills. I decorated the cakes in buttercream using their respective wedding china patterns for inspiration. As always, there was a learning curve, which I'll tell you about another time. On the plus side, these parties didn't take place during a heat wave, unlike my sister's wedding.
What's Cooking Bracebridge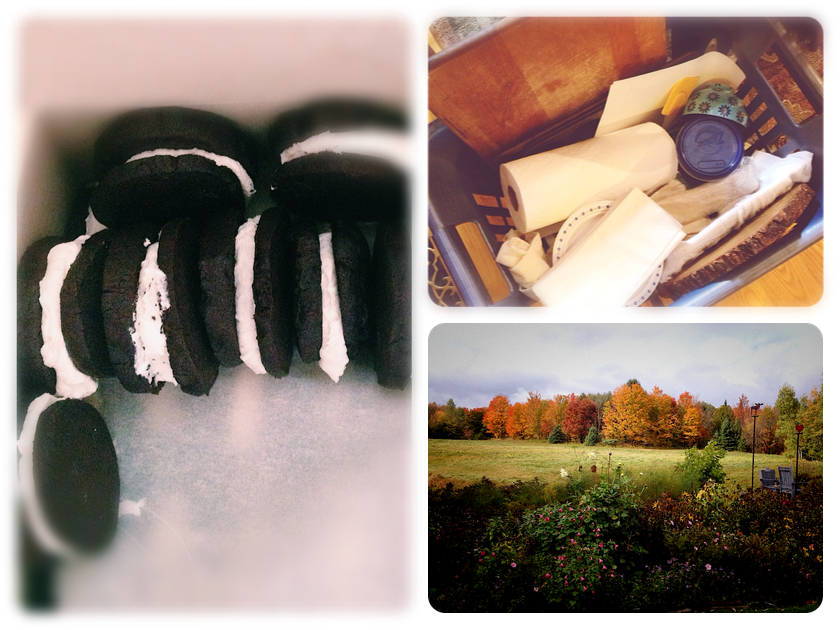 On the weekend of our anniversary, Andrew and I headed to the Muskokas where we were treated to fall colours and small town hospitality. I was fortunate enough to take part in the first ever What's Cooking Bracebridge festival in the heart of cottage country. My Double-Stuffed Uber Oreos didn't melt this time. Instead of performing outdoors in sauna-like Georgia heat, I demonstrated in the climate-controlled Rene Caisse Theatre. Charmaine Broughton joined me on stage while Roxy, the stand mixer KitchenAid loaned me for the demo, did the grunt work.
Food Bloggers of Canada

If you told me I'd slap a fez on my head and drape myself in a red feather boa while posing with Dianne Jacob in a Minnie Mouse bow and oversized glasses, I'd have wondered if large amounts of alcohol and/or cash were involved. In reality it took neither, just Dianne's suggestion and a box of props. For you, Dianne, anything. Even a fez.
In for a penny, in for a pound. Within minutes I was posing with more bloggers, many of whom took part in Messy Baker Monday. No hats, just smiles. And lanyards. It's not a conference without lanyards.
And when all the dinners, seminars, workshops and networking sessions were over, I left with a Chemex coffee system and so much swag I had to transfer 4 pounds of it to my carry-on or face a $50 overweight baggage fee. Good thing they didn't weigh me after a weekend of non-stop eating.
Barbara-Jo's and North By Northwest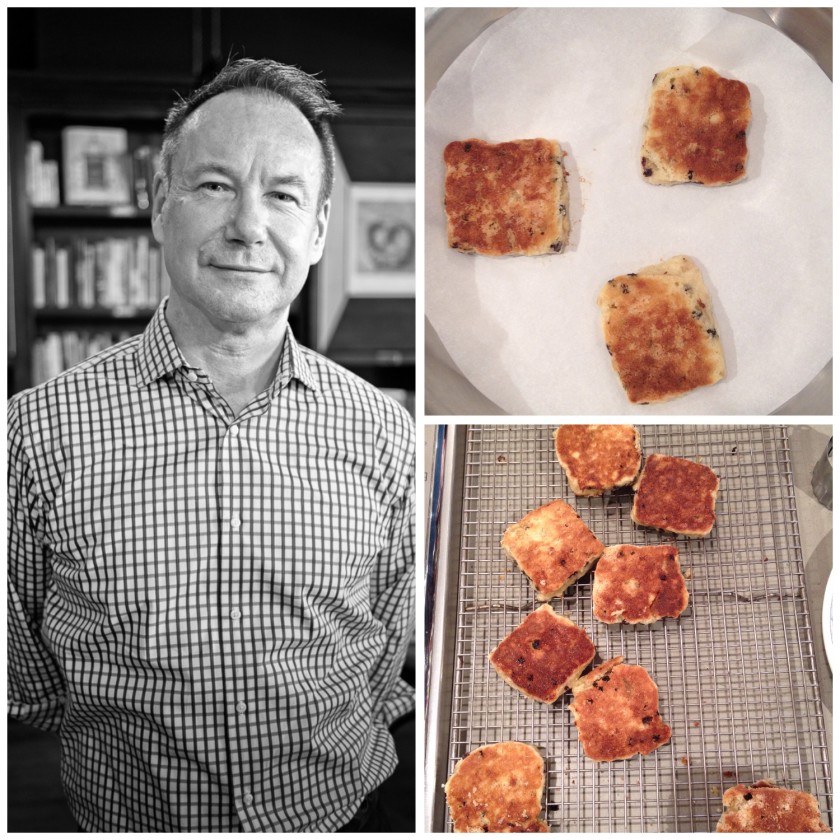 I want to live at Barbara-Jo's Books to Cooks. It's spacious, has an amazing kitchen, is wall-to-wall cookbooks and houses an antique grand piano. The staff is friendly, knowledgable and totally unflappable. Food, books, music and a sense of community. The only thing missing is a cat. I can fix that.
While there, Mark and I made Welsh  Griddle Cakes to honour his heritage. I demonstrated the tapenade rolls, which Mark had prepped using homemade tapenade. Sheryl MacKay of CBC's North by Northwest interviewed me as I fussed with phyllo and make embarrassing childhood confessions. In the end, I not-so-deftly dodged Sheryl's signature closing question, "What's your favourite cookbook?" Apparently, I'm the only person to bail on a solid answer. But what do you expect from a woman who wilfully defies tradition by making square Welsh cakes flecked rebelliously with candied ginger? To hear the podcast, click here. I'm at the 40-minute mark.
Les Petits Chefs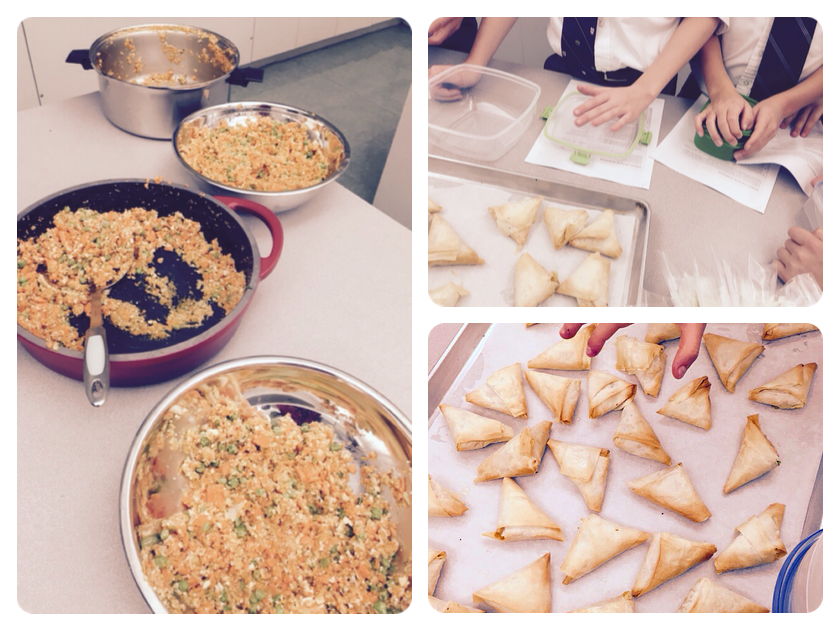 Mardi Michels invited my into her school to teach a session at her cooking club, Les Petits Chefs. With the help of Mardi and her assistant, we taught more than a dozen students how to make my sweet potato samosas. Working with phyllo might intimidate a lot of adults, but these kids were more than eager to try their hands at wrapping appetizer-sized treats. How'd we fare? Mardi posted a stellar summary of the class on her blog, eat. live. travel. write. Read details here. I don't know when she had time to take all the photos she posted. I barely had time to grab a few iPhone shots.
Grand Magazine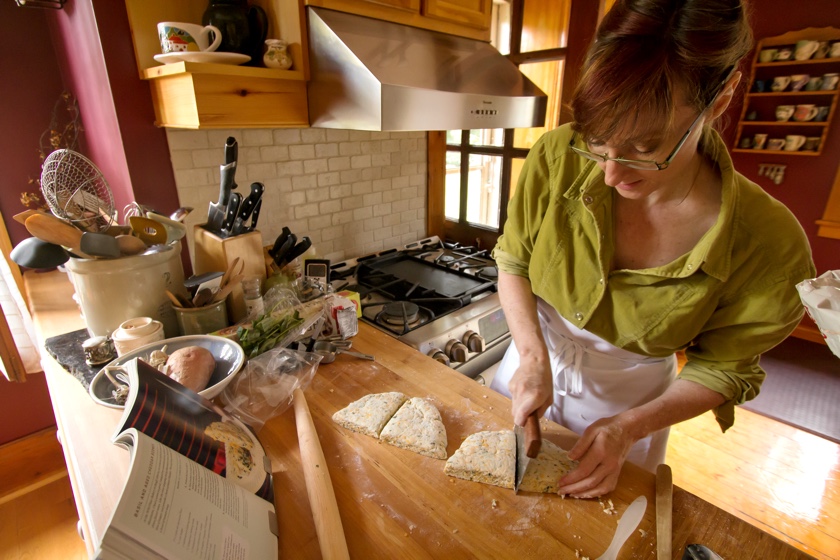 I've been interviewed on the phone, via Skype, at demos and even coffee shops. This is the first time the interview took place in my kitchen. What it lacked in efficiency — for two hours I made Basil & Aged Cheddar Scones while James-Beard-award-winning writer Matthew Kadey asked questions, took pictures and scribbled notes — it more than made up for in comfort. It was more like chatting to an old friend than being interviewed. Kadey's article and photos (he took the photo above) is featured in Grand Magazine this month.
November and Beyond
I'm now back at home, folding laundry, getting the snow tires on the car and wondering where Autumn went. And I don't mean the mouse.
Stay posted via my Events Page. There are signings and talks and demos on the calendar with more being added as we confirm dates. If you attend an event, don't be shy. Say hello. I won't make you wear a fez.