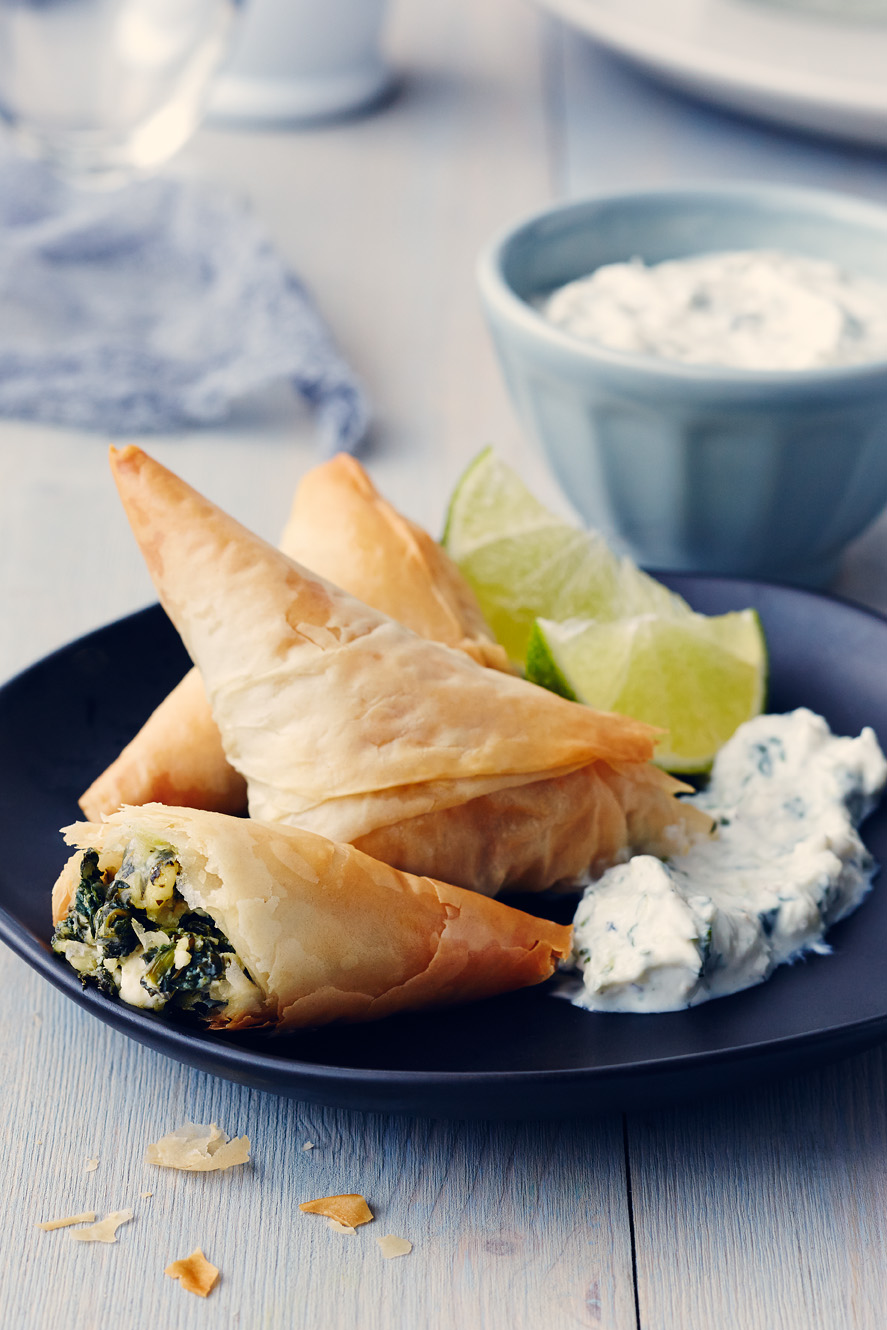 11 Sep

Working with Phyllo Pastry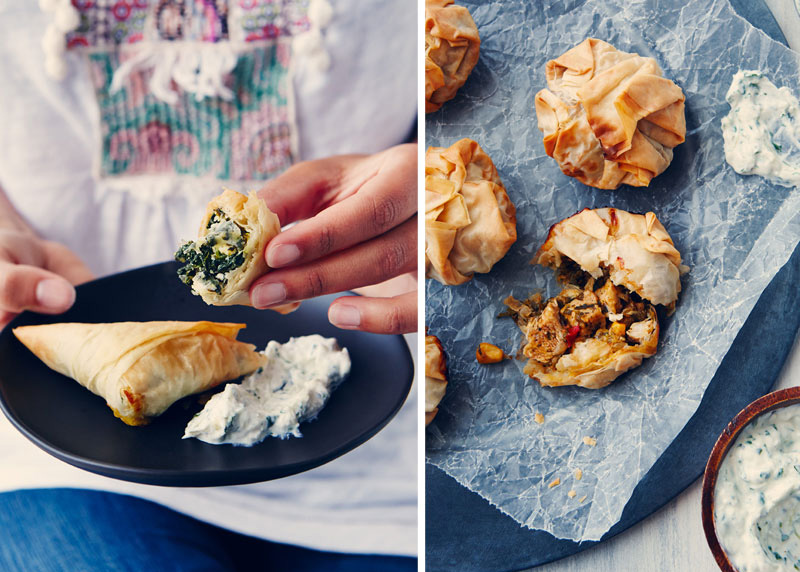 Phyllo is that shattery pastry found wrapped around many Greek and Middle Eastern treats. Thin as tissue paper, it's notoriously hard to make from scratch. While it has a reputation of being finicky to work with, it's surprisingly co-operative if you treat it graciously. I didn't have time to address all the ins and outs of working with phyllo during my CTV News at Noon segment the other day, so I'll fill the gaps in here.
Defrosting Phyllo
Phyllo can't be hurried. Resist the temptation to work with partially frozen dough, and don't rush the thawing with the microwave. Believe me. I've  tried both shortcuts and they don't work. Half-frozen dough breaks and the microwave attempt resulted in an unscheduled trip back to the store. To defrost phyllo in a way that produces workable sheets and a sane cook:
put it the refrigerator overnight
leave it on the counter for 4 to 5 hours (assuming normal room temperature)
Like to be spontaneous? Keep phyllo in the fridge. Unopened, it will keep for up to 4 weeks. Just write the use-by date on the box.
Oil vs Butter
Most recipes instruct you to brush phyllo with melted butter. I use a neutral, light oil, such as canola, instead because it's easier. I never melt enough butter. Or I melt too much. And when I'm involved in a marathon wrapping session, the water separates and the solids clog the brush. While butter adds flavour, especially for desserts like baklava, most of the time I'm wrapping strongly flavoured appetizers where the taste of butter gets lost. Oil is faster, less messy and produced the results you see in the photos above.
Keep Phyllo From Drying Out
Once phyllo dries out it cracks and shatters like centuries old parchment. There's nothing you can do to save it. Likewise, soggy phyllo produces a mess of another kind. To keep the sheets from drying out, place a clean, damp (not wet)  towel over the stack of phyllo sheets. Think your towel's too wet? A sheet of parchment between the phyllo and the towel helps keep the pastry from drying out and will mitigate any damage caused by a too-damp towel.
Keep Phyllo From Bursting
While the phyllo pastry can't be too dry, the insides can't be too moist. You'll be ensured success if your filling isn't wet. What's too wet? If you let the filling sit for a few minutes and you see pools of liquid, it's too wet. Strain the filling in a colander or sieve. If that will prove too messy, tip the bowl on an angle and allow the liquid to collect. Pour it off and fill your phyllo — but not too full. A full 12" X 18" sheet folded in thirds will hold about 1/4 cup of filling. A half sheet folded in thirds holds about 1 tablespoon of filling.
Cutting Phyllo
I can be lazy. I see no point in layering three sheets and then cutting the stack in thirds. When possible, I simply fold a sheet in thirds (see Spinach Dill Pockets for details) and give it a gentle pat. If I must cut sheets, say for the bundles pictured on the right, a pizza cutter works beautifully. If you don't have one, any sharp knife will do. Some people use scissors, but that requires picking up the dough, which increases the risk of tearing it. Besides, I never know what the kitchen scissors opened last. If I'm too lazy to cut phyllo, you know sterilizing scissors isn't making it on my To Do list.
What if it tears?
Unlike standard pie dough, torn phyllo isn't a problem. Overlap the torn edges and place the damaged sheet between solid ones. No one will ever know. If you find the sheets are tearing as you lift them from the pile, they are too dry or too wet. If they tear while you brush them, make sure you are using a soft pastry brush and applying the oil with a firm but gentle hand. Think dusting a picture frame, not lubricating a bicycle chain.
Storing Leftover Phyllo Sheets
If you have leftover sheets, wrap them in plastic wrap and then place them in a resealable ziplock bag, making sure you have forced all the air out. These resealed sheets will keep for up to two weeks in the refrigerator, providing they are properly sealed. Technically, you can refreeze them, but they will keep for only a few weeks and will require defrosting.
Got any phyllo questions? Ask away…