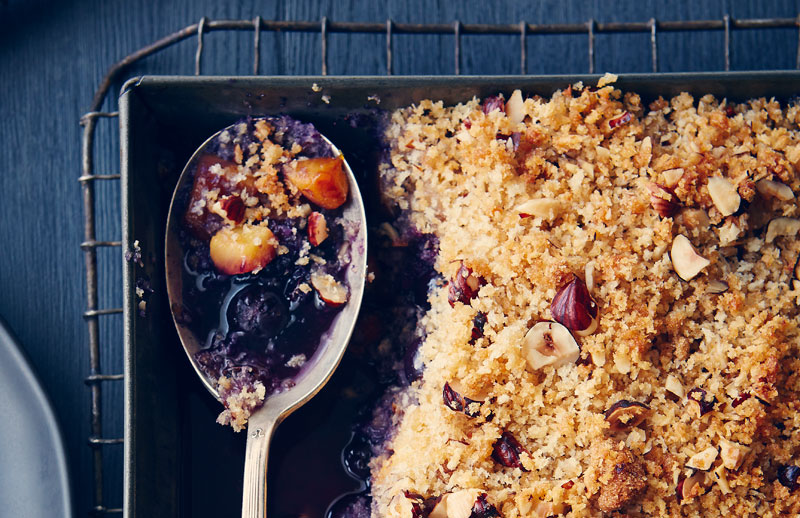 21 Jul

Extra-Crispy Peach and Blueberry Crisp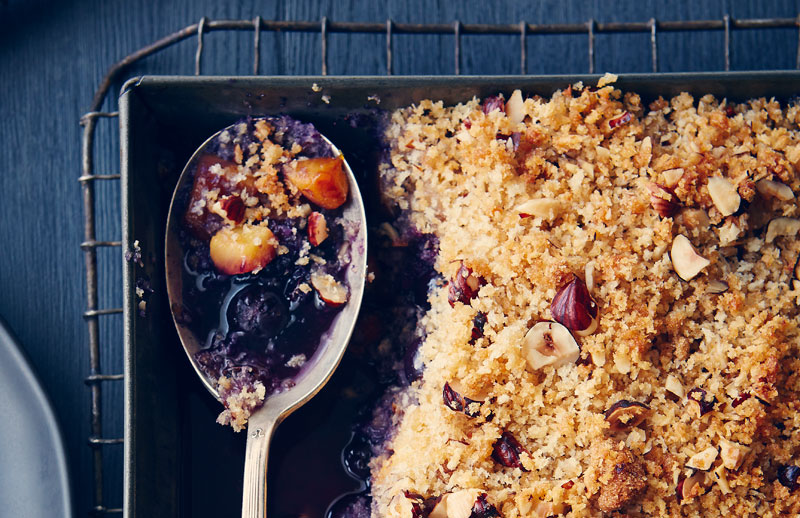 Writing a book is a lot like working in theatre. "Hurry up and wait!" is the mantra. You learn your lines (or write them in this case), hit your marks (deadlines) and then wait. For months. You watch the clock, the calendar and your nails grow. While time grinds to a halt, other people go off into dark corners and hover over the ugly, artless Word document you sent them, dissecting the manuscript insipid word by insipid word. You are sure it's all a huge mistake and the only reason you got hired was a clerical error. They were just too polite to set the record straight.
Eventually, around the time you are sure they have forgotten all about you, an even uglier, less artless (as if that is even possible) marked-up copy arrives in your inbox. It's time for edits. This stage is a bit like rehearsing a farce in which the door you're expected to leap through changes every run-through. And you do this blind-folded and half-drunk with lack of sleep. Every Track Changes underline underlines your weaknesses. Anxiety follows you around like an ugly rumour. You get paranoid, defensive, unsure of yourself. You hate every idea you've ever had and every word you've ever typed. You hate your computer, the Internet and your parents for giving you life.
Your writer friends assure you this is normal. You feel sweet, knee-buckling relief for 30 seconds. Anxiety descends and drapes over your shoulders like an old sweater. You pull it tight.
Because you are a Professional, you blow your nose, grab your notes and race off to the coffee shop where you spend your entire advance on lattes while  addressing all the editor's questions and fixing all your mistakes. You must stay out of reach of your supportive friends and family. Only caffeine and fear can propel you forward. Kindness will drag you down, dissolve you. Hugs and understanding can be welcomed only after the manuscript is off your desk.
You send it back stuffed with as many exclamation marks and smiley faces as you feel you can get away with while still being taken as a Serious Writer. And then you wait. Again.
You float in a timeless sea, bobbing between waves of pride and worry. You did it. But not well. You loved it. You want to crawl into bed and eat Almond M&Ms until you burst. You have the best job in the entire history of the universe. No one needs another cookbook.
Your writer friends assure you this is normal.
Then it hits you. Writers aren't normal.  And you have just proven you are every inch a Writer.
You clean the oven because you've always wanted to tell people you're ready to stick your head in the oven. While others find this disconcerting, you like playing with metaphors, even disturbing ones, proving once again that writers aren't normal. Congratulations, Writer, you're following your path.
One day, as you stand in the kitchen admiring your sparkling clean range and vowing to never, ever cook in it again since you really hate cleaning ovens, a giant package lands on your front stoop with a thump. The first pages have arrived. This is the art department's rendering of your book, all done up with photos and formatting and "000" where page numbers will eventually be. It begins to feel Real.
You sit in the living room and go over every page, realizing your words aren't as artless as you'd imagined — at least not with a nice font and pretty pictures to support them. You read it in bed, at breakfast, on the patio. You flip through the pages soaking in the tub. Anxiety now merely hovers inches above your shoulders. You approve the pages and mail the 5-pound manuscript back purchasing every tracking feature the post office will legally allow. And wait.
Within an hour you find yourself obsessively tracking your package, cursing yourself for not making the 10-hour drive to the editor's desk yourself. Your sanity is worth 20 hour's of non-stop highway travel and a couple tanks of gas, isn't it? But it's too late, so you just stalk the package online. And wait.
In the meantime, you are sure the manuscript has gotten lost, the publisher has changed their mind or that you just dreamed the whole thing. After all, it's been 2 years since you started and you barely have the patience to tie running shoe laces now that Velcro is an option.  You busy yourself with unrelated things, dig in the garden, and obsessively Instagram the cat.
And then when you're on vacation, trying to relax and not think about all the work that's piling up in your absence, Oprah.com selects one of your recipes for If You Make Only One Dessert This Summer.
The waiting is over. It's Show Time!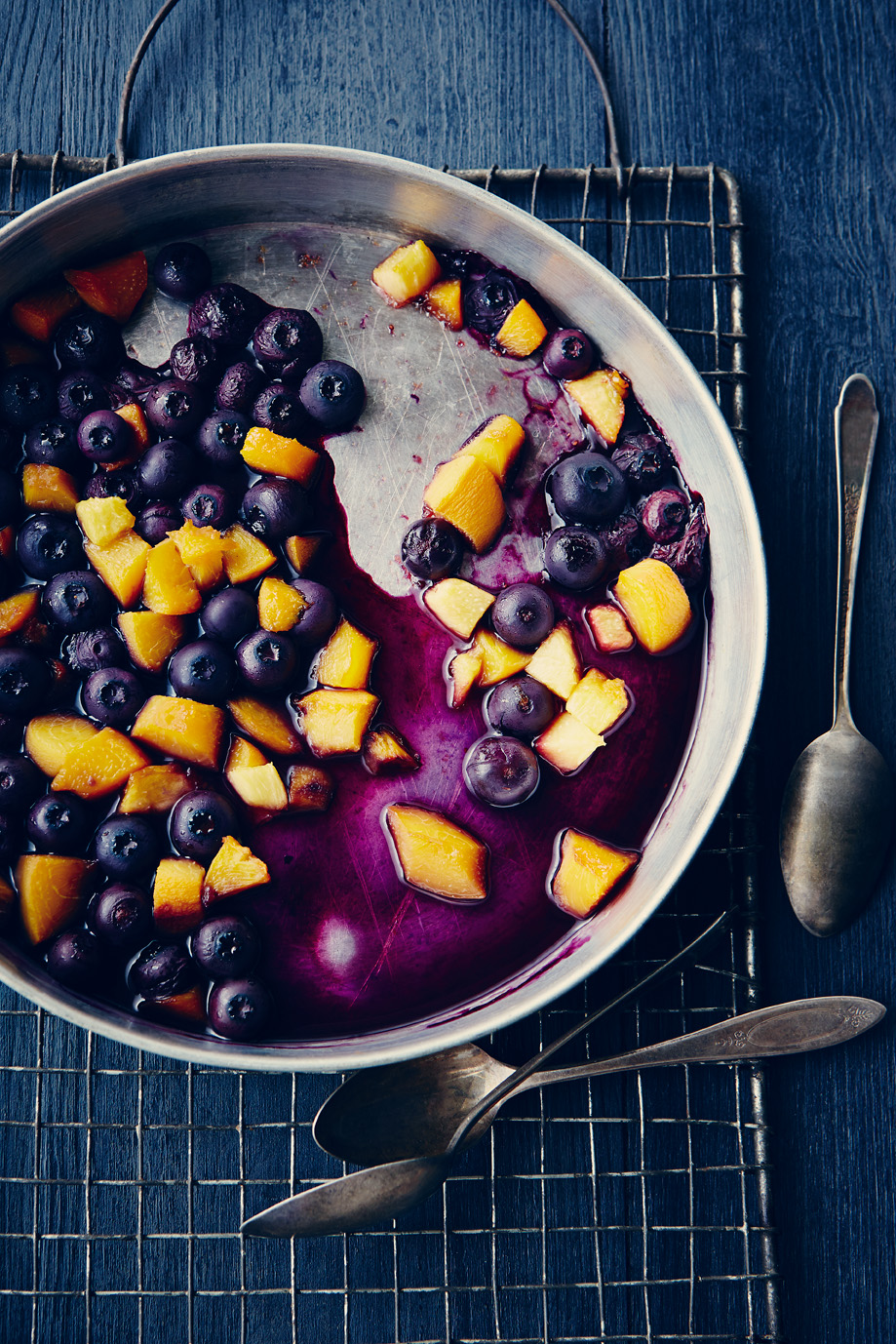 Photos in this post were taken by the patient, talented and unbelievably artful Ryan Szulc.

Extra-Crispy Peach and Blueberry Crisp
Author:
Charmian Christie
Prep / inactive time:
Cook / active time:
Total time:
I had made some zucchini fries using panko and, being a very messy baker, hadn't cleaned up fully from the night before. When I was creating this recipe, I saw the panko crumbs, which are extremely crisp, and thought, "Crisp for the crisp." Unlike traditional crumb toppings made from oats or flour, this one is extra-crunchy, in perfect contrast to the tender, classic summertime blueberry and peach mixture bubbling away beneath the surface. To enjoy the topping at its crunchiest, eat the crisp while still warm from the oven, but be careful when you serve it. The juices like to slop about.
Ingredients
For the filling:
½ cup lightly packed brown sugar
1 Tbsp. cornstarch
Peel of 1 orange, finely grated
3 cups pitted, peeled and chopped peaches
4 cups blueberries
1 tsp. pure vanilla extract
For the topping:
1½ cups panko bread crumbs
½ cup lightly packed brown sugar
½ cup chopped hazelnuts
¼ tsp. fine sea salt
⅓ cup melted, unsalted butter
Instructions
Preheat the oven to 350° F.
To make the filling: In a small bowl, mix the brown sugar, cornstarch and orange peel until evenly combined.
In a large bowl, place the peaches and blueberries. Sprinkle with the vanilla and toss gently to evenly distribute the fruit. Sprinkle with the sugar mixture and toss gently to coat evenly. Spoon into an 8-by-8-inch glass baking dish. Level with the back of the spoon.
To make the topping: In a medium bowl, toss the panko, brown sugar, hazelnuts and salt until well combined. Pour the butter over the crumbs and toss to coat well. Spoon the crumbs evenly over the fruit. Bake for 40 to 45 minutes, or until the fruit is bubbling and the topping is crispy. Allow to cool for 30 to 45 minutes before serving. The crisp can be served warm or at room temperature. Eat as is or topped with Chantilly cream, ice cream, crème anglaise or crème fraîche.
This dessert is best eaten the day it's made. Any leftovers should be covered and refrigerated. Soggy topping can be rescued with a minute under the broiler.
Notes
Crisps are a great way to use up fruit that is almost past its prime. Be sure to remove bruises before chopping. For best results, try to cut the fruit into uniform pieces. Panko are coarse, extra-crispy bread crumbs often used in Japanese cooking. Once confined to Asian markets, these crumbs can now be found in most large, chain grocery stores. Look in the Asian section or in the regular bread crumbs/melba toast aisle.
Psst!
Buy the book
. It includes recipes for Chantilly cream, crème anglaise and crème fraîche.