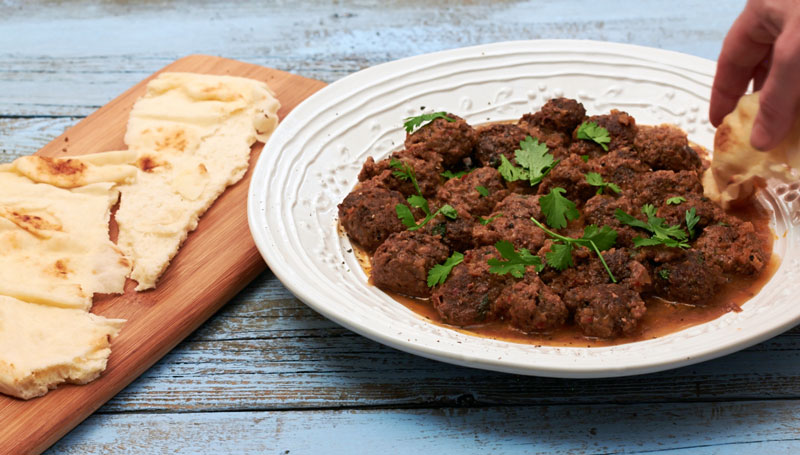 08 Jul

Moroccan Beef & Mushroom Tagine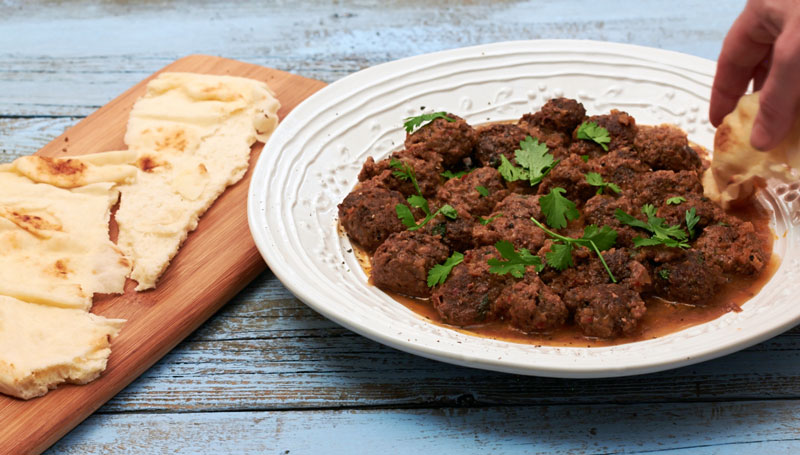 I'm not one for culinary deception. I have never understood why anyone would slip perfectly good spinach into brownie batter or sneak astringent cauliflower into banana muffins. Not only do the flavours conflict, such subterfuge gives respectable vegetables an inferiority complex. So, let me be perfectly clear. When I agreed to create a recipe for the Blend & Extend challenge, I was not treating mushrooms like the redheaded step-child of the food world. I was giving them equal billing.
The stated aim of this challenge is to blend ground beef with mushrooms to a) make beef go further and b) put some more vegetables into your diet without adding another side dish to your list of menu items. As an added bonus, I got c) my mushroom-hating husband to admit there are times when mushrooms are, in fact, enjoyable (you can read more details here.)
Because I was making meatballs without any binding agents such as bread crumbs or eggs, I wanted to make sure the moisture content of the mushrooms wouldn't sabotage the dish. I used a 2 to 1 ratio of extra lean ground beef to mushroom (by weight, not volume) and selected cremini mushrooms for their firm texture. White mushrooms would do just fine. I considered portobello but wondered if the airy gills would provided the needed support.
I quartered the mushroom and then pulsed them in the food processor until they resembled couscous. If you don't have a food processor, you could chop them by hand. Same goes for the onions. Don't over-process them or you'll have onion soup.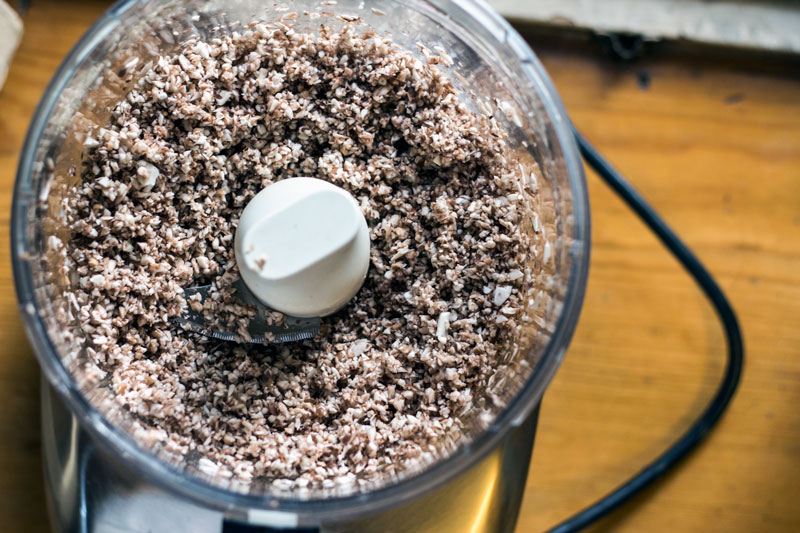 Better yet, you don't need the classic, cone-topped tagine to make this Moroccan dish. All you need is a stove top, large skillet and a lid. Since it partially covers the skillet you don't even need one that fits perfectly. My 12-inch skillet arrived from the store topless, so I used the lid from my maslin pan (canning gear comes in handy so often. Times like these justify the purchase).
The results? Spicy meatballs lounging in a bath of sauce. A shower of lemon juice and some thirsty flatbread is all you need to finish things off.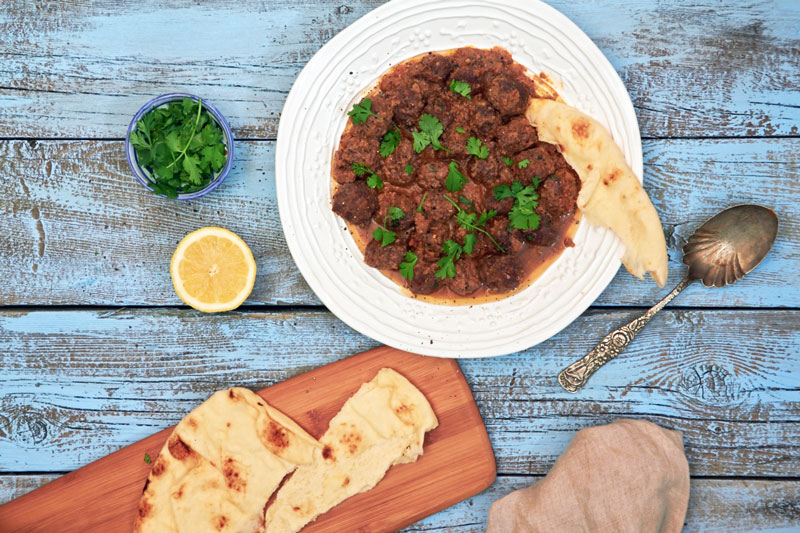 Oh yes, and cilantro. If you're not a cilantro fan, try parsley or a mix of parsley and mint. I won't tell.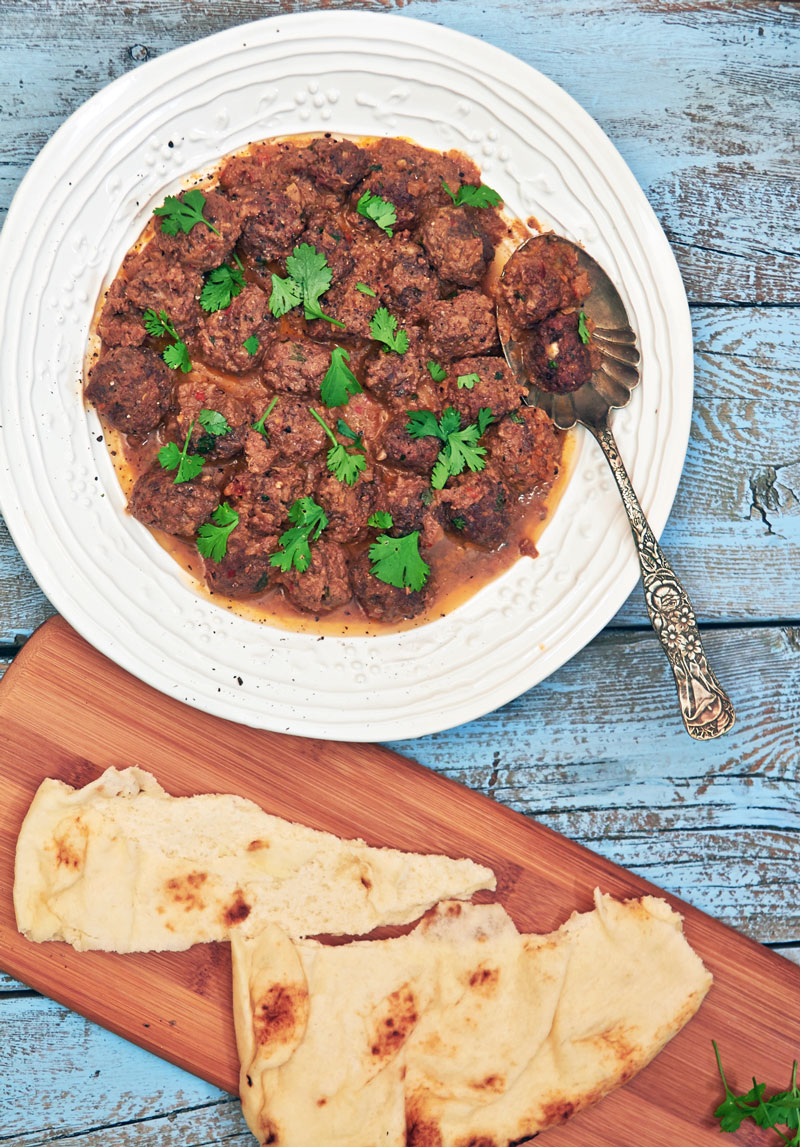 Moroccan Beef & Mushroom Tagine
Author:
Charmian Christie
Recipe type:
Beef & Red Meat
Prep / inactive time:
Cook / active time:
Total time:
Tagine simply means stew. You can make this mushroom-infused Moroccan classic without the traditional cone-lidded tagine slaoui. A simple deep skillet and lid will do. All you need is something to absorb all the spicy sauce.
Ingredients
Meatballs
½ pound cremini mushrooms (about 10 2-inch mushrooms), quartered
1 large onion, peeled and quartered
1 pound extra lean ground beef
2 cloves garlic, crushed
1 tablespoon finely chopped cilantro
2 teaspoons sweet paprika
½ teaspoon fine sea salt
⅛ teaspoon freshly ground black pepper
Sauce
2 tablespoons butter
1 teaspoon ground coriander
1 teaspoon ground cumin
1 teaspoon sweet paprika
½ teaspoon ground cinnamon
¼ teaspoon freshly ground black pepper
½ teaspoon dried chili flakes (optional)
remaining onion (from above)
2 tablespoons freshly grated ginger root
2 cloves garlic, crushed
2 to 3 tablespoon fresh lemon juice
¼ cup chopped cilantro leaves
Instructions
Meatballs
Place the mushrooms in a food processor fitted with a steel blade. Pulse until the mushrooms resemble couscous, about 10 pulses. Place minced mushroom in a large bowl. Place the quartered onions in the food process and pulse until minced. Add ¼ cup of the minced onions to the mushrooms and set the remaining onions aside for the sauce. There should be about ¾ cup of onions left.
Using your hands, mix the beef, garlic, cilantro, paprika, salt, and black pepper into the mushroom and onions. Roll into 1-inch balls. A 1-tablespoon cookie scoop speeds up this process and makes for uniform meatballs. You should have about 40 meatballs.
Heat a deep 12-inch skillet over medium-high. Working in batches so you don't overcrowd the pan, brown the meatballs. Set the meatballs aside. Do not wipe pan out. The browned bits add flavour to the sauce.
Sauce
Melt the butter in the meatball skillet over medium heat. Add the coriander, cumin, paprika, cinnamon, black pepper and chili flakes, if using. Fry for a 30 seconds or until fragrant. Add the onion, ginger and garlic. Cook until the onion is translucent, about 5 minutes. Gently add the meatballs back into the pan. Add enough water to cover the meatballs by ⅔, about 1 cup. Bring the sauce to a boil, reduce to a simmer and cook with lid partially on for 40 minutes. Occasionally check to ensure the sauce hasn't cooked down too far. You want about a cup of sauce left. Add more water if necessary.
Transfer to a warmed serving dish, sprinkle with fresh lemon juice and cilantro leaves. Serve with Middle Eastern flat bread to soak up the sauce. Alternatively, you can serve over couscous or rice.
Disclosure: Occasionally, I work with brands when I feel their product or service fits my from-scratch, real-food mentality. This is one of those times.  I received compensation from Mushrooms Canada for developing, photographing and posting this recipe. I'm a fussy discerning eater, so I post only recipes I'd serve at my own table. This one passed. With flying colours.