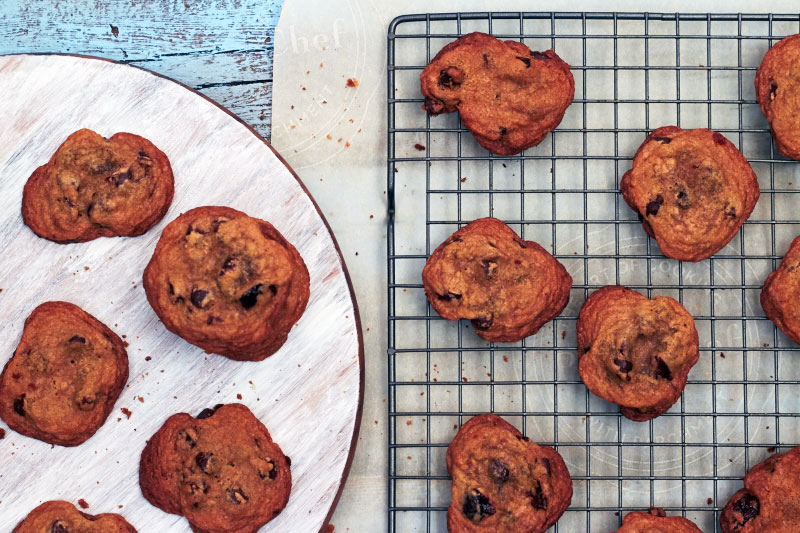 05 Jul

Dried Cherry & Chocolate Chip Cookies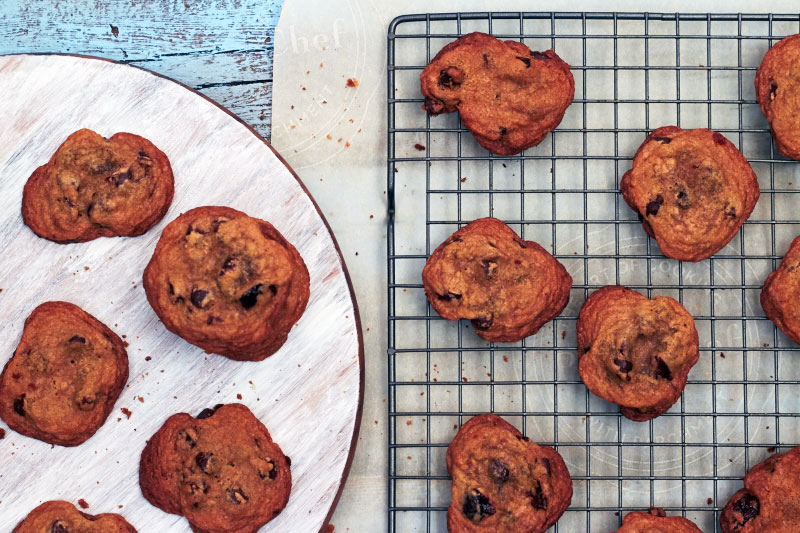 Slice-and-bake shortbreads can be perfectly uniform and not put me off. I've no issue when one gingersnap looks exactly like the next. But I don't trust chocolate chip cookies unless they resemble a culinary version of the Rorschach test. Although roughly the same size, each should bake into its own unique shape with a different mix of goodies waiting inside to be discovered. Do you see the triangular one that looks like an edible recycling symbol? How about the one that looks like a cartoon baby chick?
While the appearance can vary greatly, the experience of eating one should be consistent. I like my chocolate chip cookies crisp on the outside with a chewy core you can sink your teeth into. They should be big enough to disappear in two to three modest bites, but not so large you feel like requesting a steroid test from the baker. Likewise, they shouldn't be so small you confuse them with a button that's dislodged from your winter coat.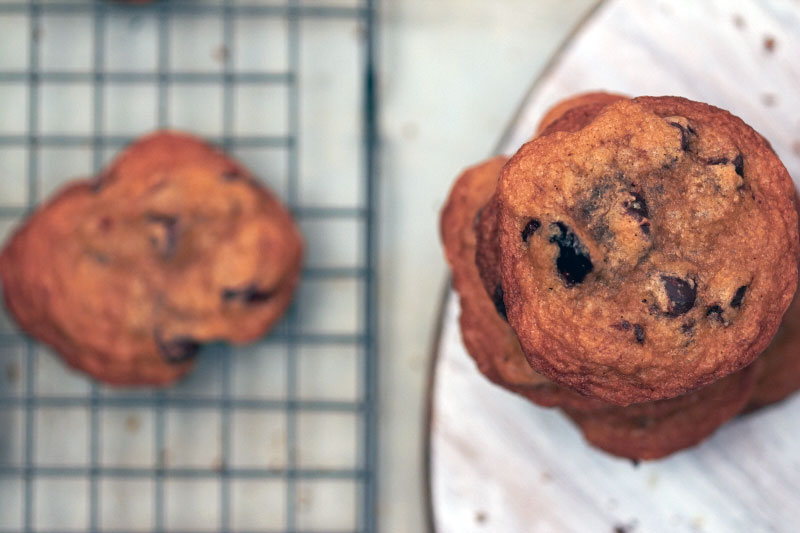 Part of the joy lies in biting into them, feeling the crisp edge give way to a delicate core. And then there's the bits you mix in. Forget white or milk chocolate. I want mine studded with dark chips to keep the caramel undertones in check. The base should be sweet but flavourful, made with real butter, fresh eggs and pure, pure vanilla. There should be enough dough to satisfy my molars yet not so much that finding a chip or nut becomes a frustrating scavenger hunt. And the only way I know how to do it is with my own hands. And my oven.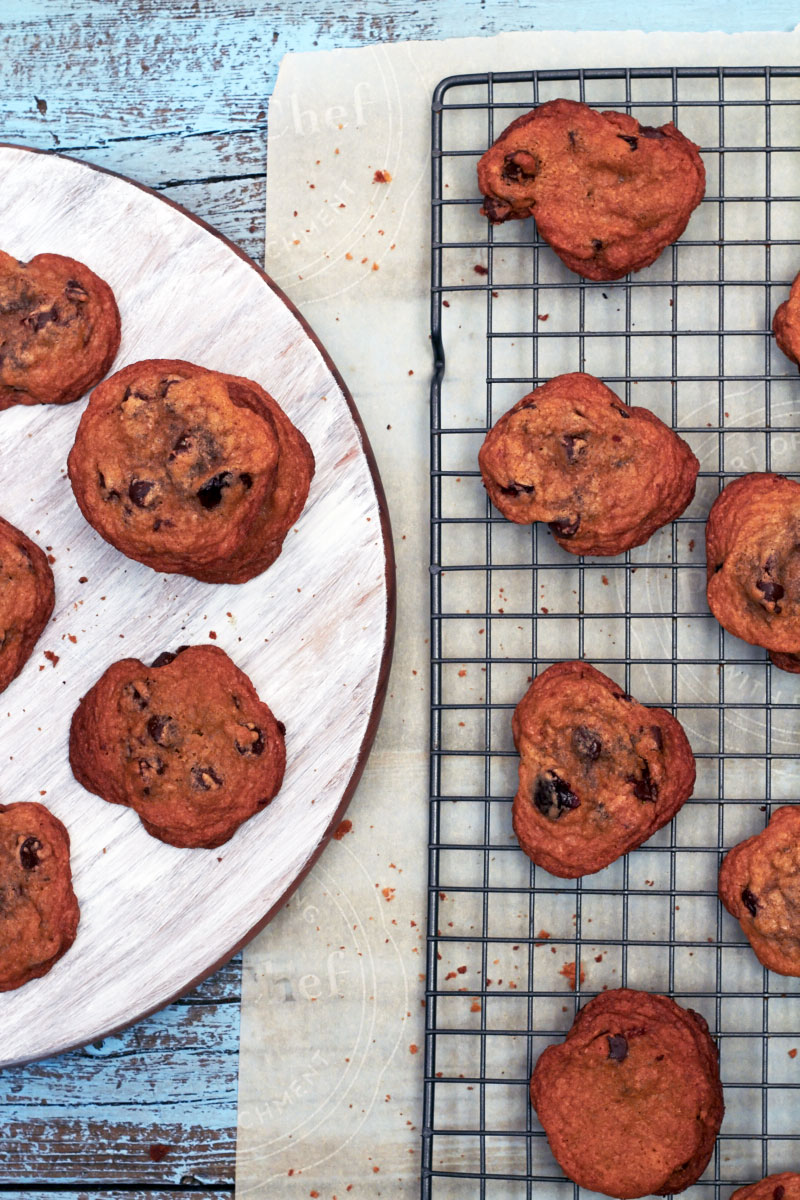 These chocolate chip cookies have tart dried cherries instead of nuts or raisins. My cookies. My choice. How do you like yours?

Dried Cherry & Chocolate Chip Cookies
Author:
Charmian Christie
Prep / inactive time:
Cook / active time:
Total time:
Does the world really need another chocolate chip cookie recipe? Yes. This one uses ingredients most home cooks have on hand, like salted butter and regular all-purpose flour, brown sugar and eggs. If you don't have dried tart cherries, swap in walnuts or pecans or raisins . Or just more chocolate chips.
Ingredients
2¼ cups all-purpose flour
1 teaspoon baking soda
½ teaspoon fine sea salt
2 cups semi-sweet chocolate chips
1 cup tart dried cherries
1 cup salted butter, just freshly melted
¾ cup granulated sugar
¾ cup packed brown sugar
2 teaspoons pure vanilla
2 large eggs, room temperature
Instructions
In a medium bowl combine the flour, baking soda and salt. Sprinkle in the chocolate chips and dried cherries, tossing with your hands or a large wooden spoon to ensure they are coated with flour and evenly distributed.
In a large bowl and using a wooden spoon, mix the still-warm butter, granulated sugar, brown sugar and vanilla together until the sugars have dissolved. Add the eggs and mix well to combine. Give the flour mixture another toss for good measure and add to the wet mixture. Stir until the flour is mixed in, but don't over-mix.
Cover and chill a few hours or overnight. Early birds can make this in the morning and bake at the end of the day.
When ready to bake, remove chilled dough from the refrigerator to soften while the oven comes up to temperature. Preheat the oven to 375°F. Place a rack in the middle or, if baking two racks at a time, follow your oven's instructions for convection baking.
Drop dough by 1 tablespoon balls (a 1-tablespoon cookie scoop is ideal for this) about 2 to 3 inches apart onto an ungreased cookie sheet. Bake 8 to 10 minutes, watching carefully at the end since they can slip from perfect to too-crispy in 60 seconds. The edges should be deep gold and the middle should look set but slightly undercooked. Cool on the pan for 1 minute before transferring to a wire rack. Let cool completely before storing. Eat once warm enough to handle — if you can wait that long.