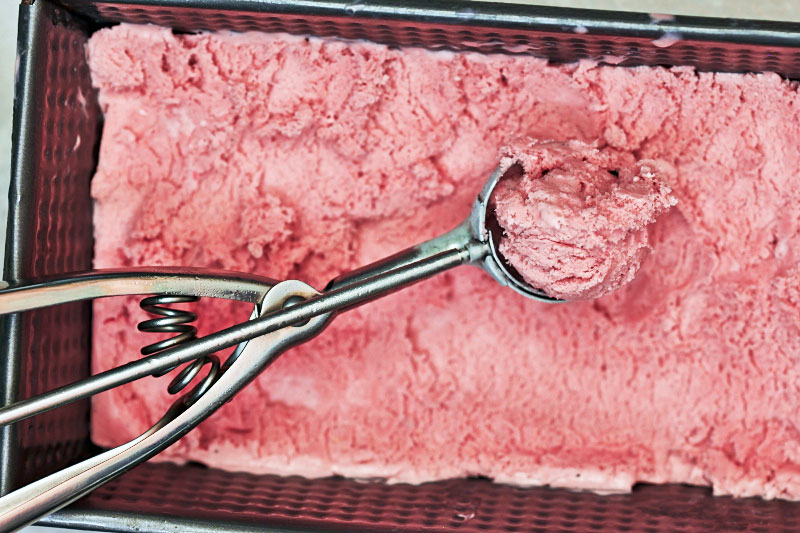 30 Jun

Rhubarb-Raspberry Ice Cream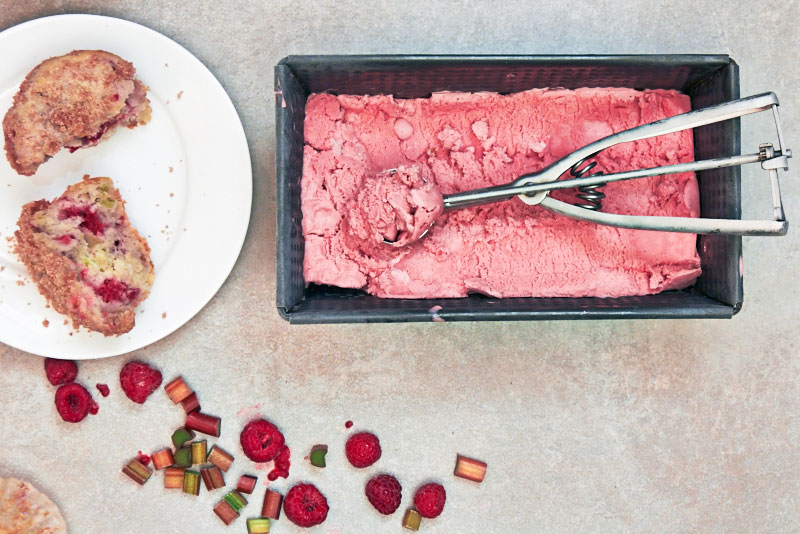 Remember the colour wheel from Grade 6 art class where you learned that blue and orange were complementary colours and if you mixed them together you got icky khaki brown? Eventually, you or the evil genius in the next row figured out all the complementary colour sets (purple & yellow, green & red) did the same, and merrily mixed up batch after batch of monkey bum brown just to watch the teacher go nuts?
Well, sometimes karma works slowly. All my paint-pallet sabotage came back to haunt me. See the ruby red raspberries and claret rhubarb? They should make a lovely rose-coloured dessert. Look closely. Now, do you also see some green stalks scattered amongst the red? Sure they look pretty on the counter top, Christmassy almost, but less so when you blend them together. Just a heads up. Colour Theory 101 applies to food, not just oil paint.
If possible, pick red stalks for this rhubarb-raspberry ice cream. If green's all you've got, forge straight ahead. It'll taste fine. But you might want to serve it with blindfolds.
Or, if you are to sort to embrace Red Velvet Cake without fear, add a drop of red food colouring (there I go again!) to bring things back into the pink end of the scale. Three drops adjusted the custard in a way no amount of fiddling with hue in Photoshop could.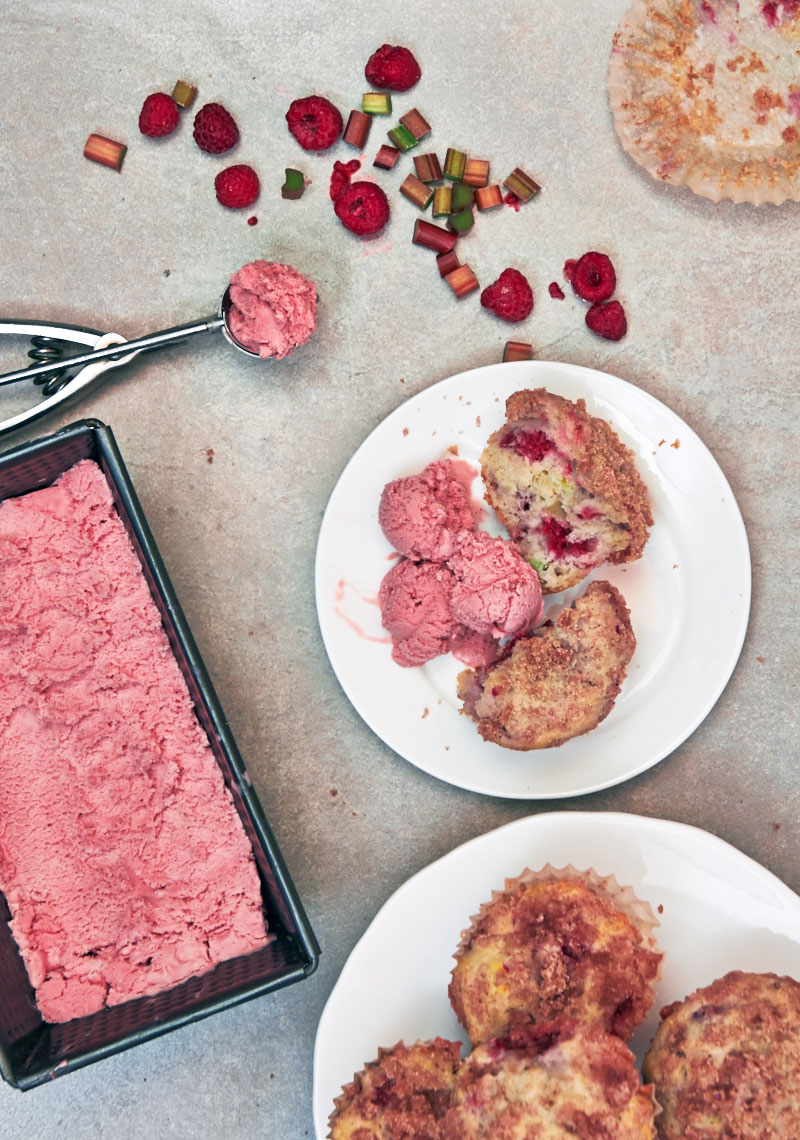 So, here is the recipe for rhubarb-raspberry ice cream. Same flavour combination as the muffins and loaf from yesterday, only in ice cream form. Just in time for Canada  Dominion Day.  Split a muffin, slice some loaf, fill up a cone or grab a spoon. No matter how you eat it, this is the taste of summer.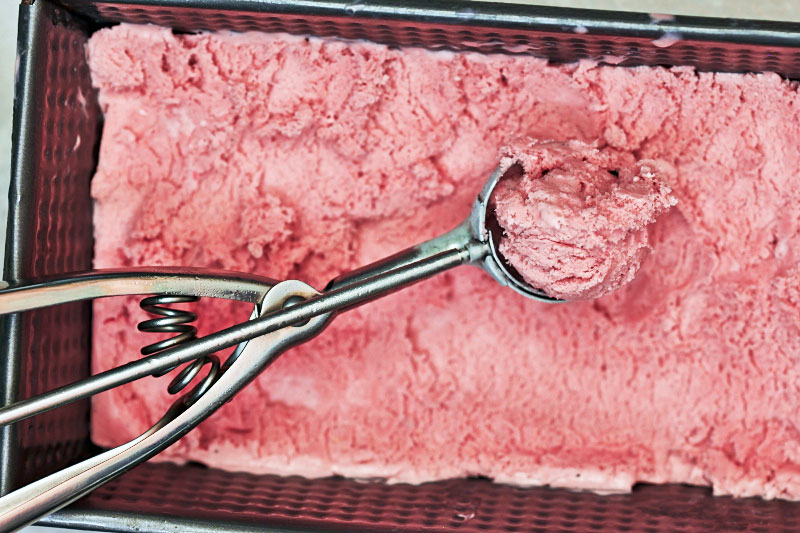 Rhubarb-Raspberry Ice Cream
Author:
Charmian Christie
Recipe type:
Ice Cream & Frozen Treats
Prep / inactive time:
Cook / active time:
Total time:
Serves:
Make about 1 quart
Rhubarb and raspberries collide in a delicious ice cream.
Ingredients
2 cups raspberries (fresh or frozen)
2 cups rhubarb, chopped (fresh or frozen)
2 cups heavy cream (35%)
1 cup milk
¾ cup sugar
1 vanilla pod, split with seeds scraped out
4 large egg yolks
few drops red food colouring (very optional)
Instructions
Put the raspberries and rhubarb in a medium pan over medium-high heat. If using frozen fruit, you will not need to add water. If using fresh, add 1 tablespoon water. Bring to a simmer and cook until the fruit is soft, about 5 to 10 minutes. Cool slightly then pureé in a blender until smooth. Press fruit through a fine mesh sieve using the back of a ladle. Discard pulp. Set aside strained pureé.
In a medium pan over medium heat, heat the cream, milk, sugar, vanilla pod and seeds. Turn off heat, cover and let the pod steep 20 to 30 minutes.
When ready to make the custard, prepare an ice bath. Remove the pod from the cream and reheat over medium until warm.
In a medium bowl, whisk the egg yolks. Whisk a ladle of the warm cream into the yolks. Add a couple more ladles of warm cream, to temper the eggs, then pour the yolks into the cream and cook over medium heat until the custard is thick enough to coat the back of a spoon.
Strain the custard into a bowl through a fine mesh sieve. Stir in the reserved pureé. If necessary, add a drop or two (or maybe 3) of red food colouring. Place the bowl of custard in the ice bath, stirring until cooled, about 5 minutes. Cover and refrigerate for 4 hours or overnight.
About 20 minutes before you're ready to churn the ice cream, put the custard in the freezer to get it extra cold. Churn according to manufacturer instructions. Freeze until firm. Defrost a few minutes before serving.
Notes
1. Green rhubarb stalks can affect the colour of the finished ice cream. If at all possible, use red rhubarb. If your ice cream isn't as pink as you'd like, a drop or two of food colouring should correct this.
2. Don't toss the vanilla pod. Give it new life by making
vanilla sugar
. It's easy. I promise.