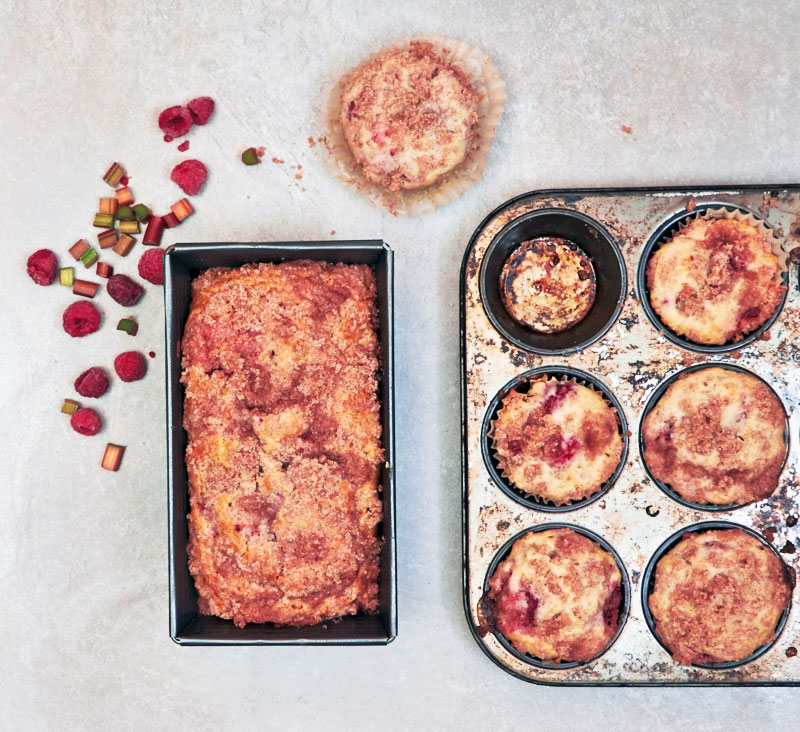 29 Jun

Rhubarb-Raspberry Loaf and Muffins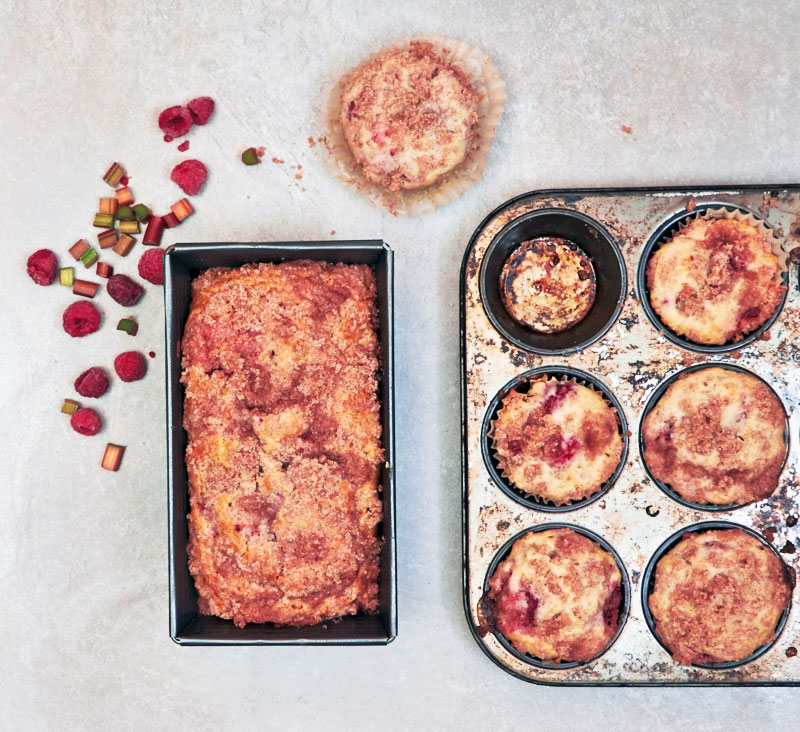 Everything's behind schedule. The spring bulbs, the roses, the fruit. And me. Especially me. While I chastise myself for tardiness, I'm actually pleased that Mother Nature is dragging her earth-encrusted feet. Here it is, almost July, and I'm harvesting armloads of rhubarb with leaves as big as tennis racquets and stalks as thick as a yard stick (and almost as long.) Thanks to the topsy-turvy growing season, my favourite fruit duo — rhubarb and raspberry — can unite.
I know, rhubarb and strawberries are the classic match. But it's all a fairy tale forced upon us by the capriciousness of the Seasons. I'm asking you to shed the fairy-dusted, Beauty and the Beast scenario, and think "Bonnie and Clyde of the Fruit World" instead.
Strawberry and rhubarb is a marriage of convenience. They both emerge in late spring, but that's about the only reason they're together.  While sweet strawberries soothe the bite of rhubarb's rough edges, they're too sensitive to stay the long haul. By the time tough old rhubarb has broken down, tender strawberries have dissolved to mush. I posit rhubarb and raspberries are the better match. After all, they need the same things, have the same aura of danger. Rhubarb leaves can kill and raspberry barbs will shred your skin. But strawberries? At worst, they stain your fingers.
In honour of my favourite fruit couple, I've made two rhubarb-raspberry desserts — one baked, one ice-cold. This sort of dichotomy works.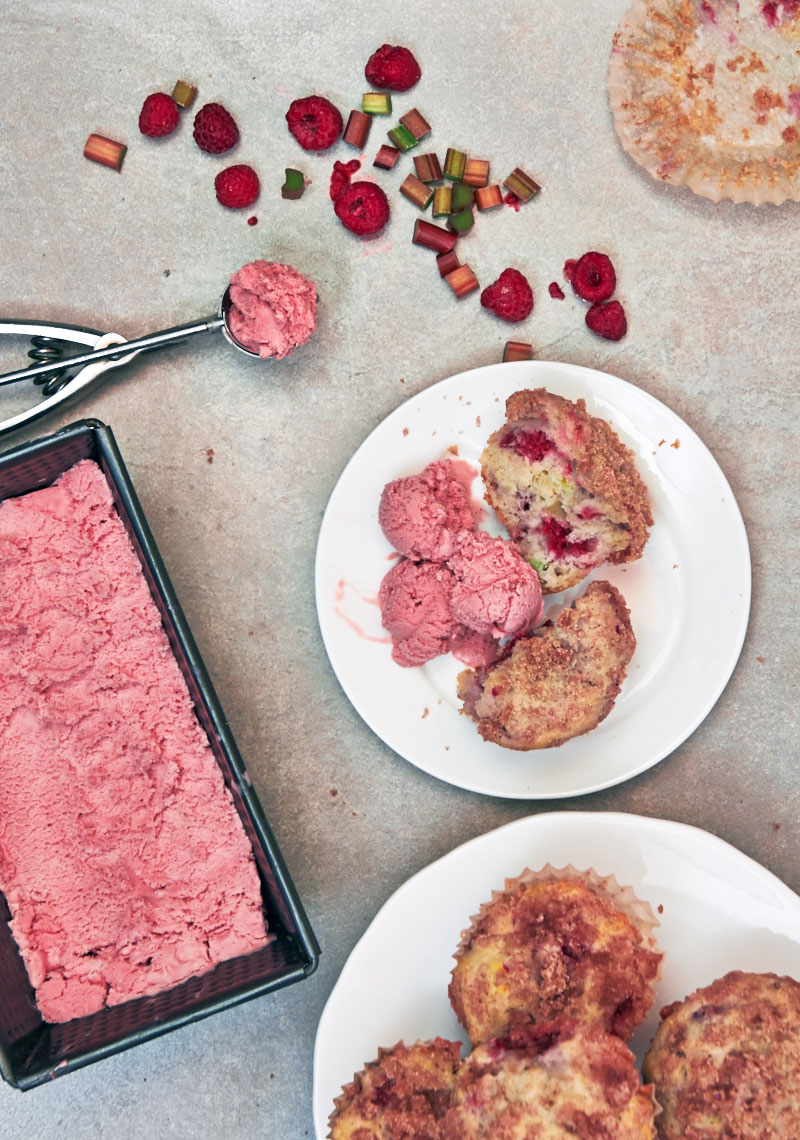 Even the baking has two options. You can make rhubarb-raspberry loaf or muffins. Eat them as is or with a scoop of rhubarb-raspberry ice cream. Or just eat the ice cream (recipe to come.)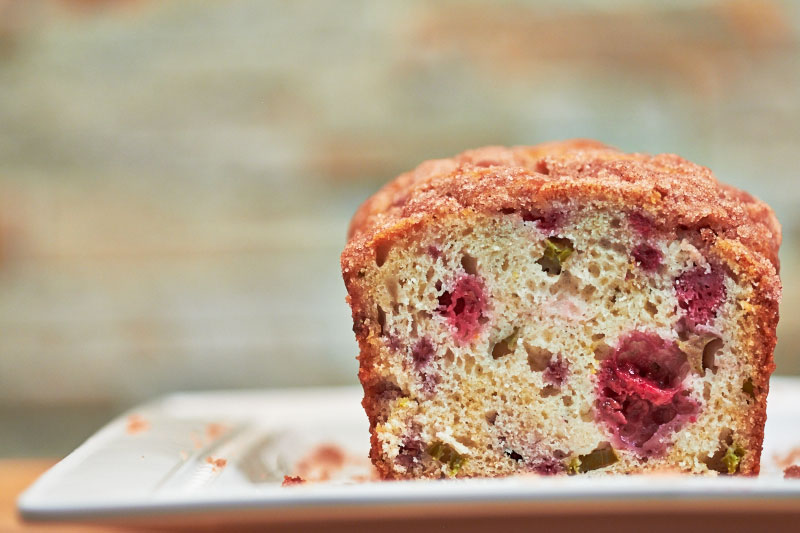 Sorry strawberries. You're fine on your own. And I just know there's someone out there for you. Someone who can appreciate your tender side. We'll go talk while the two Rs show off.  You'll have your turn soon enough.

Rhubarb-Raspberry Loaf and Muffins
Author:
Charmian Christie
Prep / inactive time:
Cook / active time:
Total time:
This is a very flexible recipe. It can be made into muffins or loaves using either fresh or frozen fruit. Need more options? You can make it with all rhubarb, all raspberries or -- as I recommend -- a combination of both.
Ingredients
½ cup sugar
½ tsp cinnamon
1 tbsp softened butter
2 cups all-purpose flour
1½ teaspoon baking powder
½ teaspoon baking soda
½ teaspoon fine sea salt
finely grated zest of 1 large orange
2 large eggs, room temperature
½ cup canola oil
¾ cups sugar
⅔ cup buttermilk
1 cup chopped rhubarb
1 cup raspberries (fresh or frozen)
Instructions
Preheat oven to 350°F. Grease and flour two 8-inch by 4-inch loaf pans or line a 12-cup muffin tin with papers.
In a small bowl, blend sugar, cinnamon and butter until crumbly. Set aside.
In large bowl, combine the flour, baking powder, baking soda and salt. Whisk in orange zest to distribute evenly.
In medium bowl, beat the eggs with a whisk. Add the oil and sugar, and whisk until the sugar has dissolved. Add the buttermilk and whisk until well blended.
Toss the rhubarb and raspberries in the flour mixture until evenly coated. This helps ensure they stay suspended in the batter. Pour the buttermilk mixture over the dry ingredients, blending with a spatula or wooden spoon until just mixed. Do not over-mix.
Pour the batter into the prepared loaf pans or spoon into the muffin cups. Sprinkle with cinnamon sugar and bake 20 to 25 minutes for muffins / 45 to 50 minutes for loaves, or until the tops are golden and a toothpick inserted in centre comes out clean.