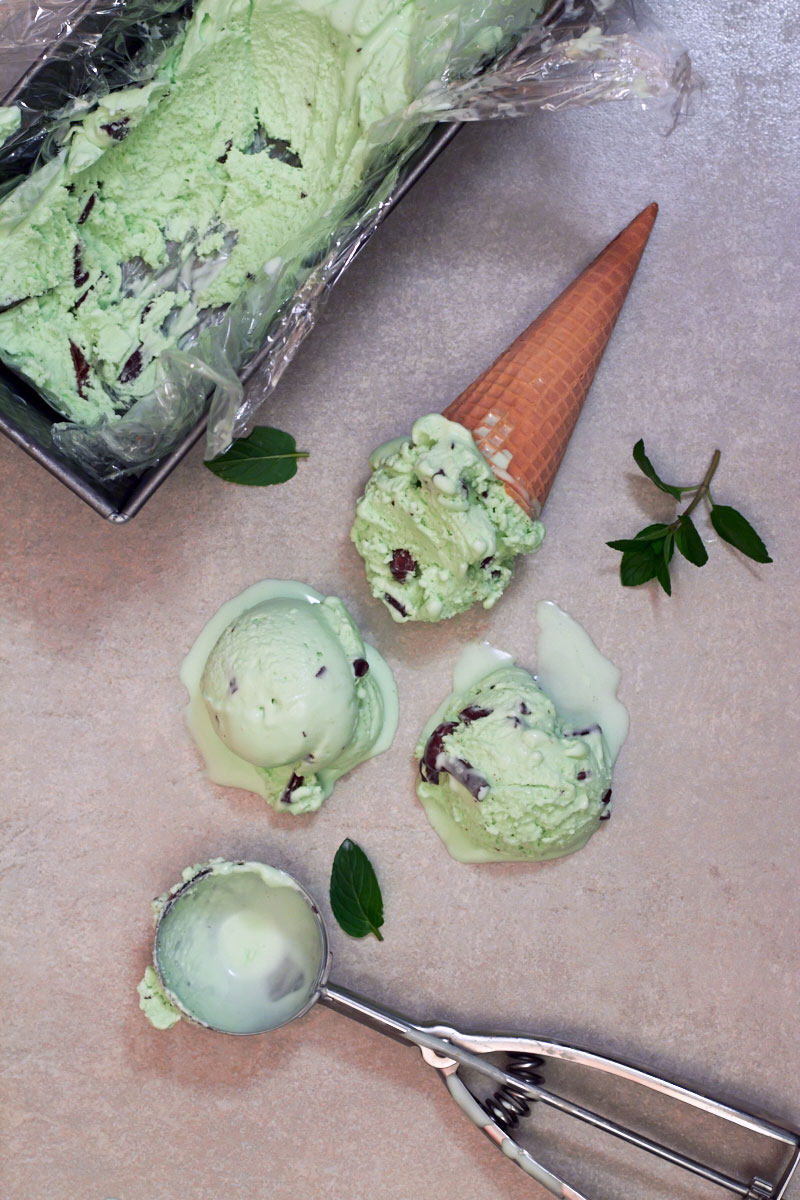 24 Jun

Chocolate Mint Ice Cream — A Photo Essay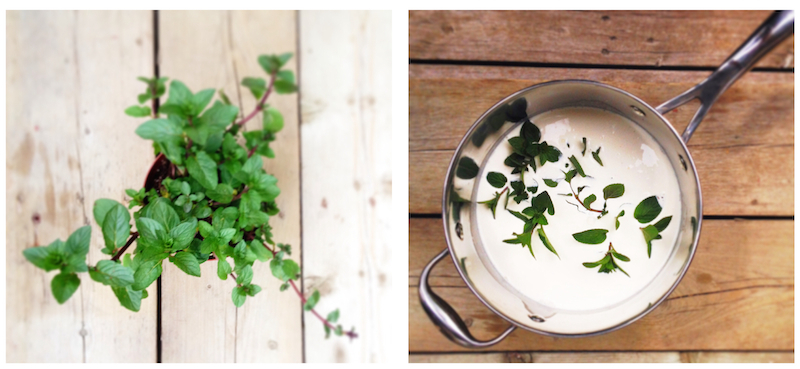 Ask and you shall receive. A couple of weeks ago, I posted to Instagram a shot of my recently purchased, tiny chocolate mint plant. I asked if I should make ice cream or tea. The resounding answer was ice cream.
If you insist.
This was a total experiment. And it turned out well. The only issue was the mint turned the custard base a soft buttery yellow which confused my tongue. My mouth tasted mint and chocolate but my brain was all geared up for vanilla. So, in an uncharacteristic step away from real food, I cheated. And got stained fingers for my efforts. To get the ice cream to look as minty as it tastes and restore tongue-brain harmony, I added four drops of green food colouring and two drops of blue.
Purists may omit the green. Kids, St. Patrick's Day enthusiasts and Kermit lovers may join me as I cheat my way through the visuals.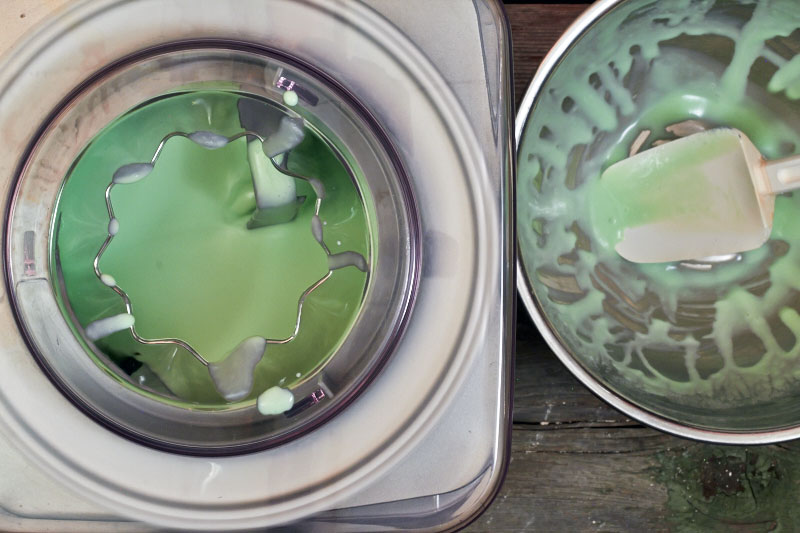 I rewarded myself with a mouthful of the scrapings. You can tell it's real ice cream without the stabilizers by the drip threatening to fall from my finger. Yes, ice cream is a messy business. Deliciously messy.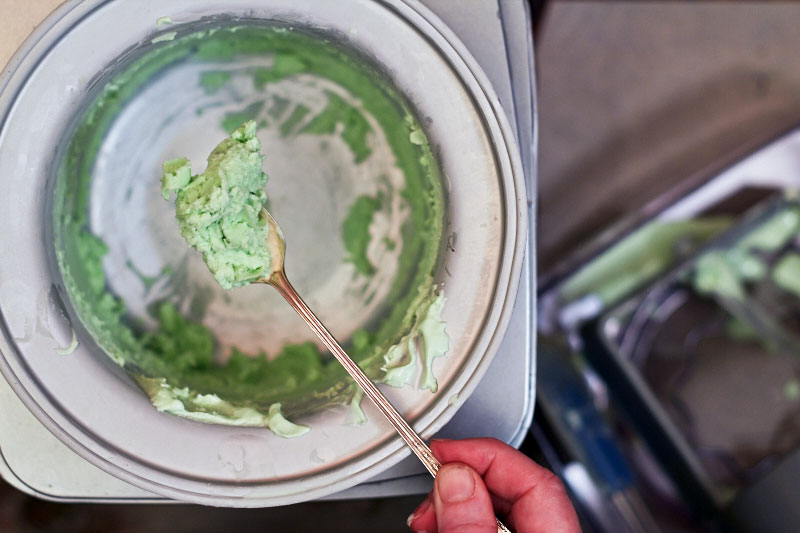 And there will be clean up. Scrapers, and bowls. The churning barrel, the paddle and the lid you inevitably drip on.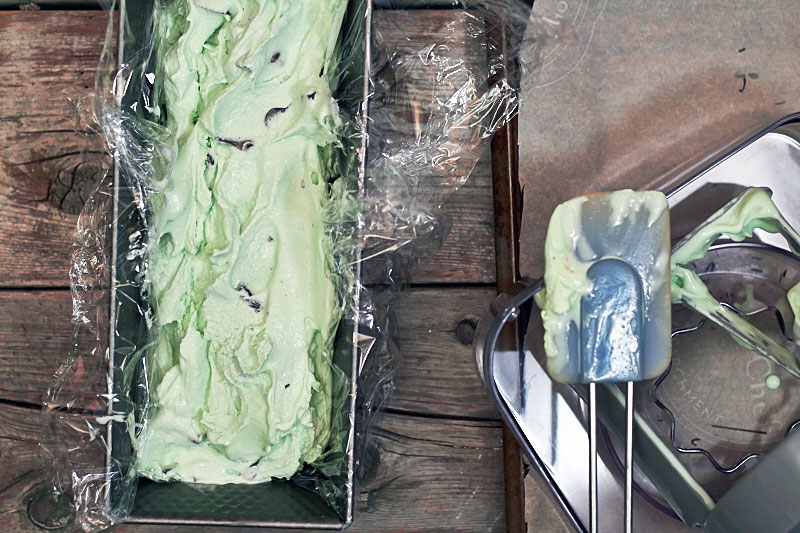 But in the end there is ice cream. Delicious, cold, refreshing ice cream.
Grab a spoon. Grab a cone.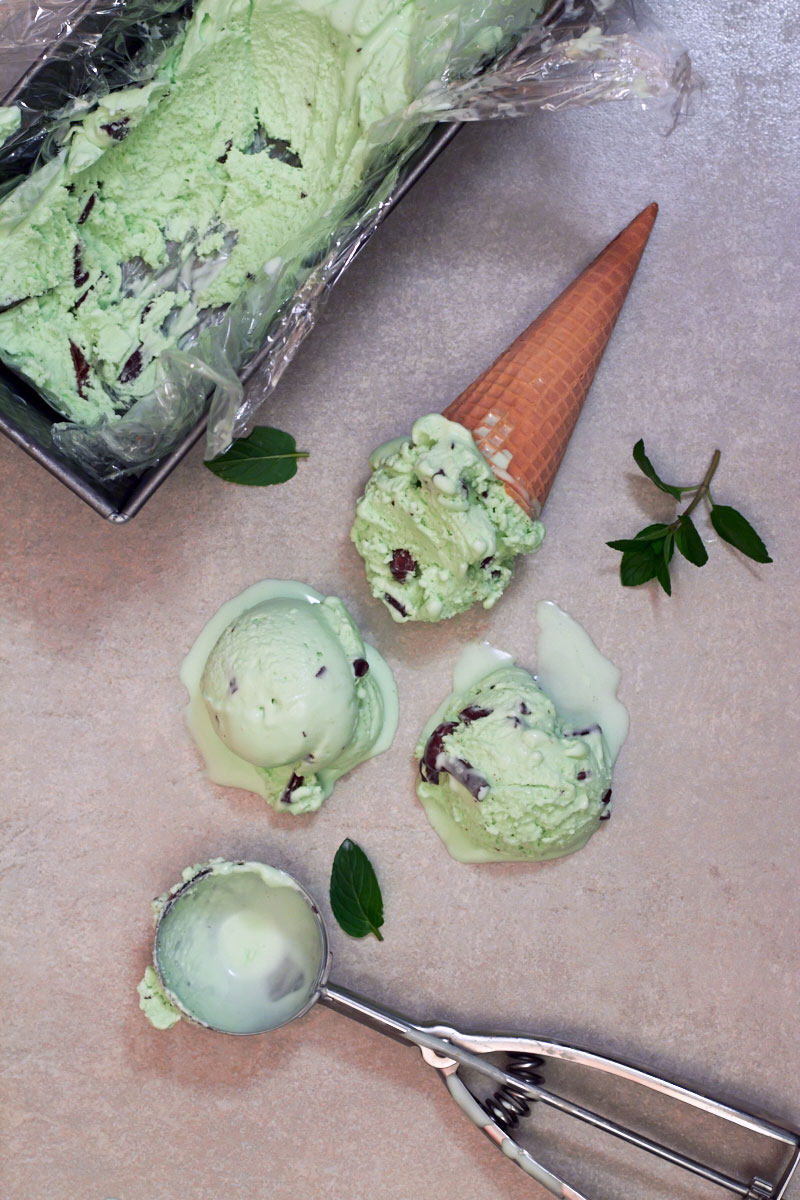 Grab a dish cloth.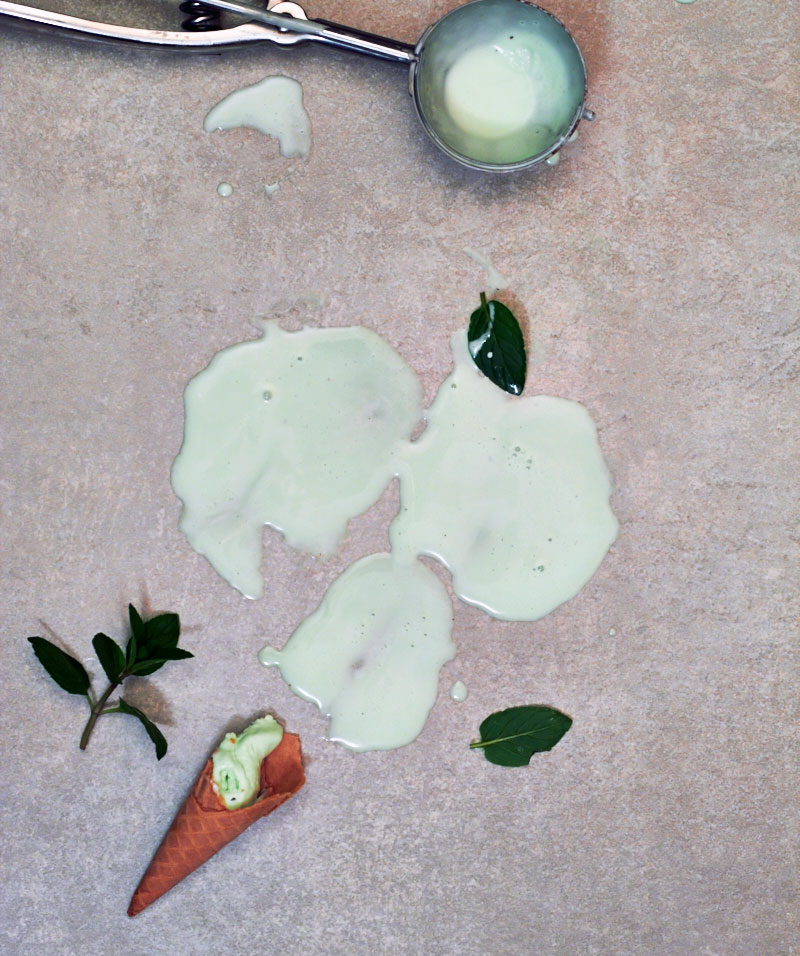 Chocolate Mint Ice Cream with Chocolate Crackles
Author:
Charmian Christie
Recipe type:
Ice Cream & Frozen Treats
Prep / inactive time:
Cook / active time:
Total time:
Chocolate Mint tastes just like a York Peppermint Patty -- even without the added chocolate crackles. Food colouring is optional. Napkins are not.
Ingredients
2 cups cream (35%)
1 cup whole milk
¾ cup sugar
¾ cup loosely packed chocolate mint leaves
4 large egg yolks
4 drops green food colouring (optional)
2 drops blue food colouring (optional
4 ounces dark chocolate, chopped into small pieces
Instructions
Infuse the cream: Place the cream, milk, sugar and mint leaves in a large saucepan over medium-high heat. Stir and heat the mixture until bubbles form around the edge of the pot. Don't let the mixture boil. Turn off the heat, cover, let steep for 20 to 30 minutes. Remove the mint leaves. Rewarm the mixture over medium heat.
Make the custard: In a medium bowl, whisk the yolks until smooth. Pouring in a slow, steady stream, whisk 1 ladle of hot cream mixture into the yolks. Add a second ladle of hot cream, whisking all the time. Slowly pour the remaining cream mixture. Pour the custard into pot and cook over medium-high until the mixture is thick enough to coat the back of a spoon. Strain into a bowl through a fine mesh sieve. Place in an ice water bath and whisk until room temperature, about 5 minutes. If using food colouring, stir it in now. This is purely optional. Cover and chill in the refrigerator for 2 hours or until cold.
Make the chocolate crackle: Line a pan with parchment or a silicon mat and set aside. Melt the chocolate either in a heat proof pan over simmering water or in the microwave in 30-second bursts. Using a parchment cone or a small plastic sandwich bag with the corner snipped, pipe ¼-inch wide lines of melted chocolate onto the parchment or a silicon mat. Refrigerate until hardened and then snap the chocolate into 1- to 2-inch lengths.
Churn the ice cream: About 20 minutes before you're ready to churn the ice cream, place the custard in the freezer to get extra cold. Don't allow it to freeze. Churn in an ice cream maker according to manufacturer directions. About 5 minutes before the ice cream is finished, churn in the chocolate crackle pieces. Transfer the ice cream to a freezer-safe container and chill until firm.