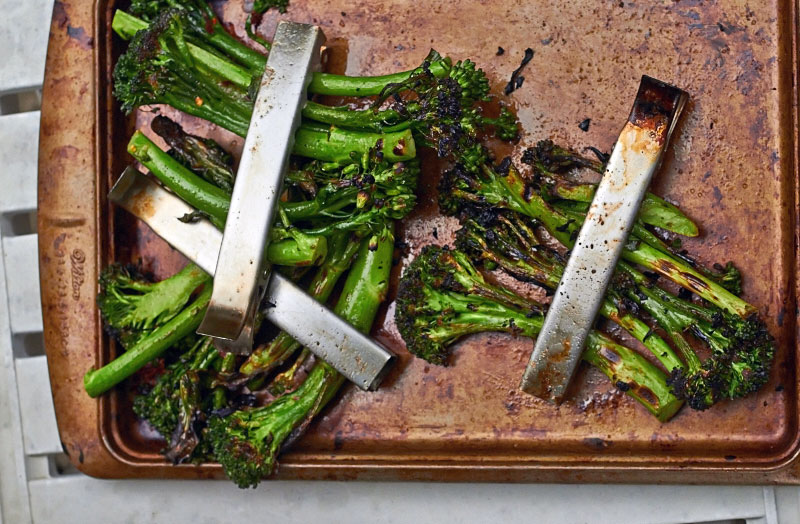 19 Jun

Spicy Grilled Broccolini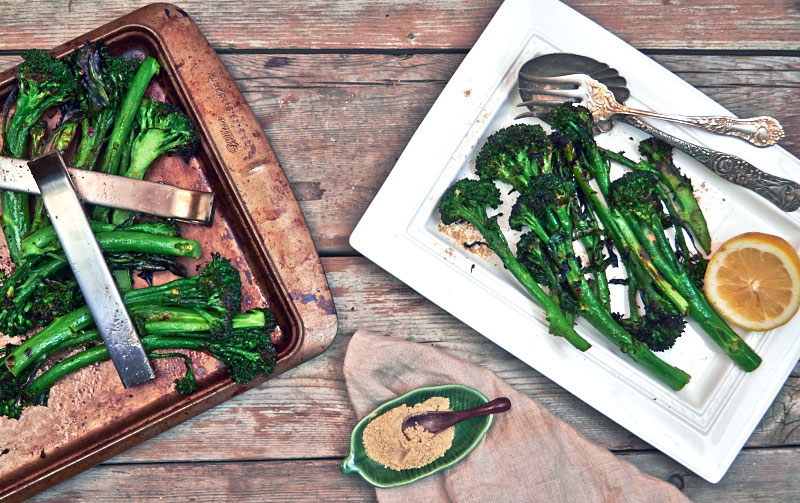 Developing recipes for unfamiliar culinary tools is a bit like having coffee with someone you met through an online dating site. You've memorized their profile, you've Googled them to see what others think, and you've figured out how to make them like you. But no matter how much you rehearse in your head. No matter how many witty lines you say to the mirror, there are no guarantees when you meet face to face.
As part of the #OGBChallenge, I was sent a Veggie Clip.  After days of planning, we spent some quality time together last week. It was a rather awkward first date. Oh, he looked just like his picture. He wasn't photoshopped or anything. But I'd read him wrong. He SAID he was cool with root vegetables. He hinted at sweet potatoes, which reeled me in. Eager to make a good first impression, I obliged.
About 10 minutes in, things fell apart. Literally. Instead of presenting Andrew with a platter of slender, golden, lanky fries, I handed him the vegetable equivalent of the girl with the mascara rolling down her face after being dumped at the prom. My sure-to-win sweet potato fries were dishevelled, defeated, and loveable in a way only friends and family can appreciate. Andrew kindly ate the mangled remains while I had a chat with Veggie Clip.
"What happened, Veggie Clip? I thought you liked sweet potatoes."
He fixed me in his stainless steel gaze. "I said I liked sweet potatoes. I didn't say I was would be good for them."
Turns out VC — we're now on a nickname basis — is an eager worker who simply doesn't know his own strength. Fix him up with the right vegetable and he's delightful. He needs something designed to be eaten firm. Something with backbone. Something you can't cut with a spoon.
And then a chance meeting at the green grocers changed everything. One look at Broccolini's strong, slender legs and helter-skelter hairdo and I knew I'd found the "something" that could hold up to Veggie Clip's commanding grip. Sure, he's not for every vegetable in the stand. He's definitely an acquired taste, but oh, what a taste he delivers.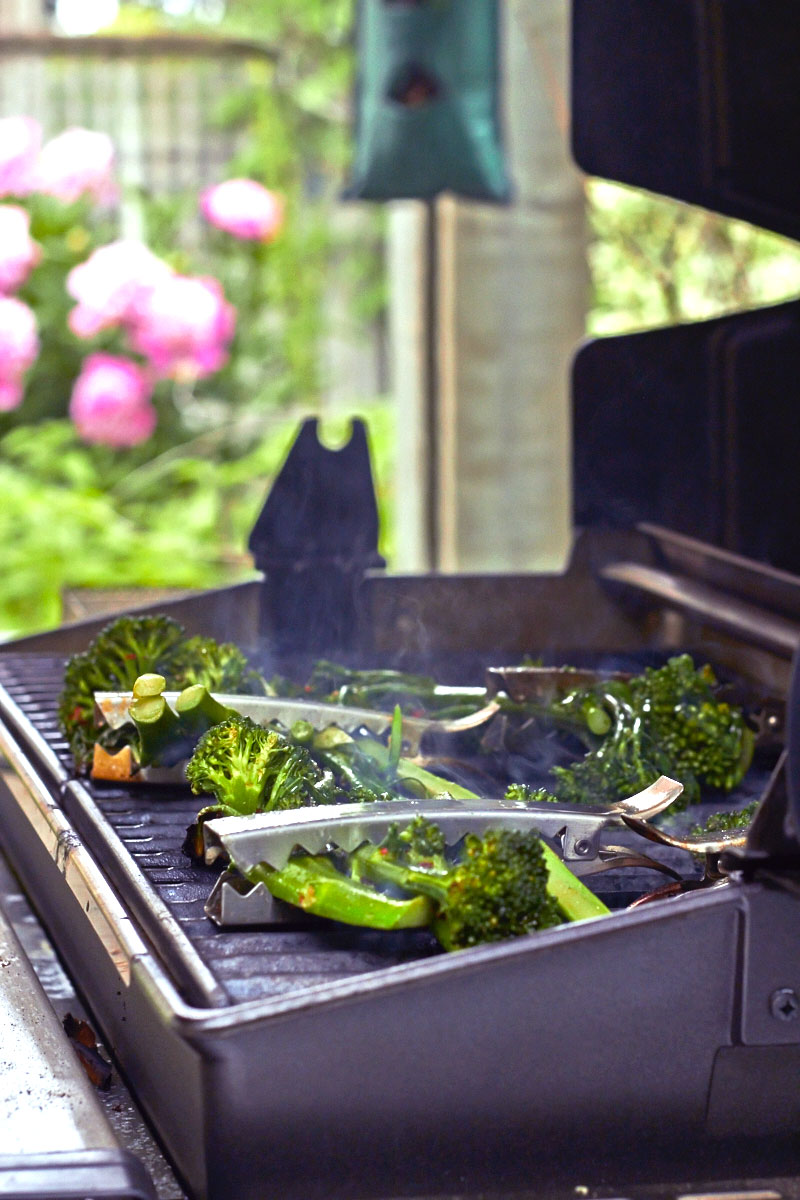 The Challenge
Vegetables, Indian flavours, Veggie Clips
The Results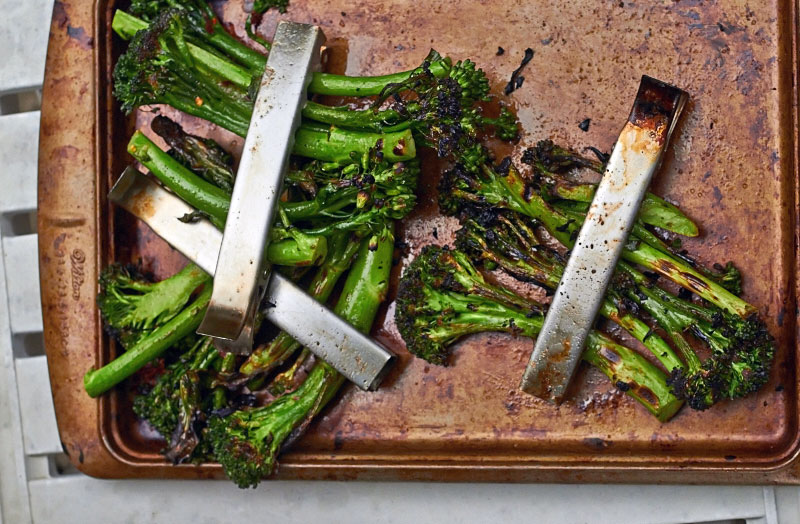 Spicy Grilled Broccolini
Author:
Charmian Christie
Prep / inactive time:
Cook / active time:
Total time:
Baby broccoli should come with a cape. This uber-healthy vegetable is a cross between antioxidant-rich Chinese Broccoli and lauded kale. Its long, sturdy spears make it ideal for grilling using vegetable clips.
Ingredients
1 lb (450 g) broccolini (sometimes called baby broccoli)
¼ cup (60 mL) canola oil
1 clove garlic, crushed
1 tsp (5 mL) ground coriander
1 tsp (5 mL) ground cumin
¼ to ½ tsp (1 to 2 mL) dried chili flakes
1 lemon
chat masala for sprinkling (optional
Instructions
Heat grill on medium heat to 450-550°F. Spray vegetable clips generously with cooking oil and place on a rimmed baking pan.
Wash the baby broccoli. Slice the thicker spears in half so all stalks all are similar thicknesses.
Put oil, garlic, coriander, ground coriander, cumin, and chili flakes in a small bowl or mason jar and whisk to combine. Place the broccoli spears in a large, flat bowl, drizzle with the seasoned oil, and toss to coat thoroughly.
Fill the veggie clips with the broccoli spears. It works best if you alternate spears "head to foot" and place the smallest spears closest to the hinged end, larger spears towards the mouth. Place the veggie clips on the tray once full to keep your counters reasonably clean and make transporting them to the grill easier.
Place filled vegetable clips on the heated grill with the spears crosswise against the grill lines. Close the lid and cook for 3 to 5 minutes. Turn, using tongs, and cook another 3 to 5 minutes. The broccoli should be charred in spots, cooked, yet still very crisp.
Wearing oven mitts – silicon if you have them -- release the broccoli from the clips. Immediately, sprinkle them with lemon juice and chat masala. Enjoy hot.
Note: Chat masala is available at most grocery stores in the Indian food section. It has a fair amount of salt in it. If you chose to omit it, sprinkle the broccoli with some finishing salt.
Disclosure: Occasionally, I work with sponsors when I feel their product  or service fits my from-scratch, real-food mentality. This is one of those times. Every day this week, I and 4 other challengers are posting a BBQ recipe as part of the #OGBChallenge. This event is sponsored by Ontario Gas BBQ. They gave me the grill tools and are compensating me for creating and posting the recipes. Although the tools are used in creating the recipes, I am under no obligation to review the tool or Ontario Gas BBQ as a retailer. As always, I'm just here for the food.