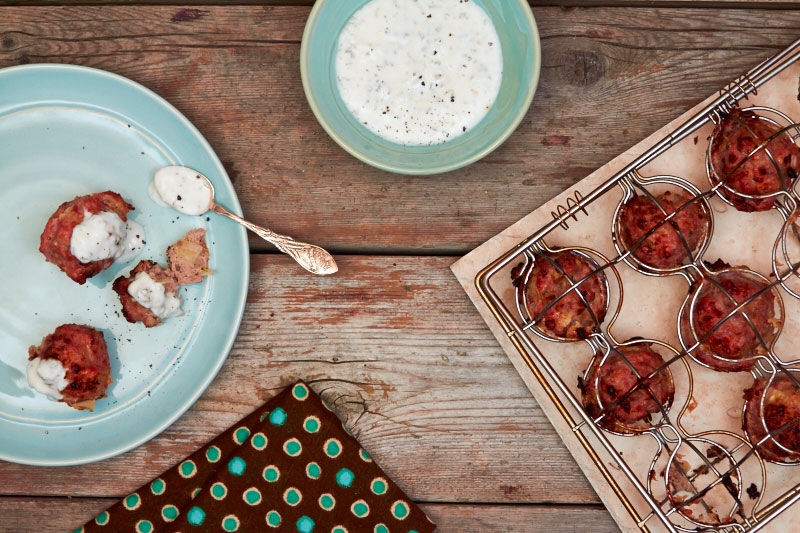 18 Jun

Italian Turkey Meatballs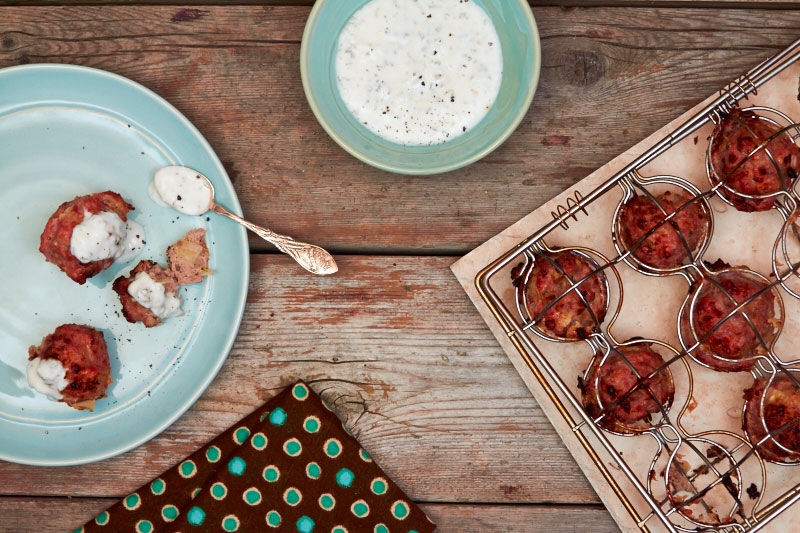 Language is funny. It has a way of sliding sideways when you're not looking, slipping under things or going into hiding. A few years ago, I developed a homemade, bite-sized meatball  to wean my husband off the commercial, frozen version he would nuke to the texture of Indian rubber. It took several attempts, tears (his and mine) and a lot of arguing before he finally gave up The Meatballs of Shame. I never bothered to give my homemade version a catchy name. That was my mistake.
Over time, the shame and name shifted. My homemade recipe somehow became known as The Meatballs of Shame, and the chemical-laced frozen ones slipped into namelessness. How did this happen? My meatballs were tasty, additive-free and made with lashings of love. I can only guess the name attached itself to my meatballs because they remind him of past mistakes. Or perhaps they now serve as a warning of my wrath should he sneak off to the frozen food section again.
Knowing the sneaky nature of language and my husband's wry sense of humour, I hereby dub these "Challenger Meatballs!" With an exclamation point for good measure.
And so, here is my third contribution to the #OGBChallenge.  Is it a winner? My husband thinks so, but I leave that to you to decide.
The Challenge:
Turkey, Italian flavours, meatball grilling basket.
The Lessons Learned
1. Breadcrumbs are not required: Since so many family members are skipping carbs and gluten and anything that even looks like it has seen the inside of a flour bag, I decided to omit the breadcrumbs. No breadcrumbs. No drama. Slappin' the "Gluten-free" label on these and calling it a victory.
2. Turkey needs a new name: I'm sure when someone gave the great wattled bird the name "turkey", they were thinking, "It's a lot easier than the Latin. Meleagris gallopavo's never going to stick." Little did they know it would soon become a euphemism for "idiot" or "complete failure." Since I was charged with using Italian flavours for this dish, I propose we use the Italian word, tacchino. It's got a nice ring. Rhymes with cappuccino.  It just might catch  on.
And that's all I learned from my tacchino grilling challenge. The kind people at Turkey Farmer's of Canada slapped a great big yellow warning sign on the package about cooking temperatures, so I pulled out the Thermopop and let it tell me when the meatballs were done.
And there's no shame in that.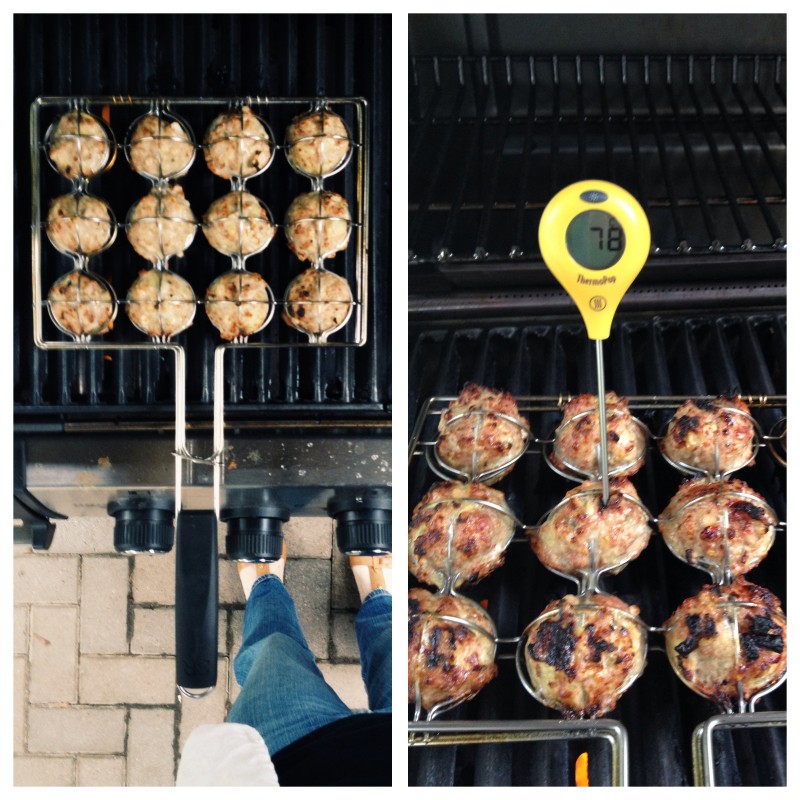 Italian Turkey Meatballs
Author:
Charmian Christie
Prep / inactive time:
Cook / active time:
Total time:
Italian Turkey Balls While Italian meatballs can make a substitute for their beef counterparts, they don't require pasta and tomato sauce. This gluten-free version is light enough to be appetizers and filling enough for a main.
Ingredients
Dipping Sauce
1 cup plain Greek or Balkan yogurt
1 small clove garlic, crushed
1 tsp [5 mL] dried Italian herbs
fine sea salt to taste
freshly ground black pepper
MeatBalls
1 tbsp [15 mL] vegetable oil
1 large onion, finely chopped
4 cloves garlic, crushed
¼ cup [60 mL] fresh oregano, finely chopped
1 tsp [5 mL] dried Italian herbs
1 tsp [5 mL] dried chili flakes
¼ tsp [1 mL] fine sea salt
1 generous pound [500 g] extra lean ground turkey
½ cup [125 mL] grated Parmesan
1 tsp [15 ml] finely grated lemon rind
1 egg
good grinding fresh black pepper
Instructions
Dipping Sauce
In a small bowl, mix together the yogurt, garlic, dried herbs. Add a generous pinch of salt and black pepper. Set aside while you prepare and cook the meatballs. Just before serving taste and adjust salt and pepper to taste.
Meatballs
Preheat the grill to medium.
Heat the oil in a skillet over medium heat. Sauté the onions for a few minutes until they beginning to look translucent. Add the garlic, oregano, dried herbs, chili flakes, and salt. Cook until the onions are soft. Remove from heat. Set aside until cool enough to handle.
In a large bowl, mix the ground turkey and Parmesan together. Add the cooled onion mixture, lemon zest, egg, and good grinding of fresh pepper. Mix until all ingredients are evenly distributed.
Generously spray the meatball basket inside and out with cooking oil. Form 12 meatballs. A ¼-cup [60 mL] ice cream scoop is handy but not necessary for this step. Round the balls gently between your palms and place in the grill basket. Wash your hands when you're done rolling. Close the basket and secure the latch. Place on the grill with the handle outside the grilling area. Gently close the lid making sure it doesn't touch the rubber handle.
Cook, turning every few minutes, until a meat thermometer inserted into the middle of a meatball reads at least 165°F or 74°C, about 16 to 20 minutes.
Remove the meatballs and place the basket in hot, soapy water to soak while you enjoy dinner. Serve with the yogurt dipping sauce.
Disclosure: Occasionally, I work with sponsors when I feel their product or service fits my from-scratch, real-food mentality. This is one of those times. Every day this week, I and 4 other challengers are posting a BBQ recipe as part of the #OGBChallenge. This event is sponsored by Ontario Gas BBQ. They gave me the grill tools and are compensating me for creating and posting the recipes. Although the tools are used in creating the recipes, I am under no obligation to review the tool or Ontario Gas BBQ as a retailer. As always, I'm just here for the food.