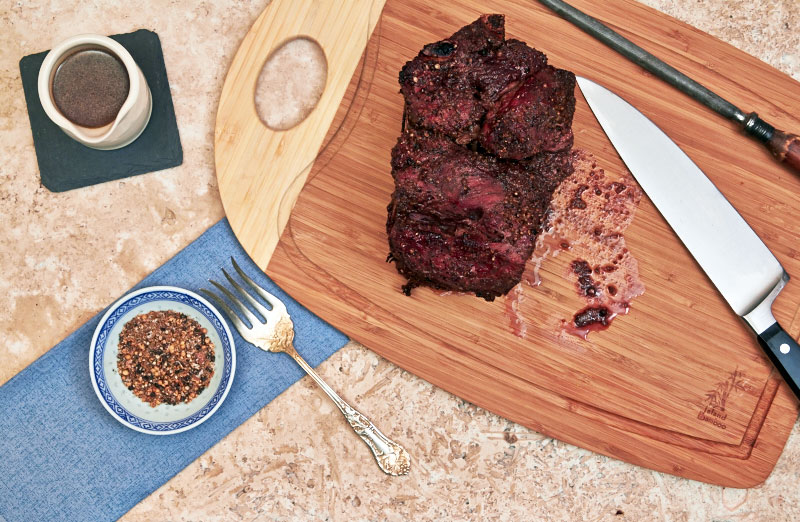 17 Jun

Moroccan Prime Rib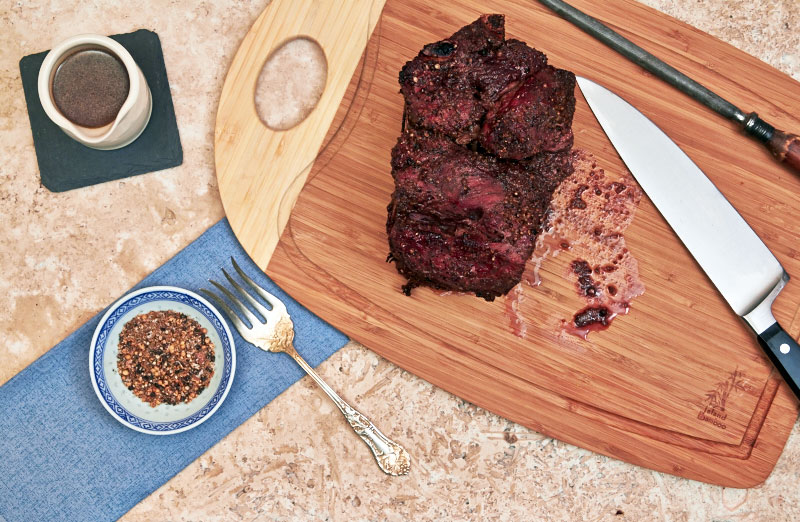 Riding on the coattails of my Herbed Rotisserie Chicken success, I moved on to beef. Yes, my second contribution to the #OGBChallenge (Click here to see if you're eligible to win prizes)  is another rotisserie recipe. I promise to employ other techniques, but I'm having too much fun with my new toy .
The Challenge
Prime Rib, Middle Eastern flavours, ThermoPop thermometer.
The Lessons
1. Prime Rib isn't the only cut in town: When I went looking for prime rib, this cut was hard to find. When I did find a lonely prime rib sitting amidst the blade roasts and sirloins, the cut was huge. Serve-a-dozen-hungry-lumberjacks big. With recipes for this BBQ challenge aimed at feeding 4 to 6 people, a 12-pound prime rib was out of the question. Fortunately, thanks to the good people at Canadian Beef, I learned other rotisserie cuts can be swapped in. If you can't find Prime Rib, pick up Top Sirloin, Outside Round, Inside Round, Sirloin Tip or a Cross Rib. Basically, if it's an oven roast without a bone in the middle and is reasonably symmetrical, it'll do. I ended up using a succulent Cross Rib with a couple bones on the outside.
2. Gravity enforces its laws without regard to circumstance:  Good Old Gravity. It doesn't care that you're a kind person. It won't cut you slack if you're having a bad day. And it makes no concessions for disability. You either find a way to work with it, or suffer the consequences. Being a Messy Baker, I'm often at the losing end of skirmishes with Gravity. But forewarned is forearmed. I used my inelegant but efficient over-the-sink trick to skewer and secure the roast. This worked extremely well since I had a rather cross Cross Rib on my hands that was eager to fall apart. Even though this 3-pounder came from the butcher pre-tied, I added another round of string just to be sure.
3. Silicon oven gloves might be overkill in the kitchen but are a godsend on the grill: I love my lined cloth oven mitts. They protect me while I pull thin-edged cookie pans from the oven, and afford a securely grip on my Dutch oven's ridiculously small handles.  However, they are not thick enough for the high heat of the grill, and are permeable to moisture (hint: grease can be very wet.) Thanks to this BBQ challenge, my outrageously expensive yet cumbersome silicone oven mitts have finally redeemed themselves. I have finally forgiven them for all the dropped muffin tins and spilled cookies. They've been pulled out of the Draw of Purgatory and given a second chance. Thanks to their waterproof insulation, I can grip greasy, hot rotisserie rods with impunity and release a roast from piping hot tines without fear. I can also wash off any surface grease and return to the grill immediately. Sorry Cloth Oven Mitts. The grill's off limits to you. Forever.
4. Cook your meat less for more versatility: I like my beef practically mooing. Although I've managed to convince my husband that medium-rare is superior to the shoe-leather well-done he used to gnaw on, we are still unable to agree on optimal doneness. To keep the peace, I remove the roast when it's done to my liking (rareish) and slap a slice back on grill for him. As a bonus, any leftovers can be reheated and still maintain a delightful pink centre. Everybody wins.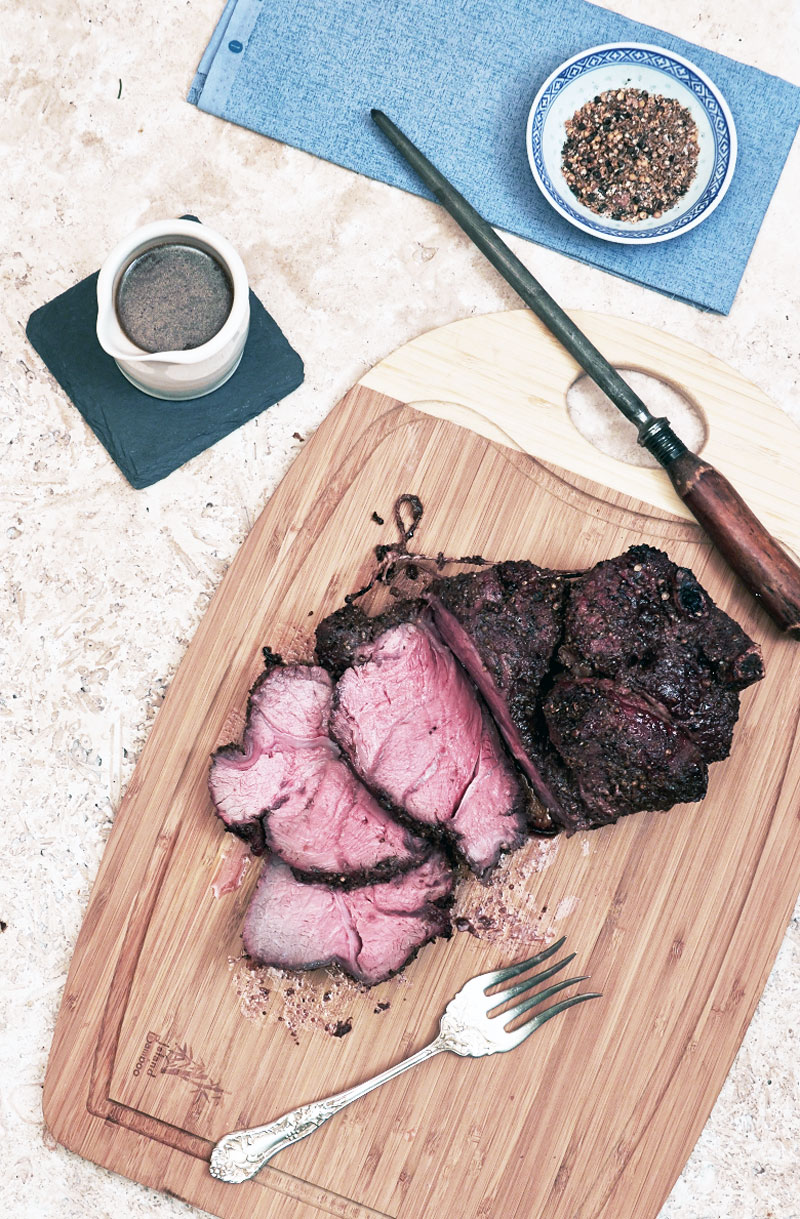 The Verdict
Once again the rotisserie delivers evenly cooked, juicy meat.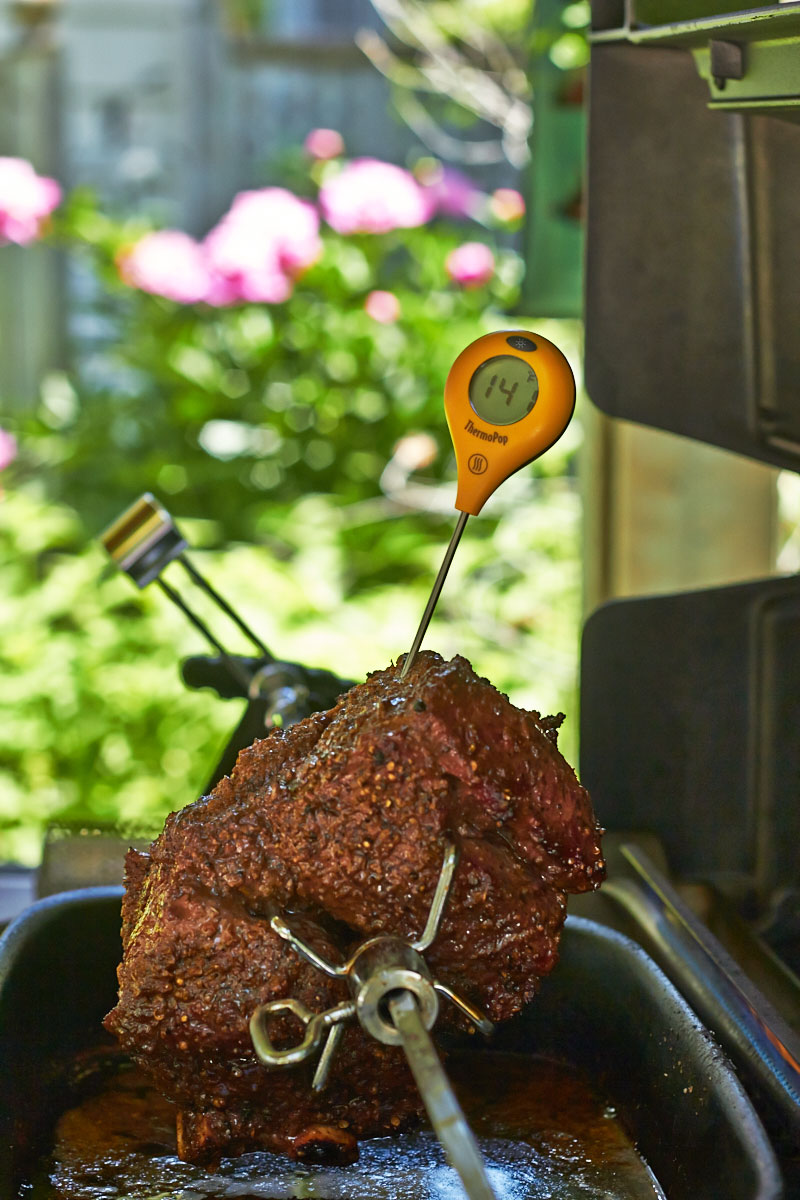 Moroccan Prime Rib
Author:
Charmian Christie
Moroccan Prime Rib Sweet and tangy Moroccan spices meet the Canadian Grill in this easy to make rib dish. Be sure to strain the pan juices for a tasty dipping sauce that will also liven up ho-hum sides like potatoes 15 minutes 60 to 75 minutes 6
Ingredients
1 tbsp [15 mL] black peppercorns
1 tbsp [15 mL] cumin seeds
1 tbsp [15 mL] coriander seeds
1 tbsp [15 mL] kosher salt
3-pound [2.7 kg] Prime rib or other rotisserie cut of beef
2 cups [500 mL] Apple cider
1 head garlic, roughly chopped
1 tbsp [15 mL] fresh ginger, grated
2 tbsp  [30 mL] pomegranate molasses
2 tbsp [30 mL] fresh lemon juice
¼ cup [60 mL] olive oil
Instructions
Remove shelf from BBQ and turn on rotisserie burner. Heat to medium-high (about 450-550°F / 230-290°C.)
Place peppercorns, cumin seeds and coriander seeds in a spice grinder or small bowl of a food processor. Grind until coarse. Place in a small bowl and mix in kosher salt.
Coat the entire roast with the spice mix, pressing the spices firmly into the roast so they stay put. Push the rotisserie rod through the centre of the roast and with the tines. Tie with more string, if necessary.
In the drip pan, whisk together the cider, garlic, ginger, pomegranate molasses, lemon juice and olive oil. Place drip pan on grill beneath roast. Place rotisserie rod into the motor and balance the roast according to manufacturer instructions. Turn on the rotisserie motor and close the lid. Roast for 15 minutes.
Reduce heat to medium (it will eventually drop to about 375 °F / 190°C). Using a turkey baster, baste the roast with the pan sauce. Baste every 20 to 30 minutes. Cook until meat thermometer inserted into the centre of the roast reads the desired doneness. (140°F/60° C or 20 pound for medium rare, 155°F/68°C or 25 minutes for medium.)
Remove the roast from the grill. Loosen the tines, then remove the tines and rotisserie rod. While the meat rests, covered, for 10 to 15 minutes, strain the pan drippings through a fine mesh sieve then skim off the fat with a spoon or gravy/fat separator. Serve drippings as dip or side sauce.
Note: Pomegranate molasses provide a sweet tang and can be found at most Indian or Middle Eastern grocery stores. If you can't find any, substitute equal parts honey and lemon juice.
Disclosure: Occasionally, I work with sponsors when I feel their product  or service fits my from-scratch, real-food mentality. This is one of those times. Every day this week, I and 4 other challengers are posting a BBQ recipe as part of the #OGBChallenge. This event is sponsored by Ontario Gas BBQ. They gave me the grill tools and are compensating me for creating and posting the recipes. Although the tools are used in creating the recipes, I am under no obligation to review the tool or Ontario Gas BBQ as a retailer. As always, I'm just here for the food.