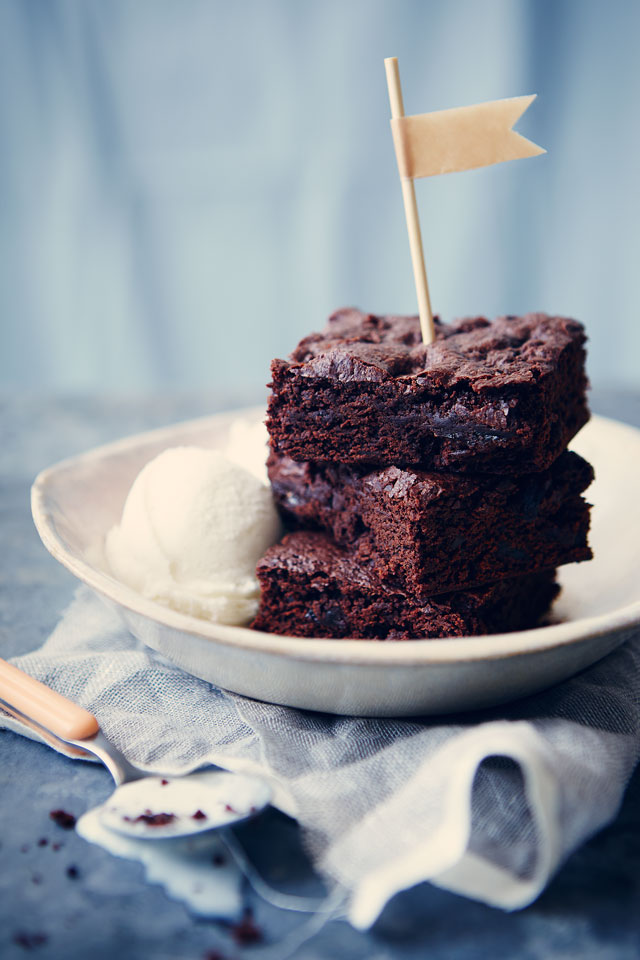 11 May

Deep Dark Cherry Chipotle Brownies
Mother's Day 2014
When I think of chocolate it's hard not to think of my mother. She made boozy chocolate torte so full of liqueur and whipped cream it was one generous jigger away from dissolving into a trifle. Her chocolate chip cookies had twice — maybe three times — as many chips as the dry store bought versions. In summer she dipped fresh-from-the-farm strawberries into melted chocolate and served them on the patio as an afternoon treat. When winter froze our toes, fingers and cheeks, she warmed us after our evening skate with hot chocolate. No cartoon bunny helped out in her kitchen. She drizzled homemade chocolate syrup into real milk and heated it on the stove top. She stirred gentle circles using a wooden spoon with "chocolate" written on the handle in black permanent marker. The smell of cocoa was so intoxicating it made you forget to hang up your snowsuit.
For a few traumatic years that scarred my childhood as well as the inside of my elbows, chocolate made me break out into a rash so severe I would scratch until I bled. Mom tried desperately to find an alternative. And when I refused carob in all its offensive incarnations again and again and again, she stopped faking it and made the most of the situation. Enticingly lumpy oatmeal raisin cookies scented with cinnamon replaced their chocolate chip counterparts. We celebrated my birthday with cherry-vanilla cake cut into any shape I wanted. At Easter, she turned my non-chocolate-coated candy eggs into a work of art with extra icing flowers and leaves. They were so beautiful the kids with chocolate-dipped eggs adorned with a single rosette felt jealous.
I eventually outgrew the sensitivity and lived long enough to discover our chocolate cabal got overturned by brownies. I love mine dark and moist and loaded with nuts. Hazelnuts and almonds are fine, but walnuts are my brownie choice. Their bitter edge stands up to the chocolate. Mom, who would arm wrestle me for the last Ferrero Rocher if she didn't think her arthritis would handicap her chances, doesn't like nuts in her brownies. She likes hers plain and on the milk chocolate side. She doesn't see the point in extra chocolate chips and thinks marshmallows scattered throughout the batter are just graham-less s'mores. But to her, nuts in brownies aren't just unappealing, they bordered on an atrocity. Are we really related?
"Well, that's just because you haven't had my brownies," I'd said with naive confidence, thrusting a near-ebony, walnut-studded brownie into her hand. Sharing was a huge sacrifice on my part. But her education was worth it. She was so lucky to have a daughter like me.
"Just try one bite." I used the same tone as she used when trying to persuade me to eat peas. I had as much luck. Nuts in brownies were her carob.
But I learned from the best. Some battles aren't worth waging. We could find a deliciously peaceful solution. To this end, I created a brownie with bits of dried tart cherries, reminiscent of the Black Forest Torte she made for special occasions. Inspired by the movie Chocolat, I added hint of chili because she loved the movie and is an adventurous cook.
I made. I baked. I crossed my fingers.
She liked them. "I want a copy of the recipe," she said eating a second brownie.
Mom, it's in the book. On the cover, in fact. Seems others liked them too.
I'm sharing this recipe on Mother's Day because my mother not only taught me how to bake, she demonstrated how to adapt to circumstances and proved time and again the power of compromise. These brownies are deliciously tangible proof. I'm lucky to have a mother like her.

Deep Dark Cherry Chipotle Brownies
Author:
Charmian Christie
Prep / inactive time:
Cook / active time:
Total time:
I first learned about the chocolate-chile combination when I saw the movie Chocolat. I was so intrigued that I raced home to make a cup of chile-laced hot chocolate just to test the theory. No matter that I'd attended the late show. Curiosity won out over sleep. I've been playing with variations of this duo ever since. A rich, chewy brownie seemed the perfect platform. The tartness of the cherries plays against the smoky warmth of the chile, and it's all wrapped up in a rich, deep dark chocolate brownie.
Ingredients
2 ounces bittersweet chocolate, coarsely chopped
1⁄3 cup milk
6 tablespoons unsalted butter
3⁄4 cup all-purpose flour
3⁄4 cup unsweetened cocoa powder
1⁄2 teaspoon baking powder
1 teaspoon ground chipotle chile pepper (1⁄2 teaspoon if you want only a hint of heat)
1⁄4 teaspoon fine sea salt

1 cup granulated sugar

1⁄2 cup packed brown sugar
1 cup chopped dried cherries
1 teaspoon pure vanilla extract

2 large eggs, at room temperature
Instructions
Preheat the oven to 350°F. Line a 9" x 9" baking pan with an extra-long piece of foil that hangs over opposite edges. Spray with cooking spray.
In a medium bowl, melt the chocolate, milk, and butter together gently. You can do this in the microwave oven on medium power in 60-second bursts, stirring in between. Alternatively, you can place the chocolate, milk, and butter in a heatproof bowl over a pot of simmering water and stir gently until all ingredients are dissolved.
Into a large bowl, sift the flour, cocoa, and baking powder. Add the chile pepper, salt, granulated sugar, and brown sugar and stir until well blended. Add the cherries and toss to coat with the flour mixture. This way they won't sink to the bottom while baking.
Whisk the vanilla into the eggs. Add the egg mixture to the melted chocolate mixture and stir to combine. Pour the chocolate mixture into the flour mixture and stir to combine. Pour the batter into the pan, pushing the batter to the edges.
Bake for 35 minutes, or until a wooden pick inserted halfway between the side and the center comes out clean. Allow the brownies to cool on a rack before removing from the pan using the foil overhang. Do not turn the brownies out upside down. They will not survive being uprighted. Instead, leave the brownies in the foil and cut them into squares as needed. Leaving the pan of brownies intact as long as you can helps keep them moist. Serve with vanilla bean ice cream or a dollop of crème fraîche or with nothing else at all.
To store, just wrap the foil around the brownies and store in an airtight container or a resealable plastic bag with the air squeezed out.