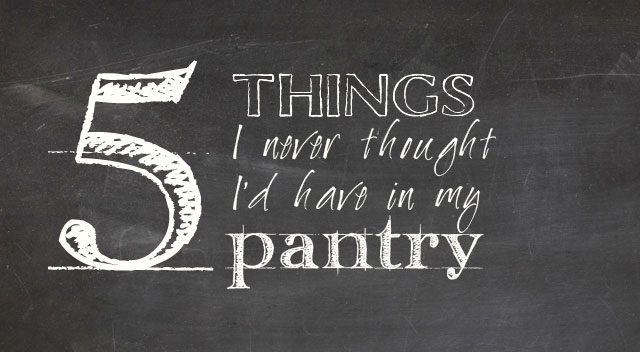 12 Apr

5 Things I Never Thought I'd Have in My Pantry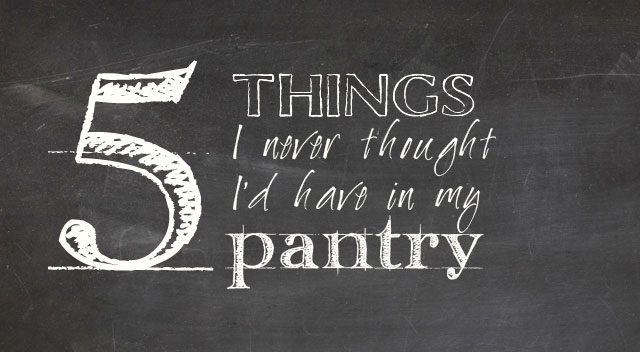 Although mounds of  icy snow still lurk in the shadowy parts of my front yard, I choose to believe spring has finally arrived. I see crocus bulbs forcing their way through the compact soil in my neighbours' gardens, and while nothing green has appeared yet in mine, I am acting as if my lawn is awash in daffodils and snow drops. Part of this cunning ruse involves partaking in the annual spring cull of Unnecessary Culinary Objects. Over the winter, fancy mixes and far-fetched condiments burrowed their way into my pantry. I blame Christmas, Valentine's Day and boredom. During the cull I tossed guacamole mixes full of MSG and pre-made sauces loaded with six different kinds of sugars and fake flavours. Yet I kept some items that might surprise you. The following post is from the archives. Three years later, it still holds true:
5 Things I Never Thought I'd Have in My Pantry
Can you keep a secret? After going on and on about Homemade This and From-Scratch That, there is a spot for convenience foods in my life and in my cupboard. While I prefer fresh to tinned, homemade to reconstituted, the food snob in me has learned to make concessions. I just don't usually broadcast them for fear that fessing up will get me banned from the culinary section of the Internet — or at least pelted with organic heirloom tomatoes.
While the following items are to food what K-Mart is to fashion, they do the trick — under specific circumstances. So here is my culinary confession. My pantry contains the following non-artisan, non-organic, far-from-fresh items. And I'm not about to give them up.
1. Instant coffee
What I use it for: Chocolate Mousse. Chocolate Cake.
Why: It makes chocolate taste more intense.
What I don't use it for: Coffee.
2. Instant Tapioca
What I use it for: Best Raspberry Pie Ever. Capital letters earned.
Why: Raspberry Pie isn't answer enough? Okay, it helps set the filling without using so much sugar you can't taste the raspberries or so much flour it gets pasty.
What I don't use it for: Pudding. Fish eyes. Ick.
3. Shortening:
What I use it for: The odd rolled cookie recipe and fool-proof pastry (although I am now a hardcore, butter-only pate sucree fan).
Why: It's a vegan/non-dairy substitute for butter or lard for pastry. It also makes cookies crisp, which now and again is the goal. If transfats make you sweat, shortening is ideal for seasoning cast-iron pans. It produces a non-stick finish and doesn't get tacky like oil.
What I  don't use it for: Cakes or  frying.
4. Corn Syrup:
What I use it for: Caramel corn and pecan pie.
Why: Don't panic. This isn't the same as the scary high-fructose stuff that manufacturers use. I'm talking the old-fashioned grocery store kind. It's less sweet than sugar and when cooked, helps produce a smooth texture.
What I don't use it for: Pancake or waffles topping. That's what maple syrup is for.
5. Red food colouring:
What I use it for: Pink Angels Squares and other iced goodies for special occasions. But just a few drops.
Why: Sometimes you just have to be whimsical.
What I don't use it for: Red Velvet cake. No one needs to consume a whole bottle of this stuff.
Okay, so now that I've aired my dirty culinary laundry, what items in your pantry do you consider hiding when food snobs come to visit? Tell me what you use it for and why. It's okay. You're among friends.