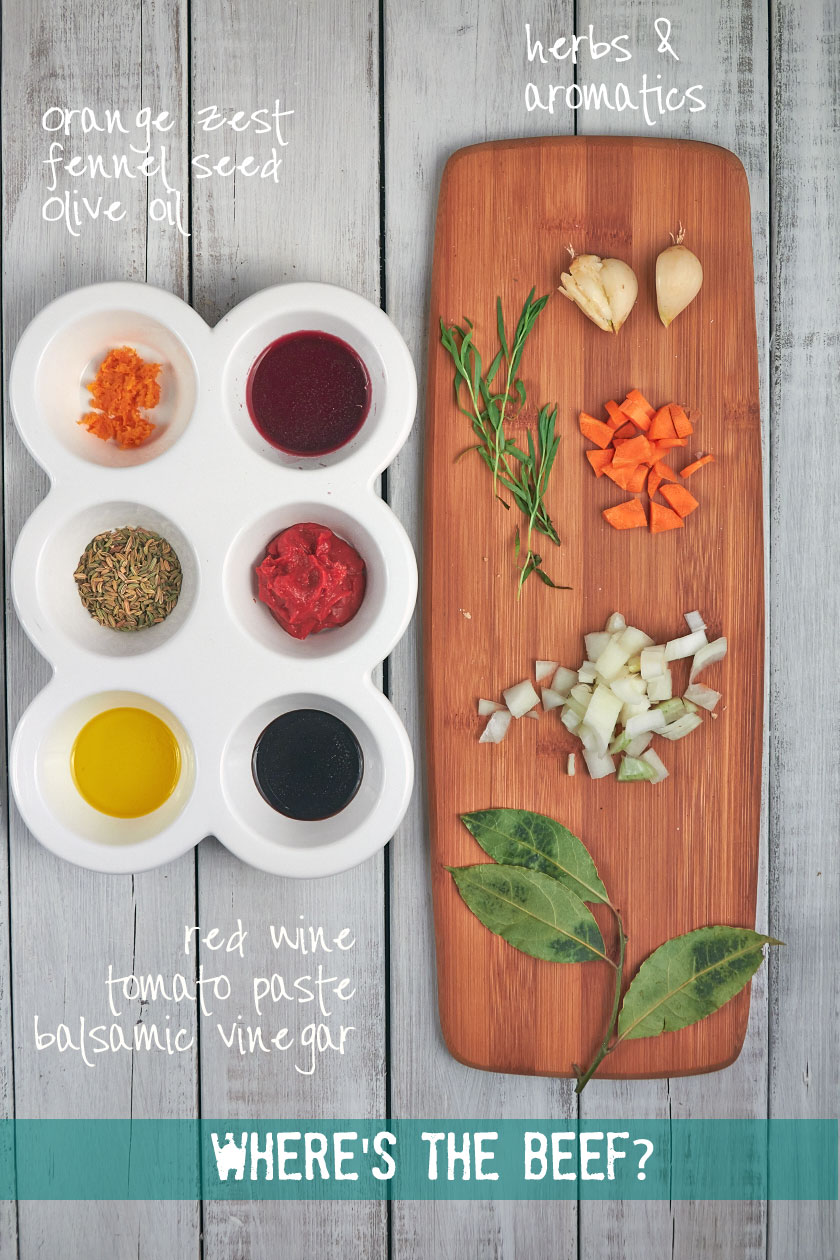 12 Mar

Braised Beef With Orange And Tarragon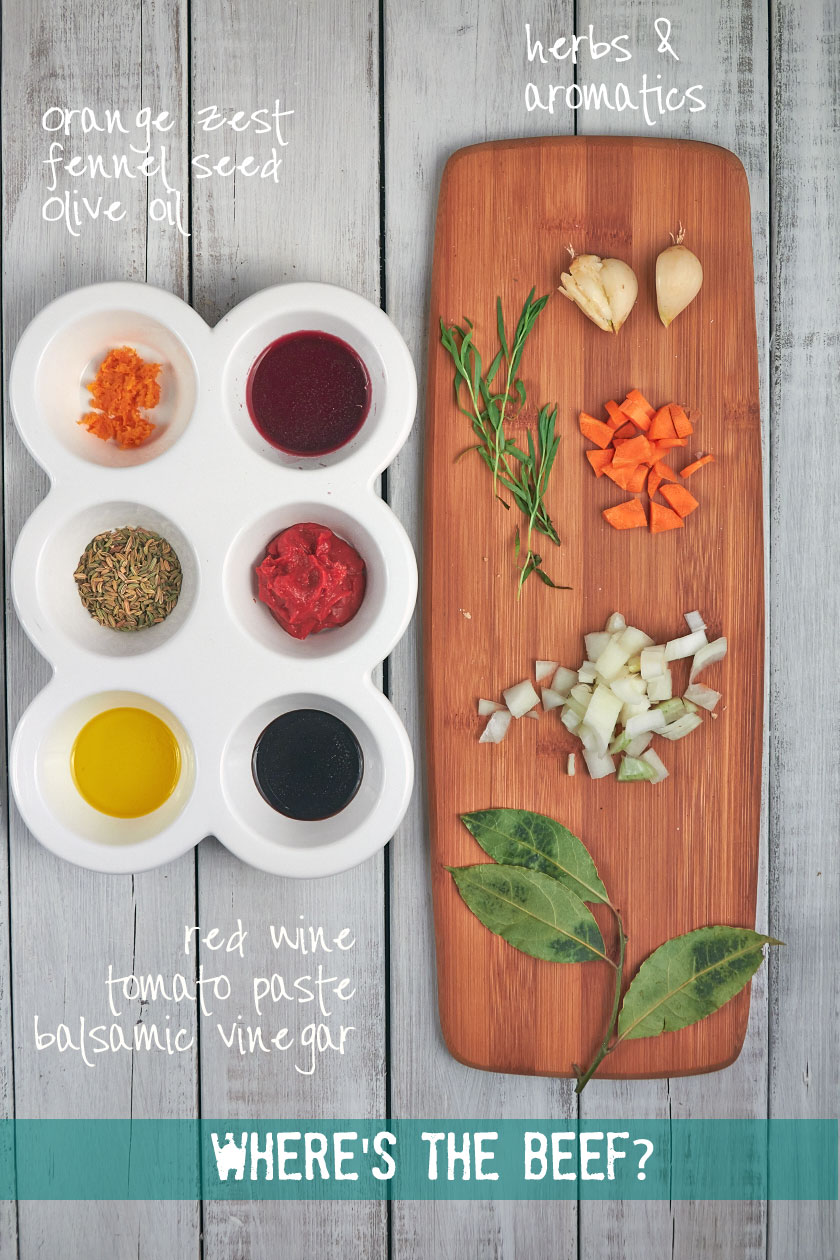 These are some of the ingredients that go into what my husband calls "That Orange Beef Stew Thing You Make." I call it Braised Beef with Orange and Tarragon but who am I to quibble? He likes it. I like it. Our guests like it. Everybody likes it — except the camera.
If you ate it blind folded you'd see colours dance before your eyes. Specks of orange zest, flashes of green herbs, swirls of rich red wine, flecks of jet black pepper. All these flavours come together in the culinary equivalent of Joseph's Technicolor Dreamcoat. But anyone who's finger-painted knows when you stir red and yellow and green and brown and scarlet and black together, you get plain old, muddy-boots brown.
Don't you just hate it when a dish doesn't look as good as it tastes? No matter. Smell is a stronger memory trigger. Lift the lid, close your eyes and inhale. You won't soon forget this combination.
I consider this an improv recipe. I've made variations of it several times, each with a different cut of beef, a different wine, a different vinegar. I've made it with beef broth and chicken stock and just plain old tap water. I've made it with bacon, with pancetta and without any pig at all.
I've served it with rice, sweet potatoes, baked potatoes and no potatoes. It has spilled under side salads, smothered broccoli spears and drowned peas. The only consistency is a long time spent in a slow oven confined by cast-iron.
As to labour, it falls somewhere between easy and a bit of work. It's not a dump-and-braise recipe, but it's not slavish either. You need to brown the meat, but you don't have to cut the vegetables with any accuracy. Once it's done, you strain then reheat the sauce. Some might call this step unnecessary, but it's my favourite part. While I strain and stir, I sip the last bit of orphaned wine. I consider it the reward for the cook who so lovingly wove red and yellow and green and brown and scarlet and black and orange into a dish worth sharing.
What's your favourite unphotogenic dish?

Braised Beef With Orange And Tarragon
Author:
Charmian Christie
Recipe type:
Beef & Red Meat
Prep / inactive time:
Cook / active time:
Total time:
This dish is very versatile and turns lesser cuts of meat into something worthy of company. A hit of orange and a bit of tarragon make it special without being too fancy.
Ingredients
½ teaspoon fennel seeds
4 tablespoons all-purpose flour, divided (gluten-free flour or cornstarch can be used)
2 tablespoons olive oil
pinch of fine sea salt
freshly ground pepper
3½ to 4 pounds short rib roast (rump roast or other solid cut works well)
2 strips bacon chopped or 2 ounces cubed pancetta
1 large onion, finely chopped
1 large carrot, finely chopped
4 cloves garlic, smashed
1 tablespoon red wine vinegar (raspberry balsamic works nicely)
2½ cups fruity red wine (Baco Noir is good)
3 sprigs fresh thyme on the stem
2 large bay leaves
¼ cup tomato paste
1 to 2 cups low-sodium beef or chicken stock
finely grated zest of 1 navel orange
¼ cup heavy cream
1 tablespoon finely minced fresh tarragon
Instructions
Preheat the oven to 300°F.
Grind the fennels seeds and 2 tablespoons flour together in a blender.
Heat the oil in a large Dutch oven over medium-high heat. While it's heating, season the roast on all sides with salt and pepper, then dust with the fennel flour. Brown the roast on all sides then transfer to a plate.
Reduce the heat to medium and add the bacon, onion, carrot, and garlic. Cook until the vegetables have some colour, about 5 minutes. Sprinkle with in the remaining flour (and any of the fennel flour that fell off) and cook for another 2 to 3 minutes or until the flour is light brown. Add the vinegar and a good splash of the wine. Stir to deglaze the pan, scraping up all the flavourful browned bits from the bottom. Stir in the rest of the wine and bring the sauce to a boil. Reduce the heat to a simmer and cook, stirring occasionally, until the sauce has reduced to almost half, about 5 to 10 minutes.
Add the thyme, bay leaves, tomato paste, 1 cup of stock and a good grinding of pepper. Place the roast gently in the liquid. It should come at least ⅔ of the way up the roast. If the liquid level is too low, add up to 1 cup more stock. Cover and cook for 3 to 4 hours.
Carefully remove the roast and place on a rimmed plate to rest. If the roast has been tied, cut and remove the strings.
Place a fine-mesh strainer over a heat-proof bowl. Strain the braising liquid through the sieve, pressing out as much liquid as you can with the back of a ladle. The onions, garlic and carrots should dissolve into a thick pulp. Discard this.
Pour the strained liquid back into the Dutch oven, bringing it to a boil over medium-high heat. Reduce to a simmer. Stir in the orange zest, cream and tarragon. Taste, adding salt and pepper if needed. Cook for 3 to 5 minutes to infuse the flavours, stirring occasionally.
In the meantime, slice the roast thickly, cutting across the grain. Return the slices to the sauce and heat through for a few minutes. Serve immediately.
Leftovers keep well. Simply reheat the meat in the sauce in a deep skillet on the stove top over medium heat.
Notes
This recipe has taken huge liberties with a dish from The Cook & The Butcher by Brigit Binns. I'm sure hers is a work of art worthy of a photo spread.