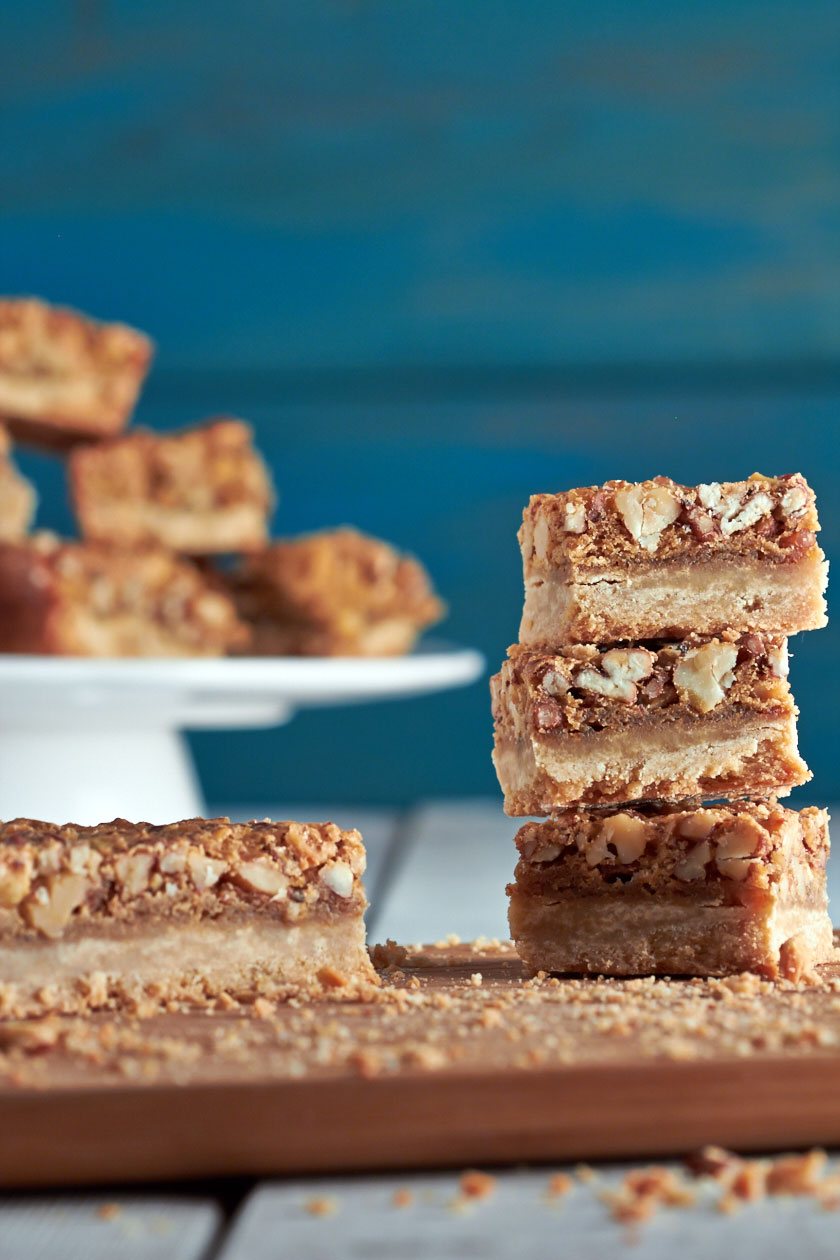 09 Mar

Maple Syrup — A Regional Food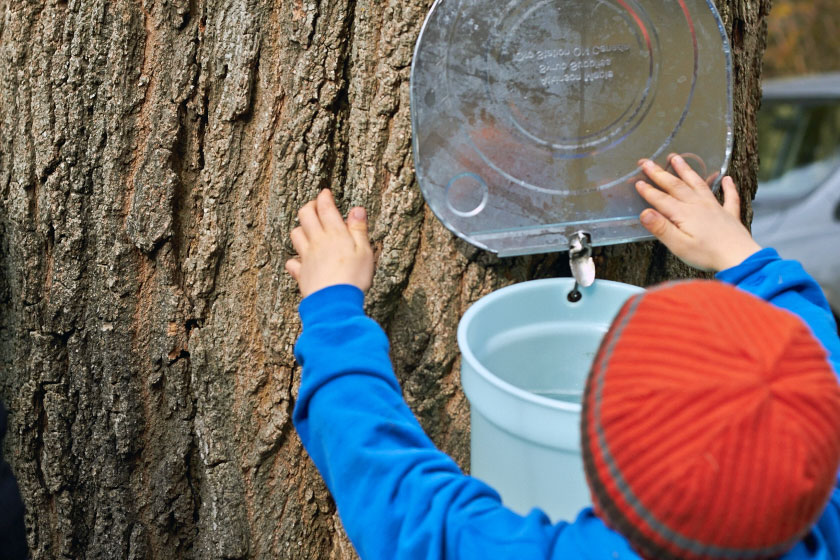 Two years ago, almost to the day, I went maple syruping at a friend's farm. (Click the link! Go on. Not only will you learn how it's done, there's a photo of a really handsome dog.)
The sky was overcast but the air was damp. And not in the kind of bone-chilling way you get in late October.  A light jacket kept me warm and I wore no gloves as I snapped away on my camera.
Given the Narnia-like grip winter currently has on us, it's hard to believe the calendar. Today's high is several degrees below freezing, the snow is thigh-deep, and the sap has yet to run.  But two years ago? My boots were caked with boggy mud, and I was breaking a light sweat as we helped collect the sap Jo Marie's maples so freely provided.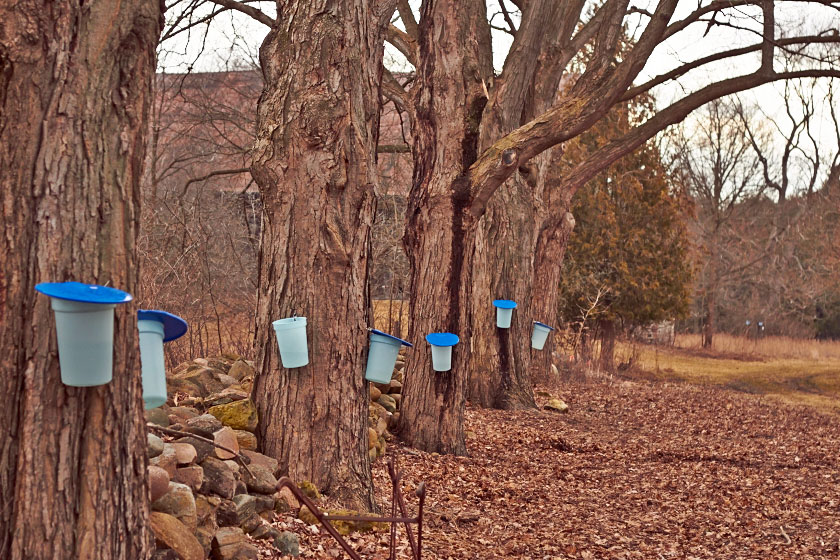 Later this spring, every Farmers' Market will have a stall stacked high with jars, jugs and canisters of maple syrup in varying shades — dark, amber and light. Some would-be customers will gasp at the price. Someone will half-jokingly inform the vendor that whisky is cheaper. The vendor will smile and nod. The price won't come down. Nor should it.
Maple syrup is a limited-time, near miracle. The sap collects drop by drop. Yes, the bucket eventually fills, but you need way more than one. Sap weighs about the same as water. The math alone makes my arms ache.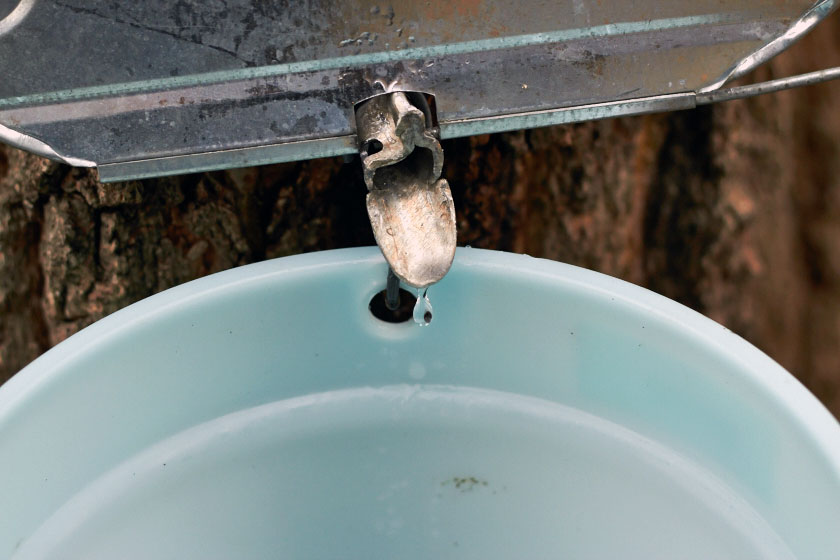 And once all that maple sap is collected? It takes a back-breaking 40 gallons to produce a single gallon of maple syrup.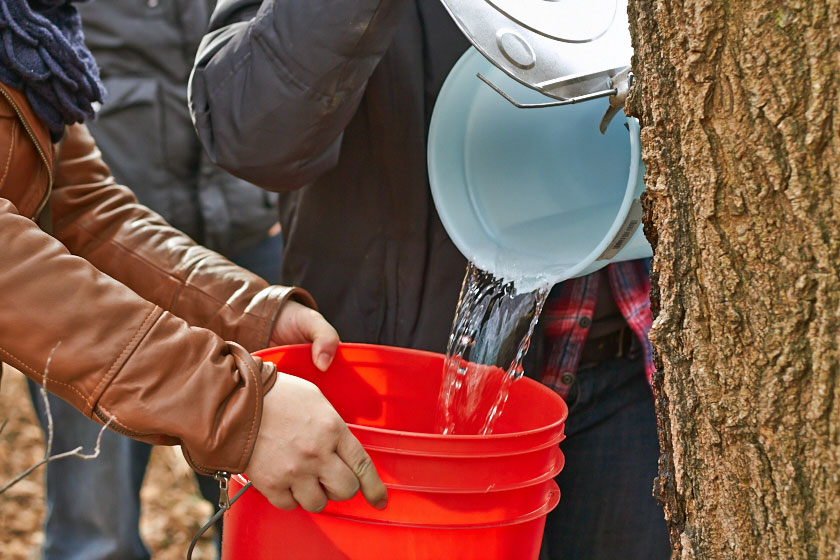 While the process is straightforward enough, the boiling produces so much steam you can't do it in your home. Just ask Jo Marie who brought the kitchen ceiling down in her first attempt.
Now she boils it outdoors, in open vats over a fire from wood collected from her brush, a task done incrementally over the course of the year.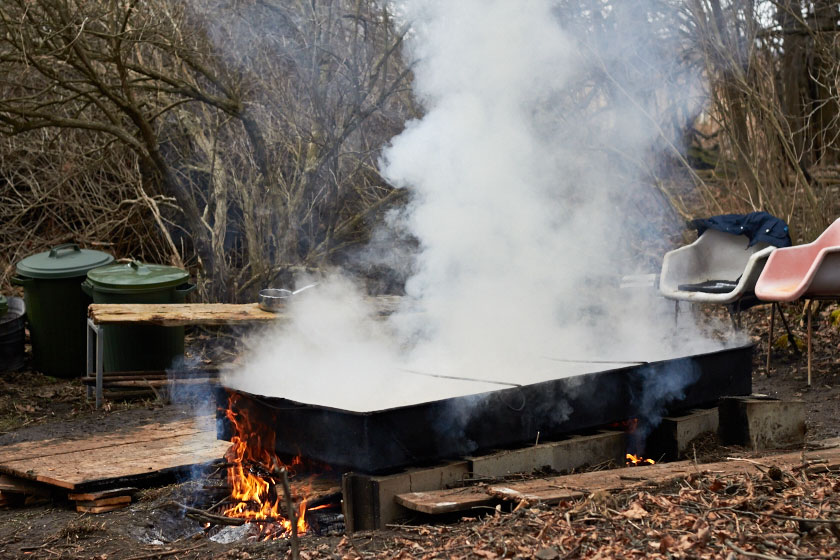 Of course, she can do this because she lives on a large farm with hundreds of trees. We urban dwellers can't make this ourselves. There's no balcony-friendly, small-container option, and tapping the trees in the city parks is frowned upon.
With the labour of maple syrup in mind, I didn't want to waste any. So I chose a recipe that honours the maple taste without using too much syrup. The recipe was developed by Jill Snider, one of the people on the photography team that shot The Messy Baker. Jill's creative and knowledgeable and understands how to elevate a recipe without pushing it over the edge. She didn't take the obvious route of maple and walnuts. Instead, she started with the familiar and then layered in sweet pecans and aromatic hazelnuts. Some brown sugar, flour and butter form the crust.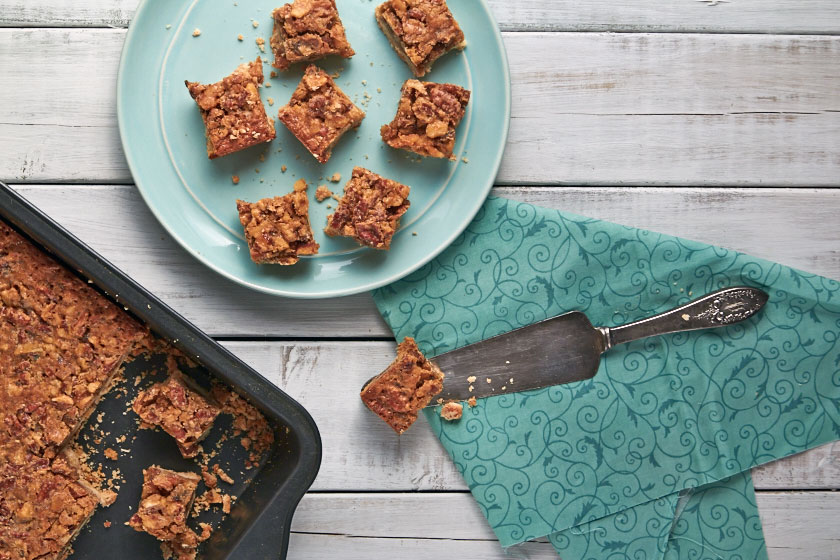 The results? A square that's worthy of real maple syrup but so much easier to make.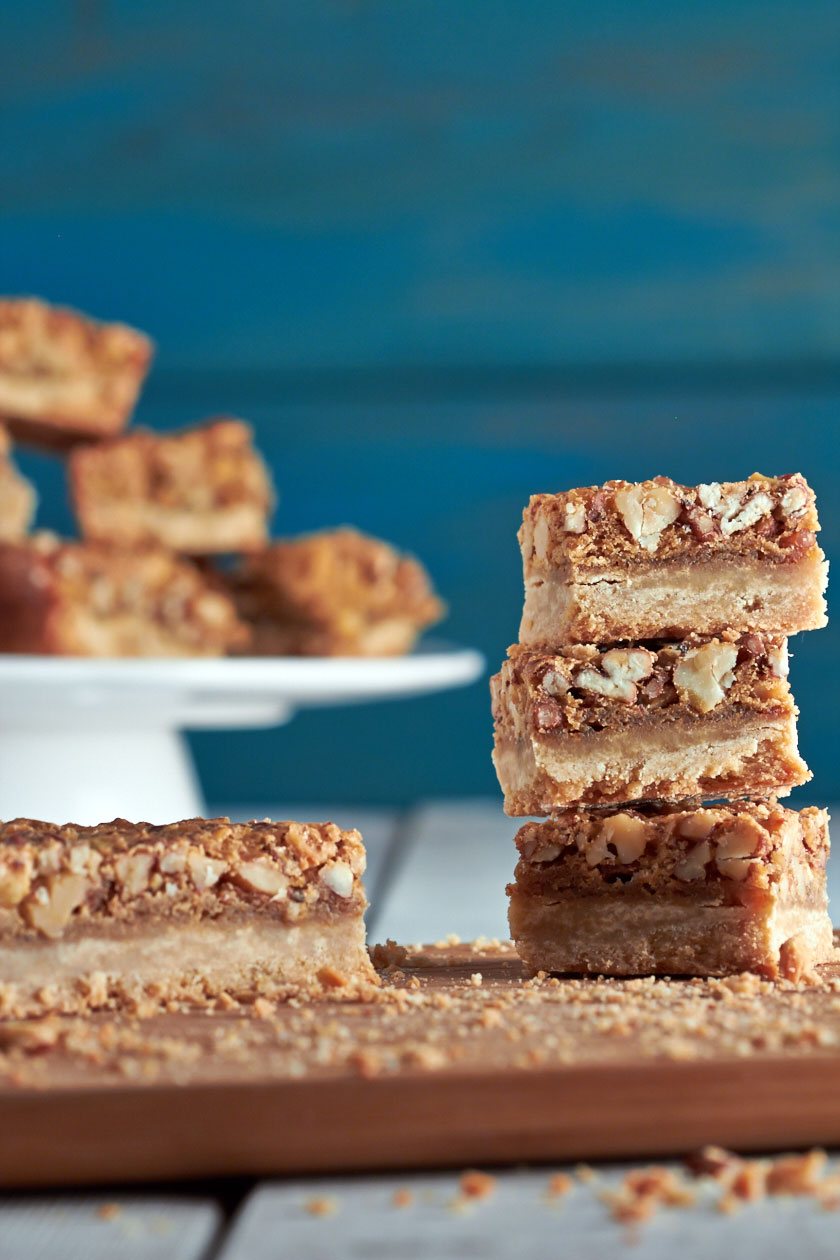 Maple Nut Bars
Prep / inactive time:
Cook / active time:
Total time:
Serves:
Makes 20 to 54 bars
Maple Nut Bars These delicious bars start with a shortbread crust and add a slightly gooey maple topping loaded with your favorite nuts. What could be better?
Ingredients
CRUST
1 cup (250 mL) butter, softened
1⁄2 cup (125 mL) packed brown sugar
2 cups (500 mL) all-purpose flour
TOPPING
3 eggs
1 cup (250 mL) packed brown sugar
1⁄4 cup (60 mL) pure maple syrup
2 tbsp (30 mL) butter, melted
1⁄4 cup (60 mL) all-purpose flour
1⁄2 tsp (2 mL) baking powder
1 cup (250 mL) coarsely chopped pecans
3⁄4 cup (175 mL) sliced hazelnuts
2⁄3 cup (150 mL) coarsely chopped walnuts
Instructions
Preheat oven to 350°F (180°C). Grease a 13- by 9-inch (3 L) cake pan.
Crust:
In a bowl, using an electric mixer on medium speed, beat butter and brown sugar until smooth and creamy. On low speed, beat in flour until thoroughly blended and crumbly. Press evenly into prepared pan. Bake in preheated oven until golden around edges, 12 to 15 minutes.
Topping:
In a bowl, whisk eggs, brown sugar, maple syrup and melted butter until smoothly blended. Whisk in flour and baking powder. Mix well. Stir in pecans, hazelnuts and walnuts. Spread evenly over warm crust.
Return to oven and bake until topping is set, 20 to 25 minutes. Let cool completely in pan on rack. Cut into bars.
Notes
If you prefer, mix the crust in a food processor. Use cold butter rather than softened. You can also mix the crust in a bowl, cutting in cold cubed butter using a pastry blender, 2 knives or your fingers.
Use pure maple syrup for baking. Pancake syrup doesn't have enough maple flavor and can react differently in baking.
Buy California walnuts for baking. If you have the time, buy walnut halves and chop them rather than using pieces. They're fresher and of a higher quality.
In all your baking, you can replace all-purpose flour with unbleached all-purpose flour, if you prefer. They are interchangeable.
Excerpted from
Bake Something Great! 400 Bars, Squares & Cookies
by Jill Snider © 2011 www.robertrose.ca Reprinted with publisher permission.
[box type="info" style="rounded" border="full"]
The Canadian Food Experience Project is a monthly series of themed posts from participating Canadian food bloggers across the country. By sharing our personal stories and regional food experiences, we hope to answer the elusive question, "Just what exactly is Canadian Cuisine?"
Read us. Talk to us. Join us. Then eat.
[/box]