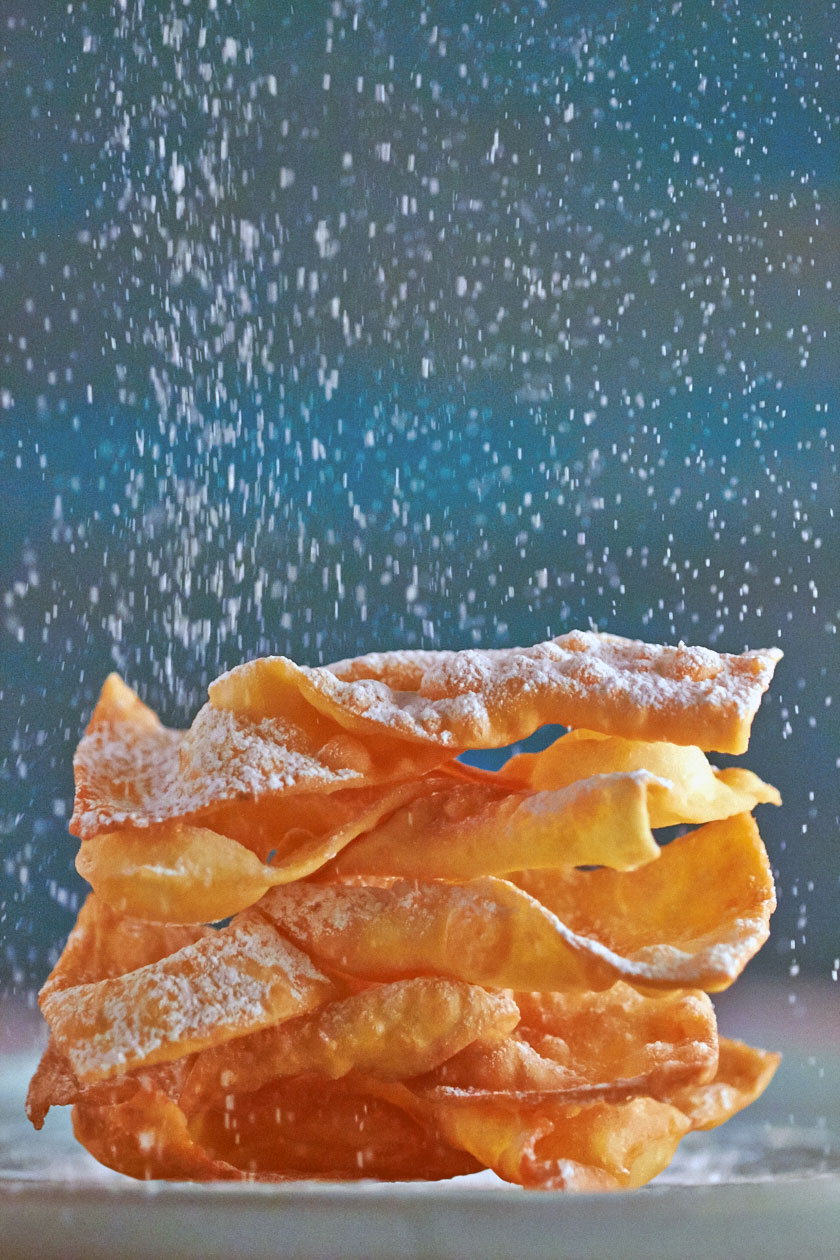 04 Mar

Crostoli or Frappe du Carnaval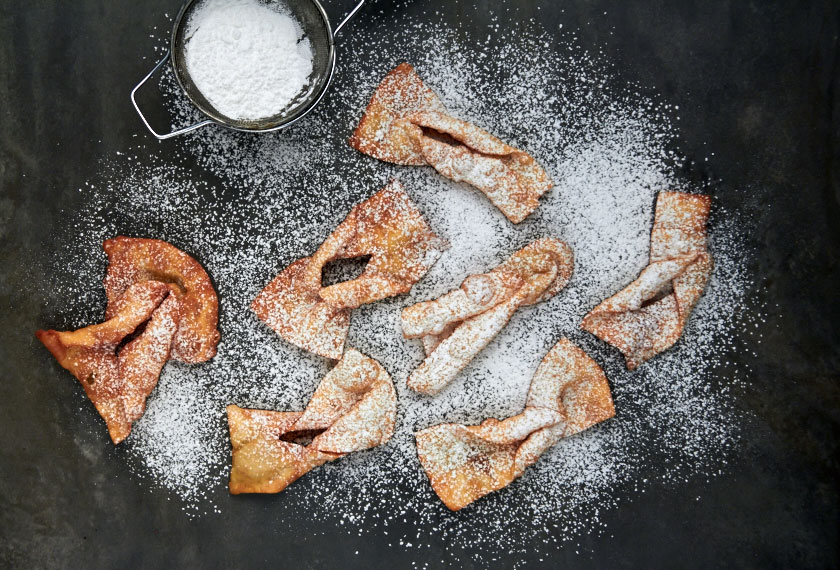 It's Shrove Tuesday and everyone's flipping pancakes and frying fritters. Me? I'm trying my hand at crostoli — a crispy, fried dough so light it's almost like you're not eating. Variations appear throughout Europe with different names and different shapes, but the distinctive blistered dough is unmistakable. And impossible to resist.
I always thought of this as a wedding treat since I first encountered it at my best friend's bridal shower. No, no. It's a Christmas goodie. Or so some tell me. And the Venetians? They gobble frappe du carnaval just before Lent.
The eater in me loves the crunch and shatter. The baker in me loves how these cookies embrace imperfection. Big, small, knotted, or flat, it just doesn't matter. Besides, it knocks an item off my culinary bucket list and gives me an excuse to pull out my long-neglected pasta machine.
See… Nothing is perfect. The edges are all wibbly-wobbly.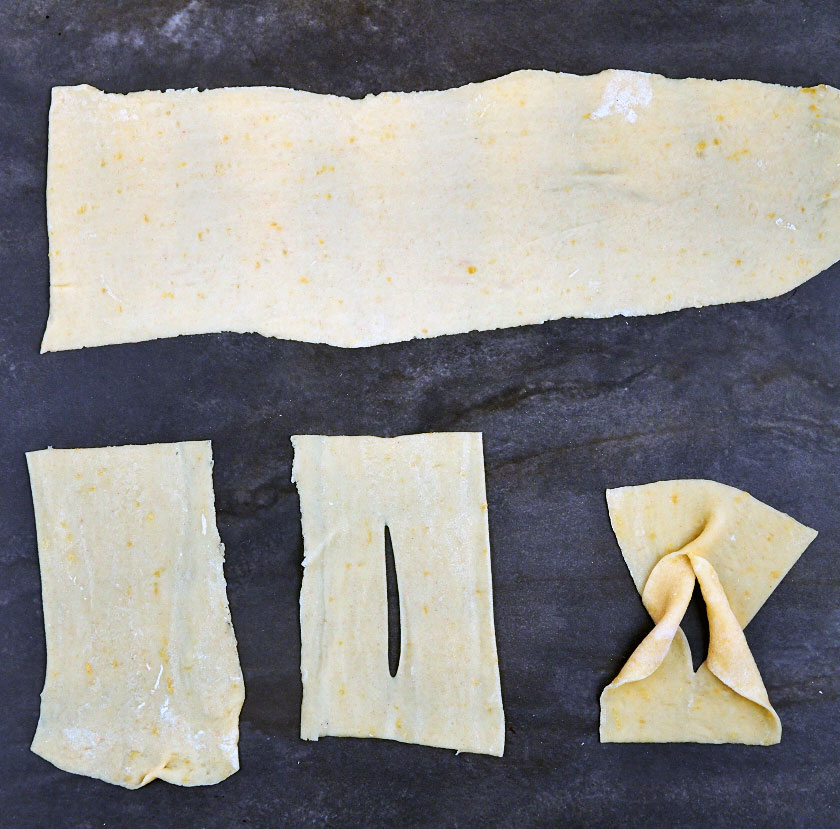 I tried various traditional shapes — whole, single slit and double slit. The flat ones were easiest but the slit, which creates a single knot, was worth the 7-seconds of extra work. This shape allowed for more uniform crispiness. If I cut a piece of dough too big, the open centre still cooked evenly. The double-slit-and-knot was just too fussy. When you drop more than you complete, it's a sign you're getting too frou-frou for your own good.
Perfection matters little in the folding. When the crostoli hit the oil, they expand and dog-paddle about, threatening to untie themselves in the frenzy. As long as they puff up, blister and turn gold, you're on the right track.
As an added bonus, you never know what form the knot will take while cooking. I spot a jellyfish and a ghost. What do you see?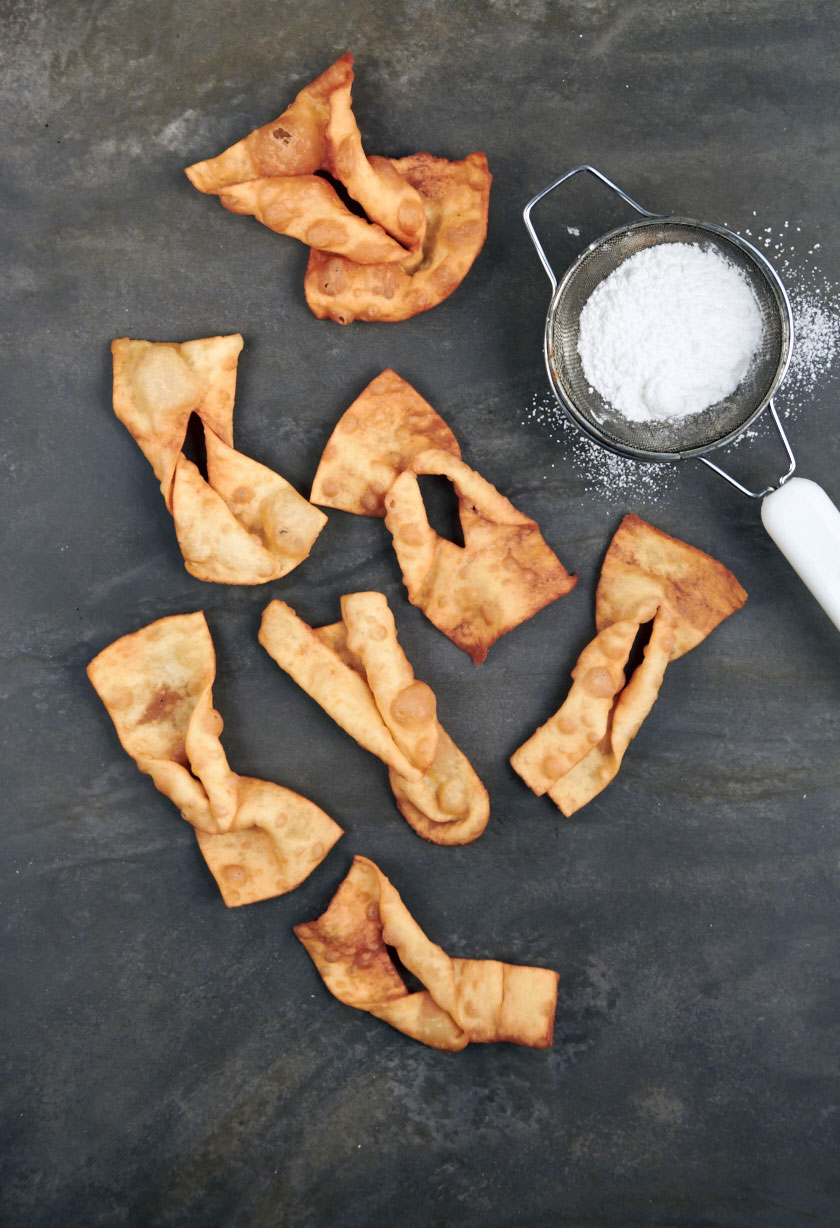 Once drained and cooled, all they need is a dusting of icing sugar.
Dust them all at once, or as you serve them. It's up to you.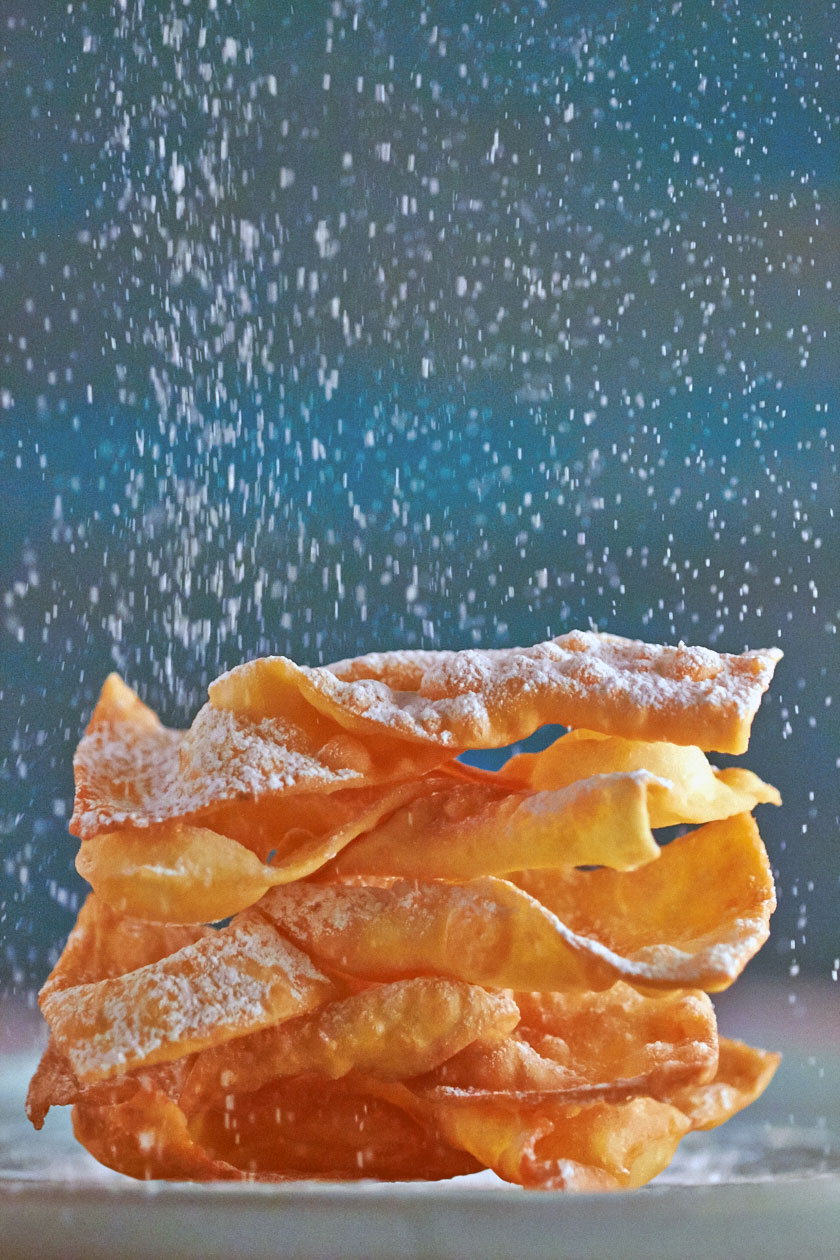 Stack and serve. And watch them vanish like a ghost, jet off like a jelly fish or exit in a suitable way for the shape you pull from the stack.
Sorry pancakes. Maybe next year.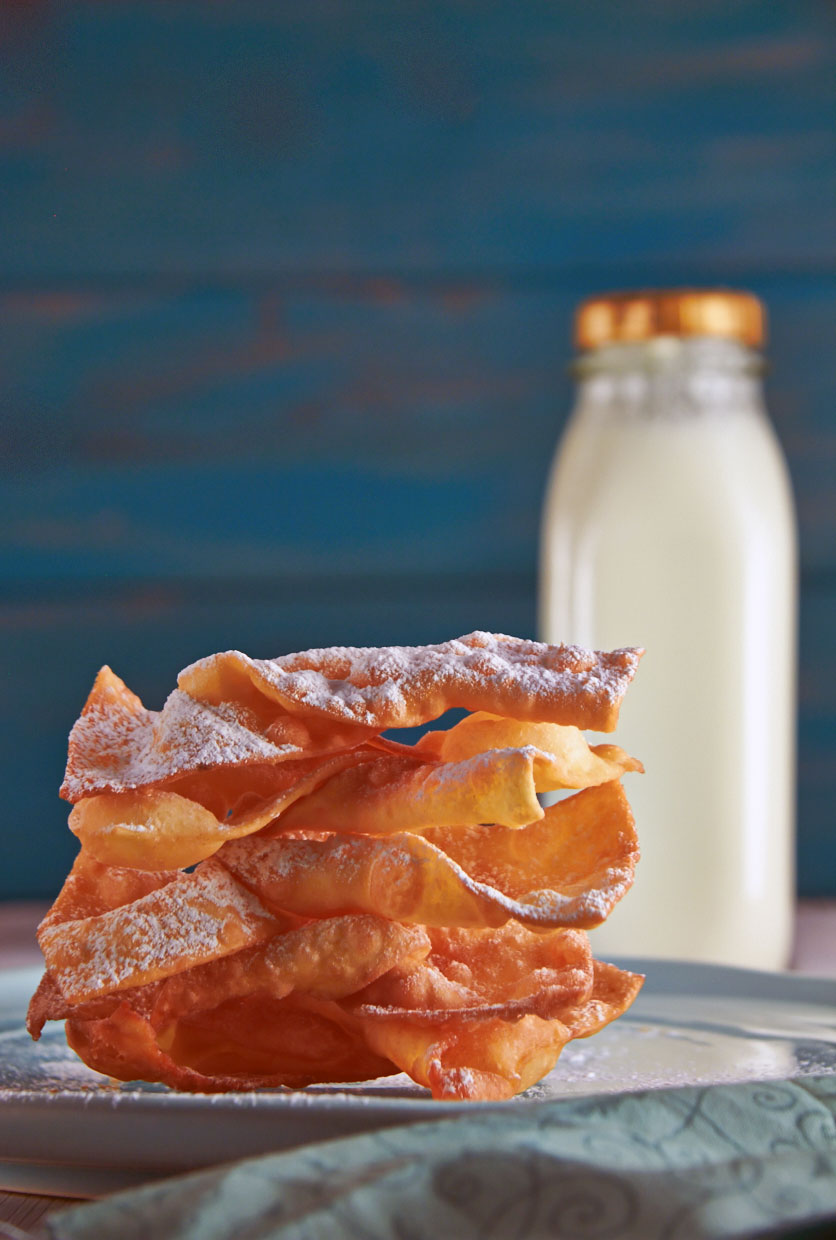 Do you make a version of crostoli? What are your tricks?

Crostoli
Author:
Charmian Christie
Serves:
Makes about 8 dozen
Variations of crostoli can be found across Europe. You'll find this light, crispy dessert at Polish weddings, Venetian carnival, and Christmas tables across the continent. Whether it has a wavy edge, is tied in knots or just squares of dough, the dessert is always a crowd-pleaser.
Ingredients
2 tablespoons butter, at room temperature
3 egg yolks
½ cup sugar
finely grated rind of 1 lemon
½ to 1 cup milk
2 tablespoons rum, orange liqueur, or grappa
3 cups all-purpose flour
pinch of fine sea salt
oil for frying
icing sugar
Instructions
Mix the dough: In a large bowl mix the butter, yolks, sugar, and lemon zest until smooth. Mix in ½ cup milk and the rum. Blend in the flour and salt. Add more milk if needed. You want the consistency to be like firm pasta dough. Turn onto a lightly floured surface and knead until smooth. Cut into 8 portions. Cover in plastic wrap and let rest at room temperature for 30 minutes or overnight in the refrigerator.
Roll and shape: Set up your pasta machine. Put rollers to widest setting (7 on my machine). Working with one portion at a time, flatten the piece with your hands. Dust the pasta rollers with flour and run the dough through the widest setting. Continue rolling the pasta, reducing the setting each time by one notch, until you reach the finest setting. Before you run the dough through the second last setting, it will be getting a bit long to handle. Cut the dough ribbon in half crosswise and continue rolling half sheets until you get to the narrowest setting (1 on my machine). With a sharp knife or fluted pastry cutter, cut the dough into strips about 5 inches by 2 inches. Each half ribbon should produce 5 to 6 crostoli (or 10 to 12 per portion). Cut a slit down the centre of each pastry strip. Thread one short end through the slit to create a knot. Repeat with the remaining dough. (Note: The frying goes very quickly. If you are working alone, roll and cut all the dough before you begin frying, covering it with a dish towel so it won't dry out. If you have a helper, one person should fry while the other person rolls and cuts.)
Fry: Fill a large, heavy-bottomed saucepan with 2 inches of cooking oil and heat over medium to 375°F or until a piece of dough dropped in sizzles and browns in 15 seconds. Because the crostoli cook so quickly and expand in the oil, it's best to cook one at a time. Gently, place a strip in the hot oil and fry until golden (this took only 15 to 20 seconds). Flip and cook the other side (about 15 more seconds). Remove with tongs or a slotted spoon and place on paper towel to drain. Repeat with remaining strips. If space is an issue, stack the crostoli / paper towel layers on top of each other. The cookies are very light and won't crush each other.
Dust with sugar: When they have cooled or just before eating them, dust with icing sugar. Don't dust them when they are warm or the icing sugar will melt and make a sticky mess.
Store in an airtight container. They will keep for a few days.
Notes
While you can roll the dough by hand, the thinner the crostoli, the better. You'll get the most consistent results with a pasta machine. If rolling by hand, you want the dough so thin you can't accurately measure it. It should be thin enough to see through but not tear when you fold it.

Adapted using Canadian ingredients from a recipe given to me by an Italian friend.
Related articles