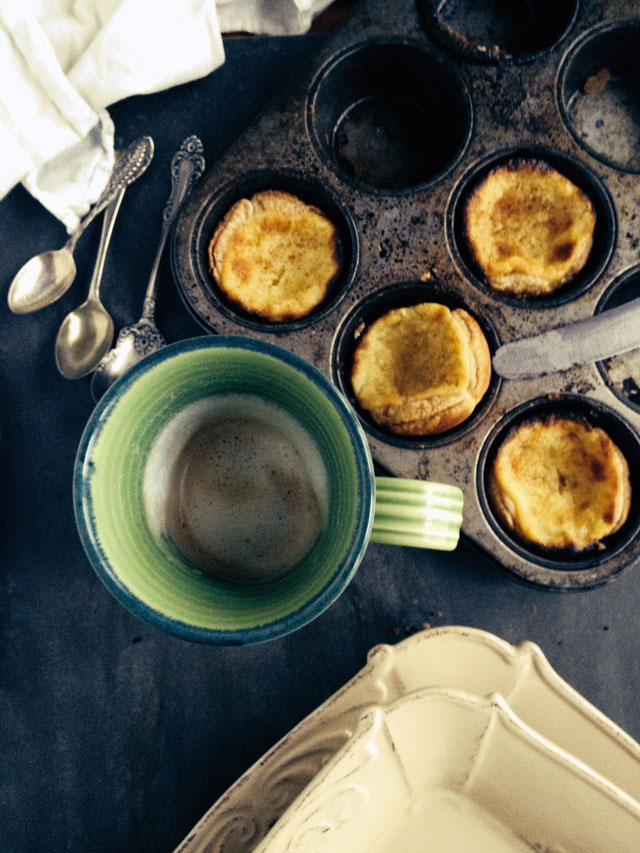 05 Feb

Portuguese Custard Tarts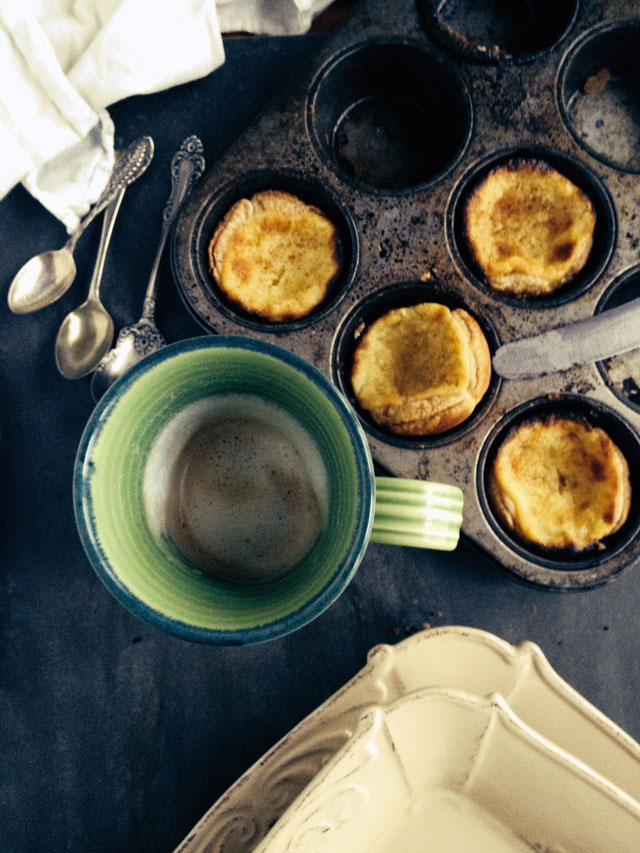 This photo wasn't staged. It's a real glimpse of my chaotic kitchen table, captured via my smartphone. The spoons are washed but remain uncleared from the Herb & Spice post. The dishes at the lower right are set out for lunch, and in the midst of the chaos sit the dregs of my morning latte. And custard tarts. Delicious, tender, flaky, classic, slightly unpredictable, Portuguese custard tarts. They're the reason I'm writing this in the first place.
Portuguese custard tarts are an item from my 2014 Culinary Bucket list, but I first encountered them back in the mid-80s while backpacking through Europe. I was very young and very foolish and living on sweet pastries and cheap wine in a way that can only be justified when you're spending a summer bouncing from country to country on a Eurail pass with the merest idea where you'll head next and even fewer cares. They were a constant during a time when we never knew when shops would close (or open), what fresh catch would be on the menu, or which items would appear served topped with an egg.
The madcap karma of my Portuguese adventures carried over into these tarts. They are as delicious and creamy as I remember but carry a cautionary tale with them. Dock the pastry when told to do so.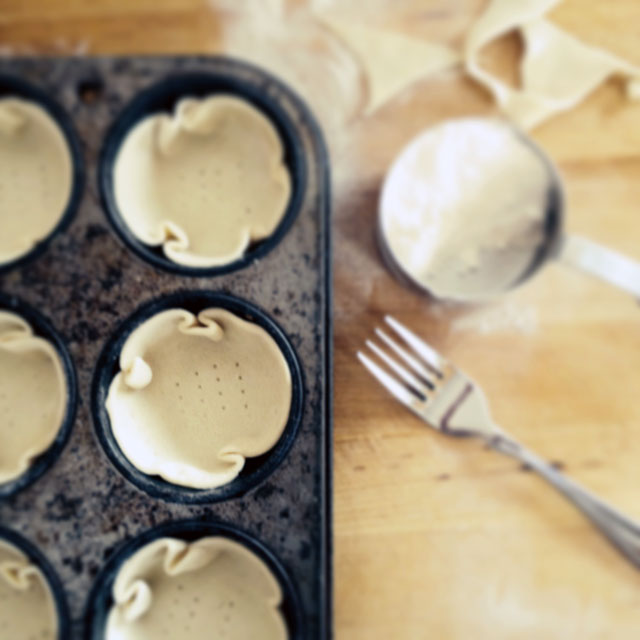 And not in a haphazard way. I admit, I got a bit distracted during the process and missed a tart or two. The puff pastry leapt at the chance to expand to its fullest and formed a generous air bubble, which in turn shoved the custard filling over the pastry rim and into the pan. The resulting tart was still tasty, but left a bit of a mess in its wake.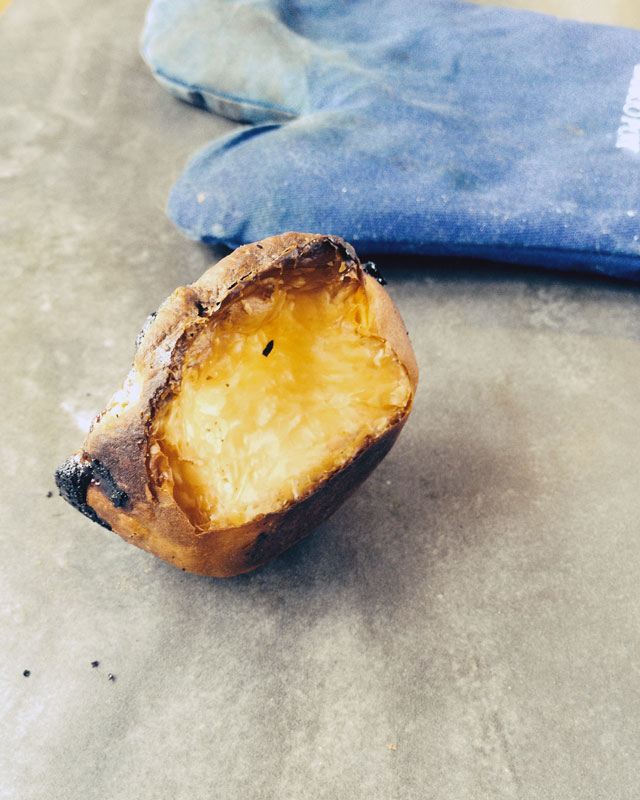 The tarts that were docked? They cooperated and produced the rich, velvety dessert I remember.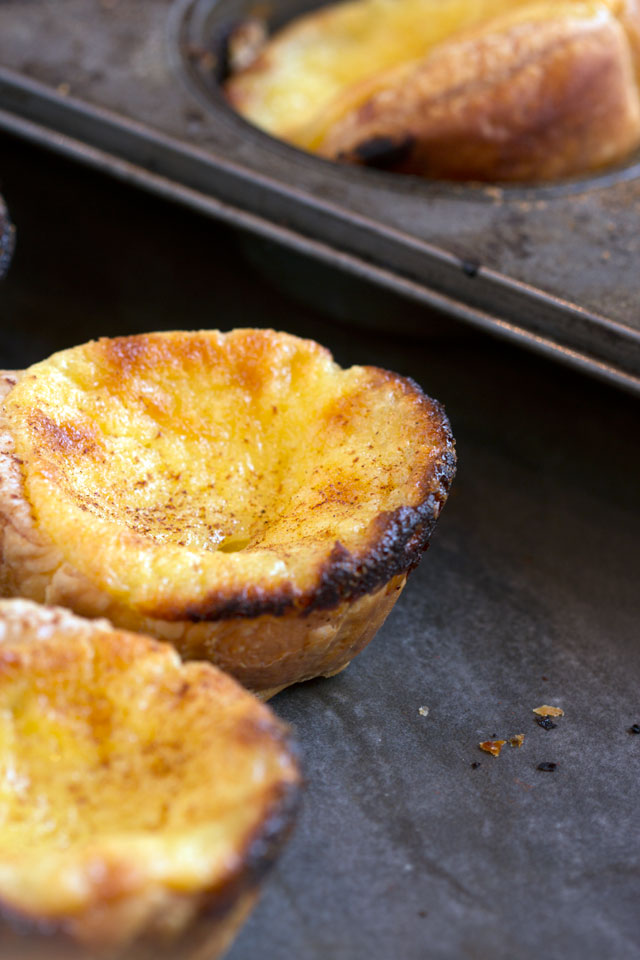 Even using commercial puff pastry these take a bit of time. As the custard cooled I recalled walks down narrow cobblestone streets punctuated with bright tile work. As the tarts baked, I relived the crazy day spent hitchhiking from the Algarve to Lisbon. And when they were finally cool enough to bite, I was back in the sun-soaked cafes. Like the travel companions I met along the way, these tarts are ephemeral. They will not last until the morning. Think of them as backpackers passing in the hostel, stopping long enough to exchange stories, made recommendations  and join you in a cup of tea before jumping on the next train to wherever their heart desires. They are here, hugged and then gone.
The recipe says it makes 12 tarts. My pans produced 24 — an unexpected bounty. Pull up a chair, help yourself and share a story with me. What adventures did you go on and what food takes you there in a mouthful?

Portuguese Custard Tarts
Author:
Charmian Christie
Cook / active time:
Total time:
Serves:
makes 12 to 24 tarts
Portuguese custard tarts originated hundreds of years ago in a cafe near the tower of Belém, a Lisbon fortress. Bakeries in that area are now renowned for these specialties
Ingredients
¾ cup granulated sugar
¼ cup water
1 cup cold whole milk
1¼ cup whipping cream
2 teaspoons finely grated lemon zest
One 2-inch cinnamon stick
2 tablespoons cornstarch
3 egg yolks
1 egg
1 pound Puff Pastry
Instructions
In a small saucepan, combine the sugar and water. Boil over medium-low heat for 10 to 12 minutes or until the sugar is reduced to about ¾ cup of syrup. Set aside for 10 minutes to cool slightly.
In a saucepan over medium-low heat, heat ¾ cup of the milk, and the whipping cream, lemon zest, and cinnamon stick until hot. Set aside to cool briefly.
In a deep skillet, combined the cornstarch and remaining ¼ cup cold milk. Gradually add the hot milk and cream. Bring to a boil over medium heat, whisking until the mixture comes to a boil. Continue cooking for about 1 minute, until thickened. Remove from the heat and set aside for 10 minutes to cool slightly.
In a large bowl, using an electric mixer, beat the egg yolks and egg until well blended. Gradually add add the prepared sugar water, followed by the milk and cream mixture, and beat for about 1 minute or until well blended. (Be careful not to form too many air bubbles in the batter or it will not bake well.) Cover with plastic wrap and refrigerate until cold. Strain through a fine-mesh sieve just before using.
On a lightly floured surface, roll out one-half of the puff pastry into a 12-inch square about ¼ inch thick. Cut out six 4-inch circles. Press each circle into a muffin tin (wet fingers will make this easier) and prick all over with a fork. (If the pastry gets too soft, refrigerate for 30 minutes before continuing.) Repeat with the remaining puff pastry and refrigerator until muffin pastry shells are cold. Fill the shells three-quarters full with the custard filling.
Set the oven rack in the middle of the oven. Bake the tarts in a preheated 450°F oven for 25 to 30 minutes or until the pastry is golden brown and the filling is bubbly with a few flecks of golden brown. (If the tarts are browning too quickly, cover them loosely with foil.)
Immediately sprinkle the tarts with a few drops of water and then sprinkle with cinnamon (the water helps the cinnamon stick). Let stand for 5 minutes. Run a knife around the edge of the muffin tins and carefully remove the tarts (clean the knife in cold water and dry off after each tart has been removed). Let the tarts cool on a wire rock for at least 1 hour (this allows the bottom to cool and the the custard to set).
Notes
Although the tarts are best the same day you make them, if you can reheat day-old custard tarts (store-bought and homemade) in a 350°F oven for a few minutes. Sprinkle with cinnamon icing sugar and eat immediately.
This recipe is excerpted with permission from
Pimentos & Piri Piri: Portuguese Comfort Cooking
by Calra Azevedo. Published by Whitecap ©2013.