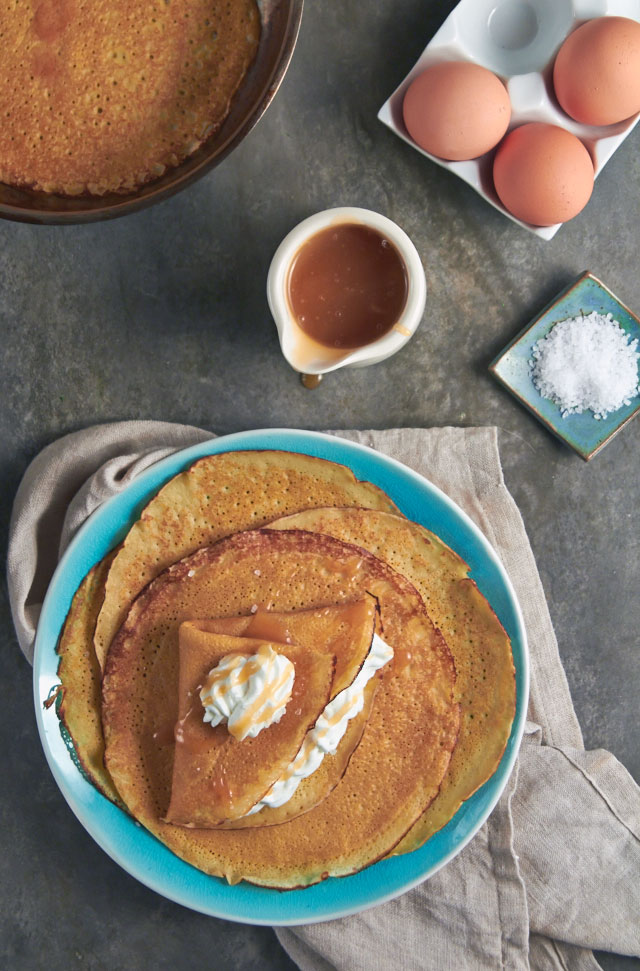 30 Jan

Beer Batter Orange Crepes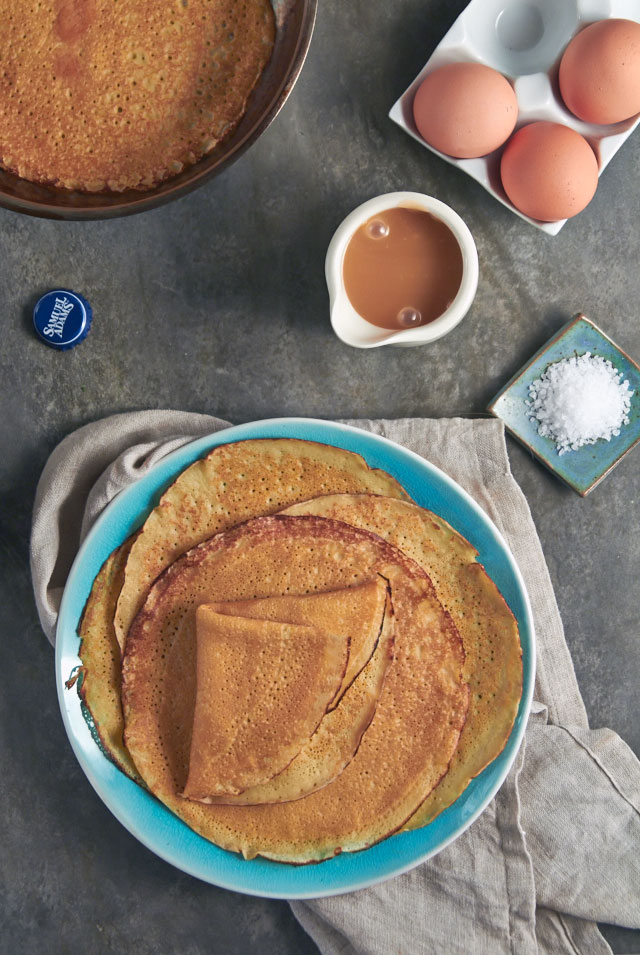 This post will come as a surprise to those who know me. I'm not a beer drinker. Yet here I am creating a recipe using ale. Samuel Adams Latitude 48 IPA to be precise. Why? Because I was asked. And they specifically wanted a dessert, so how could I resist? And capping off the trifecta, this is the year I battle food waste and I'm tired of wasting beer.
There's always a bottle of beer left in my fridge after a party. One lone bottle my beer-drinking friends forgot to take home. A bottle that I never know what to do with. A bottle that just gets transferred from the door to the shelf to make room for sriracha , and then shoved further and further to the back until it's hidden behind the carafe of maple syrup and left quietly to die. Or go skunky, or whatever happens when beer reaches the end of its shelf-life.
So, I've created a recipe that uses an entire 12-ounce bottle of beer.  Exactly. No waste.
Faced with several flavour options, I based my decision on the LCBO description: Amber-orange colour; citrus and floral aromas with hints of herb and earth; herbal and citrus flavours with intense bitterness in the finish.
They had me at citrus.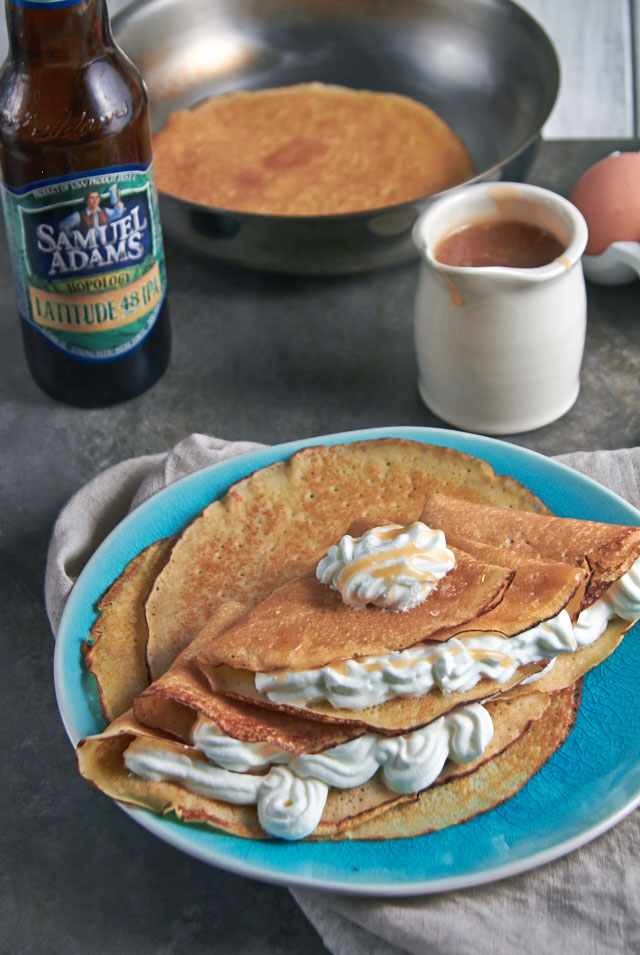 The orange-scented crepes can be enjoyed as is, but use only 1/2 cup of beer. This leaves an entire cup for the caramel sauce. Salted, of course, to balance out the bitter finish. Think beer and pretzels, only sweeter. Much sweeter. I filled mine with plain whipped cream, but you can fill yours with ice cream or fruit or nothing at all. Wash it down with coffee if you're having this for brunch. If you prefer to wait until dessert, there are five more beers waiting in the fridge.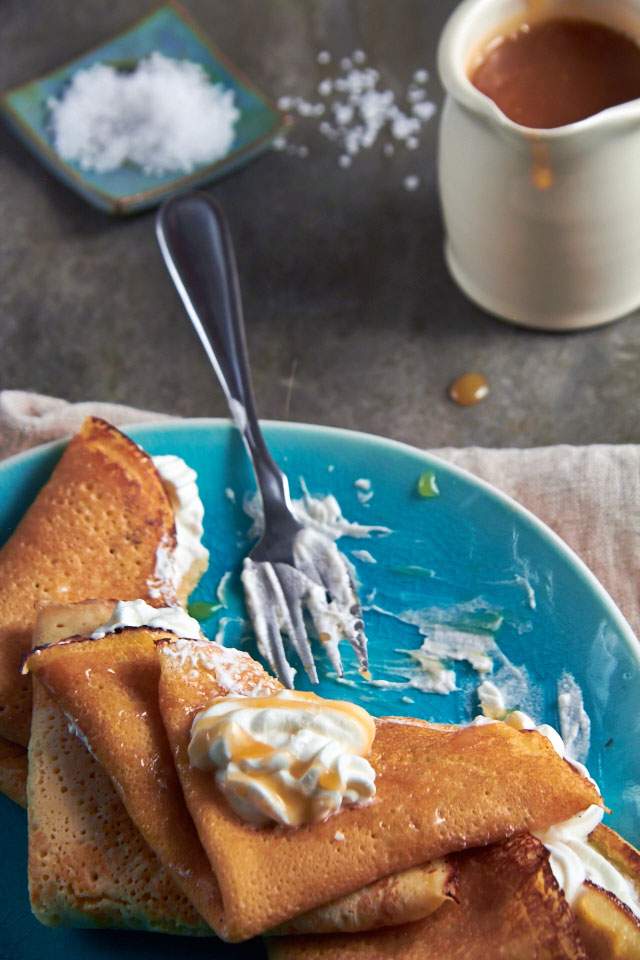 Beer Batter Orange Crepes
Author:
Charmian Christie
Prep / inactive time:
Cook / active time:
Total time:
Beer brings hearty hops to this crepe and takes a bite out of the sweet, sweet caramel. A pinch of salt rounds things out. This is perfect for a special dessert or decadent brunch.
Ingredients
Crepes
1 cup milk, at room temperature
½ cup beer (I used Samuel Adams Latitude 48 IPA)
3 large egg, room temperature
2 tablespoons melted unsalted butter, plus more for frying
1 teaspoon pure orange extract
1 teaspoon pure vanilla extract
1 cup all-purpose flour
⅛ teaspoon fine sea salt
1 tablespoon sugar
1 cup whipping cream (optional)
Caramel Sauce
1 cup beer (what's left from a 12-ounce bottle)
2 cups sugar
zest of ½ large orange (4 strips about 3 inches long and 1 inch wide)
½ cup unsalted butter, cubed
1 cup whipping cream
½ teaspoon fine sea salt
flaky sea salt, such as Maldon, for sprinkling
Instructions
Crepes
In a small bowl, whisk together the milk, beer, eggs, butter, orange extract and vanilla.
In a medium bowl, combine the flour, salt and sugar. Gradually whisk the egg mixture into the flour mixture until smooth. The batter will be quite thin. Cover and let rest an hour on the counter or overnight in the refrigerator.
Caramel Sauce
While the crepe batter rests, make the sauce. In a heavy saucepan over medium heat, combine the beer, sugar and orange zest. Heat until the sugar dissolves and the caramel reaches a gentle boil. The beer will make the caramel quite frothy, so unlike with classic caramel, you will need to stir the caramel throughout the process to knock back the bubbles. Cook, stirring when needed, until the caramel is dark amber and thick, about 20 minutes.
Remove the saucepan from the heat. Very carefully add the butter and whisk into the caramel. It will steam and splutter. Once the butter is fully combined, add the cream. It will splutter again. Once the caramel is smooth, remove the strips of orange zest and stir in the salt. Cool slightly before using.
Assembly
In a small bowl with high sides, whip the cream until stiff peaks form. This is optional.
Heat an 8-inch skillet over medium heat until hot. Brush with a bit of melted butter. Pour in ¼ cup of batter and tilt the pan so the batter covers the entire bottom of the pan. Cook for a minute or so or until the edges are brown and the crepe is covered in tiny bubbles. Flip and cook for another minute. Place the crepe on a plate, fill with whipped cream if using, and fold in quarters. Top with more whipped cream, drizzle with warm caramel sauce and a sprinkle of flaky sea salt.
Serve immediately.
Notes
For the zest, use a vegetable peeler and remove only the orange part of the zest. Do not remove the bitter white pith.

Leftover caramel sauce can be kept in the refrigerator for two weeks or frozen for four months.
If it was unclear from the introduction, this is a sponsored post. From time to time I work with quality brands to create recipes I think my readers will enjoy. Working with sponsors gives me an opportunity to create unique, quality content more often. I hope you agree.