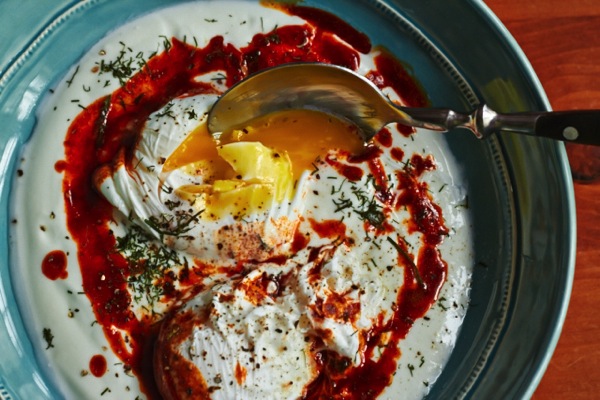 19 Jan

Poached Eggs with Yogurt and Smoked Paprika Butter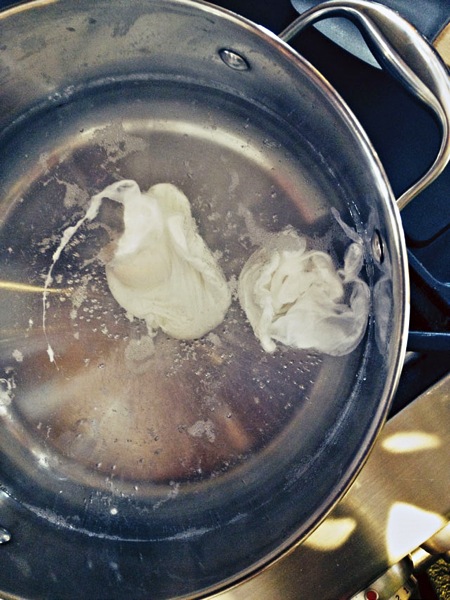 Poached eggs are misunderstood. Cooked without added fat, some people consider them boring— unless they're wedged between a thick base of back bacon and a topcoat of hollandaise. Others will say they're too much work. You have to boil water, find a slotted spoon, set your timer. Oh, the horrors.
Scrambled, easy-over, and sunny side up are the darlings of the breakfast crowd. Many menus don't even offer poached as an option. Depending how you look at it, this omission is often interpreted as proof of their inferiority and/or demanding nature. But nothing is further from the truth.
Poached eggs are intriguing, versatile and more than accommodating. They don't need hollandaise to shine. Given the right outlook, they're even fun to make.
Once slipped into swirling water, the whites waft about like the gossamer coattails of a benevolent ghost. Just when you think they're going to float all over the pot, the wispy strands curl around the yolk and wave at you. In three minutes, they're done — five, if you prefer your yolks firm. And when you slide the slotted spoon beneath them and lift, they don't struggle. They don't cling to the pan like fractious fried eggs. They don't leave behind a thin coating like their sulky scrambled cousin. And you don't have to worry about breaking the yolks when you flip them.
Even the clean up is easy.
What's not to love? Especially when you dress them up. I used items I had on hand — paprika, garlic, yogurt, dill and a pinch of butter. Here the yogurt provided a sauce in lieu of hollandaise and paprika butter added colour and taste. It was all done in the time it took to boil the water and cook the eggs.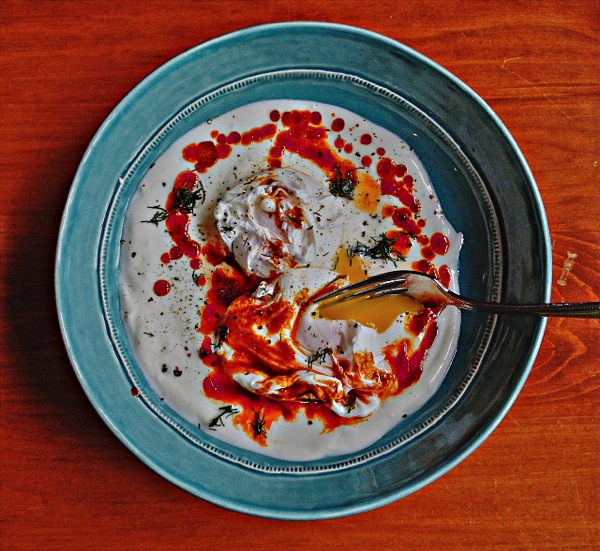 As I see it, the issue isn't whether or not to poach eggs, it's whether to eat them with a fork or a spoon.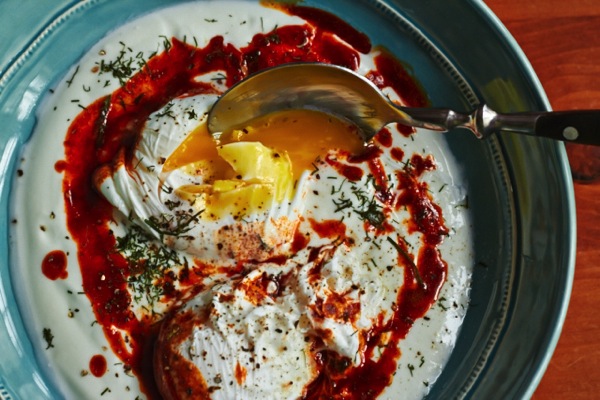 Do you eat poached eggs? If so, how do you dress them up? 

Improv Recipe: Poached Eggs with Yogurt and Smoked Paprika Butter
Author:
Charmian Christie
Prep / inactive time:
Cook / active time:
Total time:
Think poached eggs need hollandaise sauce and English muffins? Think again. This lighter, brighter and very easy recipe takes it's cues from Turkish cooking.
Ingredients
¼ cup white vinegar
4 large eggs
1 cup plain yogurt (I like Balkan or Greek)
1 very small clove garlic (or half a regular clove)
generous pinch fine sea salt
1 tablespoon butter
2 teaspoons sweet paprika
⅛ teaspoon smoked paprika (optional)
fresh dill (you can substitute mint, basil, cilantro or parsley)
fresh ground pepper
sea salt to taste
Instructions
Fill a large saucepan with about 2 inches of water. Add the vinegar and bring to a boil over high heat. While the water is coming to a boil, prep the garlic yogurt and the paprika butter.
Garlic Yogurt: Put the yogurt into a small bowl. Grate the garlic into it using a microplane. Add a generous pinch of salt and stir well to evenly distribute the garlic. Pour half into a serving bowl.
Paprika Butter: In a small skillet, melt the butter over low heat until it bubbles and froths. Stir in the sweet and smoked paprika. Cook for 30 seconds to a minute. Remove pan from heat to avoid burning the spices.
Poached Eggs: Once the water comes to a full boil, turn down the heat so that the water is simmering and bubbles barely break the surface. Crack one egg into a small shallow bowl. Gently give the water a stir with the slotted spoon. Lower the bowl's edge to the water and slip the egg out. Don't dump it in. Crack the next egg and add it to the water. The first egg should be set enough that the second won't disturb the first. If you're new to poaching, poach only 2 eggs at a time. If you're confident, repeat with all four eggs. A large pan should easily accommodate this many eggs, but will require you to keep track of the order the eggs went in.
Cook the eggs for 3 to 4 minutes. If you like a firmer yolk, go as long as 5 minutes. Using a large slotted spoon, lift the eggs from the water. Allow each to drain for a few seconds before placing the on top of the yogurt in the serving bowl. Place two eggs in each bowl. Drizzle with the paprika butter, sprinkle with dill, and top with freshly ground black pepper and salt.
Serve immediately with a side of your favourite toast.
Notes
Water temperature is key. You want the bubbles just breaking the surface for perfect poached eggs. If the water isn't hot enough the whites will waft all over the pan. If the water is boiling hard it will break the yolks.

This recipe is adapted from Purple Citrus & Sweet Perfume: Cuisine of the Eastern Mediterranean by Silvena Rowe. Published by HarperCollins @2010.