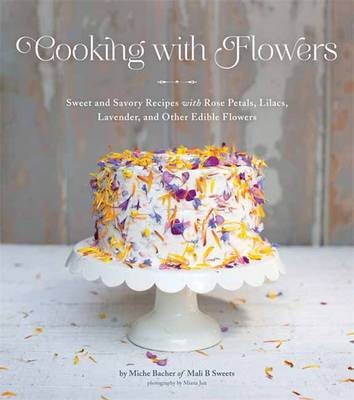 21 Dec

Some 2013 Cookbooks Worth Mentioning

So many cookbooks, so little time. And there are still more on my desk begging for attention.

With Christmas barreling in faster than the approaching ice storm, I've selected a wide range of this year's culinary books for you — or the hard-to-buy-for on your list whether they're bakers, gardeners, thinkers, historians, sweet toothers or healthy eaters. These books are listed in no particular order except for how they were stacked on my desk.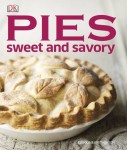 Pies: Sweet and Savory by Caroline Bretherton (DK Publishing ©2013)
Focus: Pies. Of every kind. Meat, fish, vegetarian, fruit, chocolate and other sweet options. Big pies that feed a family. Small pies that will disappear in two bites. Pies with fancy edging, lattice tops, braided rims or simple hand pies. Some are classically familiar; others have exotic twists. All are doable with help from well laid out instructions and photos.
What sets it apart: Besides the sheer comprehensive nature of the book, its visual Table of Contents is a key to exploring the recipes. Organized by structure, this unique section pulls together the sweet and savory pies dispersed throughtout the book's ingredient-driven chapters. Here you'll find all the Top-Crust pies, Double-Crust pies, Cobblers and Crumbles, Layered Pies, or Potato-Topped Pies.
Photos: Images include full-page shots of many pies, as well as step-by-step instructional photos for all the pie doughs. Special instructions within some pie recipes, such as layering phyllo, also get step-by-step photos to eliminate the intimidation factor.
Who'll love it: Pie fiends, bakers, the Queen, King and Knave of Hearts…
If you try one recipe: Pistachio and Orange Flower Tart if you've a sweet tooth like me. French Beef with Herb Potato Pie if you're my meat-loving husband.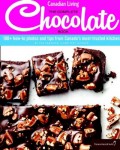 The Complete Chocolate Book: 100+ how-to photos and tips from Canada's most-trusted kitchen by The Canadian Living Test Kitchen. (Transcontinental ©2013)
Focus: Chocolate. Bittersweet, milk, white in all combinations, forms and shapes.
What sets it apart: The chapters are divided by texture — gooey, creamy, crunchy, chewy, melty, crumbly, chilly and cakey — so you can dive straight into the kind of dessert you're looking for. As with all things Canadian Living, you know the recipes will succeed in your kitchen and the ingredients can be found without much trouble.
Photos: You'll find full-age photos of many recipes, creatively shot, with the occasional "How-to" insert when needed. Visually, chocolate can be a bit monochromatic, yet the photographer captures the textures beautifully.
Who'll love it: Who won't? This book is ideal for chocolate lovers of all kinds — dark, milk and white.
If you try one recipe: Chocolate Hazelnut Baklava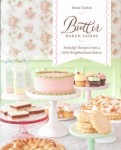 Butter Baked Goods: Nostalgic Recipes from a Little Neighborhood Bakery by Rosie Daykin (Appetite Books ©2013)
Focus: Baking. Sweet, sweet, baking. With a few confections thrown in. Most recipes are familiar favourites, like Nanaimo Bars and Red Velvet Cupcakes. These classics will never go out of style.
What sets it apart: The pretty, bright, pastel palate turns these old—fashioned goodies into modern irresistible treats. In addition to the recipes, there are lots of how-to instructions and advice. The results are visually impressive, yet Daykin manages to take the intimidation factor out of icing cakes and crimping pie edges.
Photos: Every recipe has a full-page photograph. There are also several pages devoted to step-by-step instructions.
Who'll love it: Anyone who likes to bake or eat baking or think about baking, or wax nostalgic about their grandmother's baking. This book makes you want to whip up a batch of muffins (or a cookies and cream cake) and invite someone over for tea.
If you try one recipe: Saturday Morning Cinny Buns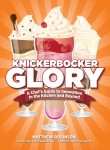 Knickerbocker Glory: A Chef's Guide to Innovation in the Kitchen and Beyond by Matthew Robinson (The Culinary Exchange ©2013)
Focus: Pushing you to be creative in the kitchen (and beyond) via 30 variations of an old-fashioned ice cream sundae.
What sets it apart: While I don't recall seeing a book devoted to sundaes before, this one goes beyond ice cream and sauce. The author wants to push your culinary boundaries through a six-stage creative process. Forget cooking school, Robinson's curriculum touches on out-of-the-box subjects like marriage counsellors, and R&D. His innovative approach encourages the reader to think about gender roles, businesses practices as well as vanilla ice cream.
Photos: None, but there are lots of idea bubbles and charts.
Who'll love it: Recipe developers who want to hone their skills, analytical types who love to apply concepts in non-traditional ways, and creative thinkers who see no boundaries between subjects. Oh yes, and ice cream lovers. Did I mention there are 30 sundaes?
If you try one recipe: Duh. The Knickerbocker Glory!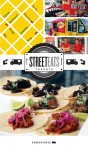 StreetEats Toronto by Suresh Doss (Whitecap ©2013)
Focus: The growing street foods found in and around Toronto.
What sets it apart: This is one in a new series of books devoted to food trucks across Canada. While it contains no recipes, it tours you through each vendor's top dishes. Not only will you get a glimpse into the menu, you'll also be able to find where they're parked via various social media outlets.
Photos: There's a photo of each vendor's truck and a signature dish.
Who'll love it: Food-loving Torontonians who want something to focus on beyond Rob Ford.
If you try one recipe: No recipes, but lots of dishes to try when you're about town.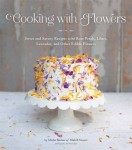 Cooking With Flowers: Sweet and Savory Recipes with Rose Petals, Lilacs, Lavender, and Other Edible Flowers by Miche Bacher (Quirk Books © 2013)
Focus: Everything edible from the flower garden. Chocolate lavender biscotti, lilac jam, hibiscus popsicles, daylily petal salads and tulip ice cream bowls are just a few of the beautiful and delicious dishes that use flowers in them, on them or under them.
What sets it apart: The innovative use of flowers. Sure there are classic candied violets and stuffed squash blossoms, but pansy petal pancakes with whole pansies showing through the delicate batter is fresh, visually stunning and surprisingly approachable. This book is a delight for the eye as well as the mouth.
Photos: Every recipe has beautiful full-colour photos. You'll see the flowers as well as the finished dish. Even if you don't cook, this makes a lovely coffee table book for flower lovers.
Who'll love it: Bakers and gardeners and flower afficiandos will want to turn to this book again and again for inspiration, recipes and hope that winter will eventually end.
If you try one recipe: Calendula Ravioli. Fun to say. Delicious to eat.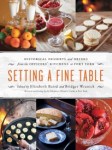 Setting a Fine Table: Historical Desserts and Drinks from the Officers' Kitchens at Fort York edited by Elizabeth Baird and Bridget Wranich (Whitecap 2013)
Focus: The book contains 30 recipes from late 18th and 19th century, reworked for the modern age. You'll find recipes with delightful names like Shrewsbury Cakes, Pippin Tart and Negus Iced Tea.
What sets it apart: It's a rare compilation of dishes from Britain, America and Canada. Not only will you see the original, often cryptic recipe, the authors provide the historical background and a modern take so you can reproduce these historical dishes in your own kitchen.
Photos: While there are photos of many of the recipes, the book also contains pages reproduced from period publications such as "The Compleat Housewife" from 1727, a floor plan of the original kitchen mess, and buffet shots with meals presented on original china.
Who'll love it: History buffs will love this small, digestible book.
If you try one recipe: Chocolate Cream.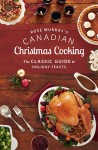 Rose Murray's Canadian Christmas: The Classic Guide to Holiday Feasts by Rose Murray (Whitecap, ©1979/2013)
Focus: Everything you need for a holiday feast and then some. Recipes come from around the globe and deliver classic flavours. They range from simple, three-ingredient spreads, to a six-layer Acadian Meat Pie calling for chicken, rabbit, beef and salt pork. First published in 1979, this guide was reprinted twice before being revised for 2013. Although updated, Murray remains true to the original with recipes for fruit cakes, wassail, eggnog, roast goose and thimble cookies.
What sets it apart: Although small (about 160 pages), this book covers the classics without feeling the urge to spruce things up with a modern, soon-to-be-outdated version. Timeless and reliable, it will end up splattered with goose grease and plum pudding batter. Since the kids will likely fight over who inherits the family copy, buy one for everyone before it goes out of print again.
Photos: Only those found on the front and back cover, but let's face it. Everyone knows what these recipes look like.
Who'll love it: Anyone who likes Christmas — or just good solid recipes you can serve a multi-generational crowd.
If you try one recipe: Apricot Bars.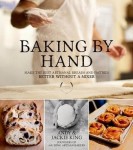 Baking by Hand: Make the Best Artisanal Breads and Pastries Better Without a Mixer by Andy & Jackie King (Page Street © 2013)
Focus: Breads, sandwiches, buns, pies and tarts — all made by hand.
What sets it apart: Its tactile appeal. The only equipment you need is a kitchen scale, a thermometer and your hands to produce authentic, artisanal baking.
Photos: While there are lots of full-page shots of the final results, you'll find lots of step-by-step photographs to walk you through the techniques.
Who'll love it: People who want to bake their own artisanal bread without sacrificing a ton of counter space or spending a car payment on equipment.
If you try one recipe: Pain au Levain (The Sourdough Lover's Sourdough)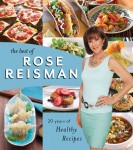 The Best of Rose Reisman: 20 Years of Healthy Recipes by Rose Reisman (Whitecap ©2013)
Focus: Healthy food without sacrificing taste, texture or subscribing to a fad diet. It's not paleo, it's not gluten-free, it's not vegan. It's just simple ingredients made into 275 delicious recipes covering every meal from breakfast to soups, appetizers to dessert.
What sets it apart: Reisman's track record (16 books in 20 years) and sensible approach. While each recipe contains nutritional information, you'll also find real cheese (not that tasteless, low-fat stuff), a world cuisine of flavours (Chinese, Mexican, Thai, Italian, Greek and Tex-Mex to name a few), vegetarian options, and tons of tips. If you don't tell anyone these recipes are healthy they'll just think of them as delicious.
Photos: More than 65 full-page photos show off Reisman's creativity and mouth-watering dishes.
Who'll love it: Busy parents with fussy eaters, kid-free couples looking for new recipes, healthy eaters yearning for flavour, and anyone who wants to take control of their kitchen without being asked to mill their own wheat.
If you try one recipe: Farfalle with Sun-Dried Roasted Red Bell Pepper Pesto, Chicken, Pine Nuts and Parmesan