19 Dec

Avocado Tomatillo Sauce

Posted at 09:48h

in

Autumn

,

Book review

,

Condiments

,

Dairy-free

,

Egg-free

,

Gluten-free

,

Healthy Choice

,

Paleo

,

Recipes

,

Savory

,

Vegan

,

Vegetarian

0 Comments
It has snowed so much lately my shovel and I are on a first name basis. It sees my boots coming and says, "Hello, Charmian." I nod, pull my hat down over my ears and grab the chirpy shovel in a choke hold. Together, Shovel and I clear the walkways while Andrew deals with the heavy, stubborn snow-dune of a windrow. What's a windrow? In Canadian Speak, it's the mountain of ice and snow at the end of your driveway created as the well-meaning plough clears the streets — usually just as you've finished shovelling and are heading back into the house.
Given the circumstances, you'd think I'd share a recipe for mulled apple cider, hot rum toddies or eggnog. No way. While I'm tossing snow about, I'm dreaming of warm climates and summer food. My tomatillos, having survived their accidental cull, are still holding up, so I'm making avocado tomatillo sauce and pretending it's not -23°c outside.
I got the recipe from Sandra Gutierrez, the Queen of all Southern Latino food. Her latest book, Latin American Street Food: The Best Flavours of Markets, Beaches, and Roadside Stands from Mexico to Argentina (Univeristy of North Carolina Press ©2013), focuses on street food. Streets where it's warm and sunny and there isn't a salt truck or snow plough for a thousand miles.
A brief history of Latin American Street Food
Sandra was gracious enough to talk with me about her latest book and explain some of the history. Street food in Latin America isn't a trend, like the growing food truck industry here in North America. Instead it is the serendipitous result of the gas shortage of the '70s. Traditionally, all schools, businesses and hospitals closed at noon for two hours. Everyone would go home for a meal. But with the gas shortage, the mid-day commute became too expensive. Since cafeterias didn't exist, two industries evolved —  restaurants and street vendors. The vendors parked in front of schools, universities and businesses to provide the meals people could no longer enjoy at home in the afternoon.
The street food in Gutierrez's book isn't the fast food you find in North America. "It's healthy and homey," Gutierrez says. "It includes quick sauces. It's fun."  The book includes dishes from 21 countries, each with a different take on the local produce. "There are no burritos in Argentina. But you'll find hot dogs with French bread, or Italian sausage topped with chimichurri."
If you flip through the recipes you'll see that Latin American foods include a world tour. Panama cuisine shows its African influences with cassava beans and potatoes. Mexican food is bursting with chilies, while Cuba uses no chilies at all. Instead, you'll be treated to French-style ham croquettes. The only dish common to all Latin American countries is the empanada, a hand-held pie. But that's a topic for her next book.
So, while the snow falls yet again and the thermometer dips so low I don't know how the mercury contracts enough to be accurate, I will enjoy my avocado salsa verde, on my tomatillo chicken, made with produce from the garden that now rests under a foot of light fluffy, icy cold snow.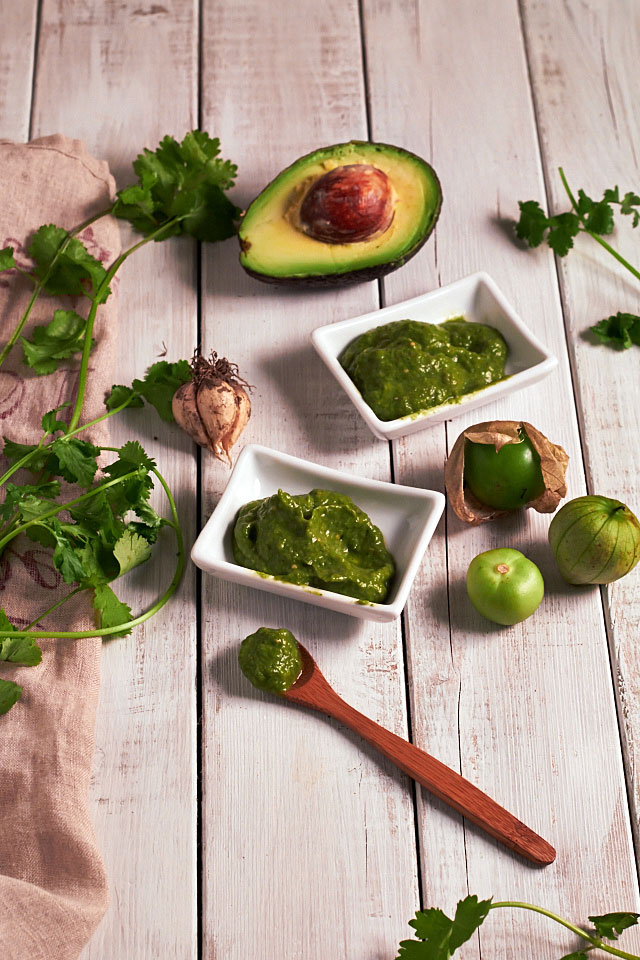 [easyrecipe n="0"]