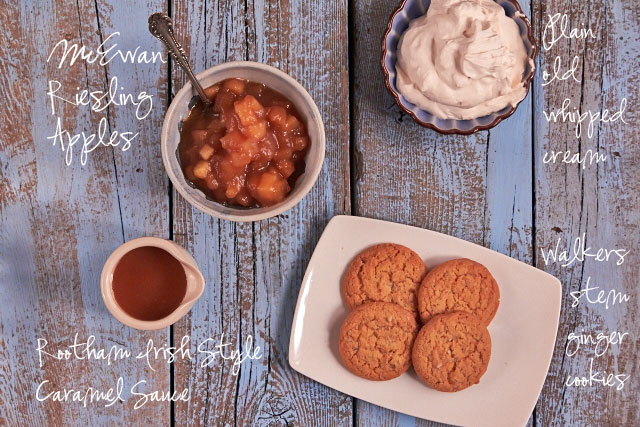 09 Dec

Caramel Apple Icebox Trifle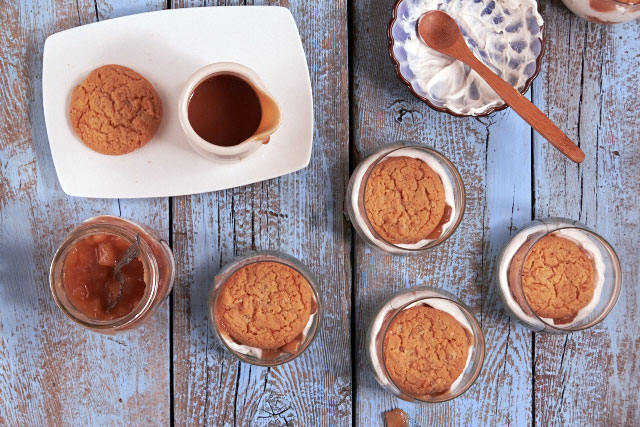 The holidays are rushing in and the panicked questions have begun. With crazed eyes and shaking voices, friends ask me for easy holiday recipes to take to a party or serve their own guests. They always say "easy" with extra emphasis, pausing before and after the word, just to make sure I understand. I get it. No heavy mixing. No long hours of bubbling. No piping bags and a crayon box of icing colours. Until now, I had little to offer them beyond a few quick savoury dips, but you can't serve tapenade for dessert — at least not if you want to keep your sweet-toothed friends.
With the exception of eggnog, all my go-to recipes require you turn on the oven, and even then that festive drink requires your attention at the stove top. So when McEwan Foods asked me to come up with a holiday recipe using items from their store — no baking allowed — I figured I'd take them up on the challenge. I did this for you, busy friends.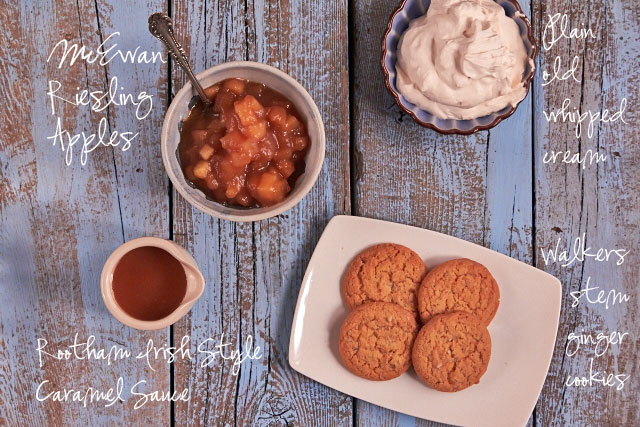 In keeping with my from-scratch mantra, I sought out products with simple ingredients that mimic those you'd use if making them at home. McEwan Riesling Apples contain apples, riesling wine, salt, sugar, cinnamon, brown sugar and water. Rootham Irish Style Caramel Sauce contains five ingredients, all of which I have in my kitchen (and liquor cabinet). The Walker Stem Ginger Cookies are loaded with their namesake, while the cream is just 35% cream in a carton. No stabilizers or edible oil products. My litmus test? Would I eat any of the ingredients on their own? I would. And I did. Just a bit. While assembling the dessert.
The final, no-bake, no-cook, assemble-and-bow recipe — Caramel Apple Icebox Trifle —  is a mash up between a holiday trifle with its fruit and hint of booze, and an old-fashioned icebox cake. I used highball glasses that were just slightly bigger than the Walkers stem ginger cookies that form the base. Wide-mouthed wine glasses or mason jars will do nicely too. If your stemware is already full of eggnog, any rimmed baking dish or bowl will do in a pinch. No matter what vessel you choose, the most strenuous work in making this dessert is whipping the cream. That or cleaning up the bowl and the three spoons.
Once the cream was whipped (2 minutes in my stand mixer) and the spoons dig out of the utensil drawer, I put together 6 individual-sized icebox trifles in about 15 minutes. Struggling with over-zealous plastic wrap extended the endeavour to 20.
So, here is my easy recipe for my friends. For you. For your family. For whoever likes apples and caramel and ginger and cream. There will be a few cookies left over. Don't tell anyone and eat them as your reward.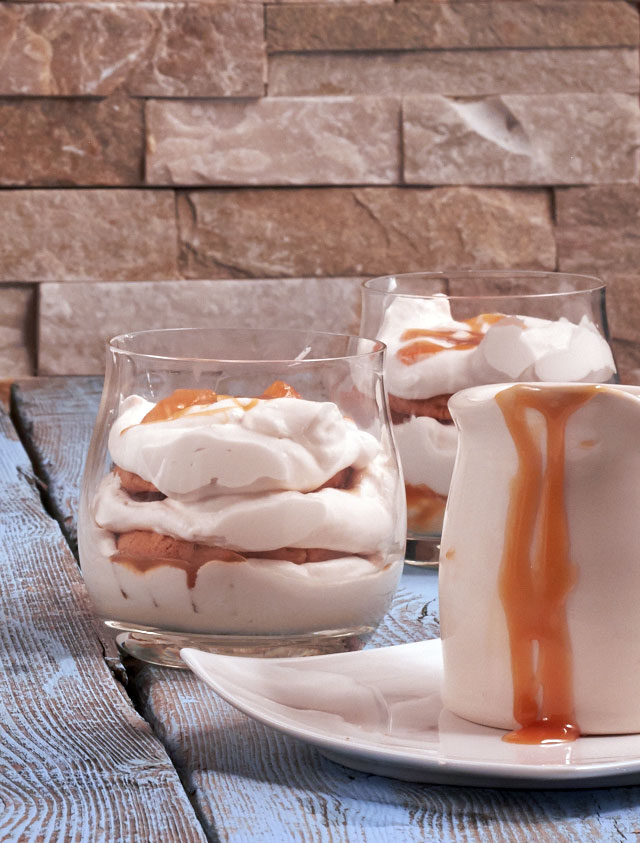 Caramel Apple Icebox Trifle
Author:
Charmian Christie
Prep / inactive time:
Total time:
Don't waste time with accurate measurements. Eyeball the quantities. After you've assembled the first icebox trifle, you'll know how much your individual glassware holds.
Ingredients
500 mL whipping cream
500 mL jar McEwan Riesling Apple preserves
250 mL jar Rootham Irish Style Caramel Sauce (you will have lots left over, so a 125 mL jar should do)
2 packages (150 g each) Walkers Stem Ginger Biscuits
Instructions
In a large bowl, whip the cream until stiff peaks form.
Set out 6 highball glasses big enough to fit the cookies without breaking them. Place about 2 tablespoons of the whipped cream at the bottom of the glass and gently spread the cream to cover the bottom. Add about 1 tablespoon of McEwan Riesling Apples. Drizzle gently with the caramel sauce. Place one stem ginger biscuit on top and press gently so the entire bottom of the cookie comes in contact with the cream. Repeat the cream-apple-caramel-cookie layer once more. Top with cream, apple and caramel. Assemble five more icebox trifles in the remaining glasses.
Cover with plastic wrap and refrigerate 24 hours before serving.
[box type="info" style="rounded" border="full"]
On rare occasions I do sponsored posts when I feel the quality of the product or wholesaler is above the average supermarket fare. This post has been generously sponsored by McEwan Foods located at 38 Karl Fraser Road, Toronto, ON M3C 0H7 | T: 416.444.6262.
[/box]