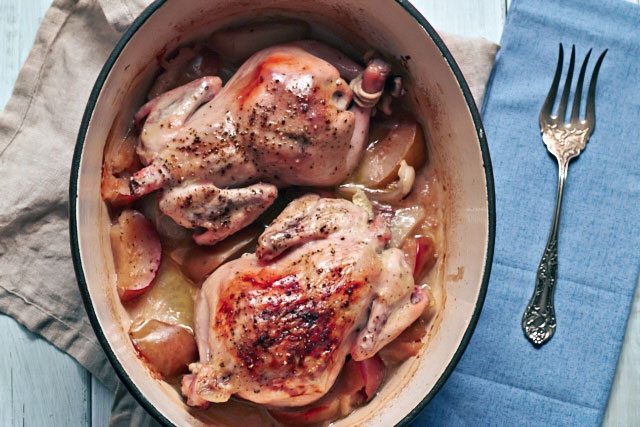 02 Dec

Apple Roasted Cornish Hens | Improv Recipe

Posted at 09:05h

in

Autumn

,

Chicken & Poultry

,

Dairy-free

,

Egg-free

,

Gluten-free

,

Healthy Choice

,

Improv

,

Mains

,

Original

,

Paleo

,

Recipes

,

Savory

,

Winter

3 Comments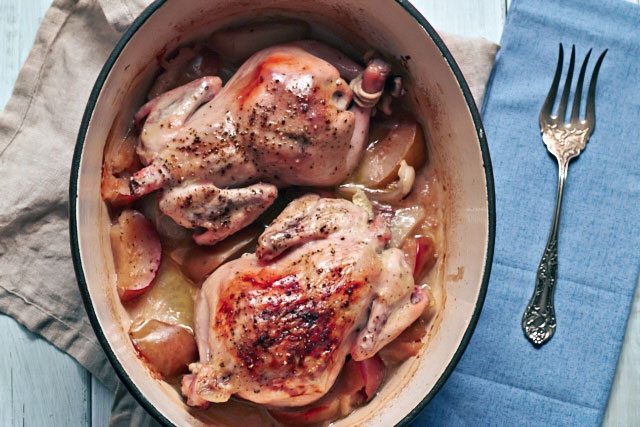 This improv recipe is a testament to my impulse shopping, poor sense of timing and the power of the common cold.
Impulse shopping:  A few months ago, I found fresh Cornish hens at the butcher shop. As I stood at the meat counter waiting to be served, I planned an elaborate weekend meal. I would research recipes for nut-stuffings and braised side dishes. I'd make a special dessert full of seasonal fruit and infused with ice wine. Andrew and I would have a romantic meal.
Poor sense of timing: I completely forgot we were fully booked that weekend. When I got home and looked at the calendar plastered to the front of the fridge, I realized that by the time our schedule opened up, the poultry would be bad. So I shoved the little hens in the basement freezer. Unmarked.
Power of the common cold: For the past few weeks, Andrew and I have been battling a bug that has left us feeling like wind-up cars. Oh, you feel just fine and hearty and ready to tackle the world, and off you go, full-steam ahead like a healthy human being. Half way across the room, you run out of juice. So, you sit for a minute while your body rewinds the invisible key on your back, and off you go again. For 10 feet. Repeat throughout the day until you're ready to scream — only you can't because this cold comes complete with laryngitis.
So, how do these factors lead to roasted Cornish hens?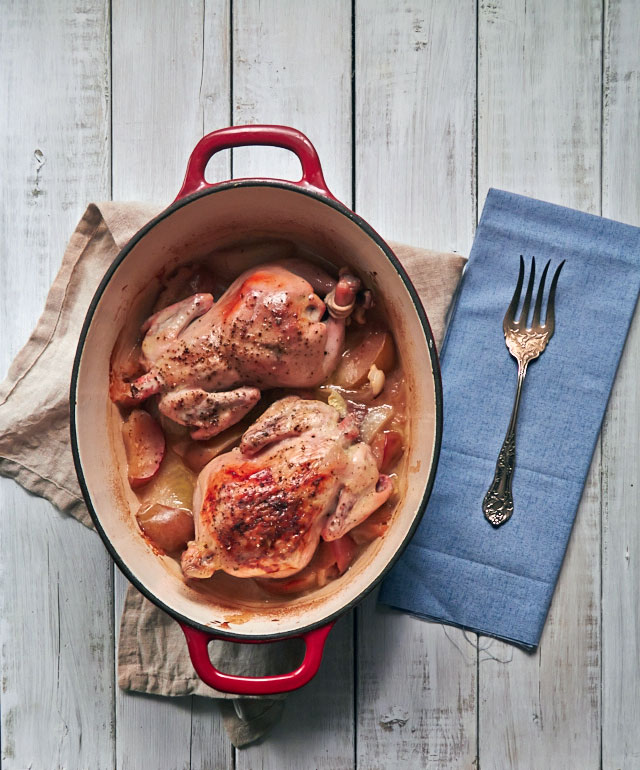 With Christmas baking breathing down my neck, I decided we needed to clear space in the freezer, so send Andrew down into the Scary Basement from some chicken. He returned with what he thought were two large chicken breasts. No, dear, those are two small hens. I had wanted to save them for a fancy meal, but we were both too tired to head to the basement again. Hens for dinner, it is.
But I didn't have the energy or spirit to research recipes. I opened the fridge and riffed on a tried-and-true family favourite, Michael Smith's Apple Roasted Chicken. I had some orange-flavoured olive oil, and added that to the mix for my "exotic" touch.  This simple, savoury-sweet, ultra-moist chicken dinner is the result. If you don't have Cornish hens, and let's face it, most of us don't, simply substitute large, bone-in chicken breasts or legs. Oh, and about that orange olive oil —  you can use plain olive oil and toss in some zest.

Apple Roasted Cornish Hens | Improv Recipe
Author:
Charmian Christie
Recipe type:
Chicken & Poultry
Prep / inactive time:
Cook / active time:
Total time:
This easy, moist poultry recipe is sure to please everyone. It's flexible, so feel free to swap a large chicken or chicken pieces.
Ingredients
2 cornish hens (or large chicken pieces)
orange olive oil (regular olive oil is fine)
salt and pepper to taste
sprigs of fresh rosemary, thyme or sage
4 cloves garlic, smashed
2 apples, cored and sliced into 8 wedges
2 onions, cut into wedges
zest of an orange, optional
dry white wine, apple cider or orange juice
Instructions
Preheat the oven to 375°F
Pat the Cornish hens dry with a paper towel and rub with the olive oil. Sprinkle inside and out with salt and pepper. Place a sprig of fresh herbs inside each of the hens along with one smashed garlic clove.
Place the apples, onions,  2 cloves of garlic, and orange zest, if using,  in a heavy enamel-lined cast iron Dutch oven. Toss to distribute evenly. Pour in enough wine (or fruit juice) to cover the bottom by ¼ inch.  Place the hens on top. I put them breast side down to keep the white meat moist.
Bake for 25 minutes or until they begin to get a hint of colour. Put the lid on and bake another 20 minutes. This helps keep the hens moist. Remove the lid and continue roasting until the hens are cooked all the way through. This can take from 45 to 75 minutes depending on the size of the hens and your oven.
Notes
This recipe is inspired by Chef Michael Smith and his amazing Apple Roasted Chicken.