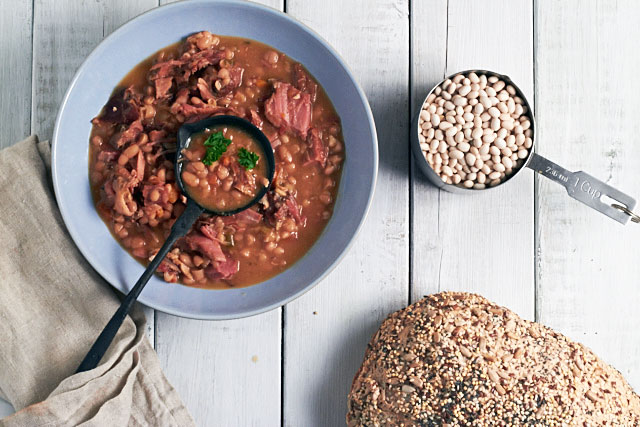 25 Nov

Smoky Navy Bean Soup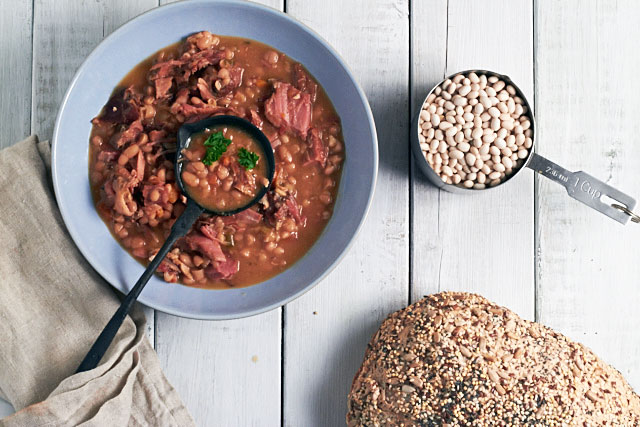 In my early teens, I had a brief but passionate flirtation with tinned Bean with Bacon soup. My mom, like a sensible parent, didn't try to talk me out of my crush. She figured I'd eventually come to my senses, and let me ride things out. So, in a misguided attempt at self-assertion, I demanded canned soup. And lots of it. How positively maverick of me.
I was so eager to prove my independence, I was willing to do battle with the Can Opener from Hell. This usually took two or three attempts before leaving the tin dented and its rim finger-severing sharp. The rest didn't vary. Much. Clasping the potentially lethal tin with both hands, I dumped the contents into a small saucepan. Then, holding a parfait spoon between my thumb and index finger, I chased the few straggler beans around the bottom of the tin. Once corralled, they bumped along the ridged side before tumbling into the waiting pot. It wasn't elegant, but it did the job without shedding blood.
In went the water and the pot went onto the stove. I cranked the front burner to high just to see it glow teenage-angst red, then grabbed a wooden spoon. I swirled the navy beans round and round until the surface steamed and I bordered on dizzy. Plucking a ladle from the utensil rack behind the stove, I filled my bowl to the brim before inching my way to the kitchen table, trying not to slosh hot soup on my fingers. Why didn't I fill the bowl at my seat? Same reason I insisted on canned soup. Roiling hormones. Common sense and good taste were not aiding most of my decisions.
For all that I loved the flavour of the broth and wouldn't hear of homemade variations, I loved hating how the makers skimped on the bacon even more. I called it Bean with Maybe-Bacon and made a point to count the meagre chips of meat hiding amidst the beans. There were usually two, maybe three, rarely four scrippets of bacon no bigger than my thumbnail. And I have tiny hands. Once, a tin had no bacon at all. That gave me something to moan about for a week. I was in  heaven.
Of course this was before we knew about MSG and preservatives and the horrors of too much salt.  I look back on this brief episode of insanity and am horrified — by my behaviour as much as my culinary choices.
This homemade version should makes up for things. At least on the soup side. I leave karma to sort out adequate retribution for my teenage behaviour.
While this soup has the familiar bean-thickened broth, it's miles ahead of its commercial counterpart. Loaded with meat, it's dark brown, not the pale, pasty white of the tinned version. Better yet, it tastes the way I want to remember the soup of my teen years.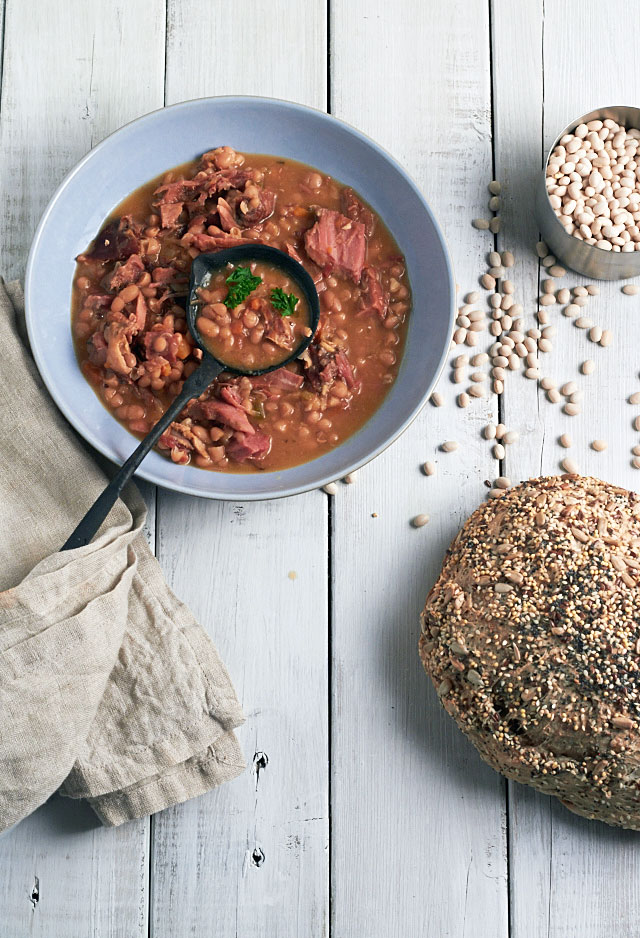 Smoky Navy Bean Soup
Author:
Charmian Christie
The original recipe calls for smoked turkey wing but I chose to make it with a meaty hambone for two reasons. One: I had no idea where to find smoked turkey wing despite my best efforts. Two: I had a meaty hambone in the freezer. Feel free to use bacon if you like. Soup is a flexible dish.

The resulting soup is hearty, smoky and chock-full of meat. Of course that's because I chose to make it that way. If you like meagre scrippits of bacon instead, go ahead and scrimp.
Ingredients
2 cups dried navy beans
2 tablespoons oil
1 cup chopped onion
1 cup finely diced carrots
½ cup diced celery
2 cloves garlic, minced
2 cups smoky ham (or ham bone with lots of meat still attached)
1 bay leaf
1 teaspoon dried thyme
6 cups homemade or low-sodium chicken stock
Fresh ground black pepper
Instructions
Rinse the beans and discard any stones. Place the beans in a large bowl, cover with at least 2 inches of water and leave to soak overnight. Drain and rinse the beans again.
In a medium skillet, heat the oil over medium heat. Gently cook the onions for 2 minutes. Add the carrots, celery and garlic. Cook for 3 to 5 minutes or until they begin to get soft.
Place the beans, sautéed vegetables, ham, bay leaf and thyme in a slow cooker.* Pour in the chicken broth. The liquid should cover the beans by at about ½ inch. Add more stock or water, if necessary. Cover and cook for 8 to 12 hours on low or 4 to 6 hours on high. The beans should be tender. If you don't lift the lid during the process, you shouldn't need to add any more water.
If using bone-in meat, remove the bone from the soup once the beans are tender. Using two forks, pull the meat from the bone. Cut into bite-sized pieces, if necessary. Discard the bone and any skin. Return the pieces of meat to the soup. Season with pepper. You shouldn't need to add any salt because ham is salty enough. Discard the bay leaf. Or keep it for one lucky person.
Notes
If you don't have a slow cooker, you can make this on the stove top. Use a large pot or Dutch oven instead of a skillet to sauté the vegetables. Once you add the stock, bring the soup to a boil, then reduce the heat to low to maintain a simmer. Cover and cook, stirring occasionally, for 3 hours or until the beans are very tender. You might need to add more stock or water with this method.
This recipe was adapted from
The Southern Slow Cooker
by Kendra Bailey Morris, ©2013. Ten Speed Press.