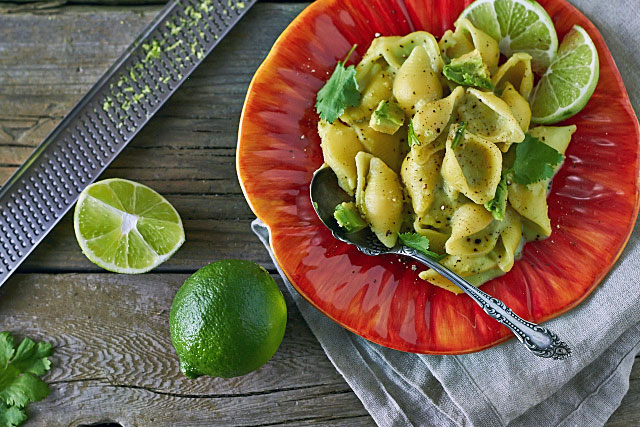 21 Nov

Mac and Cheese Makeover | Cheddar, Avocado, Lime & Shell Pasta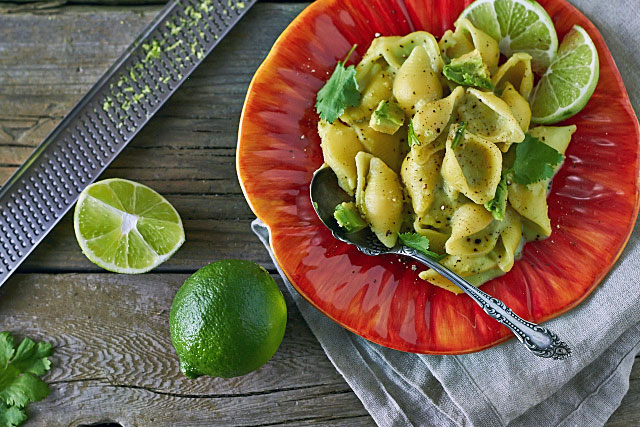 Some cookbooks have a way of breathing life into everyday ingredients. Some produce delicious dishes you will turn to again and again. Others peek into foreign worlds — celebrity kitchens, orchard tours, or chef-approved culinary techniques. Melt: The Art of Macaroni and Cheese by Stephanie Stiavetti and Garrett McCord does a bit of all these — just substitute cheese shops for orchards and you get the idea.
I admit, I was afraid this was going to be a tarted-up tribute to Kraft Dinner. I simply couldn't see how anyone could make the old student-standby interesting. After you toss in high-end cheese and some lobster pieces, what else is there to do? Top it with panko and call it gourmet? Well, Stephanie and Garrett showed me just how limited my thinking was. This is not, I repeat not, just a case of playing Swap with artisan cheeses and different shaped pastas. Melt takes the mac-and-cheese concept and spins it 'til you're giddy — and drooling for a taste. Granted, the majority of recipes focus on the standard stove top method, but the book goes beyond one-pot meals. There are salads, a mini-galette, a pasta-studded spanikopita, pumpkin stuffed with Fortino and Italian sausage, Mason jar pot pies, chicken breasts stuffed with goat cheese, star pasta and crushed gingersnaps (really!), and savory baked apples. There's even a chapter devoted to mac-and-cheese desserts that are as mouth-watering as they are innovative.
While the book focuses on artisan cheeses, some of which you won't be able to find, don't feel tied to the brand specified in the recipe. Check out the Alternative Cheeses provided with each recipe, and if needed, venture off on your own. But don't stop there. Notes on Wine Pairings and Additional Pairings for the Cheese will help you make the meal your own. When I made the Beecher's Flagship Cheddar with Avocado, Lime and Shell Pasta, I used an aged Canadian cheddar partly because that's what I had in the fridge and partly because Seattle is on the other side of the continent and try as I might, I just couldn't justify the trip. Sorry, Cousin Donna.
Regardless, my Canadianized results were exceptionally melty and decadent. Was it as good as a Beecher's version? I'll tell you if I'm ever lucky enough to visit Seattle again.
Got a favourite cheese? What do you pair it with?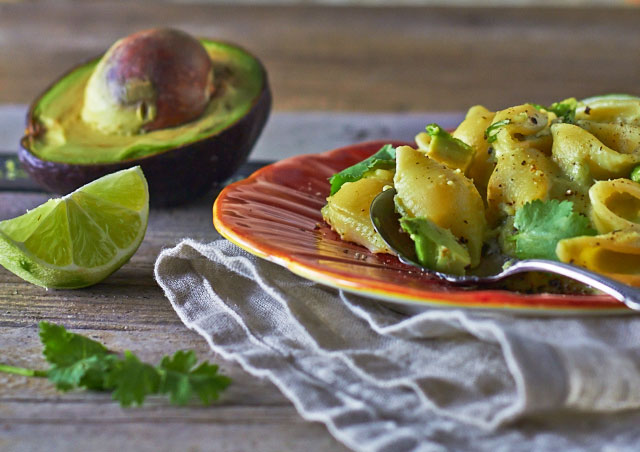 Cheddar with Avocado, Lime and Shell Pasta
Author:
Stephanie Stiavetti & Garrett McCord
If you ever have the opportunity to wander to the Pike Place Market, the heart of the food scene in Seattle, you'll likely come across the Beecher's Handmade Cheese shop. Inside, you can sample their wares and watch the cheesemaking process unfold before your eyes. The proprietors serve what they call the World's Best mac and cheese; with its jaunty kick of spice and smooth sauce, it's definitely a contender for the title. We love to use Beecher's Flagship —the fierce, creamy paragon of Cheddar if there ever was one — in this avocado macaroni and cheese. The svelte texture of avocado melts so well with this sharp, tangy Cheddar. Smooth and buttery with a slight citrus tang, this jade-colored mac is a casual way to enjoy a mac and cheese.
Ingredients
1 jalapeño pepper
Zest of 1 lime
Juice of 1 lime
2 green onions, green parts only, chopped
2 cloves garlic, chopped
3 ripe avocados, pits and skin removed, divided
10 ounces conchiglie or other medium shell pasta
1½ cups milk
2 tablespoons butter
3 tablespoons flour
1 teaspoon sea salt
½ teaspoon freshly ground black pepper
10 ounces Beecher's Flagship Cheddar, shredded
¼ cup chopped cilantro
Lime wedges for garnish
Instructions
Remove the stands for the jalapeño and cut the jalapeño in half. Remove the ribs and seeds-or keep them, depending on how much heat you like. Toss the jalapeño into the bowl of a food processor with the lime zest and lime juice. Add green onions, garlic, and the flesh of two of the avocados. Blitz together into a very smooth paste.
Cook the pasta in a large pot of salted boiling water until al dente. Drain through a colander and set aside.
To prepare the Mornay sauce, heat the milk in a sauce pan over medium heat. As soon as the milk starts to steam and tiny bubbles form around the edges of the pan, turn off the heat. Place the butter in a medium sauce pan and melt over medium flame. Add the flour and stir with a flat-edged wooden paddle just until the roux begins to take on a light brown color, scraping the bottom and prevent burning, about 3 minutes. Slowly at the milk and stir constantly until the sauce thickens enough to evenly coat the back of the spoon- a finger drawn along the back of the spoon should leave a clear swath. Remove from heat and stir in salt and pepper. Add cheese to sauce, stirring until completely melted. Add the avocado-onion paste and whisk together until uniform and creamy. The keyword here, if you haven't guessed, is smooth. Season with more salt and pepper to taste.
At the pasta and cilantro to the sauce and stir together. Dice the last avocado and toss together with the mac and cheese. Serve immediately with a splash of lime juice.
Notes
Alternative Cheeses: Jasper Hill Cabot Clothbound Cheddar, Fiscalini Bandage Wrapped Cheddar, Shelburne Reserve

Wine Pairings: Pinot Grigio, Verdelho, Godello

Additional Pairings for the cheese: corn, cooked black beans, persimmons, most chili peppers, winter squashes such as pumpkin or butternut.

Excerpt published with permission from Melt: The Art of Macaroni and Cheese by Stephanie Stiavetti & Garrett McCord. Published by Little, Brown and Company ©2013.