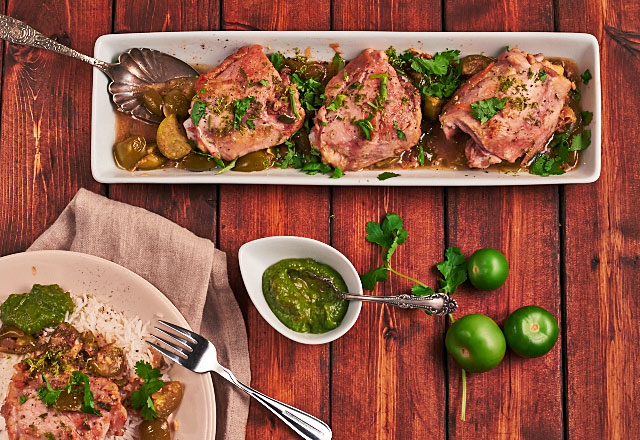 07 Nov

Tomatillo Chicken – An Unexpected Canadian Harvest

Posted at 13:27h

in

Autumn

,

Canadian Food Experience Project

,

Chicken & Poultry

,

Dairy-free

,

Egg-free

,

Gluten-free

,

Healthy Choice

,

Mains

,

Paleo

,

Recipes

,

Savory

8 Comments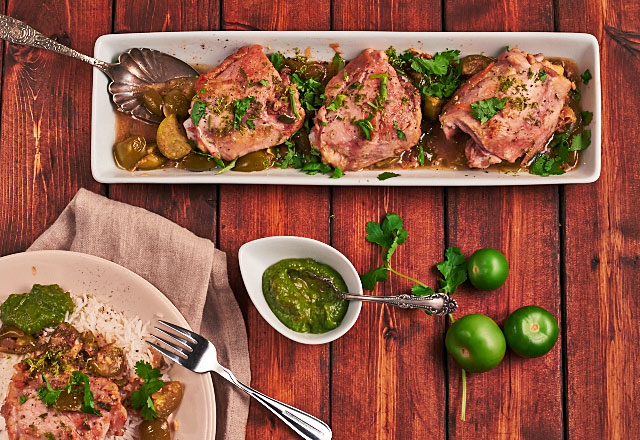 When I was a child, my mother had a vegetable garden in the side yard. She grew runner beans and radishes, beets and Swiss chard. I remember neat rows of fancy-topped chives whose pungent smell drove me away, and giant bunches of rhubarb that whispered promises of pies. Over the years, we learned that corn isn't worth the effort and squash bolts like a startled horse. Mom weeded and watered and kept the vegetable patch in check. My main job was to pick the green beans for dinner and complain about how overworked I was.
I'm not sure if it was too much trouble, too little appreciation or the nearby Farmers' Market that brought an end to the vegetable garden, but one year Dad tossed grass seed where beets once grew and my bean-picking days came to a quiet and welcomed end. Instead of pulling radishes from the dirt, my younger sister and I spent our summer vacations trampling the new grass in no-net matches of badminton played with balls of crumpled-up aluminum foil in lieu of our lost birdies. Sometimes the space was used for all-important cartwheel competitions and endless games of tag. When we outgrew this athleticism, the side garden lapsed into just another swath of grass to be mowed, providing me with yet another excuse to complain about how overworked I was.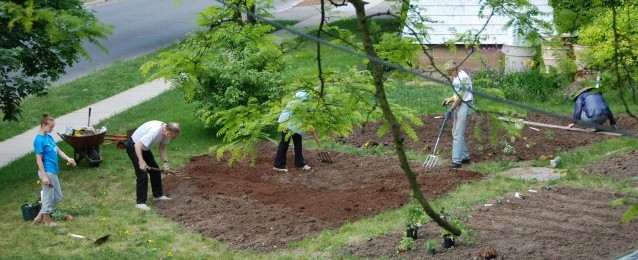 Times change. Two years ago, my extended family agreed to try vegetable gardening again. We drew maps, read gardening books, and planned our attack. Last year, shovels in hand, our family began the shared garden experiment, transforming the unused side lawn into a vegetable patch once again. After decades of nothing but grass and grubs, we wondered if anything could or would grow. We turned the sod. There were no worms in the clay-packed soil. We dug in fertilizer and peat moss and a few drops of prayer-infused sweat. We planted vegetables, watered them and yanked weeds. Despite decades of neglect the soil produced some edible rewards. We were so darned proud of our garden we struck a pose there when celebrating my mother's 80th birthday.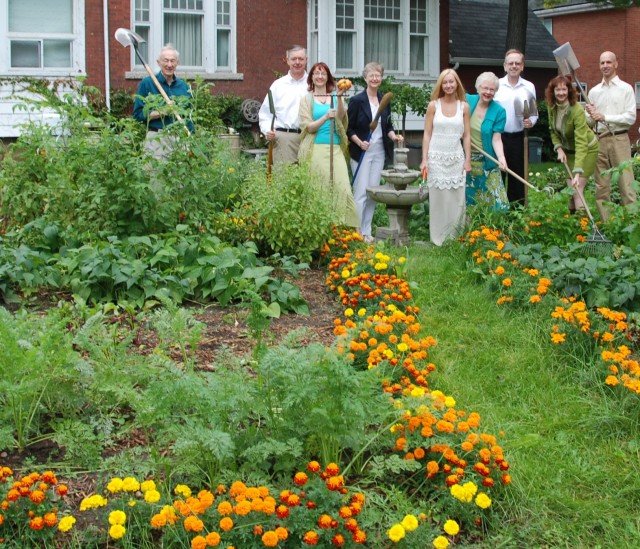 This year, with too little sun and too much rain, our garden produced mixed results. While the always-dependable beets, kale and zucchini flourished, the beans gave an apathetic shrug and the greedy tomatoes guzzled so much water they burst their skins. I found it hard to muster enthusiasm for any of my crops — except for my tomatillos. After three years of saying, "next year", this was Tomatillo Year. I planted them. I waited patiently. I planned meals around salsa verde.
Reality set in. I got busy. I neglected them. But I didn't panic. Unlike my delicate haricots verts, I knew this crop would be there for me. Tomatillos are practically weeds. Anyone can grow them under almost any condition. This year, tomatillos were going to be my one big gardening win.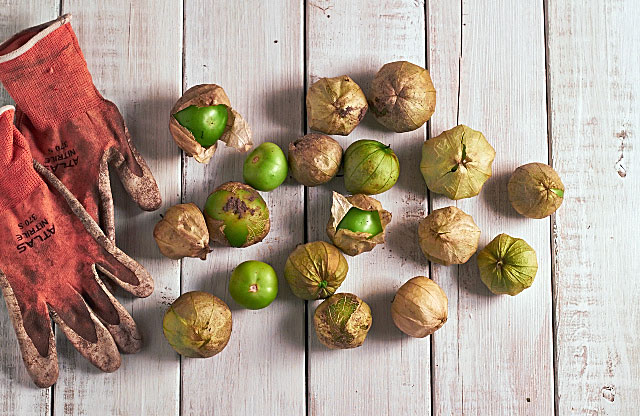 In an effort to help put the vegetable patch to bed for the approaching winter, my father cleared it of all soggy, frost-wilted vegetables. He uprooted the plants and tossed them in a pile to be hauled to the compost heap. He diligently cleared away the rag-tag remnants of my neglected grape tomatoes. Out went my gigantic, split Heirloom Brandywines. The pale skinned Heirloom Pineapple Tomatoes joined them, as did the shrivelled brown ones that hadn't even bothered to ripened. What a waste.
I showed up just in time to find a near-empty bed, with only a few beets tops wagging in the wind.
"Uh, Dad… Where are my tomatillos?"
"Your what?"
"Tomatillos. They were right there," I pointed to a bare patch of freshly disturbed earth dotted with soggy bits of tomatoes.
"No idea what you're talking about." He shrugged and continued clearing spent plants.
"They look like little green tomatoes wrapped in paper."
"Oh! Those!" My father looked shocked, like I wanted to salvage something unworthy of pig slop. "I thought they were rotten tomatoes. They were all brown and dried out."
My entire tomatillo crop lay at the bottom of the heap of genuinely rotten tomatoes. I could see where he was coming from. In their husks, tomatillos do look like wizened, unripe tomatoes.
Together, we picked through the remains, carefully squeezing each dry, papery husk to see if it housed something edible. Some were empty. Some held nothing but mush. Others contained perfect, bright green, tomatillos in all their sticky-skinned glory.
I dragged home almost 20 pounds of dirt-covered tomatillos in a plastic bag that threatened to split with each step. Over the sink. I peeled the husks from my rescued crop, and washed away the tacky residue. For once I didn't complain about being overworked. Instead, I was, and still am, grateful for the accidental harvest, and a father who cares enough to want to save me the work involved in clearing away a mountain of rotten tomatoes.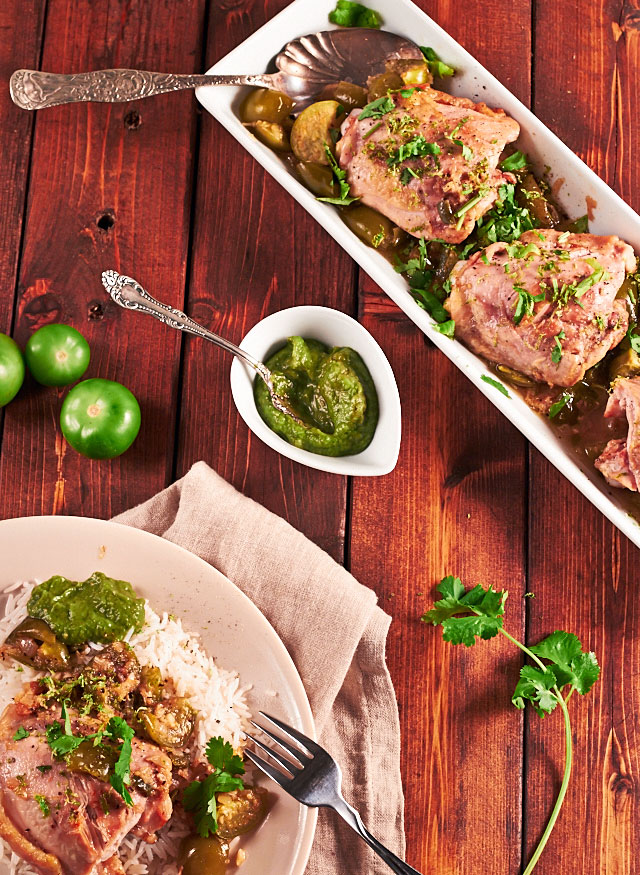 Tomatillo Chicken
Author:
Charmian Christie
Recipe type:
Chicken & Poultry
Prep / inactive time:
Cook / active time:
Total time:
This chicken dish combines all the flavours that go so well with the tangy, citrusy flavour of tomatillos — lime, garlic, peppers and cilantro.
Ingredients
1 tablespoon oil, olive is good but any will do
2 pounds chicken pieces, skin-on and bone in or boneless/skinless
1 onion, finely chopped
1 jalapeño pepper, finely chopped
2 large cloves garlic, grated on a microplane
1 tablespoon ground cumin
2 generous cups chopped tomatillos
1 cup chicken stock
1 tablespoon fresh lime juice
fine sea salt
freshly ground black pepper
¼ cup finely chopped cilantro
Instructions
Preheat oven to 350°F.
Heat the oil in a braising dish, or oven-proof skillet with a lid, over medium-high heat. Brown the chicken on all sides, then transfer it to a plate.
Reduce the heat to medium. Add the onion and cook until soft, about 3 to 5 minutes. Add the jalapeño pepper, garlic, cumin and tomatillos, and cook until the peppers begin to soften, about 2 to 4 minutes. Add the chicken stock and bring the mixture to a boil. Remove the pan from the heat, stir in the lime juice, and season with salt and pepper to taste.
Nestle the chicken pieces into the sauce, cover, and bake for 20 to 40 minutes or until the chicken is cooked all the way through. The timing will vary depending on the size of the chicken pieces, whether you're cooking white or dark meat and if it's bone-in or boneless.
When the chicken is cooked, garnish with the fresh cilantro. Serve over rice and topped with salsa verde (optional).
[box type="info" style="rounded" border="full"]
The Canadian Food Experience Project is a monthly series of themed posts from participating Canadian food bloggers across the country. By sharing our personal stories and regional food experiences, we hope to answer the elusive question, "Just what exactly is Canadian Cuisine?"
Read us. Talk to us. Join us. Then eat.
[/box]