11 Oct

Concord Grape Sherbet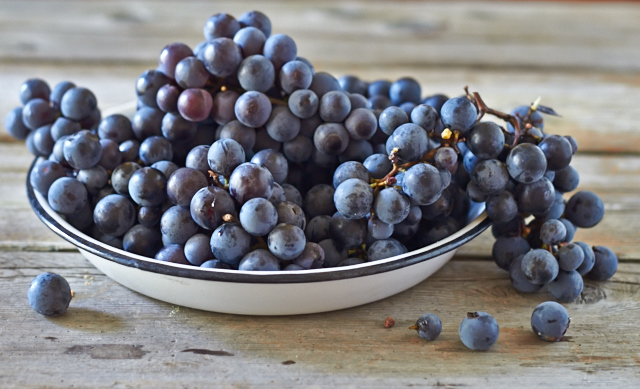 Concord Grapes leave me conflicted. They fill up my senses in a way that would do John Denver proud. They also break my heart. When I see their deep blue-purple skins overflowing the baskets at the market stalls the joyful, creative part of me wants to buy them all up, race home and create a new dish. The other no-pride, bare-it-all part wants to fall to the ground, throw my arms around the vendors knees and weep until their jeans are soaked.
To keep this love/panic in balance I count off each basket I buy on my weekly trip to the Farmers' Market. Basket 1 means Hot Hazy Summer is well and truly over. I stop and breathe deeply, taking in the smell of the grapes sitting in still-warm sun like they're a form of incense. Basket 2 indicates Warm Autumn will soon be hip-checked out of the way to make room for Cool Autumn. I put on a jacket and buy the grapes unsniffed. By Basket 3, Bitterly Cold and Drizzly Autumn has made an appearance and is looking over his shoulder nervously. Time to wrap my fall-toned pashmina around my neck and see how many people mention it matches the trees. Usually around Basket 4 or 5, Freeze Your Nostrils Winter is barreling down from the north, leaving ice rinks in his wake. Hand me the Kleenex.
In a desperate frenzy to make the best of these beautiful but ominous grapes, I've used them in every way I can think. Over the years I've baked them into pies with a sweet streusel topping. I've wrapped them into unruly galettes and boiled them into spreadable jam. When I maxed out on sugar, I churned them into a barely-sweetened, palate-cleansing sorbet. What more can a girl do?
Sherbet. I hadn't done sherbet.
Grapes and sugar and cream are about all you need to make Concord Grape Sherbet. The results are a silky, juice-filled, cranberry-coloured sherbet you won't find in the stores or even at the high-end artisanal cone shop. It delivers all the sweet-tangy flavour you expect in a pie — providing you mushed copious quantities of whipped cream into it.
Be warned. It will stain your fingers, your tongue and your table cloth. Without stabilizers, it melts quickly. But it won't be sitting around that long.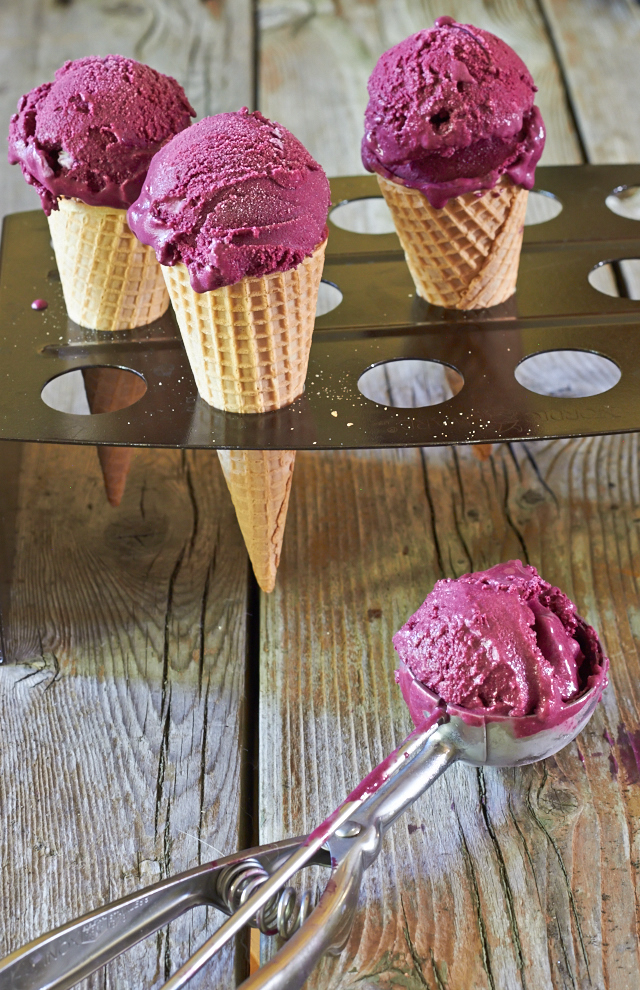 To my surprise, this is one of the best frozen desserts I've created. Ever.
Sorry chocolate. Sorry peaches. You can't win them all — unless you're Concord Grapes.

Concord Grape Sherbet
Author:
Charmian Christie
Recipe type:
Ice Cream & Frozen Treats
Prep / inactive time:
Cook / active time:
Total time:
Serves:
1 generous litre (quart)
This creamy sherbet is rich but not too sweet. It tastes like Concord Grape Pie with a generous scoop of vanilla ice cream stirred into it. You can enjoy it as is, or on top of the pie. It's not over-kill. It's appreciation.
Ingredients
2 pounds Concord grapes
½ cup sugar
1 vanilla pod, split in half lengthwise
1 tablespoon orange liqueur (optional)
1½ cups heavy cream (35%)
Instructions
Pinch the grapes with your fingers, dropping the pulp into a medium-sized, non-reactive saucepan and the skins into the bowl of a blender or food processor fitted with a blade.
Cook the pulp over medium heat until it begins to break down and the seeds release. Strain the pulp through a fine mesh sieve over the skins, using the back of a ladle to push all the pulp through. Discard the seeds. Purée the skins and de-seeded pulp together until smooth.
Pour the grape mixture back into the sauce pan. Stir in the sugar and vanilla pod. Cook over medium until the mixture just reaches a simmer and the sugar dissolves. Stir in the orange liqueur. Cover and allow the mixture to cool to room temperature before adding the cream. Chill until cold.
About 20 minutes before you're ready to churn the sherbet, pop the mixture into the freezer to get it really cold. Churn in an ice cream maker according to manufacturer instructions. You might need to return the sherbet to the freezer to firm up before serving.
Enjoy with Concord Grape Pie or all on its own.
Are you crazy about Concords? If so, how do you enjoy them?