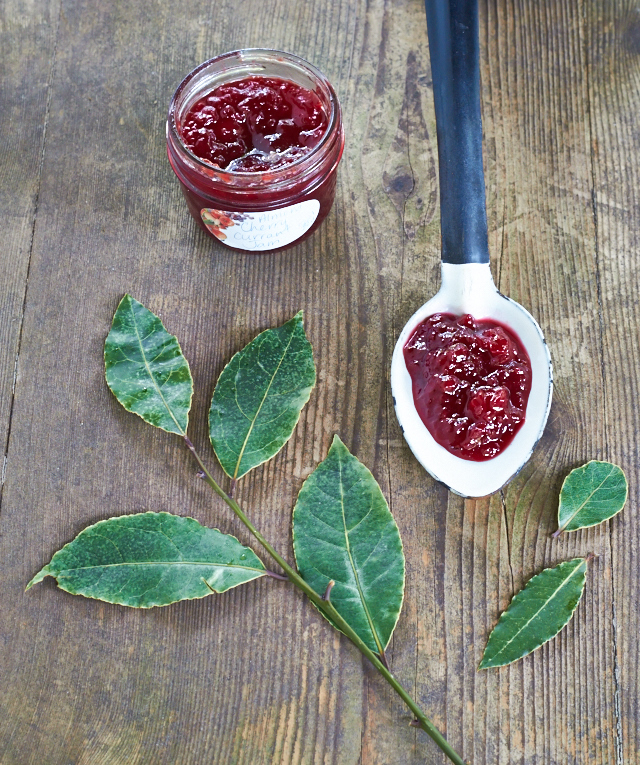 29 Sep

Bay-Infused Currant Sour Cherry Jam with Almond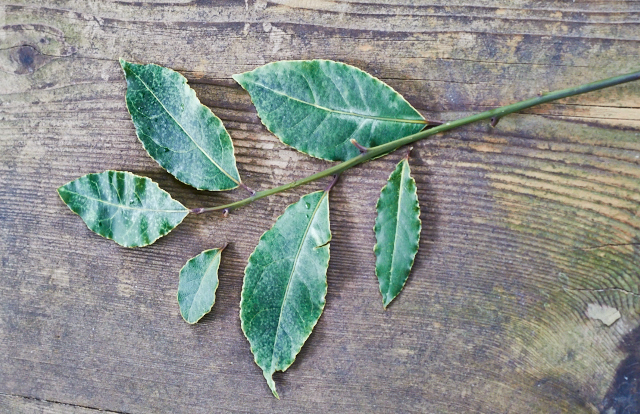 I was very young and very fussy.
No. Not so much fussy as "discerning." I ate a wide range of food with great pleasure. However, when I disliked something, I was inflexible. More than once I sat alone at the dinner table with an uneaten plate of food in front of me and the oven-timer ticking away on the stove, urging me for the love of peas to eat. Since I would rather go to bed empty than with that in my stomach, my petulant wish was often granted.
One day, Mom served stew for dinner. A few bites in I came across a leathery, brown leaf amidst the chunks of carrots, potatoes and beef. I pinched it between my thumb and index finger inspecting it with all the caution and horror of inspecting a filthy sock for holes. Vacillating between horror, outrage, and scientific curiosity, I waved the thing at my mother. "What's in my food?!?"
My mother clapped her hands and projected joy with so much enthusiasm she made a golden retriever look deadpan. "Lucky YOU!"  Clap, clap, clap! "You got the bay leaf!" Clap, clap, clap.
I rode that pony for a day or two. I, me, the hard-done-by middle child got the prized bay leaf. There was only one per pot. And it was mine. All mine. I wasn't quite sure how the luck part worked, but Mom was ecstatic and Dad managed a congratulatory nod, so I embraced the Lucky Bay Leaf with enthusiasm equal to my mother's. From that day on, every time stew came to the table, I demanded no one eat until we knew which lucky duck got the bay leaf.
Years later at a restaurant, a friend quietly slipped a bay leaf from her plate and tsked with disgust. She looked about frantically as she figured out where to put the dirty-sock of an herb. "Lucky you!" I said. Clap, clap, clap. "You got the bay leaf!"
"What?"
"You got the Lucky Bay Leaf!"
Silence.
Why wasn't she excited? Why wasn't she happy and grateful and filled with the elusive hope of the unknown but brightly joyous future only a bay leaf can bring?
Lucky Bay Leaf? She's never heard of it.
And there, in a public restaurant in front of my friend, I tumbled headfirst into yet another knowledge gap. Mom had made up the Lucky Bay Leaf on the spot to avoid a melt down.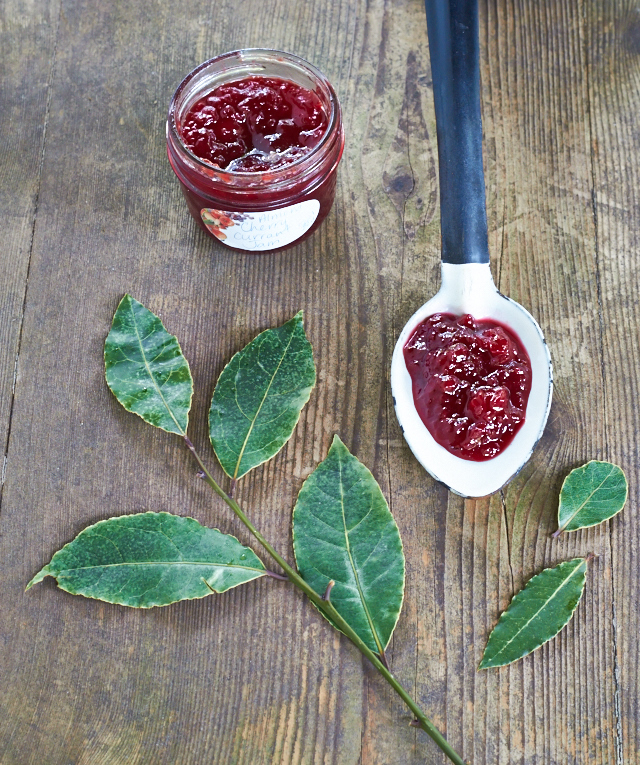 Even if her invention was nothing more than pragmatic parenting, I think my mom was onto something. This recipe calls for a bay leaf and it is lucky. The one I used for this recipe wasn't a dry, brittle leaf from the bulk bin. It arrived at my door on a stem, accompanied by a good half-dozen other leaves, all supple and full of life.  A friend mailed them to me all the way from British Columbia. She has a bay bush and when I lamented its inability to grow here she mailed me a care package. I put the leaves in the freeze for a special occasion.
I have used two so far. One for a beef dish – of course. And one for this jam. I was looking for a sour cherry recipe, and when I found one that called for a bay leaf, I knew it was meant to be. The resulting currant sour cherry jam is charming. It's tart, and sweet, with a kiss of bay and a big hug of almond. The recipe says to remove the bay leaf before processing the jam, but for old time sake I left the leaf in when I filled the jars.
Wonder who will get the Lucky Bay Leaf?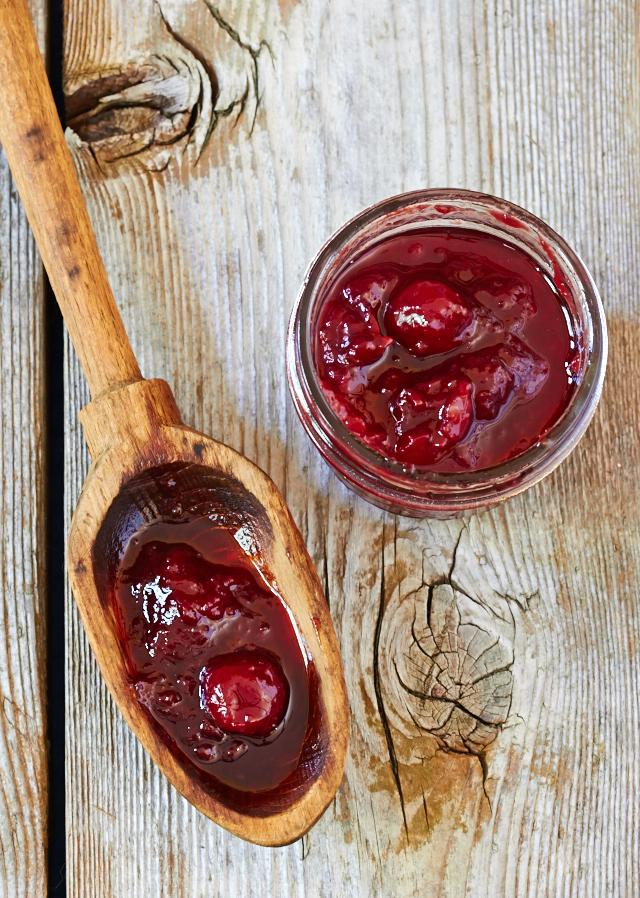 Bay-Infused Currant and Sour Cherry Jam with Almond
Author:
Charmian Christie
Prep / inactive time:
Cook / active time:
Total time:
This is another jam I made using frozen, unsweetened local fruit well after the season was over. While this jam is fabulous on scones, toast and bread, it's also makes a delicious topping for cheese cake or almond cake. It can also be thinned to make a glaze for dark meats like duck. I even used it as a glaze for pork tenderloin.
Ingredients
2 cups red currants
½ cup water
1 bay leaf
8 cups sour cherries, pitted
3½ cups sugar
2 tablespoons bottled lemon juice
1 teaspoon pure almond extract
Instructions
Combine the currant, bay leaf and water in non-reactive saucepan. Bring to a boil over medium heat, stirring occasionally. Reduce the heat to a simmer and cook until the currants pop, about 5 minutes. Remove the bay leaf and reserve it as it will be returned to the jam later. Place a fine mesh sieve over a non-reactive bowl and press the currant through it, pushing as much pulp and juice as you can using the back of a ladle. Discard the seeds, stem and seeds. You have about ¾ cup of juice. If not, add water to bring it to this point.
Heat sterilized ½ cup or 1 cup jars.
In a Maslin pan or large saucepan with a heavy bottom, combine the currant juice, cherries, sugar, lemon juice and bay leaf. Heat over medium, stirring occasionally, until sugar is dissolved. Use an immersion blender to purée the jam leaving the fruit chunky with a few whole cherries. You don't want a smooth paste.
Increase heat to high and bring jam to a hard boil. Reduce heat to a gentle boil and cook for 30 to 45 minutes, stirring occasionally and skimming to remove any foam. Continue skimming, and stirring until the jam is set. (Click here for ways to tell if jam is set.)
Turn off heat. Stir in almond extract and remove the bay leaf. Fill hot jars, leaving ¼-inch headspace. Remove air bubbles, wipe the jar rims, centre the lid on top of the jar and screw on the ring to finger-tip tight. Process in a boiling water bath for 10 minutes (Click here for more on boiling water baths.) Remove canner lid and let sit 5 more minutes. Remove using canning tongs and place on a heat resistant surface where they won't be disturbed for 24 hours. Check seals (See more here) label and store in a dark, cool place for up to a year.