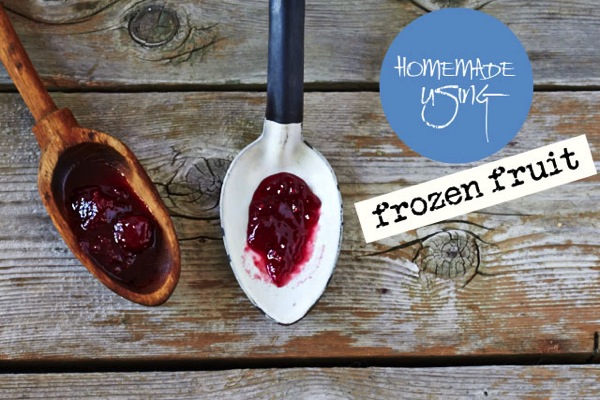 26 Sep

Cooked Jam with Frozen Fruit | Raspberry Currant Jam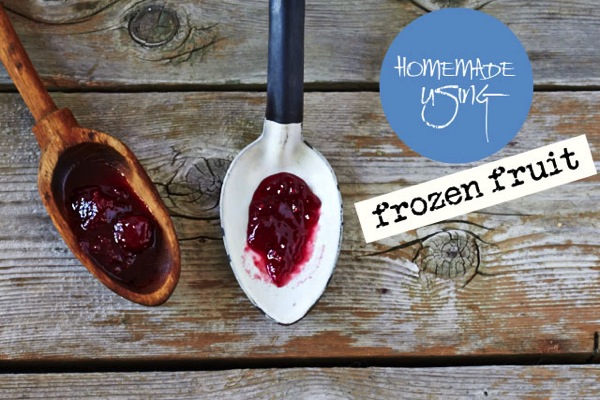 Cherries, currants and raspberries arrive at such an inconvenient time. It's hot. It's often humid. And our old stone house holds the summer heat like a wood-fired brick oven. Once the warm weather has worked its way into the walls, I'm hesitant to fry a few strips of bacon let alone boil up a big batch of jam. So, I've been experimenting with ways to make my jam and heat it too.
Now that cool autumn nights promise to dispense the day's heat I'm safe to make jam again. But I'm not compromising. No, rock-hard imported peaches for me. No plastic strawberries. No raspberries from a different hemisphere. I'm using local fruit, picked in season. I'm just using it in frozen form.
As usual, I got a bit carried away. Knowing I'd be making jam as well as the usual fruit desserts, I filled my freezer to bursting with currants, cherries, raspberries and blueberries. And now I'm making batches in almost every combination imaginable. It's fun. But I'm running out of jars.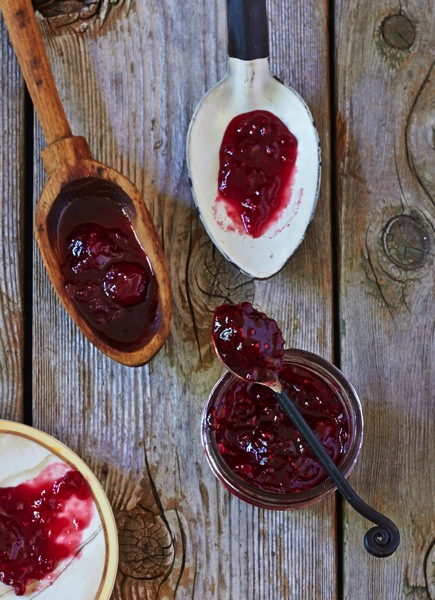 Making Jam with Frozen Fruit
Can you make jam with frozen fruit? I wasn't sure when I began but so far so good. I simply measured the fruit while it was still frozen, then let it defrost before starting the jam. It didn't really add to the time since the fruit melted away in the maslin pan while I heated water, washed jars and Instagramed a few teasers.
Three batches in and I see no difference in taste or texture. If anything, these jams are more flavourful — but that just might be the long-cook, no-pectin method.  Although my husband would say my ruling is a bit contentious. I crown the Raspberry Currant Jam the winner. It's perfectly set, delivers a classic tangy sweetness and has just enough seeds to make the texture interesting. Andrew, on the other hand, preferred the currant and sour cherry jam. He loved the almond finish and occasional whole cherry.
Either way, we both stood at the counter eating jam straight from the jar. We doubled-dipped back and forth with compromised spoons, like only a married couple can. So much for sterilization. If I serve you jam, I promise to open a fresh jar — in your presence.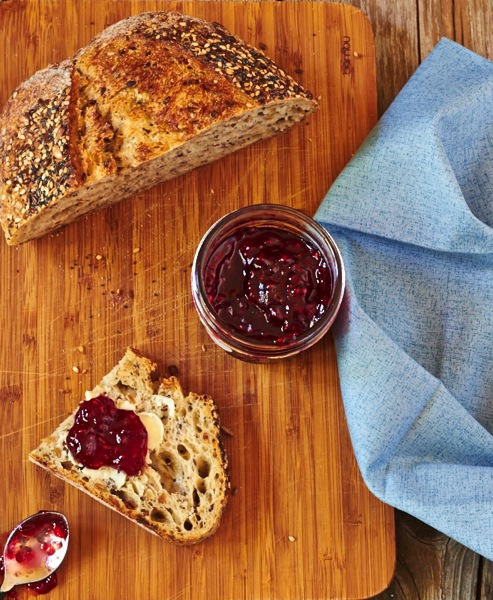 Have you ever made jam from frozen fruit? If you haven't, what fruit tempts you the most?

Raspberry Currant Jam
Author:
Charmian Christie
Prep / inactive time:
Cook / active time:
Total time:
Serves:
Makes about six 250-mL (1 cup) jars
Love the sweet-tart taste of currants but hate the big seeds? This recipe combines red currant pulp with whole raspberries for a lightly-seeded version of a sweet-tart jam.
Ingredients
6 cups currants*
½ cup water
3 cups crushed raspberries*
4½ cups sugar
Instructions
Place currants and water in a medium-sized non-reactive pan over medium heat. Cook for 5 to 10 minutes or until the currants burst and release their seeds. Press through a fine mesh sieve using the back of a ladle. This will produce approximately 3 cups currant pulp. Discard the seeds.
Put the raspberries, currants and sugar in a heavy-bottomed, non-reactive pan over medium heat until the sugar dissolves. Increase heat to bring fruit to a full boil, reduce the heat, and continue to cook the fruit at a gentle boil. Stir occasionally, skimming off any foam, until the jam is set. Click here for details.
Pour into warm, sterlized jars, leaving ¼-inch headspace. Remove any air bubbles. Wipe rims clean. Place lids on the jars and secure bands until finger-tip tight. Process in a boiling water bath for 10 minutes. Turn off heat and let jars sit for another 5 minutes. Using canning tongs, remove the jars and place of a heatproof surface where they won't be disturbed for 24 hours. Check to ensure the lids sealed have properly sealed.
Consume the jam within a year -- which shouldn't be difficult.
Notes
Notes: *If using frozen currant or raspberries, measure them frozen since they will reduce in volume once thawed.
Fruit often has a mind of its own. If your currants fail to yield 3 cups of pulp, simply use equal amounts of raspberries. Measure the currant pulp and raspberry mixture. For every cup use ¾ cup of sugar. Cook as usual.
This recipe is adapted from
Ball Complete Book of Home Preserving
, edited by Judi Kingry and Lauren Devine. Published by Robert Rose ©2006.