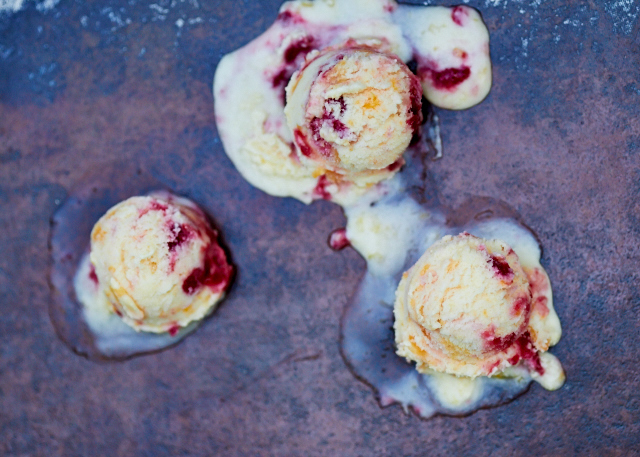 05 Sep

Peach Melba Ice Cream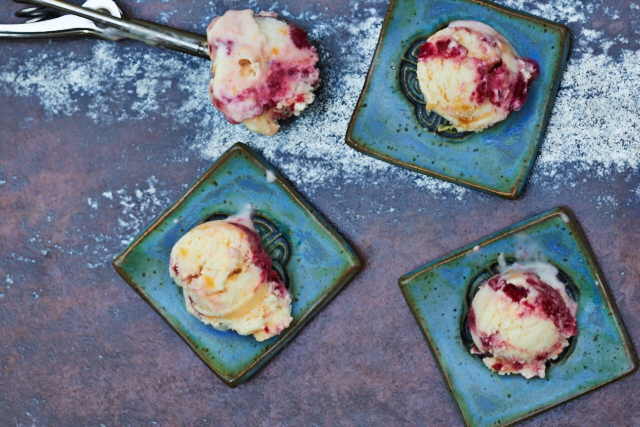 The other day I admitted I had a great big culinary knowledge gap. Oh, I was willing to share my apricot ignorance, but I was a bit smug about peaches. I considered myself a veritable Ms Know-It-All when it came to my favourite stone fruit. I know how to buy them, store them, freeze them. I can turn ugly bruised peaches into beautiful leather, and perfect, unblemished ones into tiny cooking vessels eager for chopped nuts.
But I was wrong about  peach Melba. I thought it was simply a generic term for the peach-raspberry combination. Nope. According to The New Food Lover's Companion, peach Melba is much more. It's actually a very specific dessert involving peach halves, poached in a syrup, placed hollow side down on a scoop of vanilla ice cream and topped with Melba sauce, which is made from strained raspberries and red currant jelly. Half right. I'm now just Ms Know-Just-Enough-to-Get-Yourself-Into-Trouble.
If you really want to delve into things, peach Melba was created by the famous French chef Auguste Escoffier for Australian opera singer Dame Nellie Melba. She must have had impressive pipes as he also created Melba toast for her when she fell ill.
Since no one is inventing dishes for me, not even variations on dried toast, I decided to make something special for myself.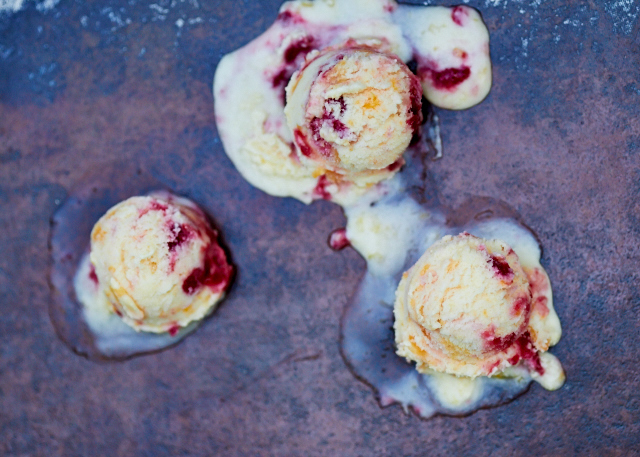 This Peach Melba Ice Cream takes all the good things in the original dessert — ice cream, peaches and raspberry sauce — and churns them into one scoopable treat. Call me Ms-Know-How-to-Cut-Corners. Now that's something to sing about.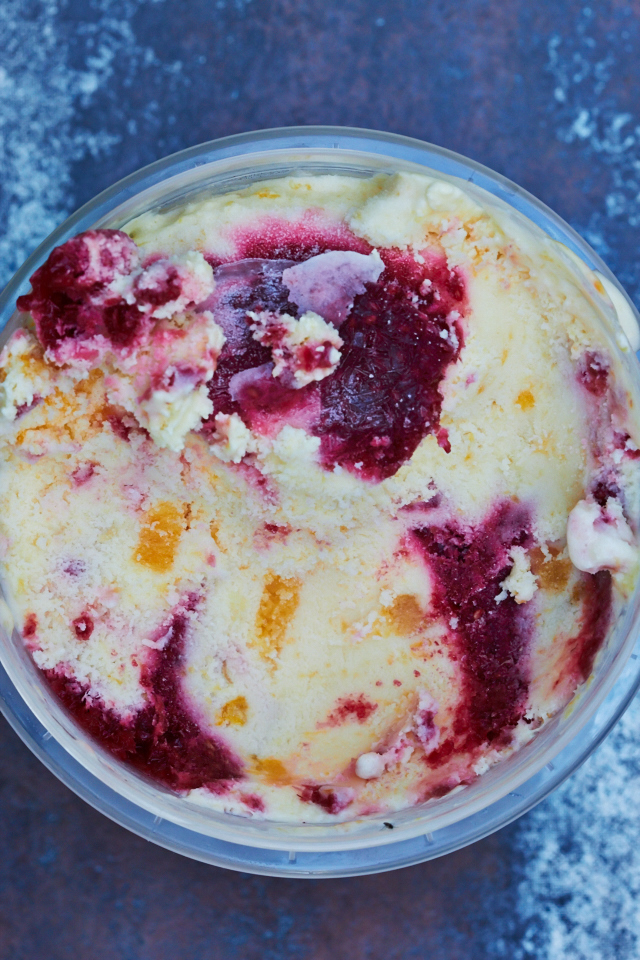 What's your favourite way to enjoy peaches? If you have a recipe, it's okay leave a link in the comment section.

Peach Melba Ice Cream
Author:
Charmian Christie
Recipe type:
Ice Cream and Frozen Treats
Prep / inactive time:
Cook / active time:
Total time:
Ice cream, peaches and raspberry sauce combine in a scoopable version of the classic Escoffier-inspired dessert.
Ingredients
Peach Ice Cream
3 cups diced, peeled peaches, (about 4 large or 1¼ to 1½ pounds)
¼ cup water
3 tablespoons peach juice or nectar (or more water)
1 tablespoon peach schnapps (or peach juice)
⅔ cup sugar
1 cup heavy cream (35%)
½ cup full-fat sour cream
½ teaspoon vanilla
¼ teaspoon lemon juice
Raspberry Swirl
1 cup raspberries, fresh or frozen and thawed
2 tablespoons sugar
1 tablespoon raspberry liqueur such as frambois or raspberry vodka
Instructions
Cook the peaches: Place the peaches, water, juice and schnapps, if using, in a medium saucepan over medium heat. Cover and cook until the peaches are soft, stirring a few times. If you want pieces of peach in your ice cream, remove half the peaches with a slotted spoon and set aside. Transfer the remaining peaches and their liquid to a glass or stainless steel bowl and stir in the sugar. Let the peach mixture cool, uncovered, to room temperature.
Make the raspberry swirl: While the peaches cool, mash the raspberries, sugar and liqueur together, leaving a few larger pieces. Cover and refrigerate until the ice cream is churned.
Make the peach mixture: Add the cream, sour cream, vanilla and lemon juice to the cooled sugared peaches. In a food processor or blender, purée until smooth. If you reserved peach pieces, stir them into the mixture. Cover and refrigerate until cold. Between 15 and 20 minutes before you are ready to churn the ice cream, pop the mixture into the freezer to make it extra cold.
Churn the ice cream: Churn in an ice cream maker according to manufacturer's instructions.
Add the swirl: Transfer the ice cream to a freezer container, layering it with spoonfuls of the raspberry sauce.
Notes
This ice cream recipe was inspired by
The Perfect Scoop
by David Lebovitz (Ten Speed Press ©2007).