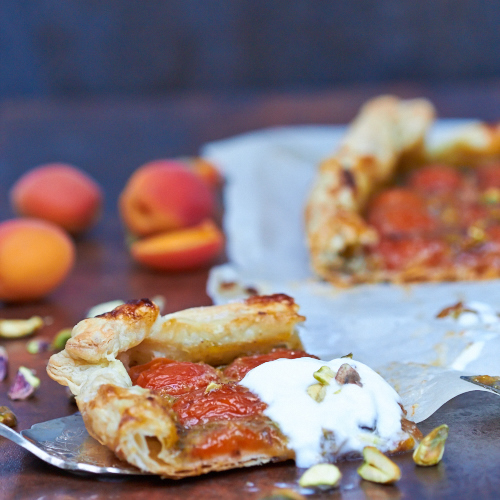 03 Sep

Filling the Knowledge Gap – Apricot Pistachio Tart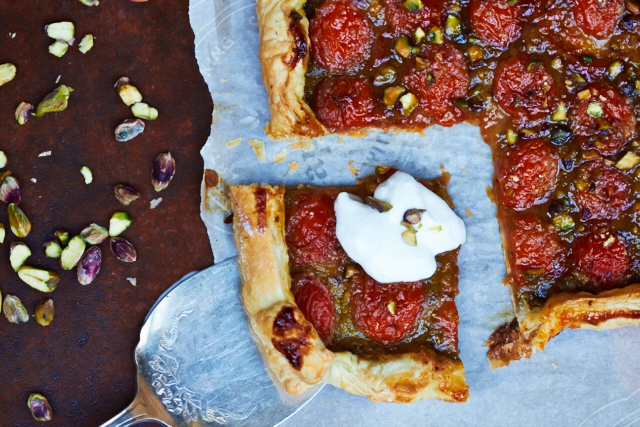 Ever feel like you're the last person to learn something? For example, did you know WTF does not stand for "What's the fuss?" Or maybe you were absent for the lesson on narwhals. How else would you know they're real creatures and not some Disney mash-up between a unicorn and a dolphin?
If, like me, you've missed some of life's more obvious lessons, you're not alone. You haven't been living under a rock, nor have you had your head in the clouds (or shoved into an anatomically impossible location). You simply have a "knowledge gap." And in a world where you learn more in a week than Geoffrey or Beatrice from the Middle Ages learned in a lifetime, it's bound to happen. A lot.
My most recent knowledge gap included apricots, which is rather embarrassing given my profession. I'm a food writer. I know that cheddar cheese isn't naturally orange, can tell you the difference between yams and sweet potatoes, and can explain why a bit of vodka makes homemade sorbets smoother. So how did I not know apricots are best cooked? I guess I was distracted by the peaches.
Despite growing up near the Niagara fruit region, apricots weren't a big part of my childhood. I came to them later in life thanks to the Farmers' Market. But they did face stiff competition. While unloading groceries, I'd nibble on sweet, seductive cherries. I'd gobble juicy peaches over the sink, letting the juices running down my chin. But when I popped an apricot in my mouth? Nothing special happened. I'd just spit out the pit and wonder how such a beautifully coloured fruit could taste so disappointing. My mistake was judging them in their raw state. Apricots benefit disproportionally from a bit of heat.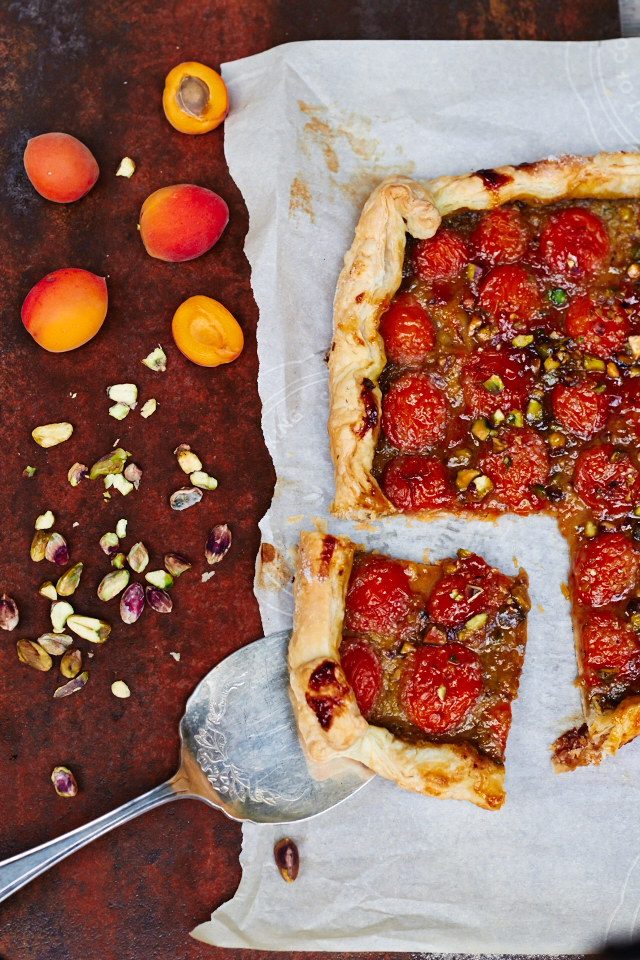 Now that I understand the needs of apricots, there's no stopping me. This simple apricot pistachio tart is proof. It features fresh apricots, homemade apricot jam, and pistachios. All it needs is a bit of sour cream or creme fraiche. And heat.
Did you know to cook apricots? Help me fill more knowledge gaps and tell me what food facts were you late learning.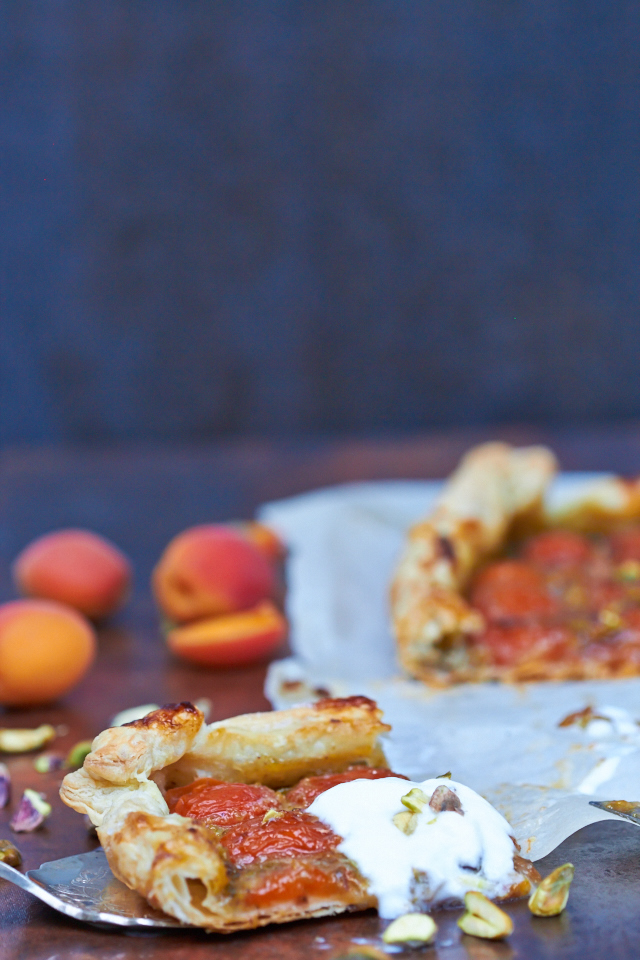 Apricot and Pistachio Tart
Author:
Charmian Christie
Prep / inactive time:
Cook / active time:
Total time:
Got more apricots than ideas? This easy tart makes the most of this late summer stone fruit. Paired with pistachios and a hint of vanilla, this tart delivers fresh summer flavour with an exotic hint of the Middle East. A dollop of cream cuts the sweetness.
Ingredients
Tart
1 roll puff pastry (commercial or homemade)
½ cup pistachios, divided
¼ cup + 2 tablespoons vanilla sugar (plain sugar is okay too)
½ cup apricot jam
2 to 3 tablespoons peach schnapps, orange liqueur or orange juice
1½ pounds fresh apricots, pitted and halved (I used 24 small apricots about 1½ inches long)
1 tablespoon cold butter, cut in ¼-inch cubes
Optional Garnish
creme fraiche or sour cream
Instructions
Preheat the oven to 400°F. Place a rack in the centre of the oven.
Roll the dough: Set a sheet of parchment on your work surface and dust lightly with flour. Roll the pastry on the dusted parchment until it forms a rectangle approximately 14 X 12 inches. Carefully transfer the parchment with the pastry on it to a rimmed baking sheet.
Prepare the pistachios: In a blender or food processor, grind the ¼ cup of pistachios with ¼ cup of vanilla sugar. Set aside. Roughly chop the remaining ¼ cup pistachios and set aside.
Make the glaze: In a small bowl, whisk the jam with enough of the schnapps to form a glaze. The amount of liquid will vary with the jam. You want it thin enough to brush over the apricots, but thick enough that it won't all dribble off.
Assemble the tart: Spread the pistachio-sugar evenly over the pastry, leaving a 1½-inch border all around. Place the halved apricots on the pistachio-sugar, cut-side down. They should be close but not overlapping. Brush the apricots with the glaze. Dust with the remaining 2 tablespoons vanilla sugar and then sprinkled with chopped pistachios. Dot with butter.
Bake: Bake 30 to 45 minutes or until the apricots are soft and the pastry is golden brown. The timing will vary with the size of apricots used. Mine were small, so cooked quickly. Serve slightly warm or at room temperature with a dollop of sour cream or creme fraiche, if desired.