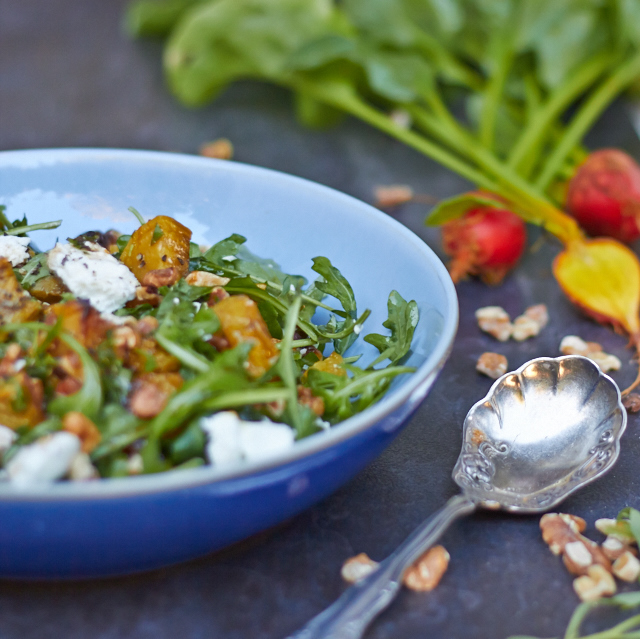 27 Aug

Roasted Golden Beet Salad with Tarragon Dressing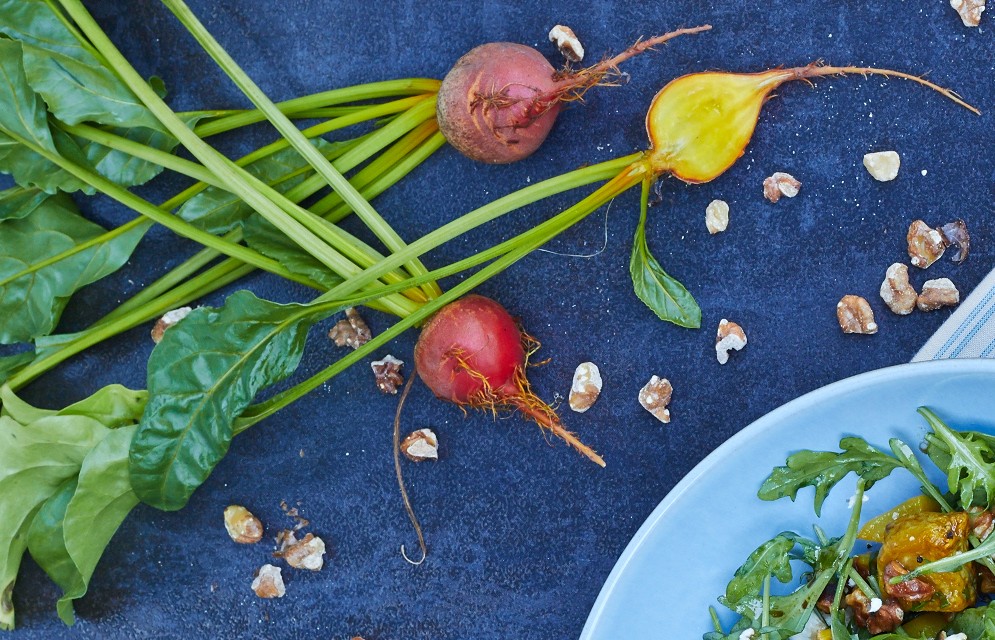 Gold is the new red. At least for me when it comes to beets. In the past I have been more than a little vocal about my dislike of your garden variety red beets. I want to like them. Really. They have a gorgeous ruby colour and a pleasing shape. They give borscht its alluring jewel-tone and  contrast perfectly with salad greens. My eyes love them. My mouth? Not so much. Everyone tells me they're sweet, but to me they taste like dirt. Sweet, sweet dirt.
Then I discovered golden beets. Deep orange on the outside, canary yellow on the inside, this variety is the perfect compromise for the vegetable lover who doesn't like beets. Sure, they're not as pretty as the candy- striped chioggia, but what they lack in sexy stripes they more than make up for in easy handling. Unlike their red counterparts, golden beets don't bleed. Cut them, peel them, chop them, grate them. Your hands will not look like you've just returned from an afternoon at the abattoir.
Best of all, they don't taste like dirt.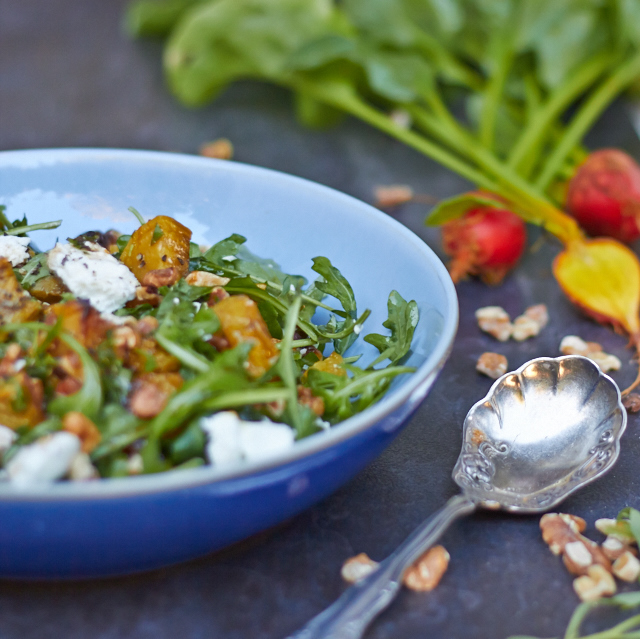 Last week I posted a shot of my first golden beet harvest on Instagram and asked people what I should do with them. Soup or salad. Between the various social networks, salad won. Roasted salad, to be precise. So here is the promised roasted beet salad. Don't want to heat up the kitchen? You might want to try this apple, fennel and golden beet salad instead.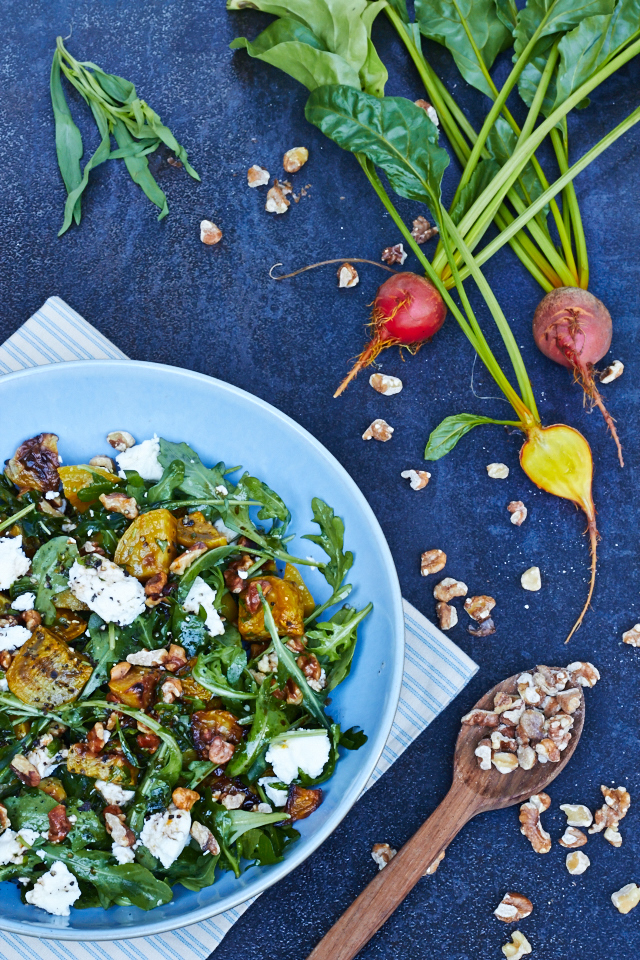 This used up the first round of golden beets. I have dozens more on the way. What should I do with them? What do you do with your beets? Let me know and I'll see what I can come up with for the rest of the impending bounty.

Roasted Golden Beet Salad with Tarragon Dressing
Author:
Charmian Christie
Prep / inactive time:
Cook / active time:
Total time:
Roasted golden beets serve as the base for this late summer salad. Baby arugula, walnuts, tarragon and chèvre make this a hearty side or light lunch.
Ingredients
4 large golden beets, green reserved, if possible (about 4 cups once cubed)
1 tablespoon olive or vegetable oil
¼ cup walnut pieces
⅓ cup roasted walnut oil (olive oil will do, too)
3 tablespoons fresh orange juice
1 tablespoon balsamic vinegar
2 tablespoons fresh tarragon, thinly sliced
generous pinch of salt
generous grinding of black pepper
2 cups baby arugula
2 ounces chèvre
Instructions
Preheat the oven to 425°F and line a rimmed baking sheet with parchment.
Roast the beets: If your beets come with greens attached, set them aside and use them instead of baby arugula. Peel the beets (it's okay, golden beets won't stain your hand like red beets will) and then cut them into 1-inch cubes. Toss in the olive oil, and spread in a single layer in on the parchment-lined pan. Roast the beets, stirring occasionally, until they are cooked all the way through and the edges are turning brown, about 35 to 40 minutes. Set aside to cool.
Toast the walnuts: Turn the oven off. Spread the chopped walnuts a rimmed baking sheet and pop into the still-hot warm oven to toast. Stir after 5 minutes. Remove the nuts when they smell fragrant and are lightly browned, about 8 to 10 minutes total. The timing will vary depending on how well your oven retains heat.
Make the dressing: In a small bowl whisk together the walnut oil, orange juice, balsamic, tarragon, salt and pepper. Taste and adjust seasoning.
Assemble the salad: In a large bowl, toss the cooled beets with the arugula and dressing. Top with crumbled chèvre, and the toasted walnuts. Top with more pepper if you like.