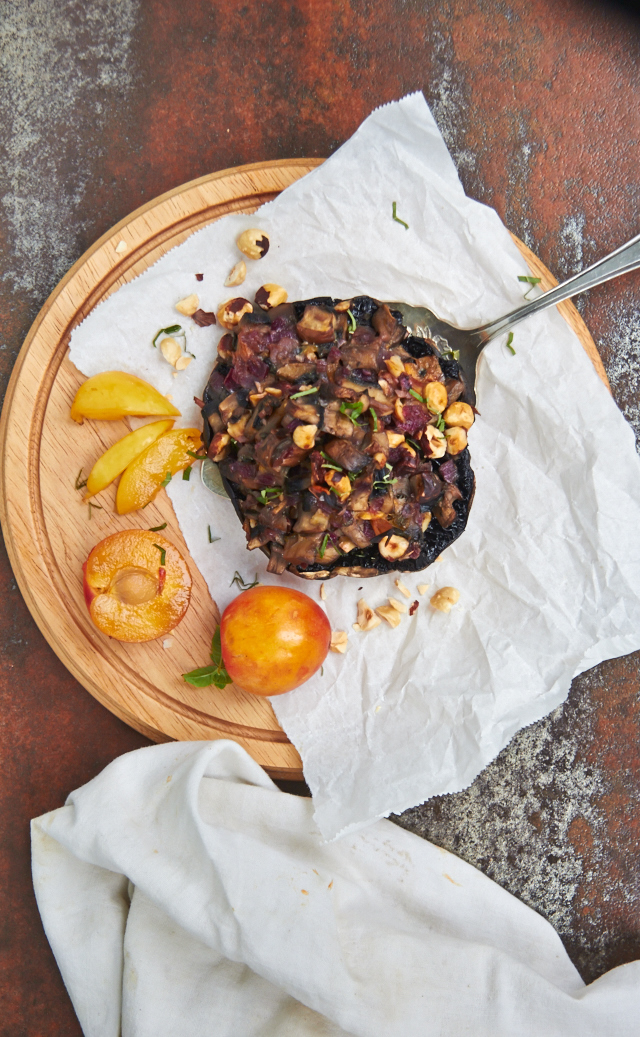 23 Aug

Stuffed Mushrooms with Plums and Hazelnuts

Posted at 18:51h

in

Egg-free

,

Fruit

,

Gluten-free

,

Healthy Choice

,

Mains

,

Recipes

,

Savory

,

Side Dish

,

Summer

,

Vegan

,

Vegetables

,

Vegetarian

5 Comments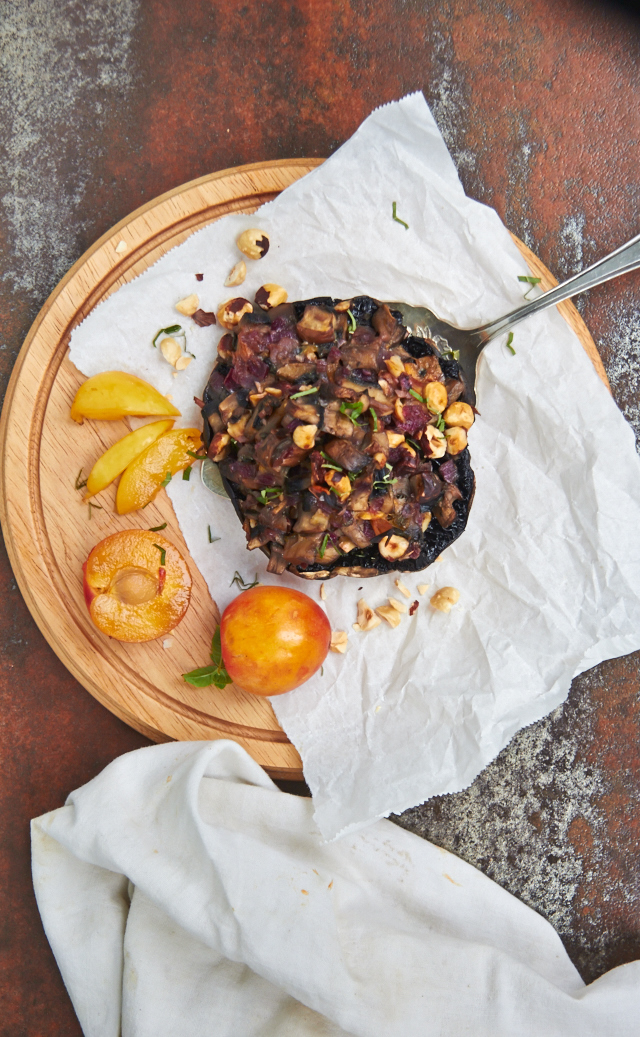 Perhaps it's the difference between European and North American sizes. Maybe our crops are bigger and our platters smaller. If shown the same mushroom, would French and Canadian eaters argue over whether it was small, medium or large? I don't know. But I do know the photograph of the Mushroom Stuffed with Plums and Hazelnuts from Clotilde Dusoulier's The French Market Cookbook (Clarkson Potter ©2013) confused me. If you make them, and I suggest you do, I would be interested in knowing if you feel the same way.
You see, the recipe calls for "burger-sized" portobello mushroom caps, yet the book's photo shows seven (7) two-bite cremini mushrooms sitting elegantly on a platter with plenty of room left over to accommodate a knife and fork. Three of my portobellos barely fit the baking pan. I weighed them just to make sure I had bought the right size. I did. Each was just under the suggested 3 1/2 ounces.
I've made enough stuffed mushrooms in my day to know near-quarter-pounders would not yield the dainty, elegant, finger-food shown. I knew going in they'd land on the table with a thud, bumping elbows with anyone nearby. They wouldn't pose nicely for the camera. They'd be spontaneous and unpredictable. They'd be their own photobomb.
But the recipe was so unusual and intriguing, especially after my hazelnut-stuffed peach success, I had to give them a try, even though the food stylist opted for the "brown mushrooms that are on the bigger side" Dusoulier mentions in the headnote. I can only assume French big is not the same as Canadian big.
Now I see why.
I used burger-size portobello mushroom and they're… um.. hefty. Big-boned. Plus-sized. A precariously-piled meal in a cap.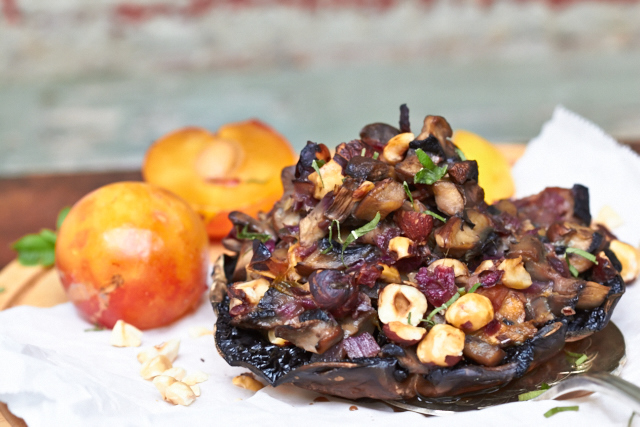 They're also very good.
And, as I predicted, messy.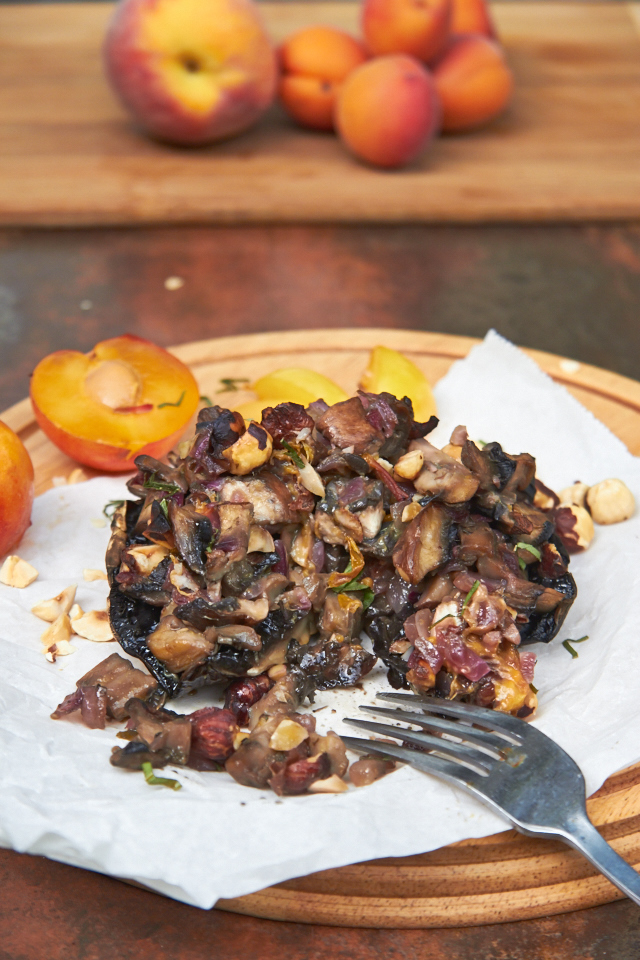 Unlike the traditional comfort-food version of stuffed mushrooms, laced with breadcrumbs and dripping with butter and cheese, this recipe is a cultivated blend of fruit, nuts and herbs. Tangy plums add an unexpected lift, while hazelnuts provide crunch and depth. The food stylist was right. This sophisticated filling should be presented in a sleek, compact form. The over-sized cap is like a young Catherine Deneuve pulling up to a premiere in a VW Pop Top. It delivers, but it sure ain't pretty.
Next time, and there will be a next time. I'm using "brown mushrooms on the bigger side." Only I'll be buying French bigger. Not Canadian bigger.

Stuffed Mushroom with Plums and Hazelnuts
Author:
Charmian Christie
Prep / inactive time:
Cook / active time:
Total time:
This mushroom recipe foregoes the breadcrumbs and cheese. Instead, it's loaded with roasted hazelnuts and tangy plums.
Ingredients
6 burger-sized portobello mushroom caps (3½ ounces each)
1¼ pounds brown mushrooms
Olive oil for cooking
Grated zest of 1 organic lemon
Fine sea salt
2 small red onions (4¼ ounces each) minced
1 garlic clove, finely chopped
10 ounces plums, pitted and chopped
⅔ cup hazelnuts, toasted and roughly chopped
1 cup fresh chopped flat-leaf parsley leaves
Freshly ground pepper
Instructions
Brush all the mushrooms gently with a damp towel to remove any trace of dirt; trim their stems as needed. Arrange the portobello mushroom caps, gill-side up, on a baking sheet. Drizzle with olive oil and sprinkle with lemon zest and a little salt.
Cut the brown mushrooms into ½-inch dice.
Heat 1 tablespoon olive oil in a large skillet over medium heat. Add the onions, garlic, and ½ teaspoon salt. Cook, stirring often to avoid colouring, until softened, about 4 minutes. Add the diced mushrooms and ½ teaspoon salt, stir, and cook for 5 minutes Add the chopped plums and cook until the mushrooms are cooked through and the plums are very soft, about 5 minutes. Remove from the heat and stir in the hazelnuts and half the parsley (The filling can be made several hours ahead. Refrigerate in an airtight container.)
Preheat the oven to 400°F.
Divide the filling among the portobello caps and bake until heated through and slightly browned, about 20 minutes.
Sprinkle the remaining parsley and some black pepper over the mushrooms and serve.
Notes
My variation:
As is, this makes a lovely side dish. If you are going to serve it as a main, as the author intended, you might find it needs more protein. I added 1 cup
grated aged wine cheddar
to the mushroom mix just before filling. It made a delicious and hearty meal.
This recipe appears in
The French Market Cookbook: Vegetarian Recipes from My Parisian Kitchen
by Clotilde Dusoulier. Published by Clarkson Potter ©2013.