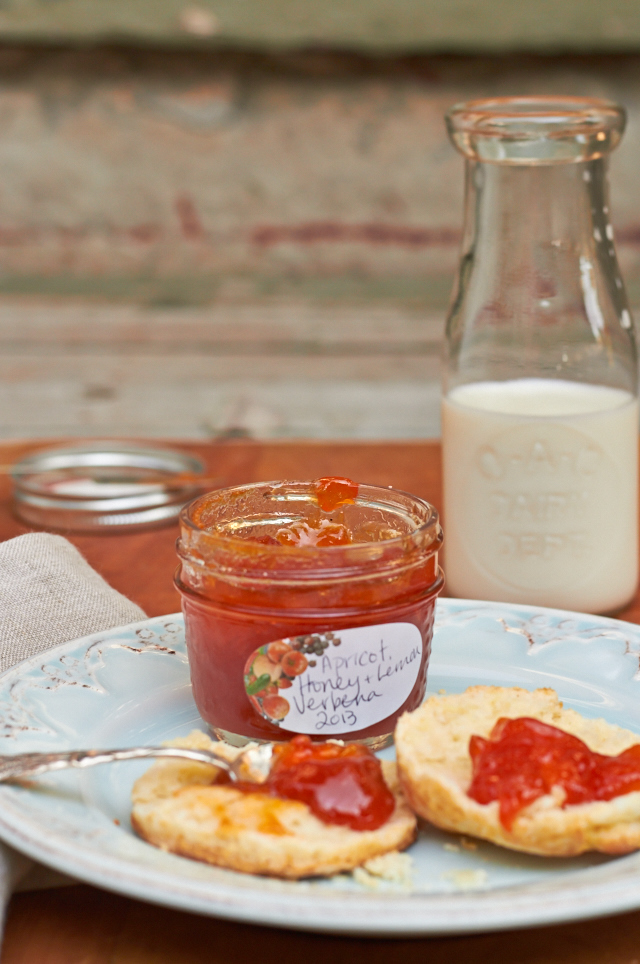 20 Aug

Apricot and Honey Jam with Lemon Verbena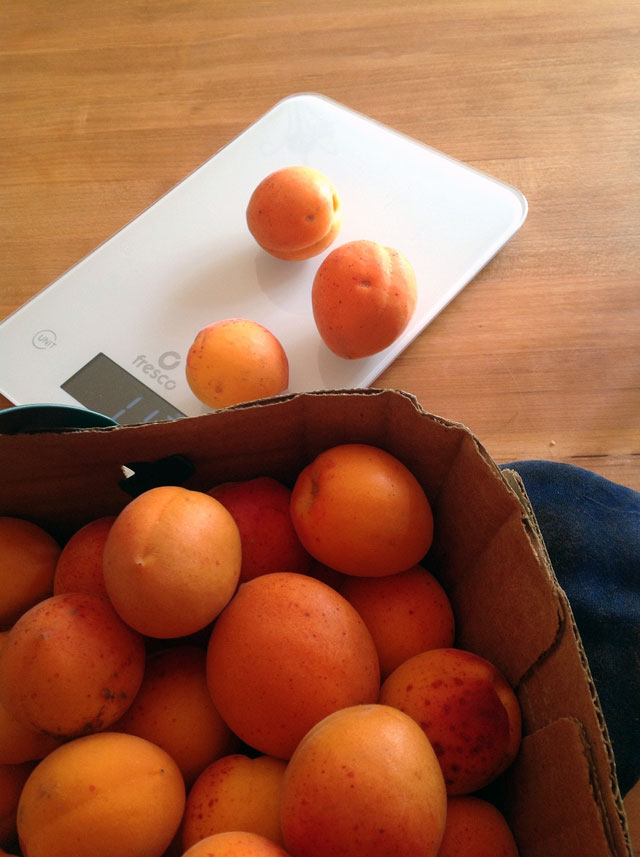 I'd officially like to apologize to apricots. For years now, I've been the mean team captain who always calls dibs on her friends and chooses the popular kids first, leaving the smaller classmates kicking the grass with their yet-to-be-broken-in sneakers and pretending that being picked last doesn't hurt.
With only a dismissive glance at the apricots, I'd walk up to the fruit stand and secure my favourites. I'd grab the big, juicy peaches first. Then I'd waver between selecting the intense raspberries or calling upon my sentimental choice, strawberries. Depending on my mood, vocal cherries or boisterous blueberries ended up in my bag. As I loaded up with popular fruit, the poor, slighted apricots just sat quietly in their baskets fighting back tears.
Recently, when I was about to overlook apricots yet again, Andrew spoke up. I was going to make more hazelnut-stuffed baked peaches, and he confessed he liked peaches well enough but didn't share my passion. He'd rather I tried the recipe with apricots. I shrugged and bought two pints, mentally filing this compromise away in case I needed it later.
As usual, Andrew was onto something. We ate the hazelnut-stuffed apricots for breakfast two days in a row.
Meanwhile, the remaining apricots sat on the counter awaiting their orders. They didn't leak all over like the explosive peaches. They didn't sprout mold like impatient strawberries. They just sat all zen-like and calm until I saw the light. The honey-tinged, verbena-kissed, jewel-toned light.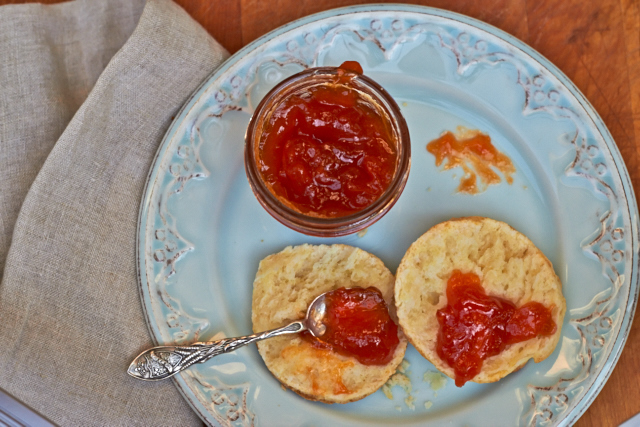 I made jam. Nine small jars of apricot and honey jam. I used tree-ripened Niagara apricots, local honey and lemon verbena from my garden. The resulting jam tastes like apricots left on the back porch in the sunshine – sweet, intense and totally irresistible. Best of all, it's Andrew-approved.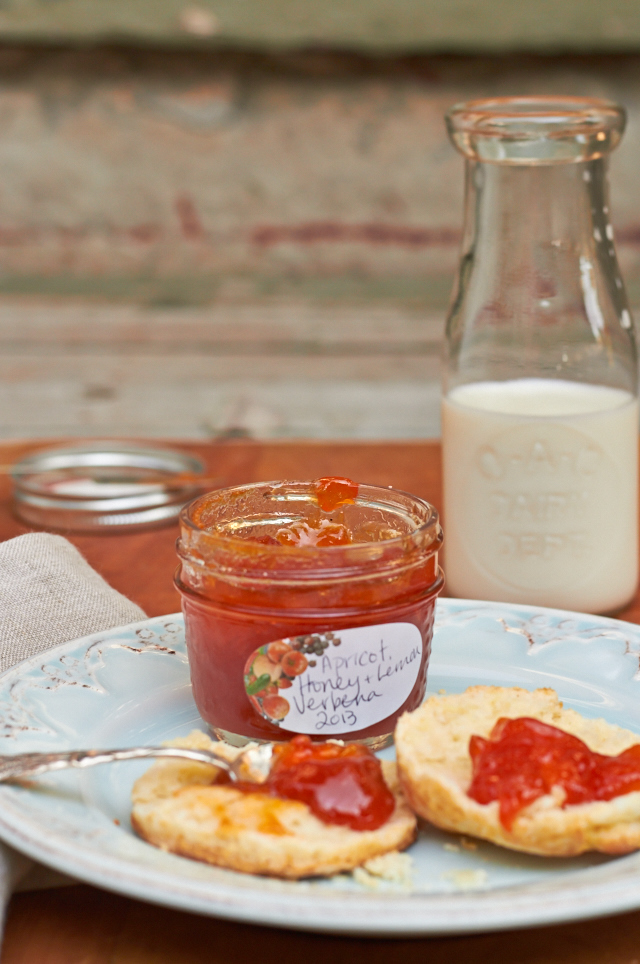 Come winter, I can see me dusting off my mean-girl captain's hat. When scones emerge from the oven screaming for preserves, I'll play favourites again — only this time I'll reach for the apricot and honey jam first. It will be strawberry-balsamic jam and red wine jelly's turn to see how it feels to be picked last.

Apricot and Honey Jam with Lemon Verbena
Author:
Charmian Christie
Prep / inactive time:
Cook / active time:
Total time:
Serves:
about 9½ cup (125 mL) jars
This apricot honey jam has notes of peach and lemon. This easy preserve delivers lots of taste without the need for added pectin.
Ingredients
2.5 pounds apricots
3 cups sugar
juice of one lemon
1 cup honey
2 tablespoons peach schnapps (orange liqueur will do)
6 large lemon verbena leaves (optional)
Instructions
Pit and quarter the apricots: Rinse the apricots. Pit and quarter the apricots, placing the fruit into a non-reactive bowl (glass or stainless steel work best). Add the lemon juice, sugar and honey.
Macerate the apricots: Toss to coat the apricots well. Cover with plastic wrap and leave for several hours or overnight in the refrigerator to macerate.
Make the jam: Transfer the macerated apricots along with all the liquids to a heavy-bottomed jam pot. Be sure to scrape out all the juices and sugar. Over medium heat, gently bring the mixture to a full boil, skimming off the foam as needed.
Lower the heat until you get a controlled boil. Continue to cook the apricots, skimming and stirring occasionally until the mixture begins to reduce and thicken, and the apricots have begun to break down.
Add the alcohol and herb: Cook until the jam is almost set (this can take anywhere from 20 to 40 minutes.) Add the schnapps and lemon verbena, if using. Continue cooking until the jam is fully set. See notes for tips.
Fill and seal the jars: Once the jam is set, carefully ladle into clean ½-cup (125 mL) jars, making sure to leave ¼-inch headspace. Wipe any spills from the rim and seal with warm lids. Screw the bands on until finger tight, then process in boiling water for 10 minutes.
Notes
There are a number of ways to tell if the jam is set. The surest way is to cook the jam until it reaches 220°F on a candy thermometer. You can eyeball it by seeing if the jam will mound on a spoon and slowly drip through the tines of a fork. Alternatively, you can place a spoonful on a frozen saucer and see if it sets in a minute or two.
This recipe is adapted from
Saving the Season
.