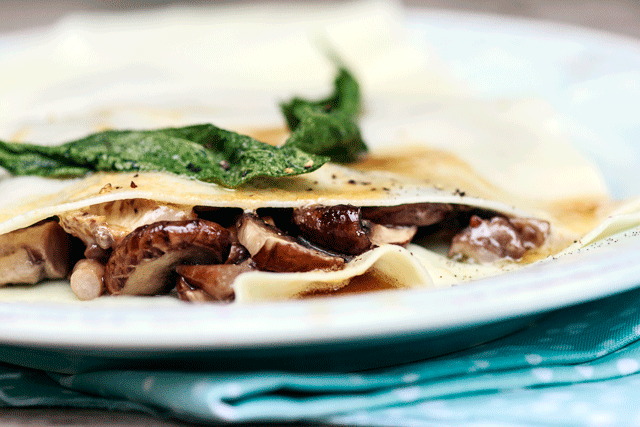 11 Jul

Browned Butter Mushroom Ravioli with Sage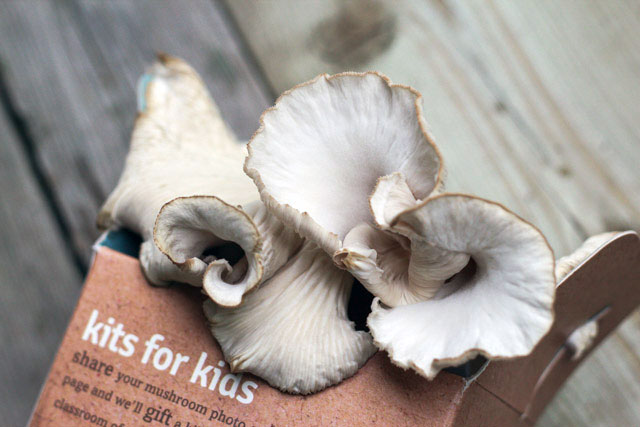 This ruffled plant is not a flower. It's a King Oyster mushroom. I grew it from a kit I got at the Food Bloggers of Canada Conference back in February. The kits, courtesy of Mushrooms Canada, are intended for kids. It says so right on the box. Since I don't have any, I grew the mushrooms myself. Properly grown, the resulting mushrooms should be large, soft beige with dramatic orchid-like ruffles edged with brown.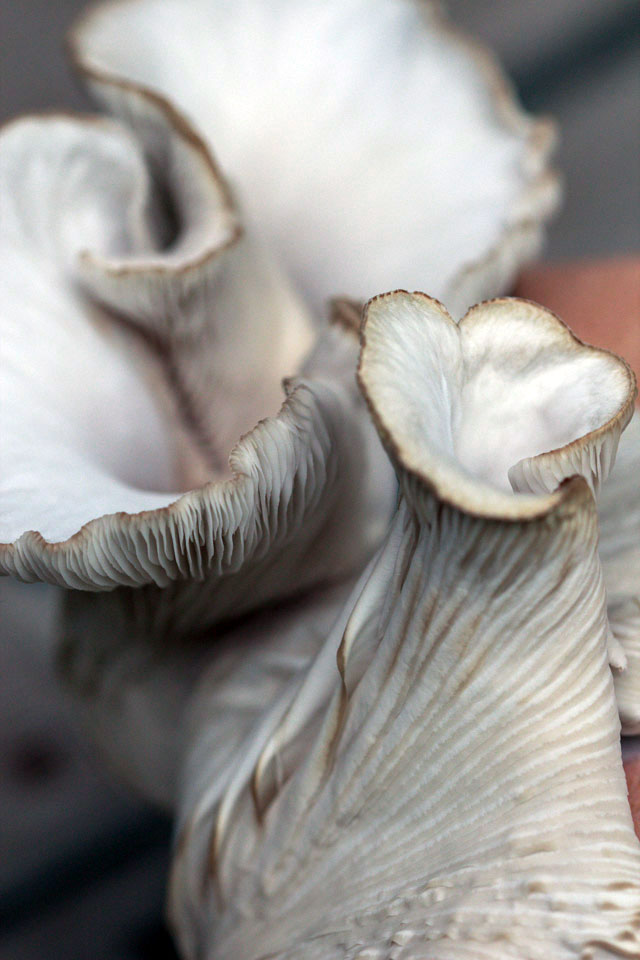 Beautiful as these mushrooms are, they reinforce the fact I should not be in charge of any living thing that isn't capable of complaining. Loudly.
The mushrooms shown above are growing from the top of the box, not the big hole in its middle, as the kit creators intended. This is the kit's second crop, and I suspect the fungi are making a break for freedom having witnessed the neglect of their predecessors.
What happened to the inaugural harvest? Like me, they started out gungho. There were twice daily mistings, a stunning growth spurt, celebratory Instagram photos and then… I got distracted.
In my defence, it's not like they alerted me to the issue. Instead, they took it like the stalwart fungi they are and quietly withdrew.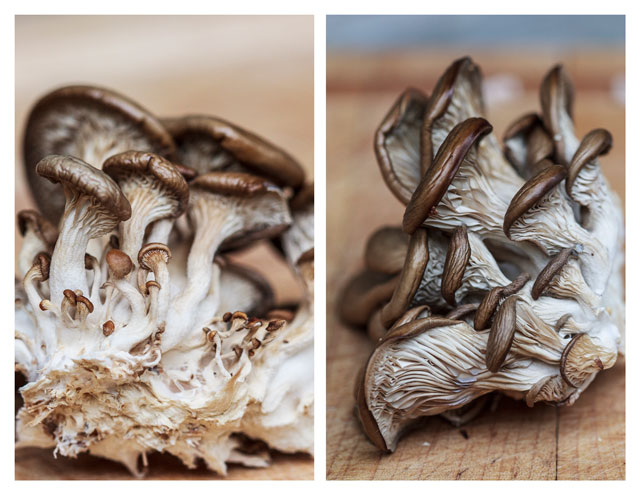 If a licence were required to grow these, I'd have to give it back.
But mushrooms are accommodating. They can grow in the dark or the light. They like moisture, but aren't wimps about it like whingy celery or — heaven forbid — sulky lettuce. Having recently toured a mushroom farm, I knew what to do. Murray Good, owner Whitecrest Mushrooms, wasn't lying when he told me to rehydrate dried out mushrooms in a bit of water. So I did. And within an hour my sad, leathery king oysters had doubled in size and returned to their original soft, ruffly state.
I was so excited I didn't take a photo. I made mushroom ravioli instead.
I augemented my homegrown king oysters with an equal amount of cremini, which I had bought from the store and inadvertently dried out in the fridge in their brown paper bag. Sometimes I wonder why I bothered buying a dehydrator. I seem to be doing just fine without one.
A bit of sage from the garden, some tender, freshly rolled homemade pasta (which I didn't dry out) and some dairy came together in a lovely loose pasta dinner worthy of a King Oyster Mushroom.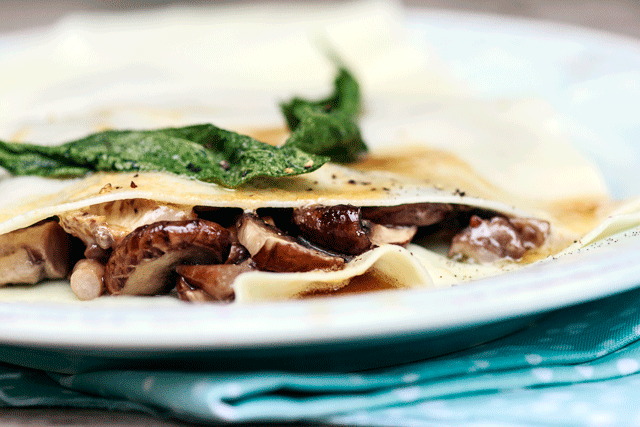 Browned Butter Mushroom Ravioli with Sage
Author:
Charmian Christie
Prep / inactive time:
Cook / active time:
Total time:
This open ravioli is easy to assemble. Unlike the familiar pasta pocket version, this is bursting with mushrooms. A hint of cream, sage-infused brown butter and Parmesan do the rest.
Ingredients
¼ cup butter
4 large sage leaves, whole (8 small is fine, too)
1 clove garlic, minced
4 cups sliced mushrooms (about ¼-inch thick)
1 pinch fine sea salt
freshly ground black pepper
2 sprigs thyme, leaves removed (lemon thyme is lovely if you grow it)
2 tablespoons heavy cream (35%)
8 sheets pasta sheets, fresh is best but dried will do (about 4 inches square)
¼ cup grated Parmesan
Instructions
Put water onto boil: Put a large pot of lightly salted water on to boil for the pasta.
Make the sage browned butter: In a shallow skillet, melt the butter over medium high heat. Add the sage leaves. Cook, swirling the pan occasionally, until the butter turns brown and smells like toasted almonds. The sage should become crisp but not burned. Remove skillet from the heat. Place the sage leaves on a couple layers of paper towel to drain. Reserve 1 tablespoon of the browned butter for later.
Make the mushroom filling: Return skillet to medium heat. Sautée the garlic in the browned sage butter until it becomes soft. Add the mushrooms and increase the heat to medium-high, adding a pinch of sea salt and a generous grinding of fresh black pepper. Cook the mushrooms until soft, about 3 to 5 minutes. Stir in the thyme and cream, and cook until the cream has thickened a bit, about 2 minutes. Keep warm on low while you tend to the pasta.
Cook the pasta: When the water reaches a full, rolling boil, cook the pasta to the al dente stage. Timing varies depending on whether you are using fresh or dried pasta. Drain the pasta being careful not to tear it. Torn sheets can be used as the bottom layer, so don't tell anyone if a sheet or two rips a bit.
Assemble the ravioli: Set out four plates and place one sheet of pasta in the middle of each. Spoon ¼ of the mushroom mixture on eat sheet of pasta and sprinkle with 1 tablespoon of Parmesan. Top with a second sheet of pasta. Drizzle with some of the browned butter. Garnish with a fried sage leaf. A dusting of more freshly ground pepper is nice, not not necessary. Serve immediately.
Notes
This recipe was inspired by French Taste: Elegant Everyday Eating by Laura Calder. (HarperCollins Canada ©2009).