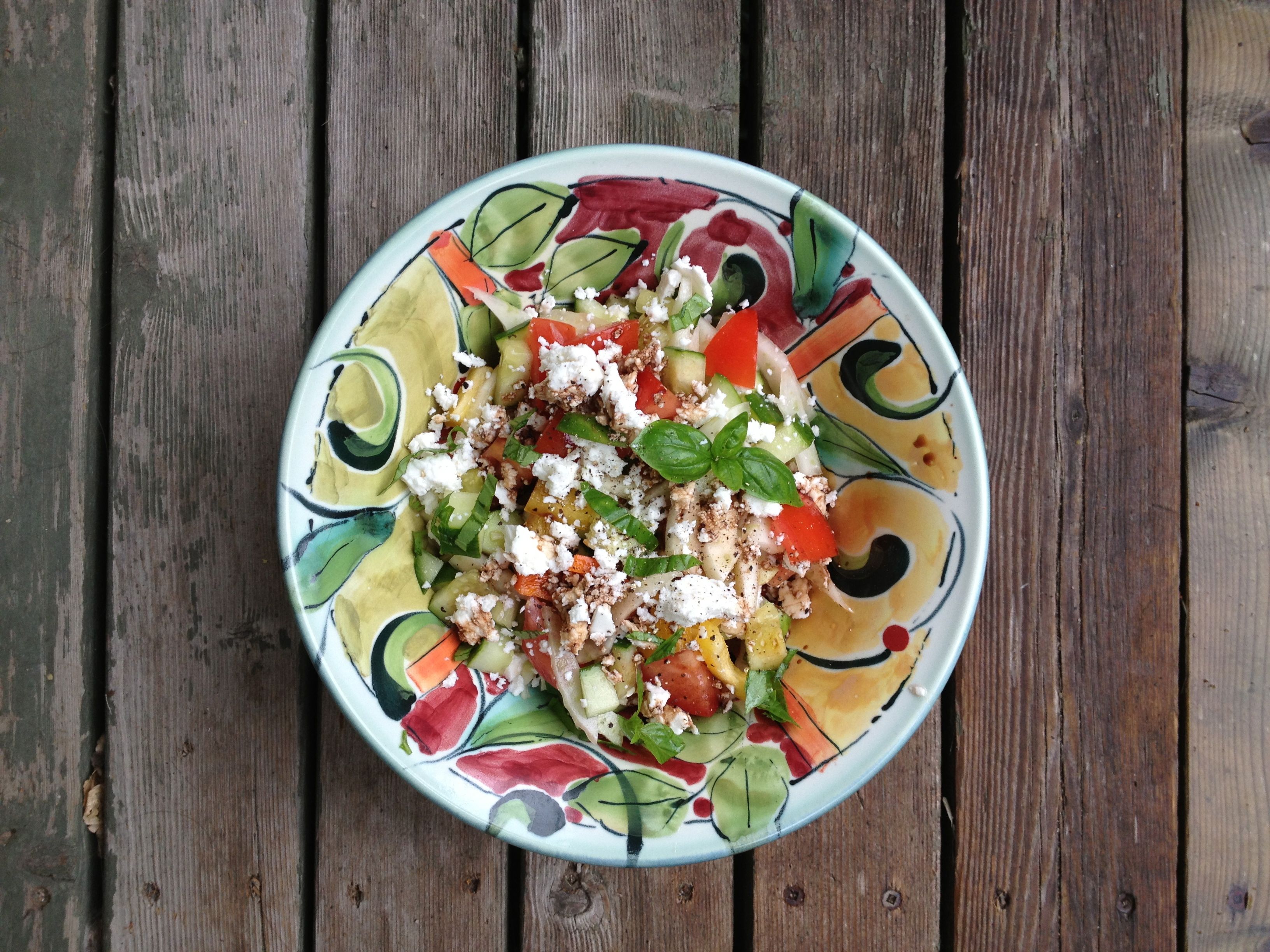 07 Jul

The Canadian Food Experience: English Cucumbers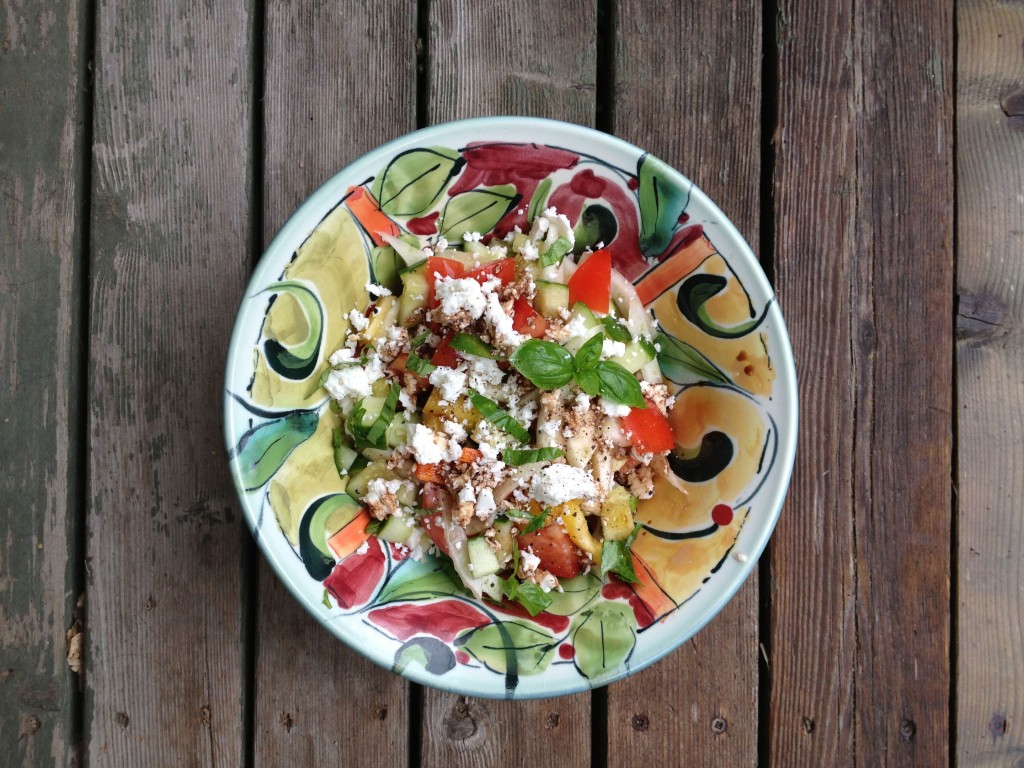 Living in Ontario has many advantages. Spring brings maple syrup, fiddleheads, ramps, rhubarb and garlic scapes. Summer provides back-to-back crops of fruits and vegetables starting with seed-studded strawberries and ending with juicy, sweet peaches. Good luck keeping up with all Autumn provides — apples, beets, onions, fennel, squash, pumpkins, potatoes, and kale kale kale kale kale. But in winter? By February I could kill for something fresh and green and full of light summertime flavours.
Fortunately, Ontario is home to 224 greenhouses that produce more than 2,272 acres of tomatoes, peppers and English cucumbers outside Nature's unaided growing season. While peppers and tomatoes are grown 9 months of the year, local cucumbers are available year round. Yes, even on the greyest, coldest, most dreary winter day, the cucumbers are guaranteed to be fresh, local and as tasty as their summertime counterparts. Take that 4000-kilometre plastic strawberries!
How do I know all this?
I took a tour.
I thought Episode 2 of the The Canadian Food Experience Project would be an ideal time to hail this regional vegetable. (The Canadian Food Experience began on June 7, 2013. As of today, 80 participants have taken on the monthly challenge to share their stories about Canadian food. Check them out. If you missed it, my first post is here.)
The Green Greenhouse
As part of the 2013 Farm & Food Care Ontario tour, I got a first-hand look at how English cucumbers are grown at Beverly Greenhouses in Dundas, Ontario. They kindly allowed a group of food writers, recipe developers and nutritionists to take photos, ask questions and generally poke about their business. Here's what I learned.
Greenhouse cucumbers are grown hydroponically in a closed-loop system. Nothing gets wasted. The water used in growing the crops is recaptured, cleaned and recirculated so not a drop is wasted.
Wood chips from waste wood — old shipping pallets, for example — heat the greenhouses, so no trees die for your cucumber salad.
Even the planter gets recycled into bricks for houses.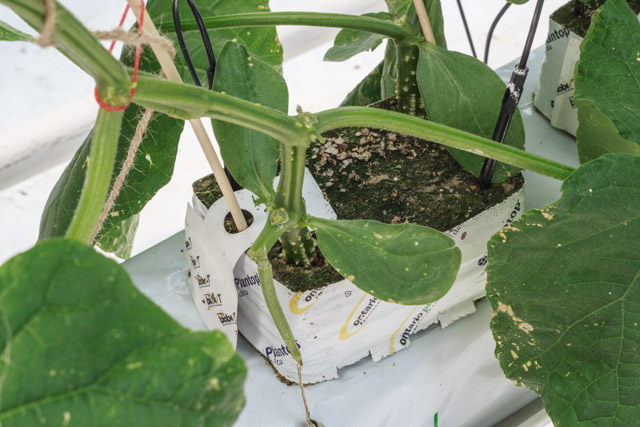 Integrated Pest Control
Growers use as many natural techniques as possible. These sachets contain mites which like to eat pesky thrips as much as pesky thrips like to eat cucumbers.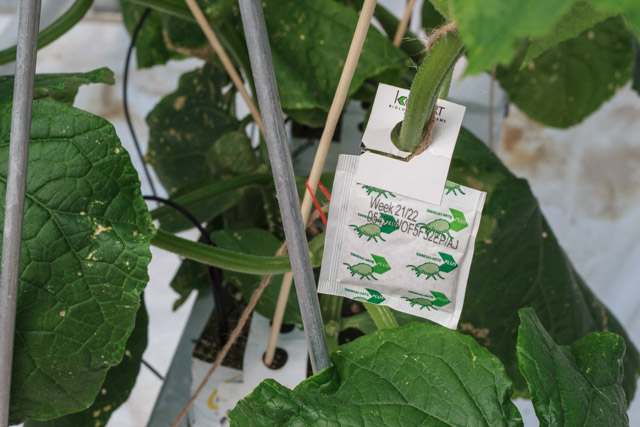 The purple-tinged plant growing in the greenhouse rafters is just one of the plants encouraging the good bugs to hang around and keeping spider mites, flies and aphids at bay.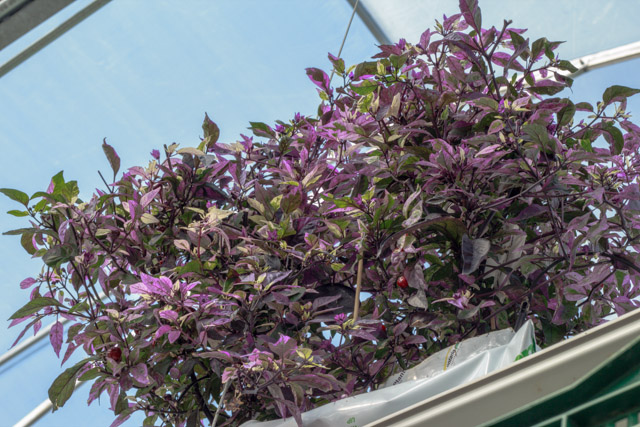 Picking and Packing English Cucumbers
English cucumbers grow thick and tall. This shot shows the vines, about 7-feet high, laden with cucumbers just begging to be picked.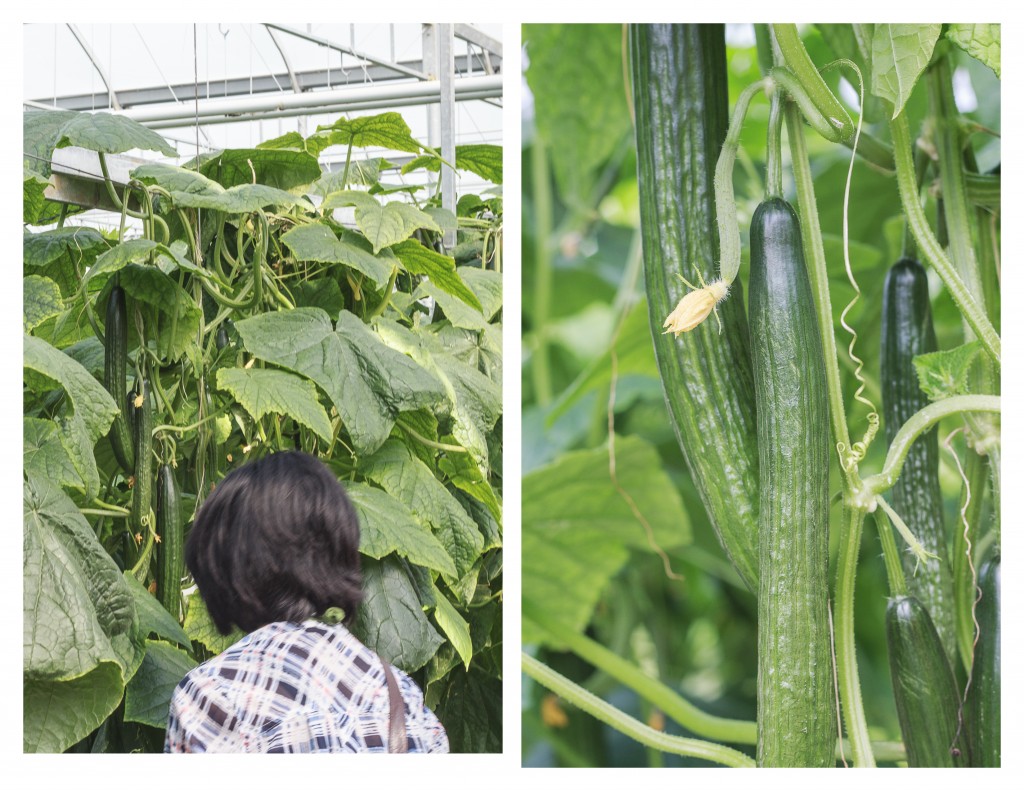 When the cucumbers are ready, workers use carts on a nifty rail system so the crops don't get damaged.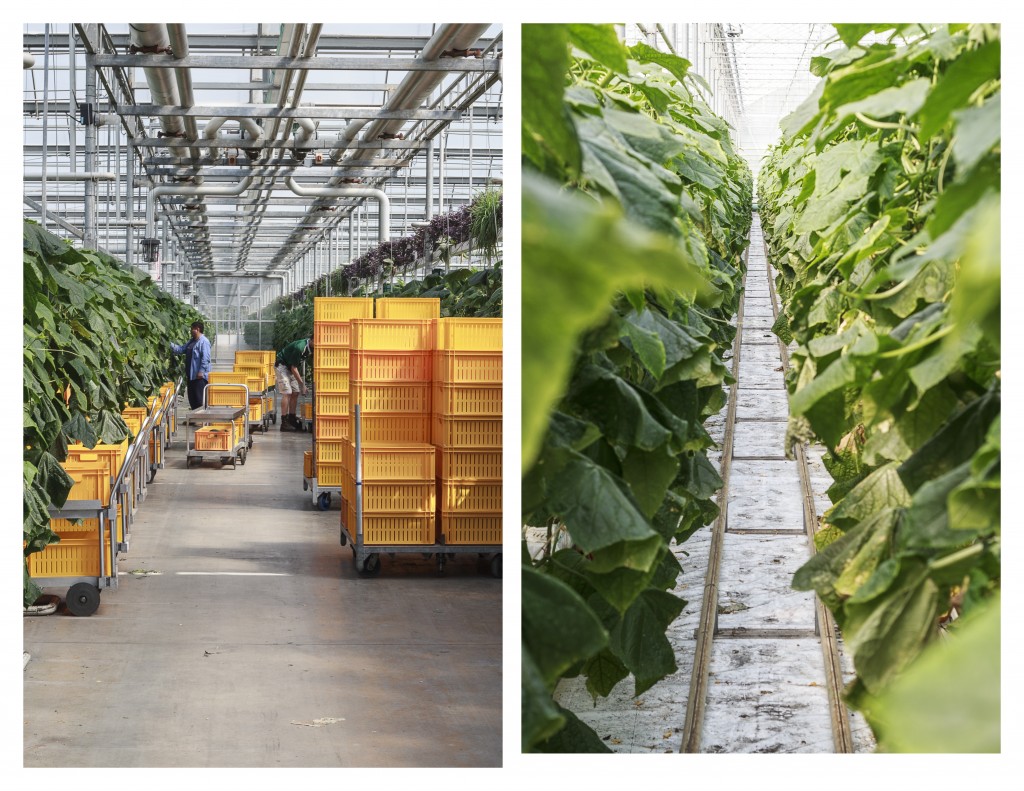 Once picked, workers pack up to 240 cucumbers a minute (which adds up to more than 12,000 by the time the working day is done).
Each cucumber is shrink-wrapped at 265°C to extend its shelf-life. Because the process is so quick — it takes only 1.5 seconds — the cucumber's temperature drops by only 1°C. Not bad.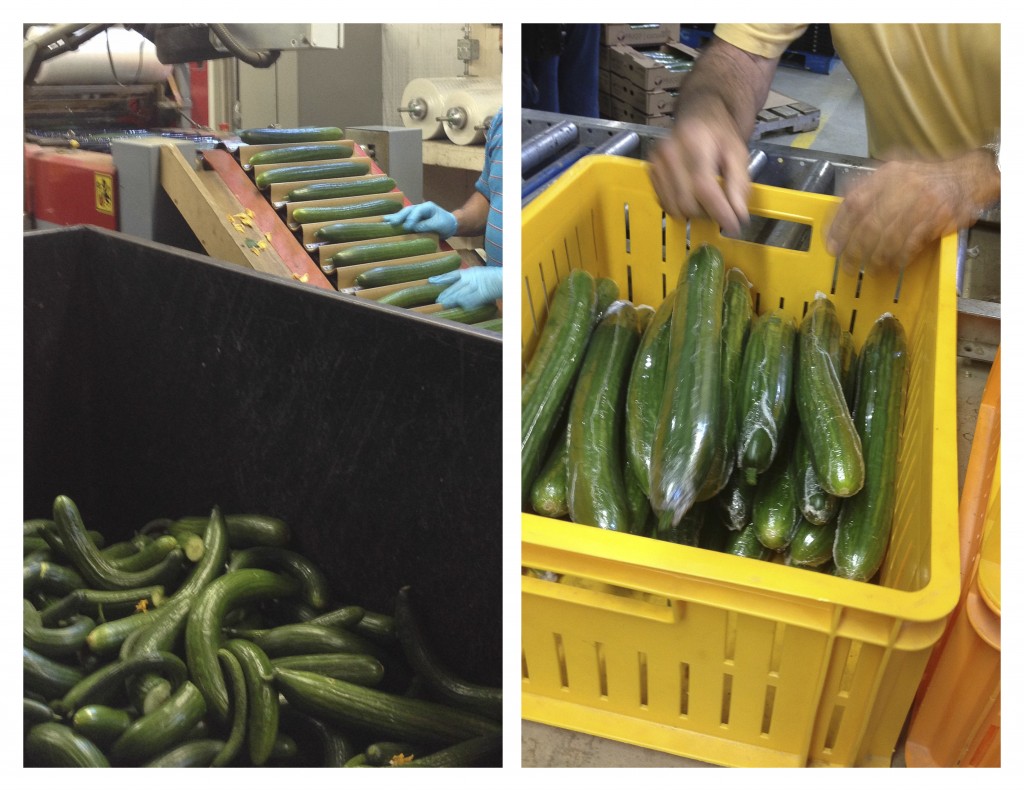 Interesting English Cucumber Facts
Each English cucumber seed costs $0.70.
A single cucumber vine yields about 30 cucumbers.
An English cucumber grows to maturity in 17 days during the summer.
Growing time more than doubles in winter, taking up to 30 days.
So now you, too, know how cucumbers arrive fresh and locally grown in Ontario stores regardless of the time of year or outside temperature.
To toast the hard working greenhouse growers, I made a salad with the three local Ontario greenhouse crops  – with a bit of fennel and feta thrown in for good measure (and alliteration). This Improv Recipe is flexible so change it up as you see fit using the local ingredients available to you.

Greenhouse Vegetable, Fennel and Feta Salad
Author:
Charmian Christie
Prep / inactive time:
Total time:
This vegetable is full of garden vegetables and topped with feta. Fennel adds a bit of liquorice.
Ingredients
1 medium vine ripened tomato, chopped
¼ large yellow pepper, chopped
¼ large orange pepper, chopped
1 cup fennel, thinly sliced
8 " English cucumber, chopped (about 2 cups)
4oz feta, crumbled
¼ cup fresh basil, sliced thinly
2 tablespoons balsamic vinegar
2 tablespoons fresh orange juice
¼ cup olive oil
1 pinch fine sea salt
freshly ground black pepper
Instructions
In a large salad bowl, toss the chopped tomato, peppers, fennel, and cucumber gently.
In a small bowl, whisk together the vinegar, oil, salt and pepper. Taste and adjust seasoning.
Pour the dressing over the vegetables. Sprinkle with feta and basil. Toss and add a grind of fresh black pepper. Serve immediately.
Notes
Improv variations

• substitute halved grape or cherry tomatoes
• change the herbs, dill works nicely with cucumber
• use lemon and lime instead of orange juice
• add some leafy greens to the mix
[box type="info" style="rounded" border="full"]
The Canadian Food Experience Project is a monthly series of themed posts from participating Canadian food bloggers across the country. By sharing our personal stories and regional food experiences, we hope to answer the elusive question, "Just what exactly is Canadian Cuisine?"
Read us. Talk to us. Join us. Then eat.
[/box]