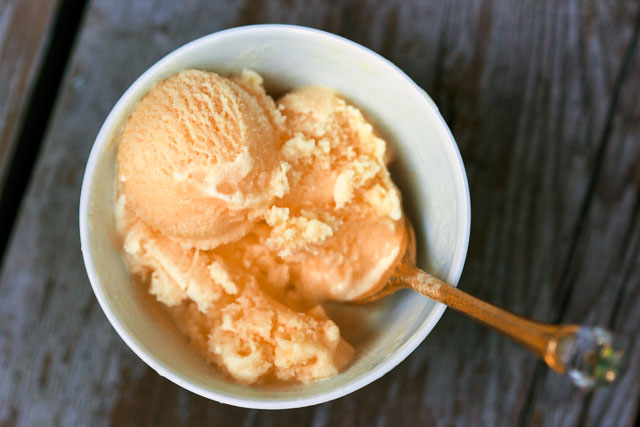 28 Jun

Orange Sherbet – An easy homemade summertime treat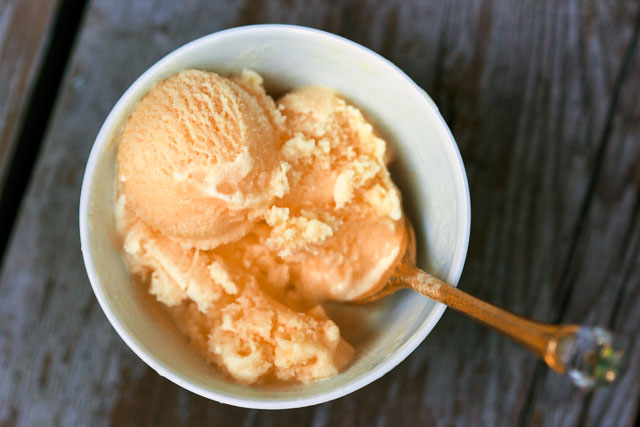 Like most kids, when I discovered wordplay I was so thrilled with my new found skill I told jokes and made puns non-stop. On one occasion, I followed my grandmother around her apartment like a duckling, quacking knock-knock jokes at her in a continuous loop.
Knock knock.
Who's there?
Olive.
Olive who?
Olive YOU! Ha ha ha.
I wasn't sure if the punchline meant "All of you" or "I love you" but it got a laugh so I went with it. Besides, if I asked her to explain my own joke, I'd lose my audience.
All told, I had about four jokes in my repertoire, which I rotated like a spinning wheel. These were the only ones from a fat, dog-eared book of kids jokes and riddles I could understand. Having memorized them, I appointed myself the family entertainer. A little song. A little dance. A little knock-knock joke perchance?
Okay, if you insist…
Knock knock.
Who's there?
Madam.
Madam who?
Madam foot's caught in the door! Open it! Ha ha ha.
See what I did there? I cursed. Only it wasn't real cursing. It's a knock-knock joke. You can curse in jokes. But stub your toe and cuss? That'll get you sent to your room to think about things.
I thought up knock-knock jokes.
Knock knock.
Who's there?
Ally.
Ally who?
Ally-gator!
I should have stuck with published material. I've no idea why I thought this was hilarious, but I told it over and over and over again, slipping the sure-fire Olive version in just to keep the crowd happy.
Somewhere between Cycle Three and Eternity, my kind grandmother put a quiet stop to things with her own joke.
Knock knock.
Who's there?
Sherbet.
Sherbet who?
It's a sher-bet you'll like this.
She was right.
And smart. It's hard to tell jokes when your mouth is full of icy, melty, oh-so-orange sherbet.
Orange sherbet
My grandmother bought hers from the store. Unlike ice cream, which came in a waxed cardboard carton with flaps that never worked quite right, sherbet came in a plastic tub with a fancy, sure-seal, snap-on lid. The frozen treat within was neon orange and stained my tongue.
Today I make my own orange sherbet. What my homemade version lacks in colour it more than makes up for  in flavour. Orange you glad I made some?  Okay… I'll shut up now. Hand me a spoon.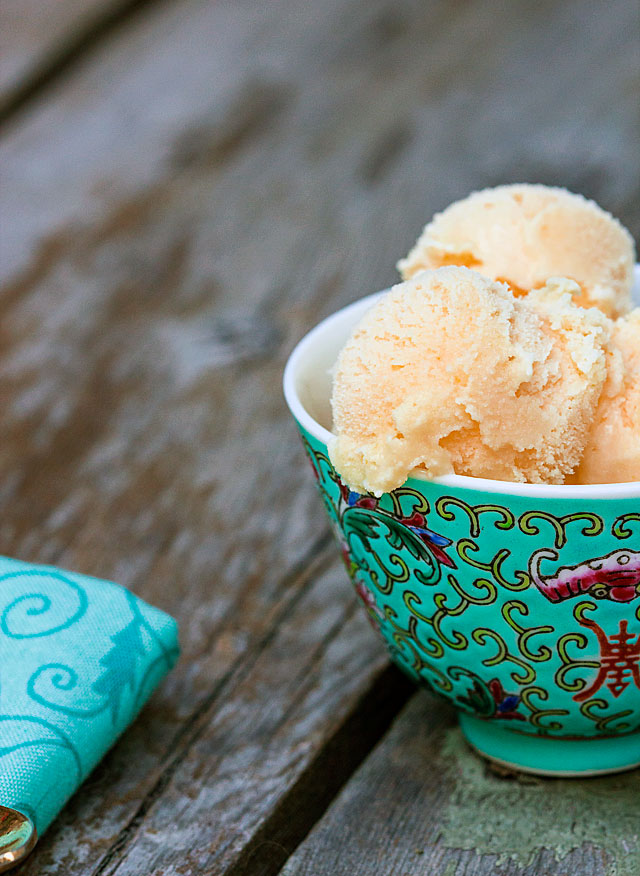 Orange Sherbet
Author:
Charmian Christie
Prep / inactive time:
Cook / active time:
Total time:
Orange sherbet is a classic hot weather treat. Sweet and creamy, it's lighter than ice cream but richer than sorbet. It tastes like sunshine in a bowl.
Ingredients
1 cup sugar
2 cups freshly squeezed orange juice
finely grated zest of 1 orange (about 2 to 3 tablespoons)
pinch fine sea salt
1 tablespoon orange liqueur such as Triple Sec
1 tablespoon freshly squeezed lemon juice
1 teaspoon pure vanilla extract
¾ cups heavy cream (35%)
Instructions
Make the orange mixture: Place the sugar, orange juice, zest and salt in blender. Purée until the sugar is well dissolved. Pour the orange mixture into a bowl through a fine mesh sieve to remove the zest and any remaining pulp pieces. Discard this. Stir in the liqueur, lemon juice, and vanilla into the orange juice mixture. Add the cream and stir again to blend well.
Chill: Cover and chill 2-3 hours. If you chill the sherbet overnight, don't be surprised if the juice and cream have separated.
Get the sherbet extra cold: About 20 minutes before you're ready to churn the sherbet, give it a good stir and then put it in the freezer to get it extra cold. If you're forgetful like me, set a times so it won't freeze.
Churn the sherbet: Churn the sherbet in an ice cream maker according to manufacturer directions. The sherbet will be very soft. Scoop it in to a lidded, freezer-proof container and chill for another 2-3 hours in the coldest part of your freezer.
Notes
The sherbet will likely be very pale. If a bright orange colour is imporant to you, add a drop or two of natural orange food colouring to achieve the right look.