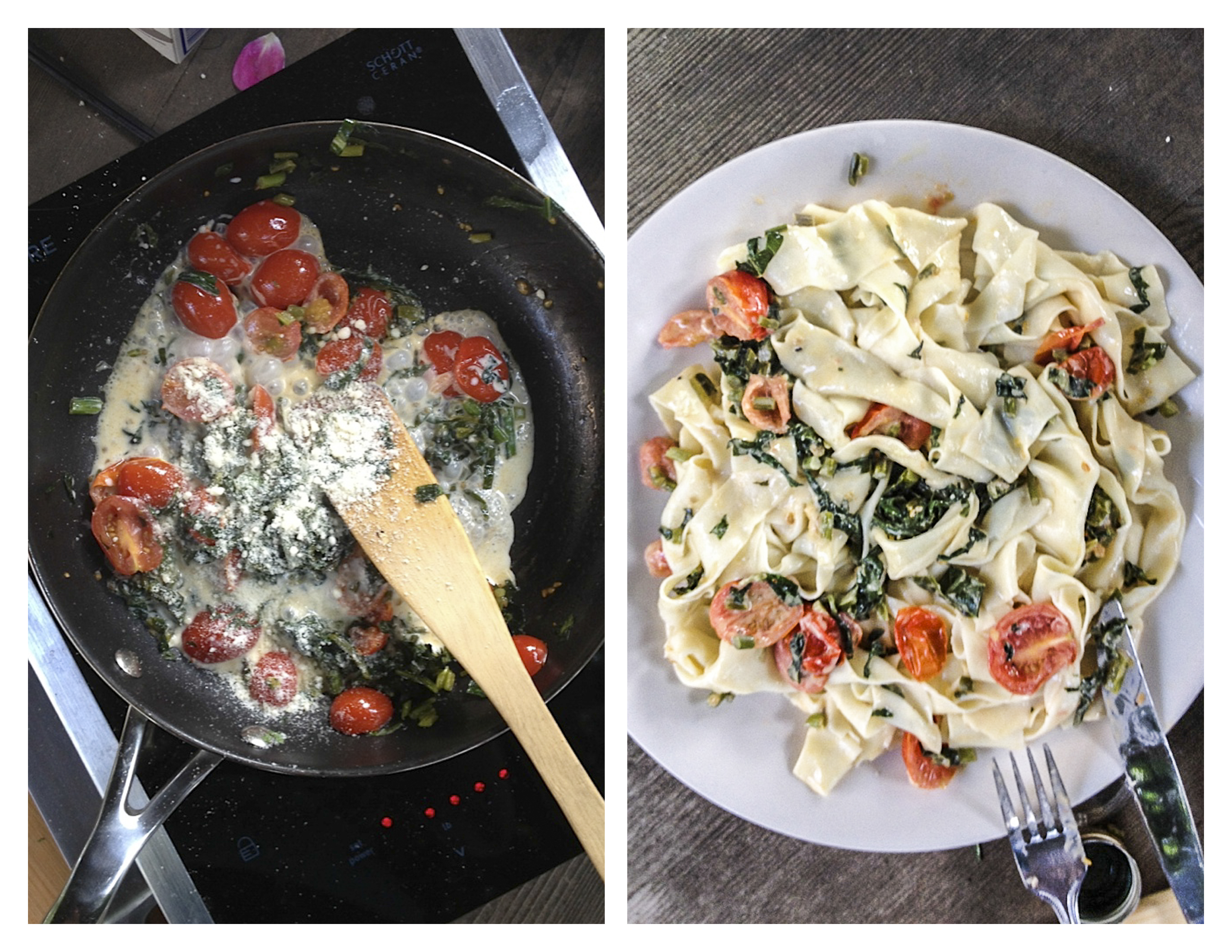 26 Jun

Improv Recipe: Garden Greens Pasta Sauce with Tomatoes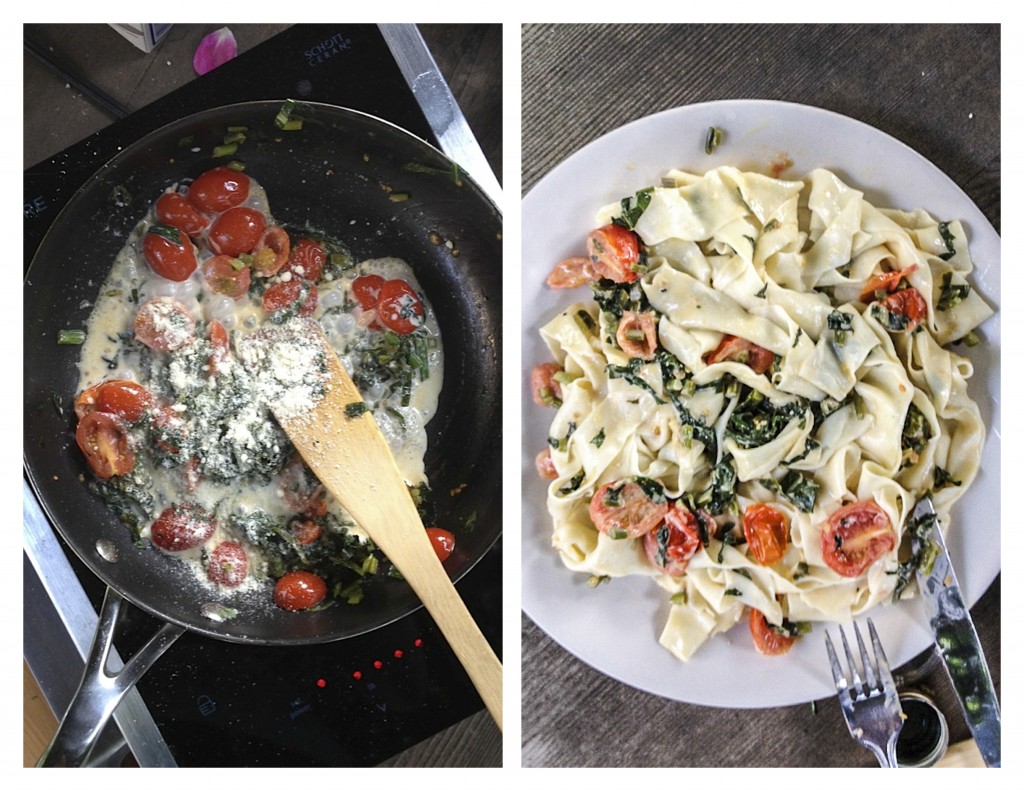 Cooking with seasonal foods can be a bit like getting dragged on stage for an improv act. Even though you've been told the basic premise you don't really know what's coming, you've little time to think, and your success requires saying "Yes!" to what's handed to you.
This past weekend, I decided to tackle pasta. I researched the technique, fine tuned the recipe, scribbled equipment notes and jotted down a few helpful pointers. Once the pasta was rolled and photographed, my job was done (except for the blogging, which will come later). For fun, I casually posted a few shots of the resulting pasta dinner on social media. I thought little of it. After all, the pasta was for the blog, but the sauce was just for me.
Then someone asked for the recipe. The recipe I made up on the spur of the moment. The recipe based on nothing more than what was growing in the garden and the last of the soon-to-expire cream. The recipe that finished off the scape scraps — an ingredient that won't reappear until next spring.
But isn't coping with the unexpected part of what summer cooking is about? The joy of the harvest. The thrill of turning fruits and vegetables into something new and exciting. And delicious. So what if it's a one-of-a kind thing? So what if it's just one example of how to use spinach or kale or basil or berries?
Don't get me wrong. I believe in posting recipes that work. But I also believe that in the long run inspiration is more helpful than dictation. With this in mind, I'm adding a new category — Improv Recipes. The photos will be candid shots.  There will be no food styling, no props, no bounced light, just an impromptu click of the iPhone shutter. The recipes will be less precise, more inspirational.
When you read one of these Improv Recipes, I hope you say "Yes!" and then take it to a new place. Don't run to the store if you don't have exactly the same ingredients as I do. Don't keep surfing if you have only 3 sprigs of basil not 6. Improvise. Stretch. Make a counter offer. Let the performer in you shine.

Garden Greens Pasta with Tomatoes
Author:
Charmian Christie
Recipe type:
Kitchen Garden
Prep / inactive time:
Cook / active time:
Total time:
This easy pasta sauces uses fresh garden greens - spinach, kale and collards. Feel free to use any leafy green you like, such as beet greens or swiss chard.
Ingredients
1 tablespoon olive oil
½ cup chopped garlic scapes (about ¼-inch long, flower heads removed)
4 large kale leaves, slivered
4 large collard leaves, slivered
6 large spinach leaves, slivered
1 cup grape tomatoes, cut in half
2 tablespoons heavy cream (35%)
¼ cup grated Parmesan
6 large fresh basil leaves, slivered
fresh ground pepper to taste
sea salt to taste
cooked egg pasta (enough for 2)
Instructions
Heat the oil in a skillet over medium heat. Add the scapes and gently sautée for a few minutes or until they begin to soften.
Add the slivered kale and collard greens and cook for a few minutes or until they soften.
Add the spinach and basil leaves. Cook until the spinach is soft.
Add the cream and grated Parmesan. Cook until well combined and the cream has heated through.
Add the pasta to the pan and toss to coat. Serve immediately, adding salt and pepper to taste.
Notes
Substitution Ideas:

• If you can't find scapes, use one clove of crushed garlic and sautée it over low heat so it becomes sweet, not bitter
• Swiss chard, and beet greens can easily be substituted for any or all of the greens.
• Use thyme, marjoram or oregano (or a combination) if you don't have basil.
• Chop up heirloom tomatoes if you don't have cherry or grape tomatoes on hand.