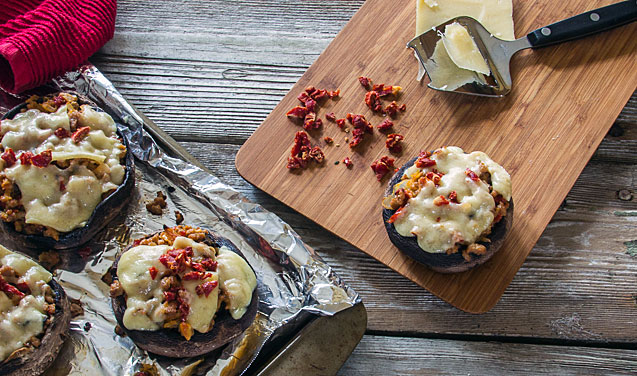 20 Jun

How Mushrooms are Grown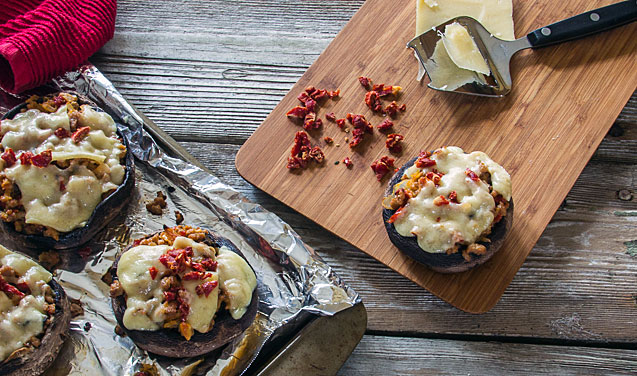 These are Turkey-Stuffed Portabella Mushrooms. I developed this recipe for a joint e-book venture created by Turkey Farmers of Canada and Mushrooms Canada. I'll get to the recipe soon, but first let me show you around a mushroom farm. It's not the dark, dank Man Cave I imagined. Au contraire. The modern mushroom farm is bright and odor-free. The only thing it has in common with the Man Cave is lots of cool gadgets.
To see mushrooms growing first hand, I toured Whitecrest Mushrooms in Putnam, Ontario. It's a state-of-the-art facility full of sparkling aluminum racking, a spiral chiller that looks like something out of Star Trek and mechanized picking carts that would have kids fighting over who got to work the controls.
The Mushroom Growing Cycle
Mushrooms farmers work in 6-week cycles. Mushrooms grow for three weeks, they are harvested for three weeks, and then the growing room is steamed for 3 days to sterilize the racks. Yes, technically this is a 6-week, 3-day cycle, but that's just cumbersome.
The mushroom racks pictured below have just been steamed. There are six rooms like this at Whitecrest. As you can see, the shelves are bare. The soil from the previous mushrooms crop has been sent to be recycled into a peat moss replacement known as "spent mushroom substrate" – another cumbersome phrase.
Growing Mushrooms
The process is organic, although you won't see this on the labels. The mushrooms grow without fertilizers or pesticides in a mixture of peat moss, wheat straw and organic soymeal. The soil smells clean and fresh, not musty as I'd imagined. And all that light bouncing off that shiny aluminum doesn't seem to bother them. "Light or dark — it doesn't matter," says Murray Good, owner of Whitecrest Mushrooms. And he should know. He's been growing mushrooms for more than a decade.
Mushrooms grow at an astonishing rate of 4% an hour, doubling their size in a day. Within a week, pin mushrooms (the incubation stage) grow into "balloon knots" (on left), then cremini mushrooms (on right) and finally  …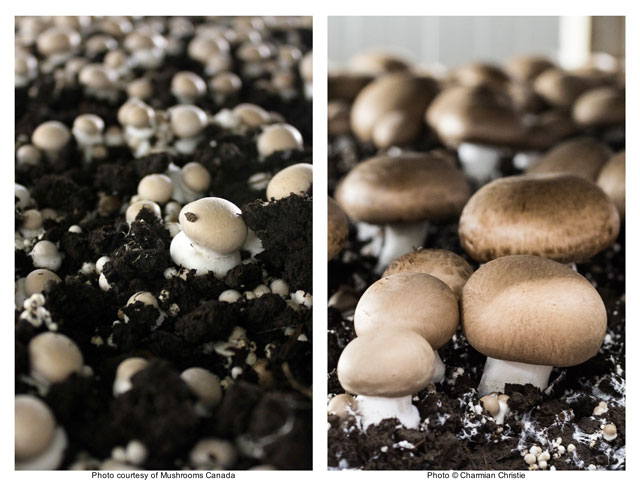 …full-grown portabellas.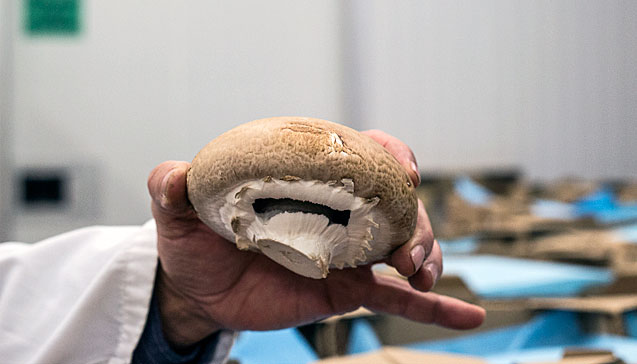 Picking Mushrooms
To ensure a continuous yield, harvesters take advantage of the quick growth cycle and stagger the picking, selecting the large mushrooms by hand so the small ones can grow. This requires a keen human eye and nimble fingers, although pickers make full use of high-tech carts which take them up all seven levels.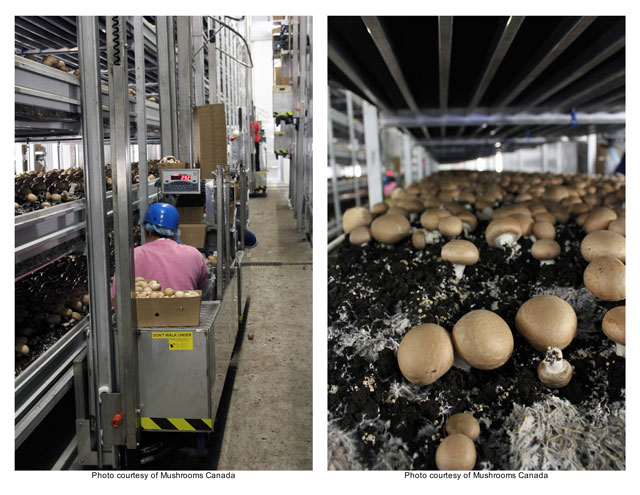 Mondays, Tuesdays and Wednesdays are pick days at Whitecrest Mushrooms.  The average worker picks 800 pounds a day — that's 60 pounds of cremini  or 100 pounds of portabellas an hour.  "Workers pick from 7 AM to midnight," Good says. "Or 5 or 6 PM. The mushrooms tell us when they're done." While it sounds like a 3-day work week, the farm employs 38 people year-round, closing only on Christmas and New Years.
In the 6-week cycle, each rack produces 38,000 pounds of mushrooms. With six rooms cycling mushrooms almost non-stop, 4 million pounds of mushrooms leave this facility each year. Even I can't eat that many.
Processing Mushrooms
Once picked, the mushrooms travel along a conveyor where they pass under a UV light before being heading to the space station spiral chiller. Mushroom are the only vegetable with naturally occurring vitamin D, and by merely passing under the UV light their Vitamin D content leaps from 3% of your daily requirement to 100% (400 iU / 100g).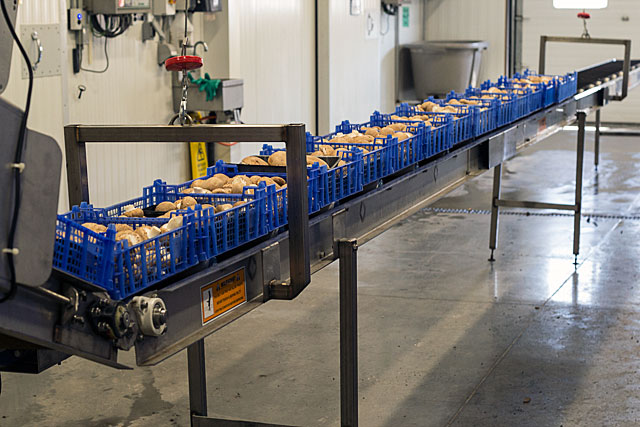 Once vitaminized (if that's a word), the mushrooms are cooled to 1°C (34°F) in this spiral chiller. The cooling takes 50 minutes and helps preserve the mushrooms so they arrive in the stores at the peak of freshness.
After they're cooled, the mushrooms are either sliced or packaged whole.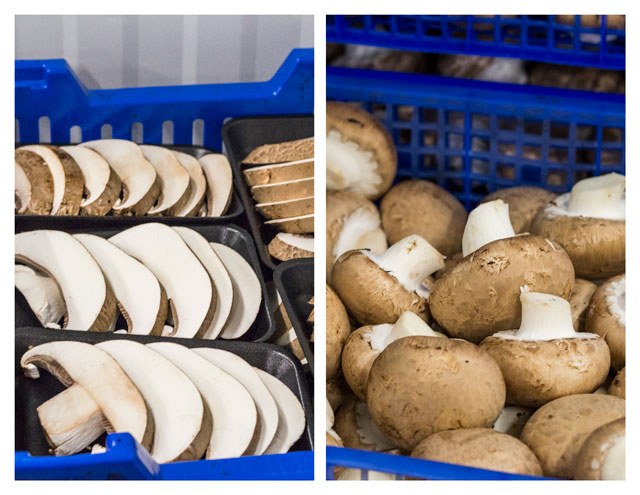 Some go out in bulk, others are wrapped and labelled.
Bonus Points
A large portabella mushroom has as much potassium as a banana, which is welcomed news if you share my distaste for bananas. Mushrooms in any form have no fat, no salt, but plenty of umami (a meaty deliciousness known as the fifth taste). Anything with umami enhances the flavour of food it's served with. No wonder mushrooms pair so well with other umami-rich foods like Parmesan and tomatoes.
And that's what I learned on the mushroom tour.
The Get Your Grill On with Turkey & Mushroom e-Books
So, where's the recipe? Online.
Ten bloggers created two recipes each. All 20 recipes had to use mushrooms and turkey. These recipes, along with photos, have been compiled into a two-part free e-book, Get Your Grill On with Turkey and Mushrooms, and are available through Facebook. Ten recipes are downloadable via the Taste Turkey Facebook Page, ten are available through Mushrooms Canada Facebook Page. Which one am I in? Both. All bloggers have one recipe in each e-book. Which one contains the Turkey-Stuffed Portabella Mushrooms? I'm not going to tell you. Download them both to find out.
Oh yes, and if you think I tipped the scales by focusing mushrooms, don't think it's a hint. I have another post lined up and next time, I'll be talking turkey.
[box type="info" style="rounded" border="full"]Disclosure: While I was compensated for developing the recipes for the e-book, I was not paid for this blog post about mushroom farming. I attended the farm tour on my own time and was under no obligation to write about it. I think it's important to know where our food comes from and thought it would be interesting to see how mushrooms grow. Want to see a turkey farm? Speak up. Turkeys scare me, but I'm willing to go if there's enough interest.[/box]