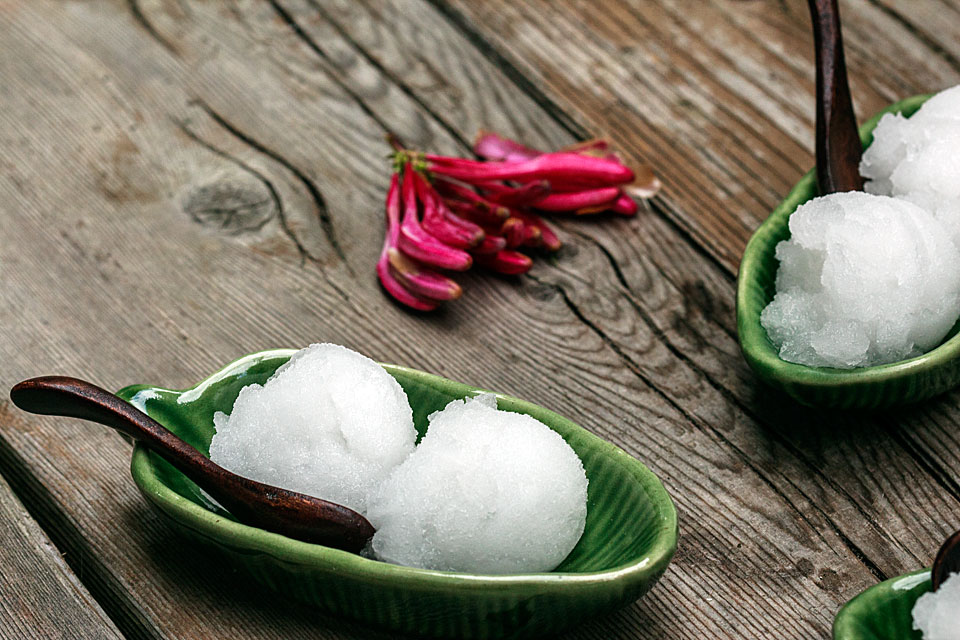 18 Jun

Honeysuckle Sorbet

Posted at 16:24h

in

Dairy-free

,

Desserts

,

Egg-free

,

Garden

,

Gluten-free

,

Healthy Choice

,

Ice Cream & Frozen Treats

,

Recipes

,

Spring

,

Summer

,

Vegan

,

Vegetarian

9 Comments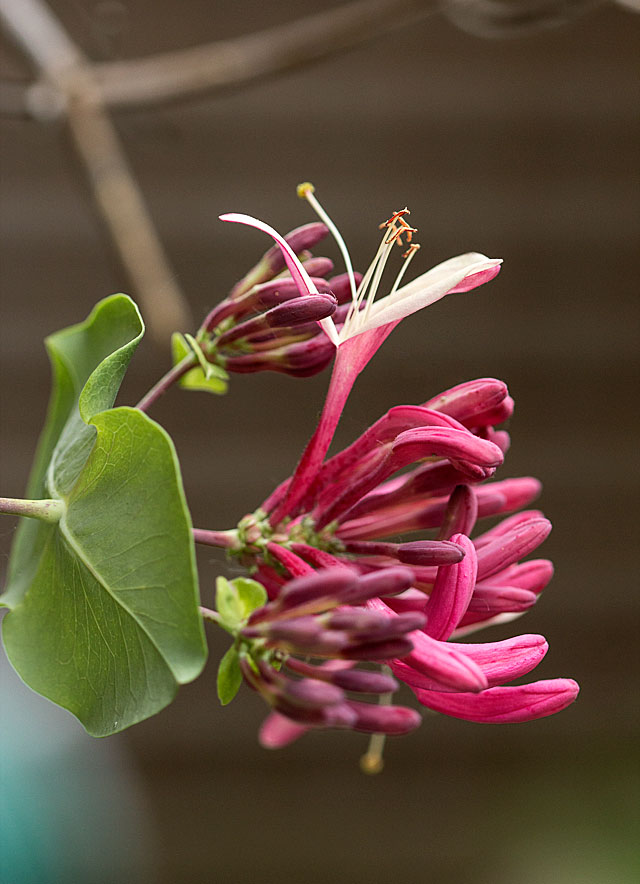 Right outside my kitchen porch, a graceless post stands cemented in the ground. Its thick, square bulk is so awkward it can't be passed off as rustic. Ferns and periwinkle hide its base while a honeysuckle vine attempts to disguise the rest of its towering mass. In early summer, the honeysuckle flowers in a wildly distracting manner. Pink blossoms bob in the breeze and release a fragrance so sweet and floral you think you've walked into a perfume bottle.
With heady honeysuckle on one side and a riot of climbing roses on the other, I feel like I live in a movie —an uncredited character in The Secret Garden. But when the vine gets tangled in the wheel of the clothes line, which is why the pole exists in the first place, life does a slow dissolve into the Three Stooges. There's a lot of hand slapping, shrieking and "Why, I oughta…!" In the end, the vine is in tatters, t-shirts lay strewn on the grass like they lost a bar fight, and I leave the scene covered in petals, sweat and a thin layer of self-loathing. Every year I vow to remove the invasive honeysuckle and hide the pole with docile impatience-in-a-bag. Every year I forget until it's too late.
This year? My disorganization is rewarded. That clothes-line-clogging honeysuckle is staying. Forever. And ever. Amen.
Why? Dessert, of course.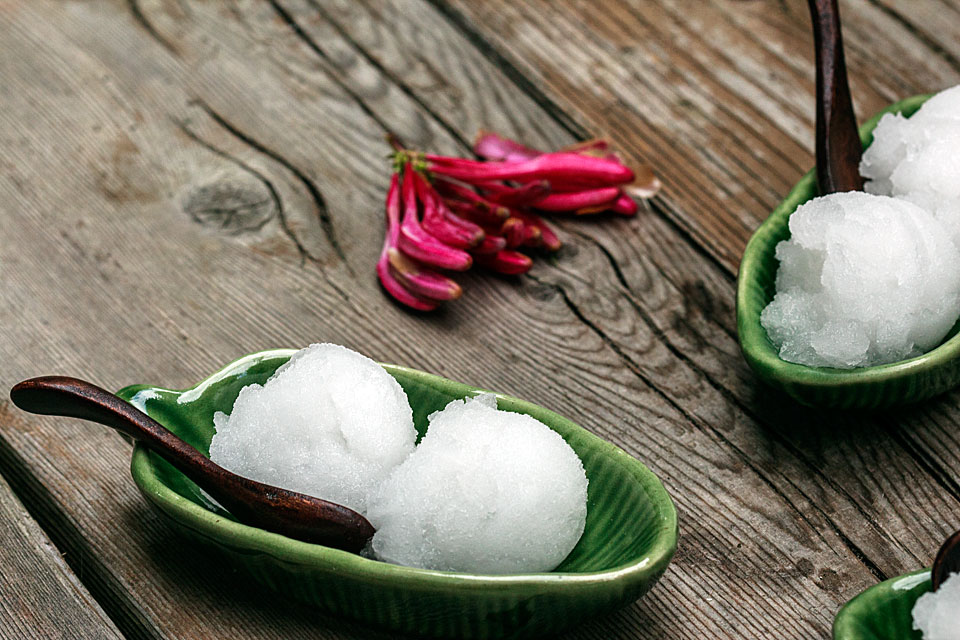 Within minutes of posting a photo of the honeysuckle vine on twitter, cookbook author Sandra Gutierrez told me about an unusual recipe — Honeysuckle Sorbet. In 90-minutes, I'd hunted down the video and recipe, had honeysuckle blossoms steeping in water, and had received Chef Bill Smith's permission to post his signature dish. Smith is the chef at Crook's Corner Café and Bar in Chapel Hill, North Carolina, and author of  Seasoned in the South. North Carolina just got itself added to my travel bucket list.
So, late last night, by porch light and hungry mosquitoes, I picked all the honeysuckle blossoms I could. I had enough for a half recipe, which produced a quart of sorbet. That's okay. It's not like I run a restaurant or am expected to share.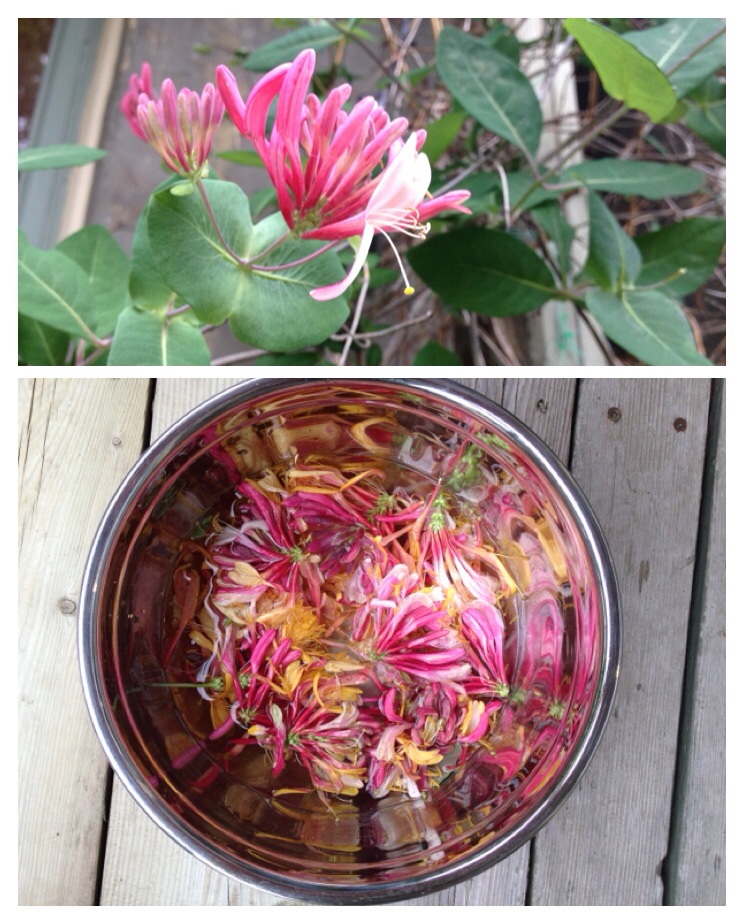 I admit, as I picked the blooms, I feared both extremes — that the sorbet would taste soapy or be nothing more than a fragrant snow cone. My concerns were unfounded. The sorbet tastes like honeysuckle smells. Sweet and floral, a bit like honey, a bit like heaven. It's icy yet smooth, with a refreshing flavour that can't be mass produced. If ephemeral had a taste, this would be it.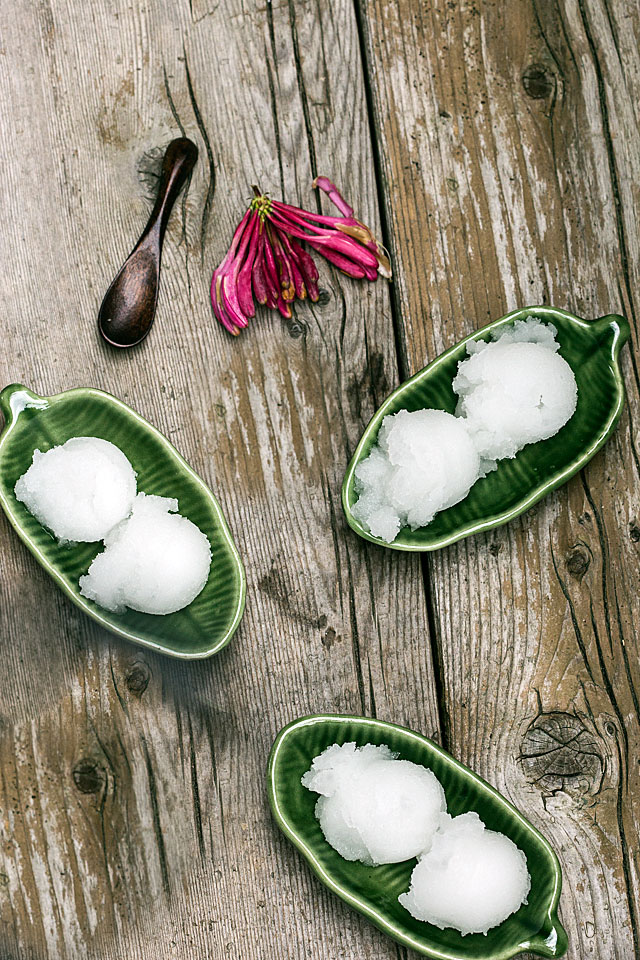 And so, this recipe makes a long and convoluted journey. From Sandra's tweet, to Bill's recipe, to my garden, to you. The clothesline will just have to deal with it.

Honeysuckle Sorbet
Author:
Charmian Christie
Recipe type:
Ice Cream and Frozen Treats
Prep / inactive time:
Cook / active time:
Total time:
Honeysuckle sorbet is the signature recipe of James Beard award winner chef Bill Smith of Crook's Corner Cafe and Bar. It captures the aromoa of honeysucke in a not-too-sweet sorbet.
Ingredients
4 cups tightly packed but not smashed honeysuckle flowers, leaves and stems discarded (Lonicera japonica is the edible kind)
5⅓ cups cool water
1⅓ cup water
2 cups sugar
a few drop freshly squeezed lemon juice
a speckcinnamon
Instructions
Steep the blossoms: Place blossoms in a nonreactive bowl, glass or stainless steel, and cover with cool water. Weigh down with a plate. Let them stand on the counter overnight.
Make a simple sugar: Place the sugar and water in a small saucepan. Boil until all the sugar is dissolved and the mixture begins to look lustrous and slightly thick, 3 to 5 minutes. Add lemon juice to prevent sugar from recystallizzing. Cool syrup completely.
Make the sorbet mixture: Strain honeysuckle infusion, gently pressing the blossoms so as not to waste any of your efforts. Combine the two liquids and add the merest dusting of cinnamon.
Churn: Churn in an ice cream maker, per manufacturer's instructions.
Notes
This does not keep for more than a week or two.
This recipe is published with the generous permission of its creator, Bill Smith of
Crook's Corner Cafe and Bar
. It appears in his book Seasoned in the South, (Algonquin Books, ©2006).
Please note that
Lonicera japonica
is the edible form of honeysuckle that grows commonly in North America. There are more than 180 species of honeysuckle worldwide. Most species in Europe are not edible.